Adarsh Tripathi clinches Olomouc Chess Summer 2023 B2 Sportclub A64 Cup
Adarsh Tripathi scored an unbeaten 6.5/9 to win Olomouc Chess Summer 2023 B2 Sportclub A64 Cup IM tournament. He finished a full point ahead of the field. Three players - FM Jakub Kusa (CZE), FM Jachym Nemec (CZE) and FM Michal Koziorowicz (POL) scored 5.5/9. They were placed second to fourth respectively. FM Sehyun Kwon (KOR) scored 7/9 to win Olomouc Chess Summer 2023 B1 AVE Chess Cup IM tournament. He finished a half point ahead of the rest. IM Sebastian Plischi (GER, 2319) scored sole 6.5/9 to secure second place. FM R Ashwath scored 6/9 to be placed third. The top three prizes in each event was CZK 3000 + trophy, 2000 and 1000 each respectively. Photos: Kamil Mikeš and Jakub Fuksík
Ashwath third at B1 AVE Chess Cup
Olomouc Chess Summer 2023, Jaroslav Fusik's memorial, part of Czech Tour 2023 series, had a total of nine tournaments including four round-robin events were held from 11th to 19th August 2023. Details of the events can be found here.
Adarsh - Ronit, Round 5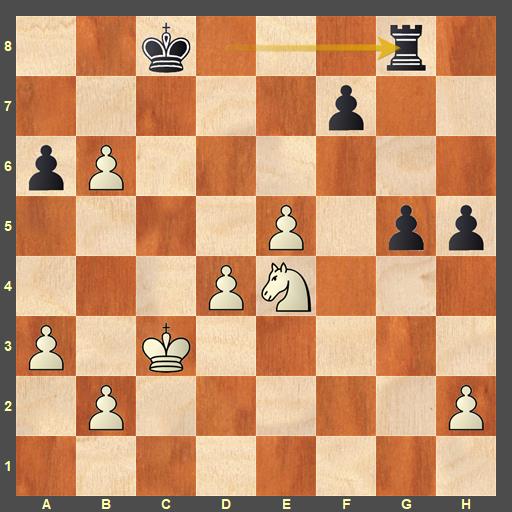 30...Rg8? allowed Adarsh Tripathi (2286) to combined the power of his knight and protected center passed pawn against Ronit Levitan (2131) 31.Nf6 Rh8 32.d5 Kb7 33.e6 because e8 is controlled by the well-placed knight at f6. 33...fxe6 34.dxe6 g4 35. Kd4 Kxb6 36.e7 h4 37.Nd7+ idea is to shield the e8-square by Nf8.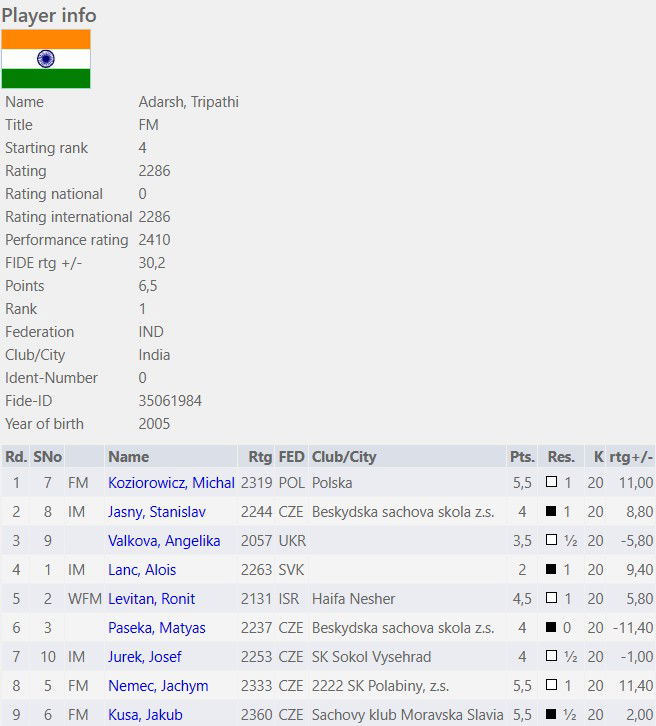 Both B1 and B2 IM tournaments were a 10-player round robin tournament. They were organized by SPORTCLUB Agency 64 Olomouc in cooperation with AVE CHESS at Flora hotel in Olomouc, Czech Republic from 12th to 19th August 2023. The time control of the event was 40 moves in 90 minutes + 30 minutes + 30 seconds increment per move.
Replay B2 Sportclub A64 Cup games
Replay B1 AVE Chess Cup games
Final standings in B2 Sportclub A64 Cup
| | | | | | | | | | | | | | | |
| --- | --- | --- | --- | --- | --- | --- | --- | --- | --- | --- | --- | --- | --- | --- |
| Rk. | SNo | | | Name | sex | FED | Rtg | Club/City | Pts. | TB1 | TB2 | TB3 | K | rtg+/- |
| 1 | 4 | | FM | Adarsh, Tripathi | | IND | 2286 | India | 6,5 | 28 | 0 | 0 | 20 | 30,2 |
| 2 | 6 | | FM | Kusa, Jakub | | CZE | 2360 | Sachovy klub Moravska Slavia | 5,5 | 22 | 0 | 0 | 20 | -9,2 |
| 3 | 5 | | FM | Nemec, Jachym | | CZE | 2333 | 2222 SK Polabiny, z.s. | 5,5 | 21,8 | 0 | 0 | 10 | -1 |
| 4 | 7 | | FM | Koziorowicz, Michal | | POL | 2319 | Polska | 5,5 | 21,5 | 0 | 0 | 20 | 1,8 |
| 5 | 2 | | WFM | Levitan, Ronit | w | ISR | 2131 | Haifa Nesher | 4,5 | 19 | 0 | 0 | 20 | 30,8 |
| 6 | 3 | | | Paseka, Matyas | | CZE | 2237 | Beskydska sachova skola z.s. | 4 | 19,8 | 0 | 0 | 40 | -13,2 |
| 7 | 10 | | IM | Jurek, Josef | | CZE | 2253 | SK Sokol Vysehrad | 4 | 18,8 | 0 | 0 | 10 | -5,4 |
| 8 | 8 | | IM | Jasny, Stanislav | | CZE | 2244 | Beskydska sachova skola z.s. | 4 | 15 | 0 | 0 | 10 | -4,2 |
| 9 | 9 | | | Valkova, Angelika | w | UKR | 2057 | | 3,5 | 13,3 | 0 | 0 | 20 | 27,8 |
| 10 | 1 | | IM | Lanc, Alois | | SVK | 2263 | | 2 | 8,5 | 0 | 0 | 10 | -26,8 |
Final standings in B1 AVE Chess Cup
| | | | | | | | | | | | | | | |
| --- | --- | --- | --- | --- | --- | --- | --- | --- | --- | --- | --- | --- | --- | --- |
| Rk. | SNo | | | Name | sex | FED | Rtg | Club/City | Pts. | TB1 | TB2 | TB3 | K | rtg+/- |
| 1 | 6 | | FM | Kwon, Sehyun | | KOR | 2274 | | 7 | 27 | 0 | 0 | 20 | 40,8 |
| 2 | 3 | | IM | Plischki, Sebastian | | GER | 2319 | | 6,5 | 25,3 | 0 | 0 | 10 | 9,6 |
| 3 | 2 | | FM | Ashwath, R. | | IND | 2297 | | 6 | 24 | 0 | 0 | 20 | 14,4 |
| 4 | 5 | | IM | Biolek, Richard | | CZE | 2373 | Agentura 64 Grygov | 5 | 20,8 | 0 | 0 | 10 | -12,2 |
| 5 | 9 | | WFM | Kucharska, Honorata | w | POL | 2204 | | 4,5 | 20,3 | 0 | 0 | 20 | 9,2 |
| 6 | 10 | | IM | Michalek, Jan | | CZE | 2267 | SK Line | 4 | 15,8 | 0 | 0 | 10 | -8,9 |
| 7 | 7 | | CM | Bokhnak, Timofey | | CZE | 2197 | SK Vinary | 4 | 14,3 | 0 | 0 | 40 | 2,4 |
| 8 | 8 | | FM | Degenhard, Simon | | GER | 2242 | | 3,5 | 13,8 | 0 | 0 | 20 | -20,6 |
| 9 | 4 | | FM | Stigar, Petter | | NOR | 2213 | | 2,5 | 9,8 | 0 | 0 | 20 | -33,2 |
| 10 | 1 | | | Juhanak, Daniel | | CZE | 1976 | Unichess | 2 | 7,3 | 0 | 0 | 40 | 22,4 |
Links
---