Moksh Amit Doshi scores GM-norm at Czech Open Pardubice 2022, finishes second
GM Alexander Donchenko (GER) scored an unbeaten 7.5/9. He finished a half point ahead of the field to win the Czech Open Pardubice 2022. Three players scored 7/9 each. IM Moksh Amit Doshi and GM Jiri Stocek (CZE) secured second and third place according to the tie-breaks. They both remained unbeaten. Moksh earned his maiden GM-norm. FM Nikhil Dixit scored his third and Soham Datar first IM-norm respectively. WIM Savitha Shri B secured her second WGM-norm. Her live rating is 2434.8 which makes her now India no.4 among women. GM Harsha Bharathakoti scored 6.5/9 and finished sixth. Photo: Official site
Norms galore for Indians
A total of four Indians scored a GM norms, three IM-noorms and one WGM-norm. The Total prize fund of the tournament was CZK 150000. Top three prizes were CZK 50000, 30000 and 20000 along with a trophy each.
Four Indians scored norms
1st GM-norm - IM Moksh Amit Doshi 7/9
3rd IM-norm - FM Nikhil Dixit 6/9
1st IM-norm - Soham Datar 5.5/9
2nd WGM-norm - WIM Savitha Shri B 5/9
Moksh - Klimakovs, Round 2
39.Ng6+! is such a beautiful move. It spells doom for Black. 33...fxg6 34.Bxg6 Bg5 35.Qxe6 Rc7 36.Rbc1 Qe7 37.Qf5+ Kg8 38.Bxg5 hxg5 39.Rxc7 Nxc7 40.Qc8+ Qf8 41.Qxc7 Black resigned. White's relentless attack gave Black zero chance to save the game.
FM Nikhil Dixit scored his final IM-norm at the same event where he earned his maiden IM-norm three years ago. Now he needs to fulfill the 2400 rating requirement to become the next International Master of India.
Savitha - Bryan, Round 1
White has both her bishop and f1-rook under attack. Black king is stranded at the center of the board. Find out the best way to continue here for White.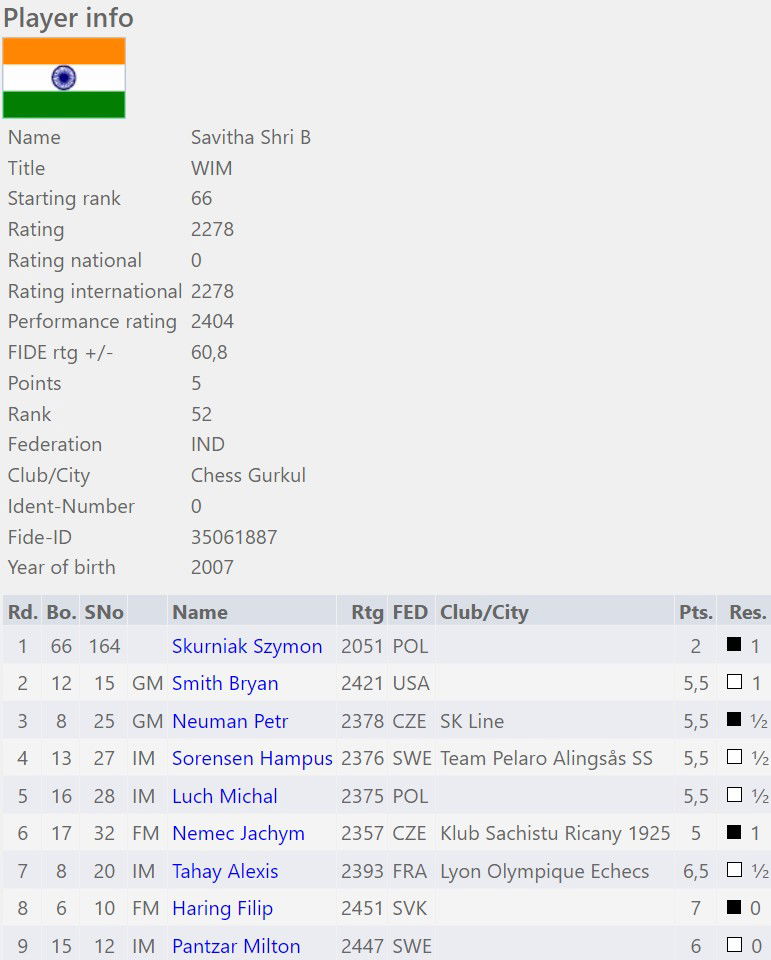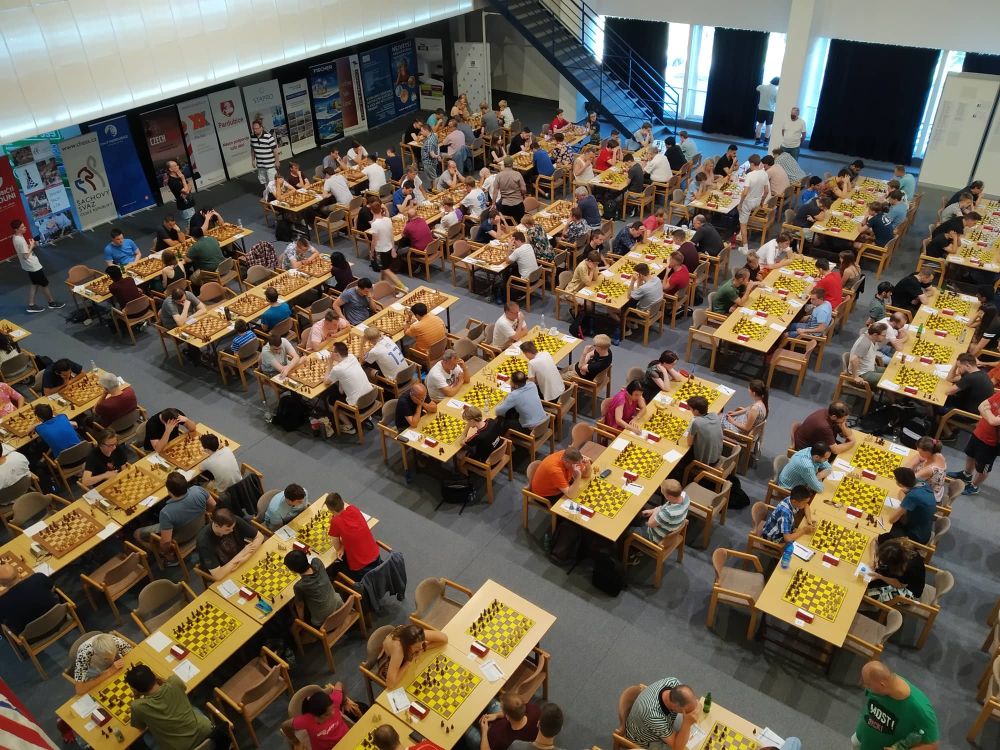 A total of 196 players including 9 GMs, 19 IMs and 8 WIMs took part from 29 countries across the world. The event was organized by AVE-KONTAKT s.r.o. at Pardubice, Czech Republic from 22nd to 30th July 2022. The time control for the tournament was 90 minutes/40 moves + 30 minutes + 30 seconds increment.
Replay all games
Final standings
| | | | | | | | | | | | | |
| --- | --- | --- | --- | --- | --- | --- | --- | --- | --- | --- | --- | --- |
| Rk. | SNo | | | Name | FED | Rtg | Club/City | Pts. | TB1 | TB2 | TB3 | TB4 |
| 1 | 1 | | GM | Donchenko Alexander | GER | 2640 | | 7,5 | 50 | 55 | 45,75 | 4 |
| 2 | 18 | | IM | Moksh Amit Doshi | IND | 2409 | | 7 | 48 | 51 | 37,75 | 4 |
| 3 | 4 | | GM | Stocek Jiri | CZE | 2548 | SK Line | 7 | 44,5 | 49 | 37,75 | 5 |
| 4 | 10 | | FM | Haring Filip | SVK | 2451 | | 7 | 43 | 45 | 33,00 | 5 |
| 5 | 11 | | IM | Brodowski Piotr | POL | 2450 | | 6,5 | 48 | 53 | 37,25 | 5 |
| 6 | 5 | | GM | Harsha Bharathakoti | IND | 2547 | | 6,5 | 48 | 52 | 34,50 | 5 |
| 7 | 30 | | FM | Stalmach Richard | CZE | 2363 | Beskydska sachova skola z.s. | 6,5 | 47 | 51,5 | 35,25 | 4 |
| 8 | 20 | | IM | Tahay Alexis | FRA | 2393 | Lyon Olympique Echecs | 6,5 | 45 | 49 | 33,75 | 5 |
| 9 | 23 | | FM | Klabis Rokas | LTU | 2382 | | 6,5 | 45 | 49 | 33,75 | 4 |
| 10 | 6 | | IM | Noe Christopher | GER | 2505 | | 6,5 | 45 | 48,5 | 33,00 | 5 |
Links
---