Nubairshah wins Late R B Sapre Memorial Open Rapid Rating 2020
by Shahid Ahmed - 30/01/2020
Top seed of the tournament, 1st SAARC Champion IM Nubairshah Shaikh of Maharashtra scored 8.5/9, remained undefeated to win Late R B Sapre Memorial Open Rapid Rating 2020. FM Nikhil Dixit finished at sole 8.0/9 to claim the second position. Three players finished at 7.5/9, IM Ramnathan Balasubramaniam of Tamil Nadu secured third position due to a better tie-break score. Total 227 players including 3 IMs and 2 FMs participated in this two-day tournament, organized by Chessmen Ratnagiri on 18th and 19th January 2020. Total cash prizes worth ₹131000 were distributed among prize winners. Photo: IA Vivek Sohani
Top seed dominates the field
1st SAARC Champion IM Nubairshah Shaikh of Maharashtra scored an unbeaten 8.5/9 to win Late R B Sapre Memorial Open Rapid Rating 2020. It is rare in a Swiss league event that a champion has faced four out of top six finishers. His only draw was in the penultimate round against the eventual runner-up FM Nikhil Dixit of Maharashtra, who finished at sole 8.0/9. Three players finished at 7.5/9, IM Ramnathan Balasubramaniam of Tamil Nadu finished at third place due to a better tie-break score.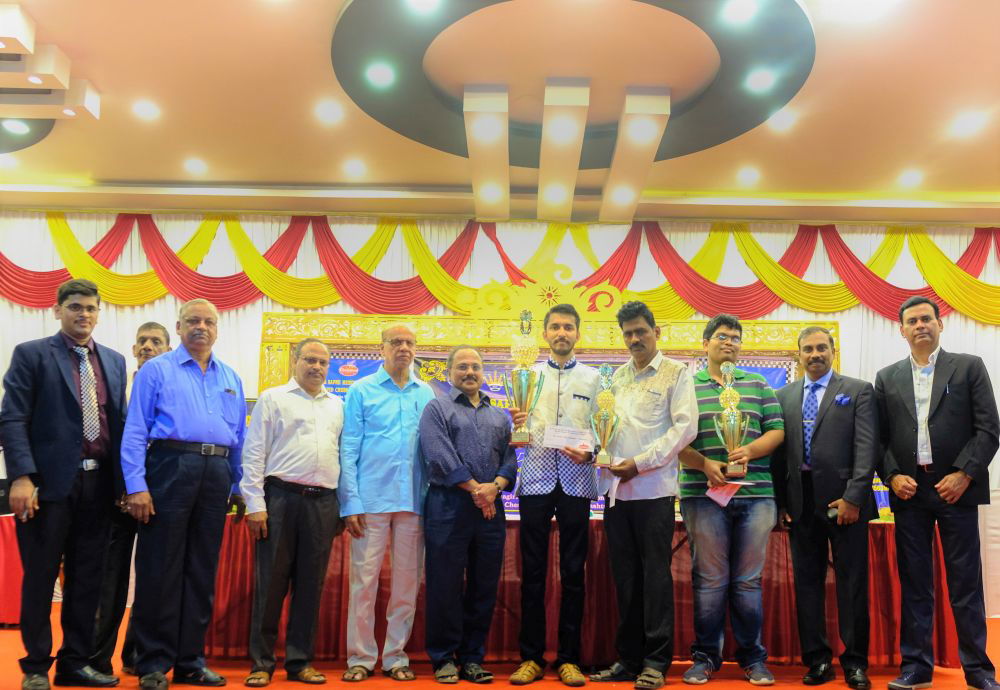 The Tournament was inaugurated on 18th January 2020 by Mr. Sachin Gabale from JSW Jaigarh Port who supported the event and Mr. Shriram Khare, President, Ratnagiri District Chess Association by Lighting of the lamp ceremony followed by moves over the board. Mr. Prasanna Ambulkar delivered President's Address and vote of thanks at the end of Inaugural ceremony. The event was supported by JSW Foundation Jaigarh.
Total cash prizes worth ₹131000 were distributed by Captain Ravi Chander, Vice president and Unit head – JSW Jaigarh Port, Sudhir Tailong – JSW Jaigarh Port, Madhav Hirlekar KGN Saraswati Foundation, Chandrakant Halbe, KGN Saraswati foundation and Prasanna Ambulkar, President Chessmen Ratnagiri. As the tournament is consistently organized every year in the name of Mr. Sapre, this year the total prize money was sponsored by the family members of Mr. Sapre in his memory.
Total 227 players including 3 IMs and 2 FMs from five states across the country participated in this two-day Rapid rating event on 18th and 19th January 2020 at Ratnagiri, Maharashtra. The tournament was organized by Chessmen Ratnagiri.
Final Standings
| | | | | | | | | | | | | | | | |
| --- | --- | --- | --- | --- | --- | --- | --- | --- | --- | --- | --- | --- | --- | --- | --- |
| Rk. | SNo | | | Name | Typ | sex | FED | RtgI | Club/City | Pts. | TB1 | TB2 | TB3 | TB4 | TB5 |
| 1 | 1 | | IM | Mohammad Nubairshah Shaikh | | | IND | 2255 | MAH | 8,5 | 0,0 | 52,0 | 56,5 | 52,50 | 8 |
| 2 | 5 | | FM | Dixit Nikhil | | | IND | 2054 | MAH | 8,0 | 0,0 | 53,5 | 57,5 | 49,50 | 7 |
| 3 | 3 | | IM | Ramnathan Balasubramaniam | | | IND | 2107 | TN | 7,5 | 0,0 | 55,5 | 60,5 | 48,00 | 7 |
| 4 | 11 | | | Dere Pushkar | | | IND | 1763 | MAH | 7,5 | 0,0 | 48,5 | 52,5 | 40,75 | 7 |
| 5 | 7 | | | Gandhi Anish | | | IND | 1933 | MAH | 7,5 | 0,0 | 45,0 | 49,0 | 40,50 | 7 |
| 6 | 4 | | | Sammed Jaykumar Shete | | | IND | 2086 | MAH | 7,0 | 0,0 | 55,5 | 60,5 | 44,00 | 7 |
| 7 | 2 | | FM | Deshpande Aniruddha | | | IND | 2161 | MAH | 7,0 | 0,0 | 51,5 | 56,5 | 41,00 | 7 |
| 8 | 19 | | | Mishra Sanjeev | | | IND | 1620 | MAH | 7,0 | 0,0 | 48,5 | 51,0 | 37,75 | 6 |
| 9 | 28 | | | Suthar Pradip | | | IND | 1501 | MAH | 7,0 | 0,0 | 48,0 | 50,5 | 37,50 | 7 |
| 10 | 33 | | CM | Kadam Om Manish | U13 | | IND | 1465 | MAH | 7,0 | 0,0 | 47,0 | 50,5 | 36,00 | 7 |
| 11 | 12 | | | Patwardhan Avdhut S | | | IND | 1763 | MAH-R | 7,0 | 0,0 | 47,0 | 50,0 | 36,50 | 7 |
| 12 | 34 | | | Gengaje Pratik | | | IND | 1464 | MAH | 7,0 | 0,0 | 46,0 | 50,0 | 36,25 | 6 |
| 13 | 26 | | WCM | Chopdekar Gunjal | F15 | w | IND | 1509 | GOA | 7,0 | 0,0 | 43,5 | 45,0 | 32,00 | 7 |
| 14 | 10 | | | Gajanan Vijay Jayade | | | IND | 1814 | MAH | 6,5 | 0,0 | 51,5 | 54,0 | 36,75 | 5 |
| 15 | 8 | | | Boricha Ketan | | | IND | 1905 | MAH | 6,5 | 0,0 | 50,0 | 53,0 | 35,00 | 6 |
| 16 | 6 | | | Utkarsh Lomate | | | IND | 1954 | MAH | 6,5 | 0,0 | 48,5 | 52,0 | 35,25 | 6 |
| 17 | 24 | | | Aditya Savalkar | U15 | | IND | 1540 | MAH | 6,5 | 0,0 | 47,5 | 50,0 | 34,00 | 6 |
| 18 | 20 | | | Bhosale Shriraj | | | IND | 1615 | MAH | 6,5 | 0,0 | 47,5 | 49,5 | 33,25 | 6 |
| 19 | 18 | | | Om Nagnath Lamkane | | | IND | 1625 | MAH | 6,5 | 0,0 | 47,0 | 50,0 | 34,25 | 6 |
| 20 | 44 | | | Tanvi Vasudev Hadkonkar | F15 | w | IND | 1398 | GOA | 6,5 | 0,0 | 46,0 | 48,5 | 32,25 | 6 |
| 21 | 37 | | | Mali Nilesh | | | IND | 1441 | MAH | 6,5 | 0,0 | 45,0 | 49,0 | 31,75 | 6 |
| 22 | 58 | | | Pednekar Ayush | | | IND | 1311 | GOA | 6,5 | 0,0 | 45,0 | 49,0 | 31,25 | 6 |
| 23 | 50 | | | Parab Rishikesh | U15 | | IND | 1340 | GOA | 6,5 | 0,0 | 44,0 | 46,5 | 32,50 | 5 |
| 24 | 73 | | | Halwai Aftab Hasan | | | IND | 1191 | MAH | 6,5 | 0,0 | 43,0 | 46,0 | 31,00 | 6 |
| 25 | 15 | | | Bhatkar Zaheer Abbas | | | IND | 1658 | GUJ | 6,5 | 0,0 | 41,5 | 44,0 | 30,00 | 6 |
---