Sriram Sarja wins 3rd Young Masters Rapid Chess Open 2020
by Shahid Ahmed - 14/02/2020
Sriram Sarja scored 7.5/8 and finished a full point ahead of the competition to become the champion in 3rd Young Masters Rapid Chess Open 2020. WIM Aakanksha Hagawane, Augustiya Negia and top seed Gaurav Bakliwal finished with the score of 6.5/8. They were placed second, third and fourth respectively. The tournament was organized by Ganga Pant and chess parents of Pune on 2nd February 2020 at Pune, Maharashtra. Their objective is to provide local spaces for the city chess players so that they can save on travel time and get to practice more within home turf. A pictorial report of the tournament. Photo: Ganga Pant
Sriram Sarja finishes a full point ahead
Starting out as the second seed of the tournament Sriram Sarja scored an unbeaten 7.5/8 and finished a full point ahead of the competition to finish first. Three players WIM Aakanksha Hagawane, Augustiya Negi and top seed Gaurav Bakliwal finished at 6.5/8. Aakanksha and Augustiya were placed second and third respectively according to their tie-break scores.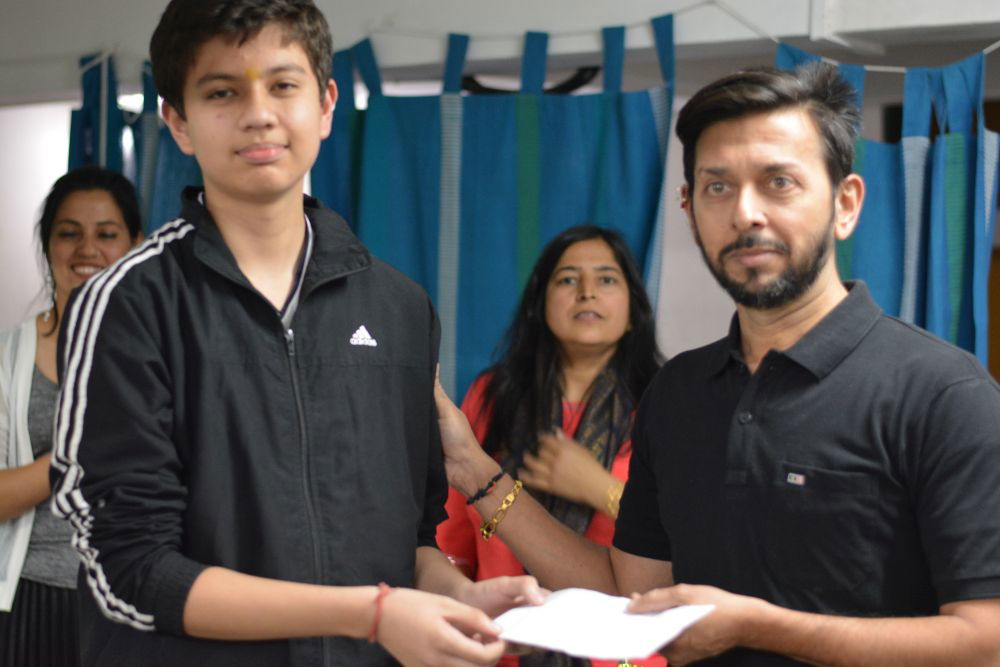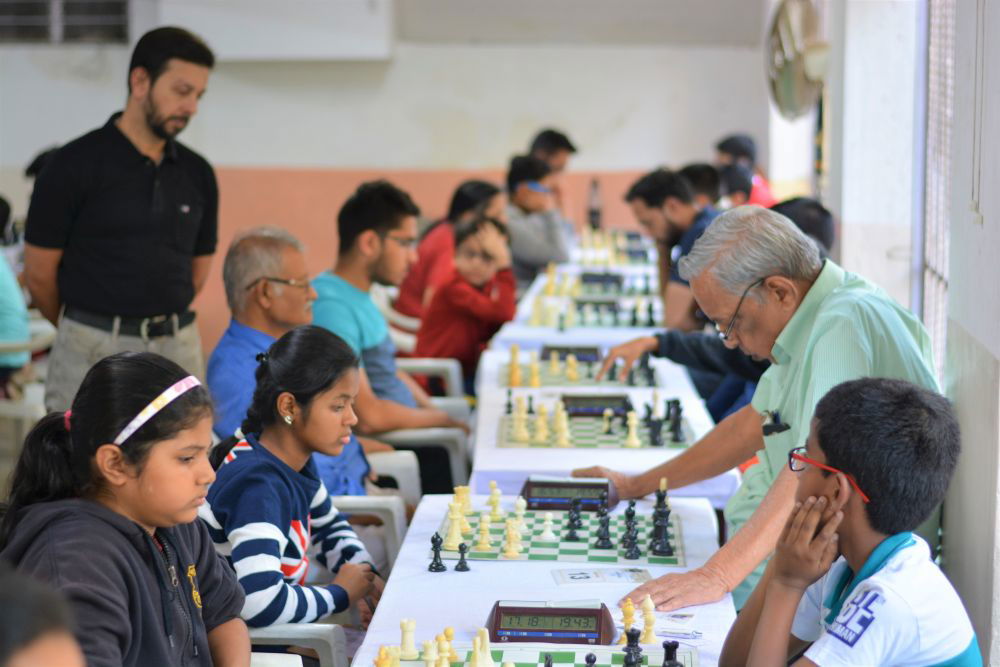 For more photos, click here.
Organizer Ganga Pant's note
Chess Parents at Pune have been organizing practice tournaments over the last couple of months and this was their third tournament of Young Masters Rapid Tournament series at Mangalwadi, Senapati Bapat Road, Pune. FA Dipti Shidore served as the Chief Arbiter for the event that got a very good response with as many as 44 FIDE rated players out of 82 participating players. Pune's very own WIM Akanksha Hagawane was playing the tournament as third seed. The event generated a lot of interest and participants gave rave reviews of the tournament, which had a prize fund of ₹12000, apart from trophies and medals for under age categories.
The event organizer Ganga Pant along with other co-organizers (also chess parents) Deepika Negi, Nitin Undale said that their endeavor is aimed at providing more local spaces for the young city talent so that they save on travel times and get to practice more within the home turf. While chess parents feel encouraged to conduct more such events in the future, they do feel that more support is needed from various quarters in order to create an ecosystem where chess can be nurtured as a sport across cities. They would welcome any help that could be offered in terms of getting a good hall for the players or sponsoring awards for the winners.
Now the fourth tournament of Young Masters Rapid Champion Series is scheduled on March 8th, 2020. Stay tuned to ChessBase India calendar for more such tournaments from Pune Chess Parents in future.
Final Standings
| | | | | | | | | | | | | | |
| --- | --- | --- | --- | --- | --- | --- | --- | --- | --- | --- | --- | --- | --- |
| Rk. | SNo | | Name | Typ | sex | FED | RtgI | Pts. | TB1 | TB2 | TB3 | TB4 | TB5 |
| 1 | 2 | | Sriram Sarja | | | IND | 2172 | 7,5 | 0,0 | 40,5 | 44,5 | 41,50 | 7 |
| 2 | 3 | WIM | Aakanksha Hagawane | | w | IND | 1870 | 6,5 | 0,0 | 41,5 | 45,5 | 34,75 | 6 |
| 3 | 7 | | Negi Augustiya | U14 | | IND | 1447 | 6,5 | 0,0 | 39,5 | 43,5 | 33,25 | 6 |
| 4 | 1 | | Bakliwal Gaurav | | | IND | 2219 | 6,5 | 0,0 | 33,5 | 37,5 | 30,75 | 6 |
| 5 | 22 | | Roy Aanya | U12 | w | IND | 1309 | 6,0 | 0,0 | 37,0 | 38,0 | 26,25 | 5 |
| 6 | 21 | | Sherla Prathamesh | U10 | | IND | 1315 | 6,0 | 0,0 | 36,5 | 38,5 | 27,50 | 5 |
| 7 | 15 | | Harshad Shrinath Hagawane | | | IND | 1361 | 6,0 | 0,0 | 36,0 | 38,0 | 26,00 | 5 |
| 8 | 17 | | Shivam Panchal | | | IND | 1342 | 6,0 | 0,0 | 33,5 | 36,5 | 24,00 | 6 |
| 9 | 16 | | Amul Jaiswal | | | IND | 1357 | 6,0 | 0,0 | 31,0 | 33,5 | 22,50 | 6 |
| 10 | 19 | | Apte Dhaivat | | | IND | 1324 | 5,5 | 0,0 | 36,5 | 39,0 | 22,25 | 5 |
| 11 | 9 | | Watarkar Yash | | | IND | 1424 | 5,5 | 0,0 | 35,5 | 37,5 | 23,25 | 4 |
| 12 | 58 | | Hagawane Gaurav | | | IND | 0 | 5,5 | 0,0 | 34,5 | 37,5 | 20,75 | 5 |
| 13 | 6 | | Singla Aaryan | U12 | | IND | 1464 | 5,5 | 0,0 | 33,5 | 37,5 | 23,75 | 5 |
| 14 | 13 | | Dhumal Amit | U16 | | IND | 1367 | 5,5 | 0,0 | 32,5 | 36,0 | 23,25 | 5 |
| 15 | 34 | | Tawari Manas | U12 | | IND | 1171 | 5,5 | 0,0 | 31,5 | 34,5 | 22,25 | 4 |
---