Rutuja Bakshi creates history by winning Maharashtra State Open 2019
Rutuja Bakshi created history on 12th November 2019 by becoming the first woman in her state to win Maharashtra State Open Selection. She won this exactly a week after winning Aurangabad District Open. Earlier this year she had won State Women's, Gold in Commonwealth under-20, Silver and Bronze at Western Asia Youth and Junior. She is also pursuing CA and balancing her chess quite well. We reported earlier this year that Sonakshi Rathore won Rajasthan State Senior for a record third time. Rutuja joins the elite list of women who have won a State Senior Open. In this article we get to know about Rutuja's triumph, her best game of the year and also hear from her coach Sajandas Joshi. Photo: Joseph D'souza / PDCA chess
Rutuja becomes the first woman to win Maharashtra State Open Selection
Rutuja Bakshi makes history by becoming the first woman ever to win the Maharashtra State Open Selection 2019. She scored eight consecutive victories and drew her final round game to clinch the title for the very first time and create history.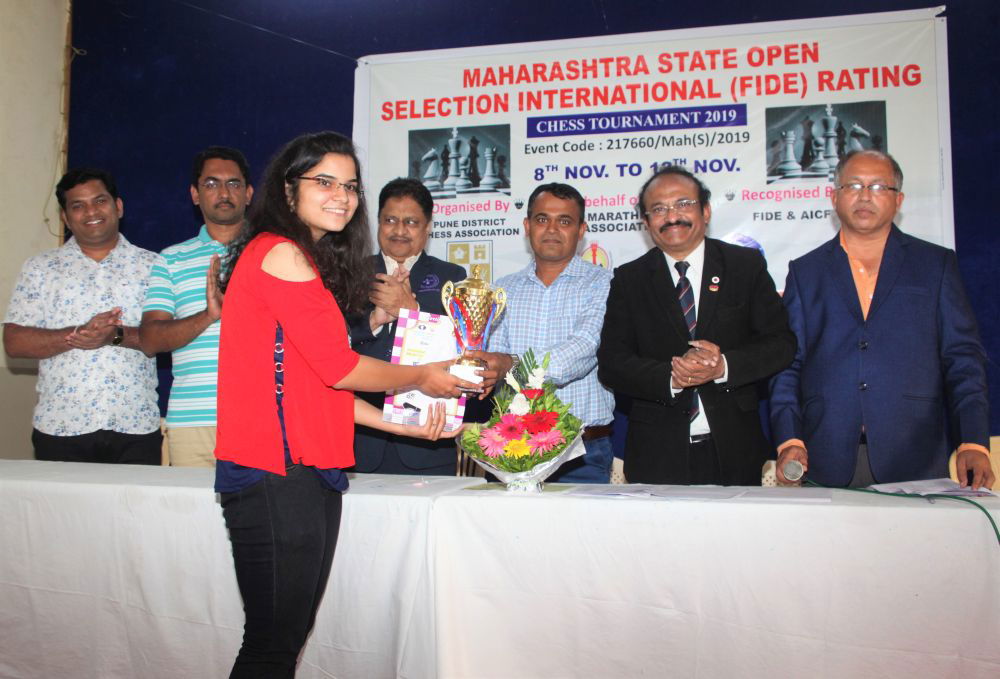 The top four players qualified to represent Maharashtra in the National Senior Open in Sikkim next month are - Rutuja Bakshi (Aurangabad), Rishi Kadam (Mumbai Suburban), Vedant Pimpalkhare (Nasik) and Siddhant Tamhankar (Pune).
The Chief Guest for the Prize distribution ceremony was World Disabled Champion IM Shashikant Kutwal. Sangram Konde, Joint Secretary of Shivbhumi Shikshan Manda, Shiv Chhatrapati Award Winner & Chairman Pune District Chess Association Joseph D'souza, Hon. Secretary Pune District Chess Association & Treasurer AMCA Rajendra Konde and Executive Committee Member Pune District Chess Association Abhijeet Joshi were also present there.
The tournament was organized by Pune District Chess Association from 8th to 12th November 2019. Total 219 players participated from various districts across the state of Maharashtra.
I caught up with Rutuja to ask her about her historic feat.
Shahid Ahmed (SA): How does it feel to win the State Senior Open, a title which has never been won by a woman in Maharashtra chess history?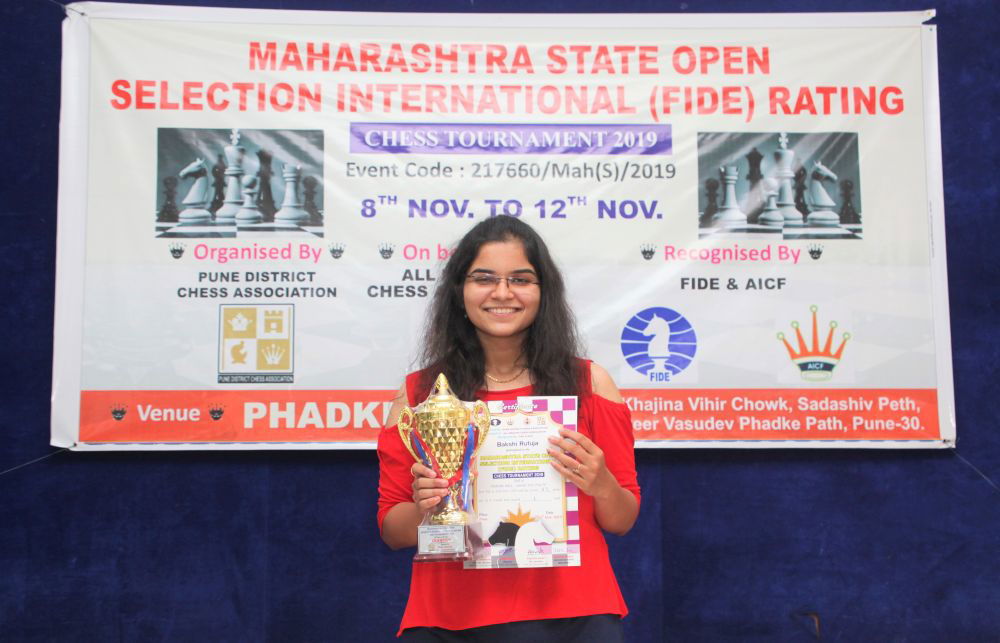 Rutuja Bakshi (RB): Yeah it's feeling great. I was just trying to play the good games and I was not thinking about the results I really really enjoyed my games.
SA: You won eight consecutive games and needed only a draw in the final round to become a champion. Before the last round, did it occur to you that you are that much close to becoming a champion and create a unique record?
RB: Yeah but anyway the last round wasn't an agreed draw we played like 3:30 hours I guess. My coach helped me to stay calm and cool and not get so excited. I was very happy that I won eight games but the pressure was there for the last round.
SA: Who is your coach and was he also playing in the same tournament?
RB: My father is my first coach and currently I am working with FM Sajandas Joshi sir. No no he was not playing he has retired from chess.
SA: You won the State championship exactly a week after winning the Aurangabad District championship. How confident were you feeling going into the State championship?
RB: I was very positive and confident and I was excited to play the tournament and I was looking forward to play a good chess
SA: You have won Gold in Commonwealth, Silver and Bronze in Western Asia earlier this year and now District and State Champion within a week apart. Is this the best year you ever had in your chess career?
RB: Yeah probably. All credit goes to my very supportive parents and my super positive coach, my friends who are helping me a lot and all my well wishers.
SA: Out of all the triumphs you had in this year, which one is your personal favorite and why?
RB: I think I played a good game and aggressive.
SA: We know that you are doing CA and you are balancing chess and studies in a fantastic way. What's next for you?
RB: Haha, yes my boss CA Renuka Boramanikar is very very supportive I am looking forward to National Seniors, IIFL and Delhi open./9/
SA: Thank you Rutuja for taking your time to answer all the questions. I wish you all the best in your future endeavors.
RB: Thank you!
I reached out to Rutuja's coach Sajandas Joshi to hear his thoughts on his student's triumph and this is what he had to say
Shahid Ahmed (SA): How does it feel to learn that your student won Maharashtra State...?
Sajandas Joshi (SJ): Yes she won Maharashtra State Open Selection. Actually, Anupama Gokhale won State Senior Men's title long back in 1987. State Selection Open and State Senior Open are separate tournaments. They do not take place every year. My other student Vrushali Deodhar had won State Amateur Open and now Rutuja won State Selection Open. That is a unique feat. She has also won State Women's championship early this year which makes it a double delight.
SA: What are your thoughts on her having a fantastic year?
SJ: Generally she is showing improvement in various areas after every tournament. Basically, mentally she is quite tough. That is also an essential quality for a champion. In this particular tournament, she had never faced any time trouble in any of her games. That is also a good sign. Generally you face time in some of the games. I am very happy that she was second seed and still she could improve 21 Elo rating points which is also quite difficult generally. The 1700-1800s are also good. Consistently winning eight games is really a great performance on her part.
SA: She said that before the last round she talked with you, what did you tell her knowing the fact that she had high chances of winning the tournament?
SJ: Yeah of course, even a draw was sufficient for her. Unfortunately if she had lost her game, then also if another player had joined her at eight points, her tie-break score was better. Anyway she would have been champion. Only if her opponent won the game and no one else reached 8.0/9, then her opponent would have become champion as direct encounter was the first criteria for the tie-break. I told her that, opponent should not get psychological edge. If he offers you a draw, it's okay. Otherwise she should be in a fighting mode throughout the game. She had a chance of scoring 9.0/9. My suggestion her was to keep that in her mind too, if he wants to fight, you may get an opportunity to score 9.0/9 also. He will be under more tension because he has to qualify. By drawing the game, on 7.5 points, he may not qualify. That tension will be always on him. He may go for harakiri also and there lies your chance of winning the game with black pieces. That was my simple advice to her.
SA: Thank you very much for taking the time to answer all these questions.
SJ: Thank you.
Final Standings
| | | | | | | | | | | | | |
| --- | --- | --- | --- | --- | --- | --- | --- | --- | --- | --- | --- | --- |
| Rk. | SNo | | Name | Typ | FED | Rtg | Club/City | Pts. | TB1 | TB2 | TB3 | Rp |
| 1 | 2 | | Bakshi Rutuja | | IND | 2054 | Aurangabad | 8,5 | 0,0 | 53,0 | 57,5 | 2079 |
| 2 | 19 | | Kadam Rishi R | U15 | IND | 1702 | Mumbai Sub | 8,0 | 0,0 | 49,0 | 53,0 | 1891 |
| 3 | 1 | | Pimpalkhare Vedant | | IND | 2080 | Nashik | 8,0 | 0,0 | 46,5 | 50,5 | 1943 |
| 4 | 15 | | Tamhankar Siddhant | | IND | 1770 | Pune | 7,5 | 0,0 | 48,0 | 52,0 | 1866 |
| 5 | 11 | | Nirgun Keval | U17 | IND | 1825 | Pune | 7,0 | 0,0 | 53,5 | 58,0 | 1840 |
| 6 | 7 | | Wankhede Avishkar | U17 | IND | 1924 | Nashik | 7,0 | 0,0 | 52,5 | 57,0 | 1779 |
| 7 | 18 | | Mishra Sanjeev | | IND | 1713 | Mumbai Sub | 7,0 | 0,0 | 48,5 | 53,0 | 1607 |
| 8 | 21 | | Mhamane Sourabh | U17 | IND | 1652 | Pune | 7,0 | 0,0 | 48,5 | 52,5 | 1715 |
| 9 | 24 | | Bilpe Abhijeet | U17 | IND | 1588 | Parbhani | 7,0 | 0,0 | 48,0 | 51,5 | 1630 |
| 10 | 34 | | Pawar Sohum | | IND | 1452 | Thane | 7,0 | 0,0 | 46,0 | 47,0 | 1603 |
| 11 | 35 | | Jadhav Jyotiraditya | U15 | IND | 1447 | Satara | 7,0 | 0,0 | 44,5 | 48,0 | 1617 |
| 12 | 25 | | Borse Pankaj | | IND | 1571 | Nashik | 7,0 | 0,0 | 44,5 | 47,5 | 1558 |
| 13 | 8 | AGM | Kiran Panditrao | | IND | 1915 | Pune | 6,5 | 0,0 | 53,5 | 58,0 | 1672 |
| 14 | 3 | | Gokhale Rishabh Chandrashekhar | U15 | IND | 1965 | Pune | 6,5 | 0,0 | 52,5 | 57,0 | 1666 |
| 15 | 26 | | Kherdekar Arnav | U15 | IND | 1552 | Mumbai City | 6,5 | 0,0 | 50,0 | 52,5 | 1707 |
| 16 | 17 | | Tajane Ganesh | | IND | 1746 | Nashik | 6,5 | 0,0 | 47,5 | 52,0 | 1616 |
| 17 | 16 | | Joshi Abhijeet | | IND | 1747 | Pune | 6,5 | 0,0 | 45,5 | 50,0 | 1479 |
| 18 | 40 | | Apte Dhaivat | U17 | IND | 1413 | Pune | 6,5 | 0,0 | 45,0 | 48,5 | 1512 |
| 19 | 37 | | Mayekar Ayush | U15 | IND | 1440 | Ratnagiri | 6,5 | 0,0 | 45,0 | 46,5 | 1650 |
| 20 | 13 | | Sachin Bilpe | | IND | 1788 | Parbhani | 6,5 | 0,0 | 44,0 | 48,0 | 1445 |
---