2nd Maharashtra GM 2023 R4: Raahul makes an incredible save against Luka
IM Raahul V S showed gritty defense against GM Luka Paichadze (GEO) in Round 4 of 2nd Maharashtra GM Open 2023. Despite being down by two pawns, the former Asian Junior champion, stormed his king down the board before using his rooks to unsettle his opponent. FM Vedant Panesar, FM Sharan Rao and IM Kushagra Mohan joined the previous round leaders Raahul, IM Sammed Shete, Luka and FM Harshad S at 3.5/4 each. Vidit Gujrathi and Raunak Sadhwani scored emphatic victories against Peter Svidler and Nigel Short to take 2-1 lead. Vidit made a short work of Svidler in just 23 moves. Today is the last double round of the GM tournament and final Classical game of the match. Round 5 starts today at 10 a.m. IST. Photos: Shahid Ahmed
Vidit and Raunak regain their lead
The 2nd Maharashtra GM Open 2023 has no Indian GMs in the lead. There are still seven rounds left. FM Sharan Rao won the longest game of the event so far. He battled for over 5.5 hours in the third round to win against GM Aleksej Aleksandrov.
Luka - Raahul
IM Raahul V S (2299) landed himself in deep trouble early in the middlegame. As he mentioned in the post-match interview, he thought that the attack won't work out but it actually did. White got two extra pawns in the resultant double rook endgame after the exchange of pieces. 18.Ngxf7 Nhxf7 19.Nxf7 Qxd1 20.Raxd1 Nf3+ 21.gxf3 Kxf7 22.Rd7+ Kf6 23.fxe4+ Ke5 Raahul made the bold decision to bring his king out in the open as he felt the position was lost, so playing passive does not help. Eventually, his opponent made several inaccuracies in a position where there were multiple winning ways.
Armen - Zakhartsov
Kushagra - Anirudhha Potawad
After a mistake in the sharp rook and same color bishop endgame by Anirudhha Potawad (1995), he managed to get back in the game against IM Kushagra Mohan (2412). 45.d7 forced Black to give up the bishop Bxd7 46.Rxd7 Rf2 47.e6 g2?? 48.Bxg2 and White went on to win the game. 47...b4 would have given Black another lifeline to continue the fight.
Niranjan - Deep
Vorobiov - Rajesh
18...f4, 20...f3! is a devastating idea. It is difficult for a human to find 21.g4 as the correct continuation. 21.gxf3 Qxh3 22.Qg3 Qe6 23.fxe4 Rg8 24.Qh4 Nxe4?? this is actually a mistake. 25.Nxe4 Bf6 26.Ng5 and White gains the upper hand. As I mentioned earlier, it is not easy for humans to think like, thus the GM faltered. CM Rajesh Nayak's (2168) bold approach worked.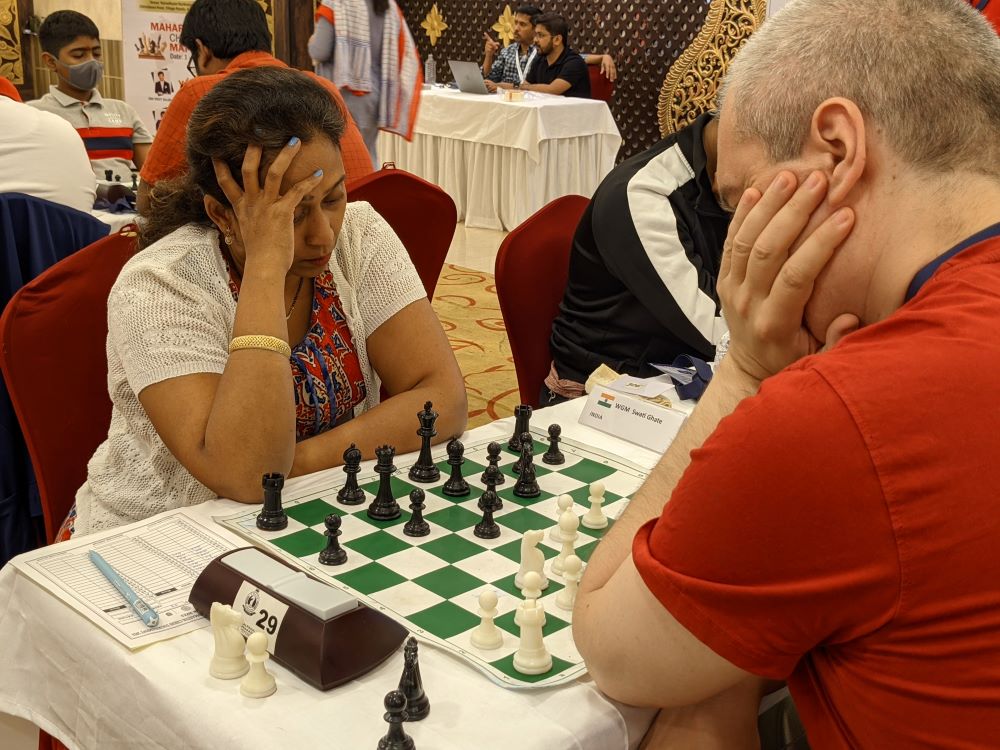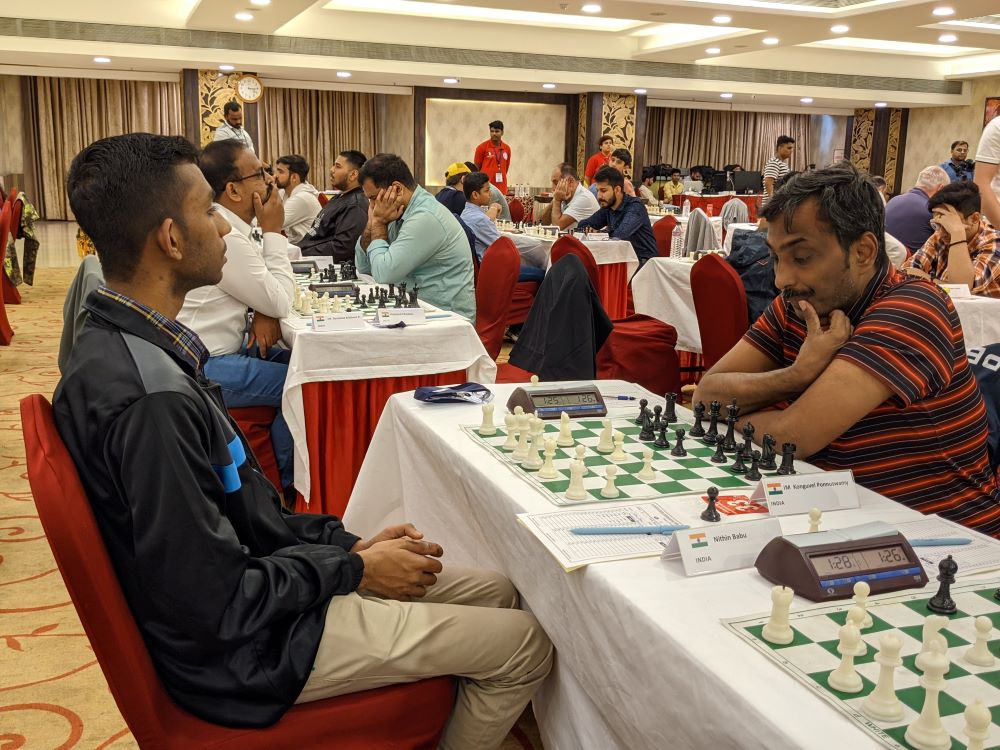 Vidit - Svidler, Game 3
Vidit Gujrathi got a nice bind on the queenside after 18.Na6. Black's a8-rook is stuck unless he gives up the b7-pawn by moving his light-square bishop. 18...0-0 19.Bb4 Rd8 20.Rd2 Nd4? 21.Nc7 Rb8 22.Nd5 Bf5? 23.Rxd4 and Black resigned as Bxd4 runs into 24.Ne7+
Short - Raunak, Game 3
Raunak Sadhwani made an interesting exchange sacrifice 18...Rxf3. 19.gxf3 Qf8 20.Bg2 g5 21.a4 Rb8 22.axb5 axb5 and after a few moves we reached the following position
30.c4? undid White's position 30...bxc4 31.Qxc4 Ne5 32.Rxe5 White had to return the exchange to prevent Nxf3+ finishing the game. 32...Bxe5 33.Ra3 was barely holding things together. 33...Bg7 34.Qe2 Ng6 35.Nh5 Bh8 36.f4 Bxh1 37.Kxh1 Qf5 38.fxg5 d3 39.Qd1 Nh4 40.Ng3 Qd5+ 41.f3 Nxf3 and it's over.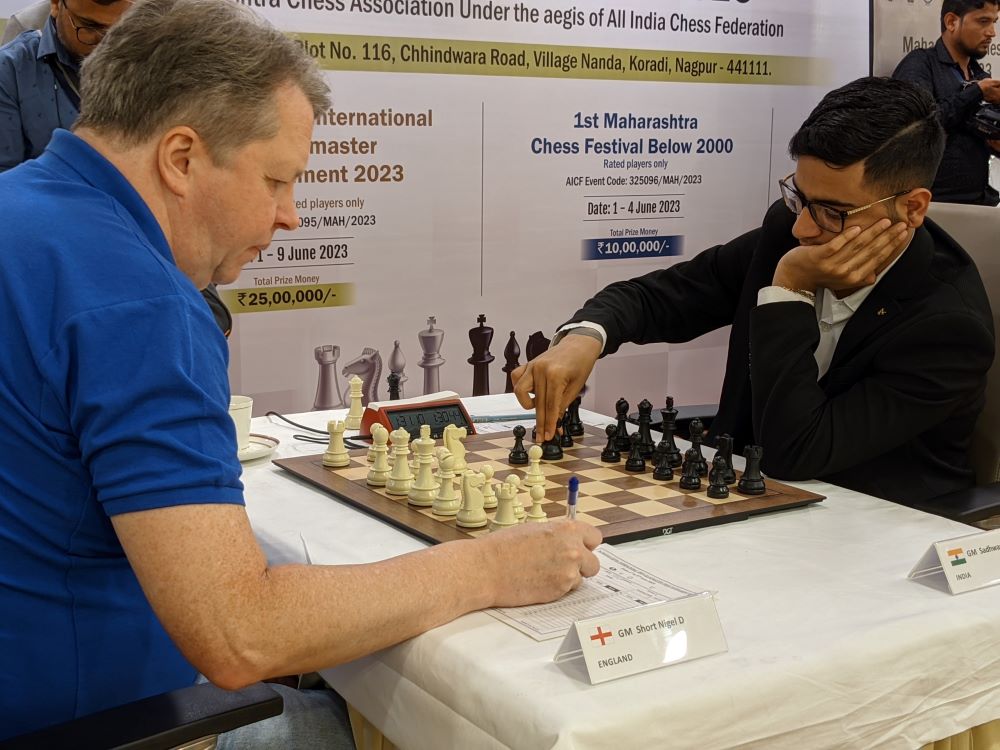 Fun fact: Vidit-Svidler had three 1-0 results and Raunak-Short had three 0-1 results in their first three Classical games.
Replay all Maharashtra Challenge Match games in interactive format and learn from IM Sagar Shah at Chessranga.
For more GM Round 4 and Match Classical Game 3 photos, please click at the respective links.
Replay GM Open Round 4 games
Round 4 results
| | | | | | | | | | | | | | | | | |
| --- | --- | --- | --- | --- | --- | --- | --- | --- | --- | --- | --- | --- | --- | --- | --- | --- |
| Bo. | No. | | | Name | Rtg | Club/City | Pts. | Result | Pts. | | Name | Rtg | Club/City | | No. | PGN |
| 1 | 3 | | GM | Paichadze, Luka | 2513 | GEO | 3 | ½ - ½ | 3 | IM | Raahul, V S | 2299 | TN | | 34 | PGN |
| 2 | 50 | | FM | Harshad, S | 2211 | TN | 3 | ½ - ½ | 3 | IM | Sammed Jaykumar, Shete | 2440 | MAH | | 14 | PGN |
| 3 | 1 | | GM | Savchenko, Boris | 2524 | RUS | 2½ | 1 - 0 | 2½ | FM | Goutham, Krishna H | 2082 | KER | | 78 | PGN |
| 4 | 24 | | IM | Barseghyan, Armen Ar. | 2373 | ARM | 2½ | ½ - ½ | 2½ | GM | Zakhartsov, Viacheslav V. | 2514 | FID | | 2 | PGN |
| 5 | 33 | | GM | Laxman, R.R. | 2299 | ICF | 2½ | ½ - ½ | 2½ | GM | Burmakin, Vladimir | 2492 | RUS | | 4 | PGN |
| 6 | 41 | | FM | Sharan, Rao | 2248 | KAR | 2½ | 1 - 0 | 2½ | GM | Aleksandrov, Aleksej | 2461 | BLR | | 8 | PGN |
| 7 | 19 | | IM | Kushagra, Mohan | 2412 | TEL | 2½ | 1 - 0 | 2½ | | Potawad, Anirudhha | 1995 | MAH | | 102 | PGN |
| 8 | 43 | | | Kaustuv, Kundu | 2242 | WB | 2½ | ½ - ½ | 2½ | IM | Rohith, Krishna S | 2411 | TN | | 20 | PGN |
| 9 | 21 | | | Sanket, Chakravarty | 2389 | WB | 2½ | ½ - ½ | 2½ | | Setumadhav, Yellumahanthi | 1954 | AP | | 117 | PGN |
| 10 | 121 | | | Vivaan, Vishal Shah | 1931 | GUJ | 2½ | 0 - 1 | 2½ | FM | Panesar, Vedant | 2387 | MAH | | 22 | PGN |
| 11 | 54 | | FM | Navalgund, Niranjan | 2200 | KAR | 2 | 0 - 1 | 2 | GM | Sengupta, Deep | 2473 | PSPB | | 6 | PGN |
| 12 | 7 | | GM | Venkatesh, M.R. | 2469 | PSPB | 2 | ½ - ½ | 2 | CM | Shaik, Sumer Arsh | 2211 | TEL | | 51 | PGN |
| 13 | 9 | | GM | Vorobiov, Evgeny E. | 2454 | RUS | 2 | 0 - 1 | 2 | CM | Nayak, Rajesh | 2168 | ODI | | 59 | PGN |
| 14 | 60 | | | Dere, Pushkar | 2166 | MAH | 2 | 0 - 1 | 2 | IM | Nitish, Belurkar | 2450 | GOA | | 10 | PGN |
| 15 | 11 | | GM | Fedorov, Alexei | 2449 | BLR | 2 | 1 - 0 | 2 | FM | Jaiswal, Rupesh | 2146 | NEP | | 63 | PGN |
Standings after Round 4
| | | | | | | | | | | | | | | | | | | | |
| --- | --- | --- | --- | --- | --- | --- | --- | --- | --- | --- | --- | --- | --- | --- | --- | --- | --- | --- | --- |
| Rk. | SNo | | | Name | Typ | sex | Gr | FED | Rtg | Club/City | Pts. | TB1 | TB2 | TB3 | TB4 | TB5 | Rp | K | rtg+/- |
| 1 | 14 | | IM | Sammed Jaykumar, Shete | | | | IND | 2440 | MAH | 3,5 | 8,5 | 10 | 8,25 | 0 | 3 | 2534 | 10 | 3,7 |
| | 34 | | IM | Raahul, V S | | | | IND | 2299 | TN | 3,5 | 8,5 | 10 | 8,25 | 0 | 3 | 2567 | 10 | 12,4 |
| 3 | 3 | | GM | Paichadze, Luka | | | | GEO | 2513 | GEO | 3,5 | 8,5 | 9,5 | 7,75 | 0 | 3 | 2559 | 10 | 1,8 |
| 4 | 50 | | FM | Harshad, S | | | | IND | 2211 | TN | 3,5 | 8,5 | 9 | 7,25 | 0 | 3 | 2443 | 20 | 26,4 |
| 5 | 22 | | FM | Panesar, Vedant | | | | IND | 2387 | MAH | 3,5 | 7,5 | 9,5 | 8,25 | 0 | 3 | 2316 | 20 | -3,4 |
| 6 | 1 | | GM | Savchenko, Boris | | | | FID | 2524 | RUS | 3,5 | 7,5 | 8,5 | 7,00 | 0 | 3 | 2529 | 10 | 0,9 |
| 7 | 41 | | FM | Sharan, Rao | | | | IND | 2248 | KAR | 3,5 | 7 | 8 | 7,00 | 0 | 3 | 2428 | 20 | 15,4 |
| 8 | 19 | | IM | Kushagra, Mohan | | | | IND | 2412 | TEL | 3,5 | 6,5 | 7 | 6,75 | 0 | 3 | 2351 | 10 | -1,5 |
| 9 | 28 | | FM | Ritviz, Parab | | | | IND | 2340 | GOA | 3 | 9 | 11 | 7,50 | 0 | 3 | 2292 | 20 | 0,4 |
| 10 | 24 | | IM | Barseghyan, Armen Ar. | | | | ARM | 2373 | ARM | 3 | 8,5 | 9,5 | 6,25 | 0 | 2 | 2457 | 10 | 5,9 |
| 11 | 117 | | | Setumadhav, Yellumahanthi | | | | IND | 1954 | AP | 3 | 8 | 10 | 7,25 | 0 | 2 | 2479 | 40 | 98,8 |
| 12 | 4 | | GM | Burmakin, Vladimir | | | | FID | 2492 | RUS | 3 | 8 | 10 | 7,00 | 0 | 2 | 2433 | 10 | -1,7 |
| 13 | 21 | | | Sanket, Chakravarty | | | | IND | 2389 | WB | 3 | 8 | 8 | 5,00 | 0 | 2 | 2345 | 20 | 0 |
| 14 | 23 | | GM | Babujian, Levon | | | | ARM | 2373 | ARM | 3 | 7,5 | 9 | 5,50 | 0 | 3 | 2362 | 10 | 0,4 |
| 15 | 2 | | GM | Zakhartsov, Viacheslav V. | | | | FID | 2514 | FID | 3 | 7 | 8,5 | 6,25 | 0 | 2 | 2339 | 10 | -4 |
Round 5 pairings
| | | | | | | | | | | | | | | | |
| --- | --- | --- | --- | --- | --- | --- | --- | --- | --- | --- | --- | --- | --- | --- | --- |
| Bo. | No. | | | Name | Rtg | Club/City | Pts. | Result | Pts. | | Name | Rtg | Club/City | | No. |
| 1 | 22 | | FM | Panesar, Vedant | 2387 | MAH | 3½ | | 3½ | GM | Savchenko, Boris | 2524 | RUS | | 1 |
| 2 | 50 | | FM | Harshad, S | 2211 | TN | 3½ | | 3½ | GM | Paichadze, Luka | 2513 | GEO | | 3 |
| 3 | 14 | | IM | Sammed Jaykumar, Shete | 2440 | MAH | 3½ | | 3½ | FM | Sharan, Rao | 2248 | KAR | | 41 |
| 4 | 34 | | IM | Raahul, V S | 2299 | TN | 3½ | | 3½ | IM | Kushagra, Mohan | 2412 | TEL | | 19 |
| 5 | 2 | | GM | Zakhartsov, Viacheslav V. | 2514 | FID | 3 | | 3 | GM | Teterev, Vitaly | 2344 | BLR | | 27 |
| 6 | 4 | | GM | Burmakin, Vladimir | 2492 | RUS | 3 | | 3 | IM | Barseghyan, Armen Ar. | 2373 | ARM | | 24 |
| 7 | 6 | | GM | Sengupta, Deep | 2473 | PSPB | 3 | | 3 | FM | Ayush, Sharma | 2312 | MP | | 31 |
| 8 | 10 | | IM | Nitish, Belurkar | 2450 | GOA | 3 | | 3 | GM | Laxman, R.R. | 2299 | ICF | | 33 |
| 9 | 28 | | FM | Ritviz, Parab | 2340 | GOA | 3 | | 3 | GM | Fedorov, Alexei | 2449 | BLR | | 11 |
| 10 | 12 | | IM | Szpar, Milosz | 2447 | POL | 3 | | 3 | | Kaustuv, Kundu | 2242 | WB | | 43 |
| 11 | 59 | | CM | Nayak, Rajesh | 2168 | ODI | 3 | | 3 | IM | Viani, Antonio Dcunha | 2417 | KAR | | 15 |
| 12 | 20 | | IM | Rohith, Krishna S | 2411 | TN | 3 | | 3 | | Dhyey, Agarwal | 2004 | GUJ | | 99 |
| 13 | 115 | | | Koustuv, Dash | 1965 | ODI | 3 | | 3 | | Sanket, Chakravarty | 2389 | WB | | 21 |
| 14 | 117 | | | Setumadhav, Yellumahanthi | 1954 | AP | 3 | | 3 | GM | Babujian, Levon | 2373 | ARM | | 23 |
| 15 | 78 | | FM | Goutham, Krishna H | 2082 | KER | 2½ | | 2½ | GM | Venkatesh, M.R. | 2469 | PSPB | | 7 |
Links
Maharashtra Chess Association: Official site, fb page and twitter
---