2nd Maharashtra GM 2023 R2-3: Sammed, Luka, Raahul and Harshad make a perfect start 3/3
IM Sammed Jaykumar Shete, GM Luka Paichadze (GEO), IM Raahul V S and FM Harshad S are the four leaders 3/3 each at 2nd Maharashtra GM Open 2023. Sammed scored a nice victory against GM Levon Babujian (ARM). Former Asian Junior champion, IM Raahul V S defeated GM Venkatesh M R. FM Harshad S got the better of GM Azer Mirzoev (AZE). 16 players are trailing them by a half point at 2.5/3 each. Nigel Short and Peter Svidler bounced back by scoring emphatic victories over Raunak Sadhwani and Vidit Gujrathi. The match score is now 1-1. It will be GM Luka vs IM Raahul and FM Harshad vs IM Sammed in Round 4 which starts today at 3 p.m. IST. Photos: Shahid Ahmed
Short and Svidler bounce back in Game 2
The second day witnessed two unique endgames - double bishop vs bishop and two queens vs a queen.
Venkatesh - Ivana
WIM Ivana Maria Furtado (2139) made an interesting exchange sacrifice to gain positional advantage 18...Rxh6!? 19.Qxh6 g5! preventing the queen from coming to the aid of the king. 20.Kd2 N4c6 21.Bd3 Qb4+ 22.Ke3 g4 23.Na2 Qb3 24.Nd2? Qxb2 25.Qf4 Nxd4 26.Rhb1 Nc2+
26...Nc2+ 27.Ke2 Qxa1 28.Rxa1 Nxa1 Black's advantage evaporated. Instead, 26...Qa3 would have maintained upper hand for Black.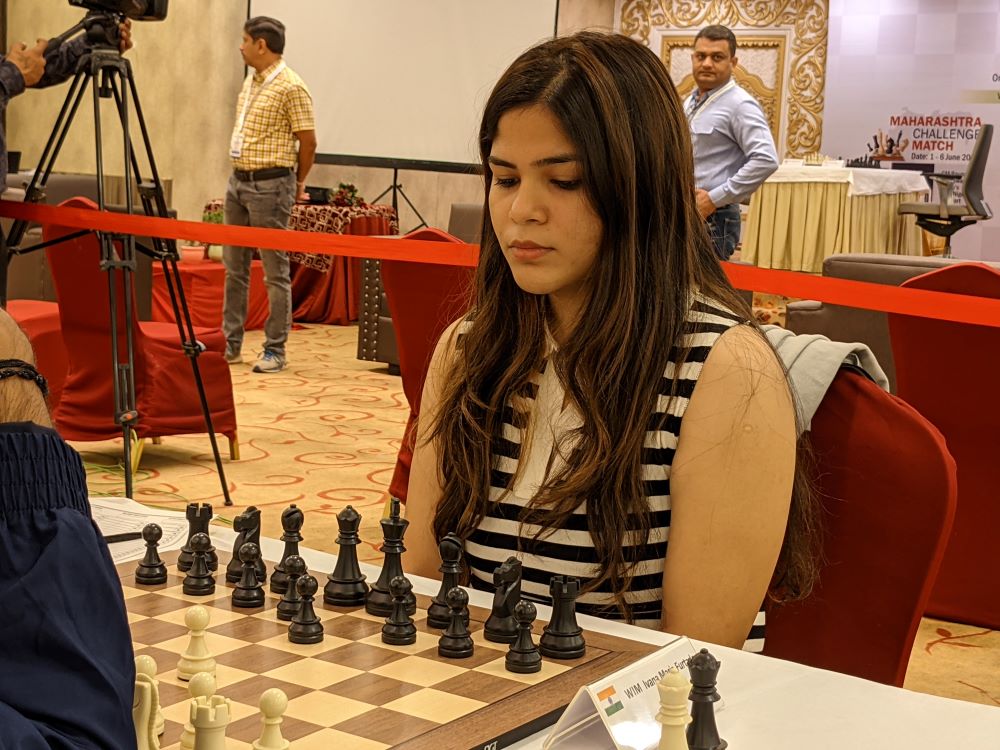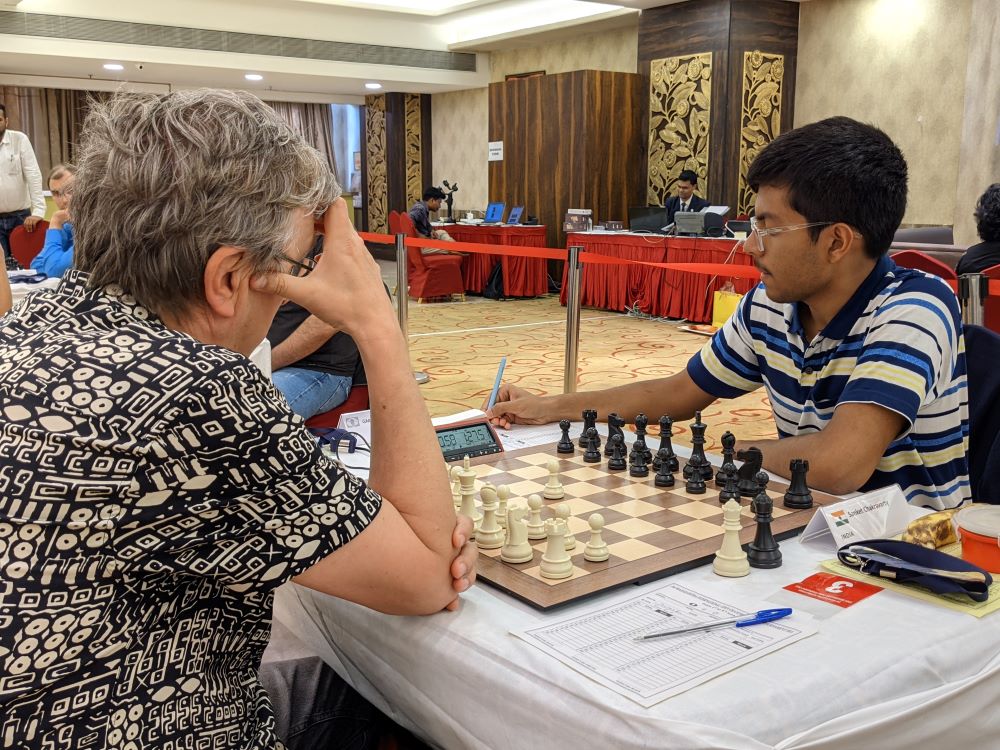 Sammed - Babujian, Round 3
GM Levon Babujian (ARM, 2373) sacrificed a pawn to complete his development of pieces. However, later on he managed to get back in the game. IM Sammed Shete (2440) seized his opportunity when his opponent played 38...Rd4?? 39.Nc6! threatening Ne7+ fork and also attacking the rook turned things back into White's favor.
Azer - Harshad
28.d5 exd5 29.Rf6 Rf8 30.Rxa6 is what GM Azer Mirzoev (AZE, 2416) needed to do against FM Harshad S (2211). 28.Rdd7?? although seems practical, does the opposite for White. 28...Rf8 29.Ra7 Ra4 Black used his protected passed pawns on a and b-file to win the game eventually.
Rohith Krishna - Vivaan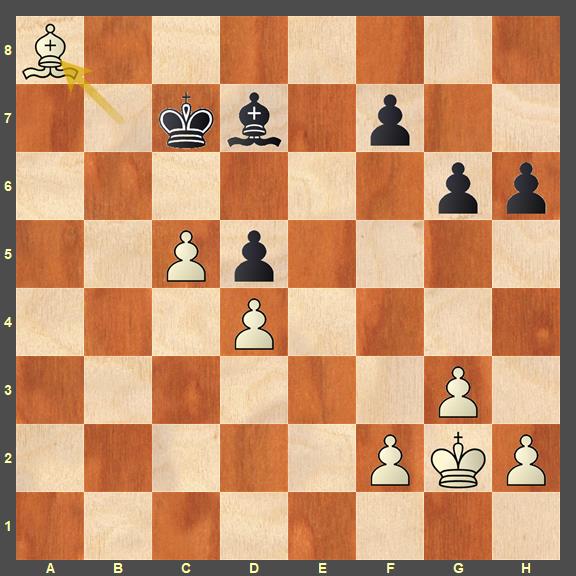 The above position seems lost for Black. Vivaan Vishal Shah (1931) knew this. However, he decided to play on and see what happens. Eventually, his opponent, IM S Rohith Krishna (2411) blundered and Vivaan managed to salvage a half point.
Over 4 hours 15 minutes later, Black found a beautiful resource 88...Be8! White cannot promote a queen or rook as it ends up in a Stalemate. 89.d8B was played. However White cannot win it because Black has a bishop.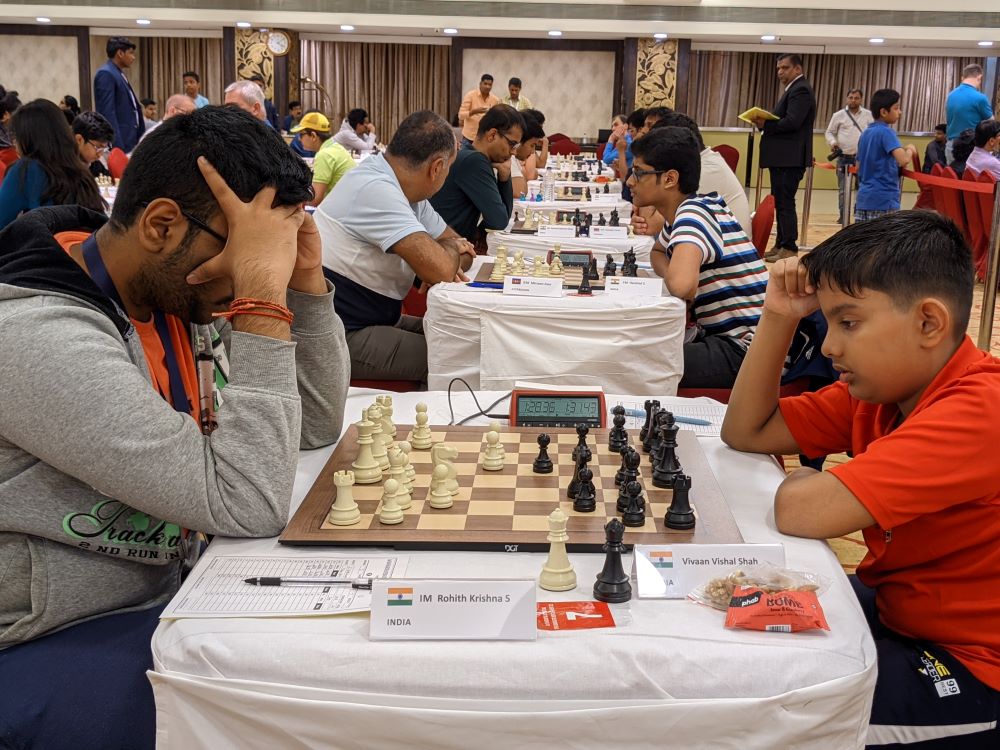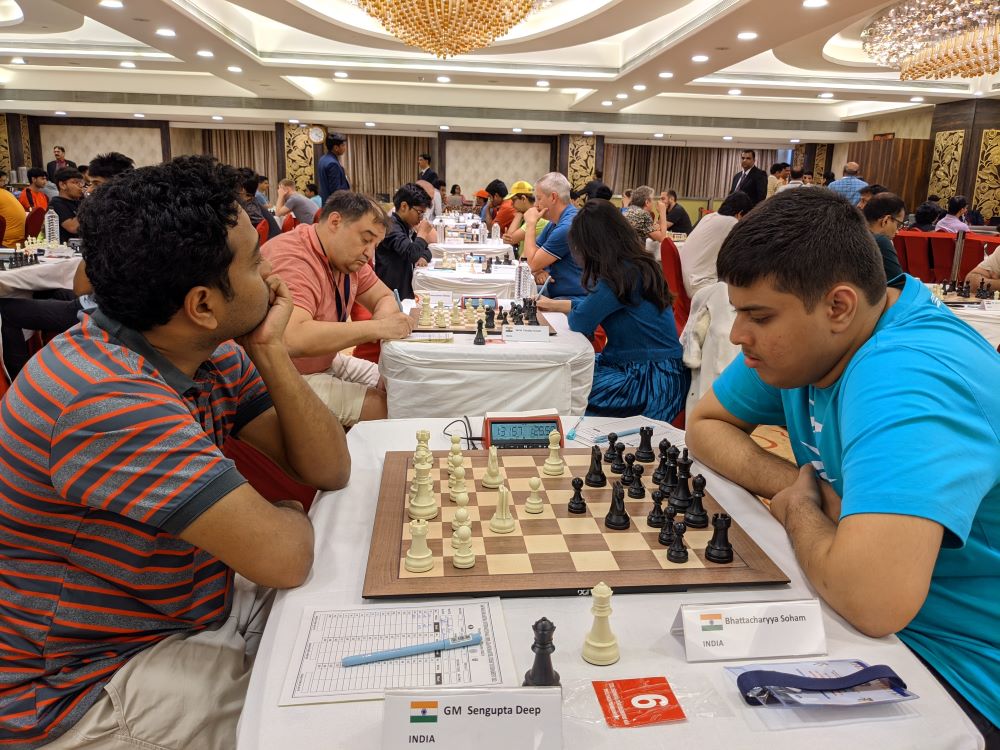 Svidler - Vidit, Game 2
27...h6? turned out to be the decisive mistake. 28.f4 hxg5 29.fxg5 f6 30.Kg3! fxg5 31.h5 Rg8 32.Kg4 using Black's own g5-pawn as a shield and also simultaneously protecting the h5-pawn. White won the game in another seven moves.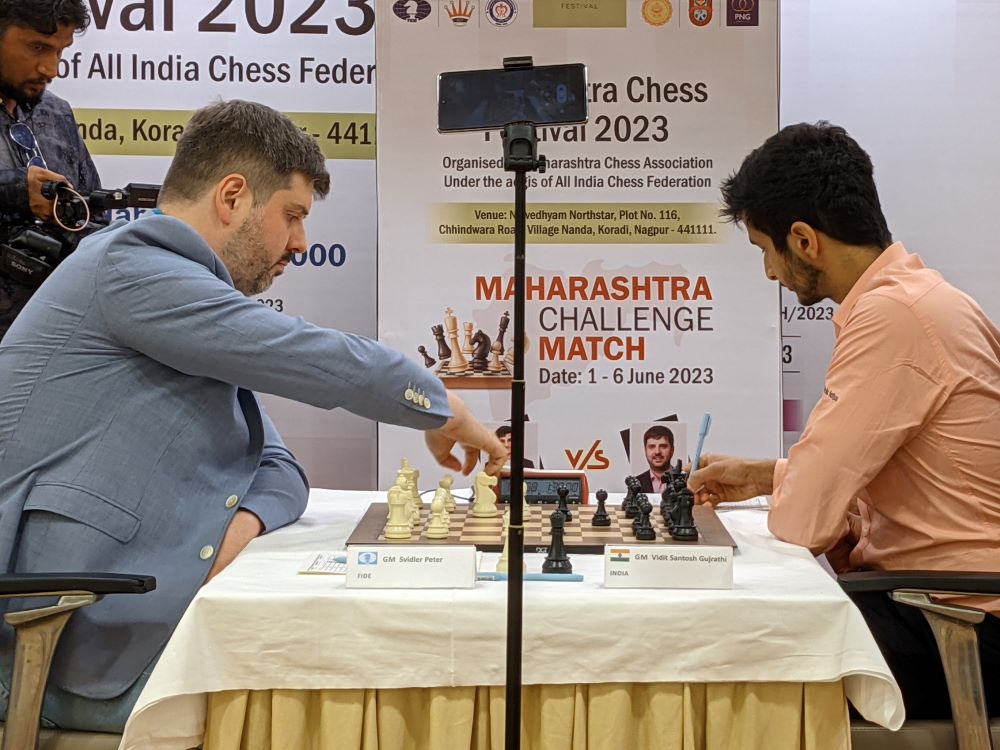 Raunak - Short, Game 2
Nigel Short got rid of White's brittle center pawns and gobbled up extra pawns. Raunak Sadhwani would have still remained in the game if he opted for 33.dxe5. In time trouble, he blundered 33.Qb5 Nxd4 34.Qd3 Nf3+ 35.Bxf3 Bxf3 White resigned as there are too many threats to defend.
Replay all Maharashtra Challenge Match games in interactive format and learn from IM Sagar Shah at Chessranga.
For more GM Round 2, Round 3 and Match Classical Game 2 photos, please click at the respective links.
Replay GM Open Round 2-3 games
Round 3 results
| | | | | | | | | | | | | | | | | |
| --- | --- | --- | --- | --- | --- | --- | --- | --- | --- | --- | --- | --- | --- | --- | --- | --- |
| Bo. | No. | | | Name | Rtg | Club/City | Pts. | Result | Pts. | | Name | Rtg | Club/City | | No. | PGN |
| 1 | 24 | | IM | Barseghyan, Armen Ar. | 2373 | ARM | 2 | ½ - ½ | 2 | GM | Savchenko, Boris | 2524 | RUS | | 1 | PGN |
| 2 | 28 | | FM | Ritviz, Parab | 2340 | GOA | 2 | 0 - 1 | 2 | GM | Paichadze, Luka | 2513 | GEO | | 3 | PGN |
| 3 | 4 | | GM | Burmakin, Vladimir | 2492 | RUS | 2 | ½ - ½ | 2 | | Sanket, Chakravarty | 2389 | WB | | 21 | PGN |
| 4 | 34 | | IM | Raahul, V S | 2299 | TN | 2 | 1 - 0 | 2 | GM | Venkatesh, M.R. | 2469 | PSPB | | 7 | PGN |
| 5 | 14 | | IM | Sammed Jaykumar, Shete | 2440 | MAH | 2 | 1 - 0 | 2 | GM | Babujian, Levon | 2373 | ARM | | 23 | PGN |
| 6 | 16 | | GM | Mirzoev, Azer | 2416 | AZE | 2 | 0 - 1 | 2 | FM | Harshad, S | 2211 | TN | | 50 | PGN |
| 7 | 20 | | IM | Rohith, Krishna S | 2411 | TN | 2 | ½ - ½ | 2 | | Vivaan, Vishal Shah | 1931 | GUJ | | 121 | PGN |
| 8 | 2 | | GM | Zakhartsov, Viacheslav V. | 2514 | FID | 1½ | 1 - 0 | 2 | FM | Gaikwad, Siddhant | 1906 | MAH | | 125 | PGN |
| 9 | 6 | | GM | Sengupta, Deep | 2473 | PSPB | 1½ | ½ - ½ | 1½ | | Bhattacharyya, Soham | 2219 | WB | | 48 | PGN |
| 10 | 8 | | GM | Aleksandrov, Aleksej | 2461 | BLR | 1½ | 1 - 0 | 1½ | WIM | Pandey, Srishti | 2188 | MAH | | 56 | PGN |
| 11 | 51 | | CM | Shaik, Sumer Arsh | 2211 | TEL | 1½ | ½ - ½ | 1½ | GM | Vorobiov, Evgeny E. | 2454 | RUS | | 9 | PGN |
| 12 | 12 | | IM | Szpar, Milosz | 2447 | POL | 1½ | ½ - ½ | 1½ | CM | Mayank, Chakraborty | 2141 | ASSM | | 64 | PGN |
| 13 | 78 | | FM | Goutham, Krishna H | 2082 | KER | 1½ | 1 - 0 | 1½ | IM | Neelash, Saha | 2440 | WB | | 13 | PGN |
| 14 | 98 | | | Arpith, S Bijoy | 2006 | KER | 1½ | 0 - 1 | 1½ | IM | Kushagra, Mohan | 2412 | TEL | | 19 | PGN |
| 15 | 22 | | FM | Panesar, Vedant | 2387 | MAH | 1½ | 1 - 0 | 1½ | CM | Adireddy, Arjun | 1968 | TEL | | 113 | PGN |
Standings after Round 3
| | | | | | | | | | | | | | | | | | | | |
| --- | --- | --- | --- | --- | --- | --- | --- | --- | --- | --- | --- | --- | --- | --- | --- | --- | --- | --- | --- |
| Rk. | SNo | | | Name | Typ | sex | Gr | FED | Rtg | Club/City | Pts. | TB1 | TB2 | TB3 | TB4 | TB5 | Rp | K | rtg+/- |
| 1 | 14 | | IM | Sammed Jaykumar, Shete | | | | IND | 2440 | MAH | 3 | 4 | 4,5 | 4,50 | 0 | 3 | 2994 | 10 | 6,6 |
| 2 | 3 | | GM | Paichadze, Luka | | | | GEO | 2513 | GEO | 3 | 4 | 4 | 4,00 | 0 | 3 | 2997 | 10 | 4,5 |
| 3 | 34 | | IM | Raahul, V S | | | | IND | 2299 | TN | 3 | 3,5 | 5 | 5,00 | 0 | 3 | 2937 | 10 | 9,7 |
| 4 | 50 | | FM | Harshad, S | | | | IND | 2211 | TN | 3 | 3,5 | 4 | 4,00 | 0 | 3 | 2796 | 20 | 20,6 |
| 5 | 4 | | GM | Burmakin, Vladimir | | | | FID | 2492 | RUS | 2,5 | 4,5 | 6,5 | 5,25 | 0 | 2 | 2493 | 10 | 0,8 |
| 6 | 1 | | GM | Savchenko, Boris | | | | FID | 2524 | RUS | 2,5 | 4,5 | 4,5 | 3,25 | 0 | 2 | 2502 | 10 | 0,1 |
| | 21 | | | Sanket, Chakravarty | | | | IND | 2389 | WB | 2,5 | 4,5 | 4,5 | 3,25 | 0 | 2 | 2490 | 20 | 8,4 |
| 8 | 78 | | FM | Goutham, Krishna H | | | | IND | 2082 | KER | 2,5 | 4 | 5,5 | 4,50 | 0 | 2 | 2684 | 40 | 84,8 |
| 9 | 121 | | | Vivaan, Vishal Shah | | | | IND | 1931 | GUJ | 2,5 | 4 | 5 | 3,75 | 0 | 2 | 2557 | 40 | 84 |
| 10 | 20 | | IM | Rohith, Krishna S | | | | IND | 2411 | TN | 2,5 | 4 | 4,5 | 3,25 | 0 | 2 | 2263 | 10 | -2,5 |
| 11 | 2 | | GM | Zakhartsov, Viacheslav V. | | | | FID | 2514 | FID | 2,5 | 3,5 | 5 | 4,25 | 0 | 2 | 2343 | 10 | -2,1 |
| 12 | 117 | | | Setumadhav, Yellumahanthi | | | | IND | 1954 | AP | 2,5 | 3,5 | 5 | 4,00 | 0 | 2 | 2524 | 40 | 82 |
| 13 | 22 | | FM | Panesar, Vedant | | | | IND | 2387 | MAH | 2,5 | 3,5 | 4,5 | 3,50 | 0 | 2 | 2270 | 20 | -4,8 |
| | 43 | | | Kaustuv, Kundu | | | | IND | 2242 | WB | 2,5 | 3,5 | 4,5 | 3,50 | 0 | 2 | 2221 | 20 | -0,8 |
| 15 | 24 | | IM | Barseghyan, Armen Ar. | | | | ARM | 2373 | ARM | 2,5 | 3,5 | 4,5 | 3,25 | 0 | 2 | 2453 | 10 | 4 |
Round 4 pairings
| | | | | | | | | | | | | | | | |
| --- | --- | --- | --- | --- | --- | --- | --- | --- | --- | --- | --- | --- | --- | --- | --- |
| Bo. | No. | | | Name | Rtg | Club/City | Pts. | Result | Pts. | | Name | Rtg | Club/City | | No. |
| 1 | 3 | | GM | Paichadze, Luka | 2513 | GEO | 3 | | 3 | IM | Raahul, V S | 2299 | TN | | 34 |
| 2 | 50 | | FM | Harshad, S | 2211 | TN | 3 | | 3 | IM | Sammed Jaykumar, Shete | 2440 | MAH | | 14 |
| 3 | 1 | | GM | Savchenko, Boris | 2524 | RUS | 2½ | | 2½ | FM | Goutham, Krishna H | 2082 | KER | | 78 |
| 4 | 24 | | IM | Barseghyan, Armen Ar. | 2373 | ARM | 2½ | | 2½ | GM | Zakhartsov, Viacheslav V. | 2514 | FID | | 2 |
| 5 | 33 | | GM | Laxman, R.R. | 2299 | ICF | 2½ | | 2½ | GM | Burmakin, Vladimir | 2492 | RUS | | 4 |
| 6 | 41 | | FM | Sharan, Rao | 2248 | KAR | 2½ | | 2½ | GM | Aleksandrov, Aleksej | 2461 | BLR | | 8 |
| 7 | 19 | | IM | Kushagra, Mohan | 2412 | TEL | 2½ | | 2½ | | Potawad, Anirudhha | 1995 | MAH | | 102 |
| 8 | 43 | | | Kaustuv, Kundu | 2242 | WB | 2½ | | 2½ | IM | Rohith, Krishna S | 2411 | TN | | 20 |
| 9 | 21 | | | Sanket, Chakravarty | 2389 | WB | 2½ | | 2½ | | Setumadhav, Yellumahanthi | 1954 | AP | | 117 |
| 10 | 121 | | | Vivaan, Vishal Shah | 1931 | GUJ | 2½ | | 2½ | FM | Panesar, Vedant | 2387 | MAH | | 22 |
| 11 | 54 | | FM | Navalgund, Niranjan | 2200 | KAR | 2 | | 2 | GM | Sengupta, Deep | 2473 | PSPB | | 6 |
| 12 | 7 | | GM | Venkatesh, M.R. | 2469 | PSPB | 2 | | 2 | CM | Shaik, Sumer Arsh | 2211 | TEL | | 51 |
| 13 | 9 | | GM | Vorobiov, Evgeny E. | 2454 | RUS | 2 | | 2 | CM | Nayak, Rajesh | 2168 | ODI | | 59 |
| 14 | 60 | | | Dere, Pushkar | 2166 | MAH | 2 | | 2 | IM | Nitish, Belurkar | 2450 | GOA | | 10 |
| 15 | 11 | | GM | Fedorov, Alexei | 2449 | BLR | 2 | | 2 | FM | Jaiswal, Rupesh | 2146 | NEP | | 63 |
Links
Maharashtra Chess Association: Official site, fb page and twitter
---