Let's remember our first national champion of India - R B Sapre
by Shahid Ahmed - 14/01/2020
Chennai is known as the chess capital of India. Tamil Nadu is the Indian state that has the most number of grandmasters in the country. But did you know the first national champion of India was from Maharashtra. R.B. Sapre. Ramchandra Bhargav Sapre was a pure natural talent at the game of chess. Without any formal chess education he went on to become one of the greatest chess players of the country. His analytical ability was so great that he was invited to the Botvinnik-Smyslov match in Russia in 1954. R.B. Sapre his no more, but his chess legacy continues thanks to a few chess enthusiasts who have organized an open rapid rating event on 18th and 19th January 2020 in Ratnagiri, Maharashtra. Know more about this event.
Open Rapid Rating tournament in memory of India's first National Champion
By IA Vivek Sohani
One fine day in 2013 Mr. Dilip Navare a passionate Chess Lover from Pune called Chessmen, Ratnagiri, an association which conducts majority of activities related to chess in Ratnagiri District since 1999. He about India's first national champion Mr. R.B. Sapre and asked us for a Rating event in the memory of the great champion. We decided to go ahead with the plan, after all Late Mr. R. B. Sapre was native of Ratnagiri in his early days and belonged to a small village Devrukh in Ratnagiri District.
With few constraints of playing hall, organizing team, minimal player base in Ratnagiri, we approached Mr. Navare with a proposal of a District level Tournament right in 2013 after his call. We bench-marked the flow and mentioned that if we get a good response, next year we can go for state level event followed by Rating Event. The plan worked from 2013 until 2015 when we organized Rapid Rating event. Again due to financial constraints, we went for state events in 2017, 2018 and 2019. This year Jindal Steel Works – Jaigarh port came through to make the event a FIDE rated one and in future we are positive that it will be a classical FIDE rating event.
This year the event in the memory of R.B. Sapre will be held on the 18th and 19th of January 2020. Four International Masters – IM Rakesh Kulkarni, IM Nubairshah Shaikh, IM R. Balasubramanian, and IM – Sammed Shete (title yet to be granted by FIDE) have already confirmed their entries. The event had already witnessed the participation of all these players along with GM Srinath Narayanan who was Champion at the 2015 Edition. Total Cash Prizes offered this year are ₹131000 along with 35 Trophies.
History of first National Champion R B Sapre
By Manuel Aaron
Ramchandra Bhargava Sapre was born on 4th March 1915 in Akola where his father, a chess lover, was a Civil Judge. After the death of his father in 1919, 4-years old Sapre was brought up in Malgund by his maternal grandfather Balakrishna Laxman Antarkar, a Sanskrit Scholar who was also good at chess.
In childhood, Sapre used to make his own chess pieces from wood. For black he dipped the pieces in ink. The bishops were conical in shape and the rooks cylindrical but his landlord considered them as bad omen and burnt them in the boiler.
At first, he had only played chess with Indian rules. But he learnt the modern chess rules from Parsi and Iranian friends at Ismail College in Bombay. In 1955 he jointly won the First National Chess Championship in Eluru, Andhra, with Dharbha Venkayya of Andhra.
(You can read the entire biography of R.B. Sapre from Manuel Aaron and Vijay Pandit's book - Indian Chess History. We will publish more details about the great champion in the coming days.)
Schedule
The tournament will take place only 18th and 19th January 2020.
Prizes
The tournament has a total prize fund of ₹131000 along with 35 trophies. There are various category prizes for Veteran, Female, Handicap, Age group, Rating Category and Special Prize for Ratnagiri District tournament too.
Entry and Eligibility
The tournament is open to all AICF registered players of the country. Entry is free for GM, IM, WGM, WIM titled players and they will be given twin sharing AC rooms too. For all other players, please refer to the image below for entry fee structure.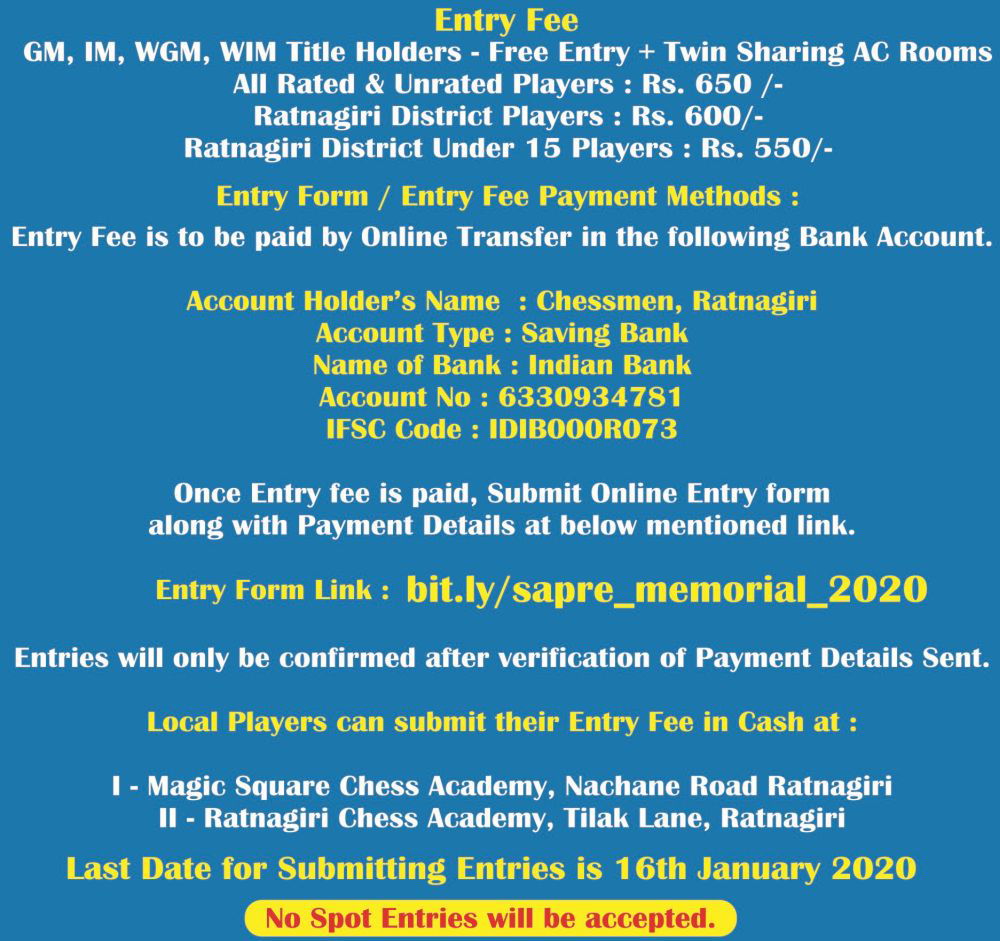 Biodata of Mr. R. B. Sapre
Name: Ramchandra Bhargav Sapre
Date of Birth: March 04, 1915 ( At Akola, Vidarbha, M.S. )
Education: Upto B.Sc. ( Bombay University )
Service: Office Assistant in Bombay Laboratories ( India ) Bombay
Achievements: Bombay Chess Champion – 1949 to 1956, Maharashtra Chess Champion – 1959, 1964, 1967, 1968 National Championships – From 1955 to 1956 and 1976
Important Results: Eluru (1955- Jt.1st ), Delhi (1959- 3rd), Hyderabad (1961-5th),Madras(1965-3rd), Pune (1967-34th), Bikaner (1971-7th), Shimla (1972-7th), Ahmadabad (1973-3rd), Invitation to Ahmadabad (1955-2nd), Cap. Ranade Open Tour. (1951-1st), (1952-1st), (1962-2nd), Correspondence Chess (1949-Jt.1st), World Chess Olympiad – Moscow (1956) – India's Top Board, Leipzig (1960) - India's 2nd Board
Honours:
1) Guest of the USSR Government to witness the Botvinnik - Smyslov World Championship Match at Moscow in 1954
2) International Master Manuel Aaron , Editor "Chess Mate" has written a feature on his lifelong Chess career on completion of 75 years in March 1990 issue
Organisational:
1) Member of the managing committee of the Bombay State Chess Asso. And Maharashtra Chess Asso. for many years
2) Secretary M.S.C.A. for one year
3) Secretary, Correspondence for one year
4) Worked for India's entry into Olympiad (Moscow) in 1956
5) Tournament Director – National Championship Patna (1975), Bhilwara Trophy - Bhopal (1979), Delhi (1982)
Coaching:
1) Coach for Ruia and Poddar College, Mumbai for 5 years
2) Coached the three IWM Khadilkar sisters for some time
3) Coached International Master Arun Vaidya for some time
Writing:
Chess contributor to 'Indian Express' (40 years ), 'Mid-Day', 'Sunday Observer', 'Chess Mate', 'Sports Week', ' Illustrated Weekly of India'
Important links:
1. Let's remember the great champion by participating in the tournament held in his memory. Visit our calendar here for more information.
2. Read this beautiful article written by Shivani Naik in the Indian Express on R.B. Sapre
3. Players list
---