2nd Maharashtra GM 2023 R5-6: Vedant Panesar squashes Boris Savchenko in 20 moves!
FM Vedant Panesar crushed the top seed of the tournament, GM Boris Savchenko in just 20 moves in Round 5. The former National under-17 champion, used his preparation to score a victory in less than three hours, fastest among the top boards of the round. IM Raahul V S and IM Sammed Jaykumar Shete won their respective fifth round games and drew their six encounter against each other. GM Levon Babujian (ARM) and IM Milos Saposz (POL) joined them in the lead 5/6. Seven players are trailing them by a half point 4.5/6 including the sole untitled player, Sanket Chakravarty. Nine out of top ten games ended decisively in the fifth round. Round 7 starts tomorrow at 3 p.m. IST. All photos are by Shahid Ahmed unless mentioned otherwise.
Vidit and Raunak maintain their lead
This tournament is a great opportunity for Indian players to rise up to occasion. There are still no Indian GMs in the lead. Only GM Laxman R R is at 4.5/6. Just like the 1st Indore GM Open 2023, we might see a non-GM winning this event. 2nd Maharashtra Chess Festival Below 2000 Rating Tournament 2023 concluded today. We will mention it in detail in a separate report.
Round 5: Vedant Panesar, Luka, Sammed and Raahul maintain their lead
Nine out of the top ten games ended decisively. FM Vedant Panesar scored the fastest win among top boards when he squashed the top seed GM Boris Savchenko in just 20 moves. GM Luka Paichadze (GEO), IM Sammed Shete and IM Raahul V S are the remaining winners among the previous day leaders.
Vedant Panesar - Savchenko
Vedant Panesar (2387) opted to sacrifice an exchange 13.Rxd7 Nxd7 14.Nd5 Qd6 15.Na5 f5? 16.Qf3 fxe4 17.Qxe4 g5 too little too late to play this. 15...g5 would have kept things fine for the top seed GM Boris Savchenko (2524). 18.Be2 Nc5 19.Nf6+ Kf7 20.Bh5+ Black resigned as the loss is inevitable.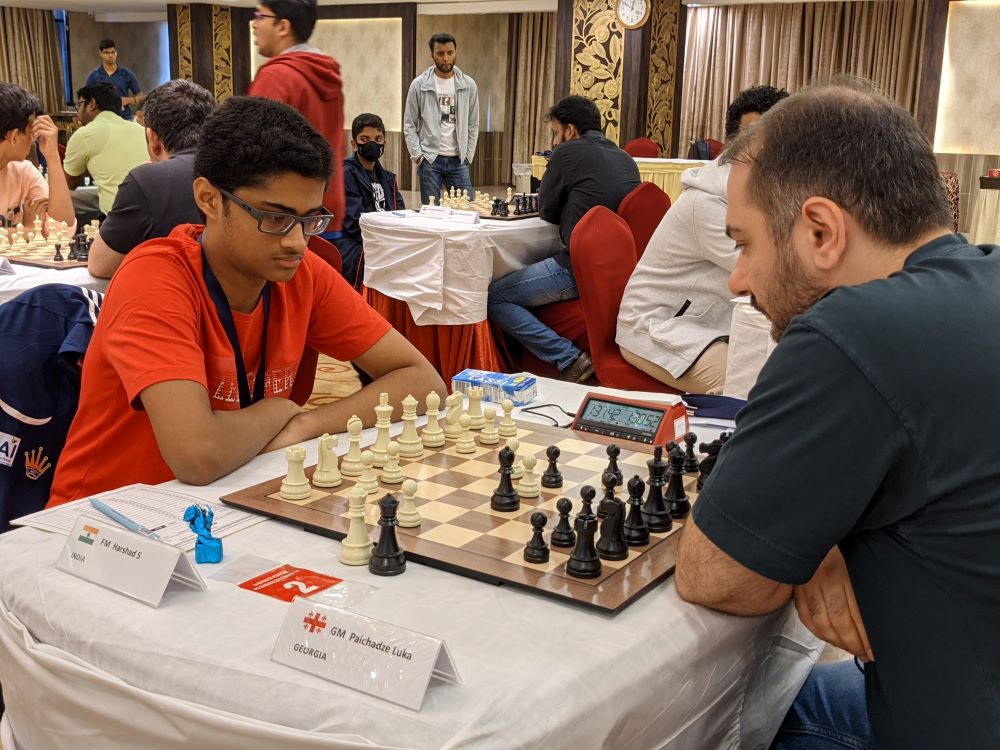 Deep - Ayush
41.g5?? turned the tables in just one move. 41...d3 42.Rc1 Rd5 43.Kf3 Rxg5 44.Re1 Rxa5 45.Re8+ Kb7 White is down by three pawns and it is insurmountable.
Ritviz - Fedorov
White just the queen at a2 with the obvious 20.Na4 f6 21.Nxc5 Qa3 22.Nd7+ Kf7 23.Nxf6 Kxf6 24.Qe5+ Kf7 25.Qxd4 the resultant major piece endgame is winning for White as he not only has an extra pawn but his pieces are better placed than his opponent's.
Round 6: More people join the leaders
Sanket Chakravarty (2389) and FM Ritviz Parab (2340), and FM Sharan Rao (2248) and GM Vladimir Burmakin (2492) battled for 4.5 hours before their respective games ended in a draw.
Svidler - Vidit, Game 4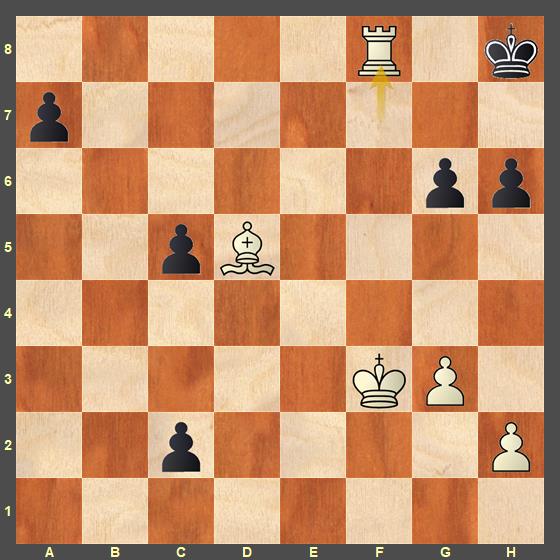 The final position after the fourth Classical game is quite nice. White has a rook and bishop but they are unable to stop the passed c2-pawn. Thus, he is forced to go for perpetual checks Rf8-Rf7 to draw the game.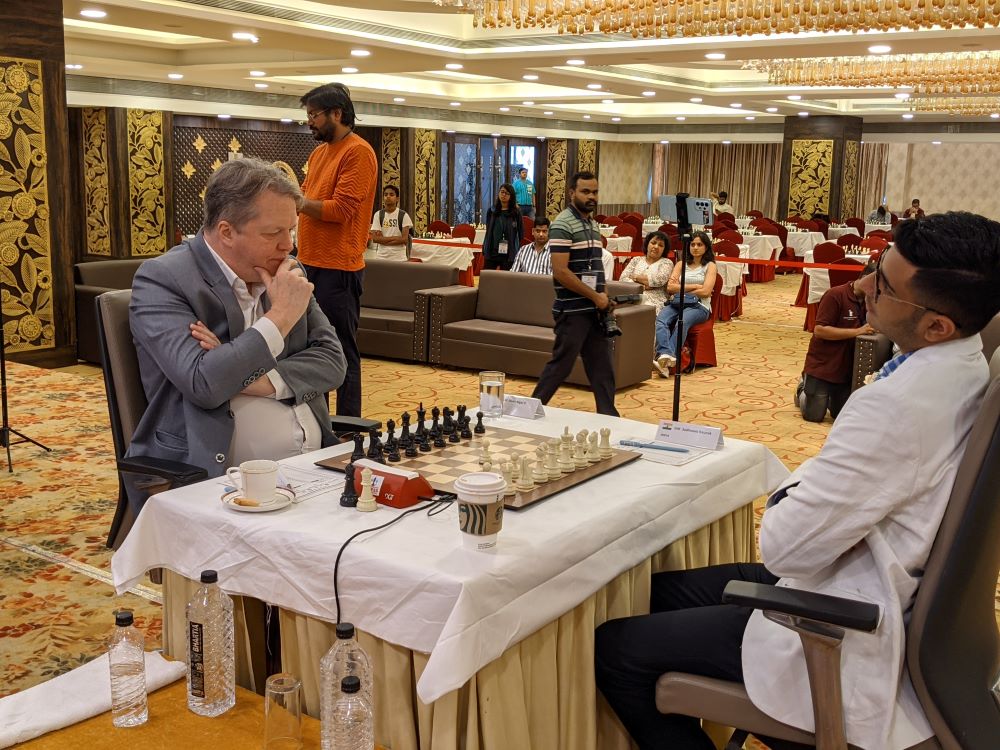 Replay all Maharashtra Challenge Match games in interactive format and learn from IM Sagar Shah at Chessranga.
For more GM Round 5, Round 6 and Match Classical Game 4 photos, please click on the respective links.
Replay GM Open Round 5-6 games
Round 6 results
| | | | | | | | | | | | | | | | | |
| --- | --- | --- | --- | --- | --- | --- | --- | --- | --- | --- | --- | --- | --- | --- | --- | --- |
| Bo. | No. | | | Name | Rtg | Club/City | Pts. | Result | Pts. | | Name | Rtg | Club/City | | No. | PGN |
| 1 | 3 | | GM | Paichadze, Luka | 2513 | GEO | 4½ | ½ - ½ | 4½ | FM | Panesar, Vedant | 2387 | MAH | | 22 | PGN |
| 2 | 34 | | IM | Raahul, V S | 2299 | TN | 4½ | ½ - ½ | 4½ | IM | Sammed Jaykumar, Shete | 2440 | MAH | | 14 | PGN |
| 3 | 23 | | GM | Babujian, Levon | 2373 | ARM | 4 | 1 - 0 | 4 | GM | Zakhartsov, Viacheslav V. | 2514 | FID | | 2 | PGN |
| 4 | 31 | | FM | Ayush, Sharma | 2312 | MP | 4 | 0 - 1 | 4 | IM | Szpar, Milosz | 2447 | POL | | 12 | PGN |
| 5 | 33 | | GM | Laxman, R.R. | 2299 | ICF | 4 | ½ - ½ | 4 | IM | Rohith, Krishna S | 2411 | TN | | 20 | PGN |
| 6 | 21 | | | Sanket, Chakravarty | 2389 | WB | 4 | ½ - ½ | 4 | FM | Ritviz, Parab | 2340 | GOA | | 28 | PGN |
| 7 | 1 | | GM | Savchenko, Boris | 2524 | RUS | 3½ | 1 - 0 | 3½ | CM | Vaibhav, Jayant Raut | 2237 | MAH | | 47 | PGN |
| 8 | 41 | | FM | Sharan, Rao | 2248 | KAR | 3½ | ½ - ½ | 3½ | GM | Burmakin, Vladimir | 2492 | RUS | | 4 | PGN |
| 9 | 8 | | GM | Aleksandrov, Aleksej | 2461 | BLR | 3½ | ½ - ½ | 3½ | FM | Harshad, S | 2211 | TN | | 50 | PGN |
| 10 | 15 | | IM | Viani, Antonio Dcunha | 2417 | KAR | 3½ | 1 - 0 | 3½ | CM | Shaik, Sumer Arsh | 2211 | TEL | | 51 | PGN |
| 11 | 113 | | CM | Adireddy, Arjun | 1968 | TEL | 3½ | ½ - ½ | 3½ | GM | Mirzoev, Azer | 2416 | AZE | | 16 | PGN |
| 12 | 19 | | IM | Kushagra, Mohan | 2412 | TEL | 3½ | 1 - 0 | 3½ | CM | Nayak, Rajesh | 2168 | ODI | | 59 | PGN |
| 13 | 64 | | CM | Mayank, Chakraborty | 2141 | ASSM | 3½ | ½ - ½ | 3½ | IM | Barseghyan, Armen Ar. | 2373 | ARM | | 24 | PGN |
| 14 | 7 | | GM | Venkatesh, M.R. | 2469 | PSPB | 3 | 1 - 0 | 3½ | | Arnav, Maheshwari | 1950 | TN | | 118 | PGN |
| 15 | 87 | | | Arpan, Das | 2032 | WB | 3 | 0 - 1 | 3 | GM | Sengupta, Deep | 2473 | PSPB | | 6 | PGN |
Standings after Round 6
| | | | | | | | | | | | | | | | | | | | |
| --- | --- | --- | --- | --- | --- | --- | --- | --- | --- | --- | --- | --- | --- | --- | --- | --- | --- | --- | --- |
| Rk. | SNo | | | Name | Typ | sex | Gr | FED | Rtg | Club/City | Pts. | TB1 | TB2 | TB3 | TB4 | TB5 | Rp | K | rtg+/- |
| 1 | 34 | | IM | Raahul, V S | | | | IND | 2299 | TN | 5 | 21,5 | 24 | 19,00 | 0 | 4 | 2569 | 10 | 20,8 |
| 2 | 14 | | IM | Sammed Jaykumar, Shete | | | | IND | 2440 | MAH | 5 | 21 | 24 | 19,50 | 0 | 4 | 2496 | 10 | 4,3 |
| 3 | 3 | | GM | Paichadze, Luka | | | | GEO | 2513 | GEO | 5 | 20,5 | 22 | 17,00 | 0 | 4 | 2521 | 10 | 1,6 |
| 4 | 22 | | FM | Panesar, Vedant | | | | IND | 2387 | MAH | 5 | 20 | 23 | 18,75 | 0 | 4 | 2433 | 20 | 13,6 |
| 5 | 23 | | GM | Babujian, Levon | | | | ARM | 2373 | ARM | 5 | 19,5 | 23 | 18,00 | 0 | 5 | 2464 | 10 | 8,1 |
| 6 | 12 | | IM | Szpar, Milosz | | | | POL | 2447 | POL | 5 | 18 | 20 | 16,50 | 0 | 4 | 2441 | 10 | 0,5 |
| 7 | 1 | | GM | Savchenko, Boris | | | | FID | 2524 | RUS | 4,5 | 20 | 23 | 16,00 | 0 | 4 | 2425 | 10 | -4,3 |
| 8 | 28 | | FM | Ritviz, Parab | | | | IND | 2340 | GOA | 4,5 | 19,5 | 22,5 | 15,25 | 0 | 4 | 2399 | 20 | 14,8 |
| 9 | 21 | | | Sanket, Chakravarty | | | | IND | 2389 | WB | 4,5 | 18,5 | 20,5 | 14,50 | 0 | 3 | 2345 | 20 | 0 |
| 10 | 33 | | GM | Laxman, R.R. | | | | IND | 2299 | ICF | 4,5 | 18,5 | 20 | 14,25 | 0 | 3 | 2414 | 10 | 10,1 |
| 11 | 20 | | IM | Rohith, Krishna S | | | | IND | 2411 | TN | 4,5 | 17,5 | 20 | 14,25 | 0 | 3 | 2279 | 10 | -5,4 |
| 12 | 19 | | IM | Kushagra, Mohan | | | | IND | 2412 | TEL | 4,5 | 16,5 | 17 | 11,75 | 0 | 4 | 2281 | 10 | -6 |
| 13 | 15 | | IM | Viani, Antonio Dcunha | | | | IND | 2417 | KAR | 4,5 | 15,5 | 17 | 13,00 | 0 | 3 | 2309 | 10 | -5,9 |
| 14 | 50 | | FM | Harshad, S | | | | IND | 2211 | TN | 4 | 21,5 | 23 | 13,50 | 0 | 3 | 2359 | 20 | 29,6 |
| 15 | 4 | | GM | Burmakin, Vladimir | | | | FID | 2492 | RUS | 4 | 20,5 | 23,5 | 15,00 | 0 | 2 | 2388 | 10 | -6,3 |
Round 7 pairings
| | | | | | | | | | | | | | | | |
| --- | --- | --- | --- | --- | --- | --- | --- | --- | --- | --- | --- | --- | --- | --- | --- |
| Bo. | No. | | | Name | Rtg | Club/City | Pts. | Result | Pts. | | Name | Rtg | Club/City | | No. |
| 1 | 14 | | IM | Sammed Jaykumar, Shete | 2440 | MAH | 5 | | 5 | GM | Paichadze, Luka | 2513 | GEO | | 3 |
| 2 | 12 | | IM | Szpar, Milosz | 2447 | POL | 5 | | 5 | GM | Babujian, Levon | 2373 | ARM | | 23 |
| 3 | 22 | | FM | Panesar, Vedant | 2387 | MAH | 5 | | 5 | IM | Raahul, V S | 2299 | TN | | 34 |
| 4 | 20 | | IM | Rohith, Krishna S | 2411 | TN | 4½ | | 4½ | GM | Savchenko, Boris | 2524 | RUS | | 1 |
| 5 | 21 | | | Sanket, Chakravarty | 2389 | WB | 4½ | | 4½ | IM | Viani, Antonio Dcunha | 2417 | KAR | | 15 |
| 6 | 28 | | FM | Ritviz, Parab | 2340 | GOA | 4½ | | 4½ | IM | Kushagra, Mohan | 2412 | TEL | | 19 |
| 7 | 2 | | GM | Zakhartsov, Viacheslav V. | 2514 | FID | 4 | | 4½ | GM | Laxman, R.R. | 2299 | ICF | | 33 |
| 8 | 4 | | GM | Burmakin, Vladimir | 2492 | RUS | 4 | | 4 | FM | Ayush, Sharma | 2312 | MP | | 31 |
| 9 | 6 | | GM | Sengupta, Deep | 2473 | PSPB | 4 | | 4 | FM | Sharan, Rao | 2248 | KAR | | 41 |
| 10 | 24 | | IM | Barseghyan, Armen Ar. | 2373 | ARM | 4 | | 4 | GM | Venkatesh, M.R. | 2469 | PSPB | | 7 |
| 11 | 40 | | IM | Ratnakaran, K. | 2254 | RLYS | 4 | | 4 | GM | Aleksandrov, Aleksej | 2461 | BLR | | 8 |
| 12 | 10 | | IM | Nitish, Belurkar | 2450 | GOA | 4 | | 4 | CM | Mayank, Chakraborty | 2141 | ASSM | | 64 |
| 13 | 50 | | FM | Harshad, S | 2211 | TN | 4 | | 4 | GM | Fedorov, Alexei | 2449 | BLR | | 11 |
| 14 | 113 | | CM | Adireddy, Arjun | 1968 | TEL | 4 | | 4 | IM | Neelash, Saha | 2440 | WB | | 13 |
| 15 | 16 | | GM | Mirzoev, Azer | 2416 | AZE | 4 | | 4 | | Kaustuv, Kundu | 2242 | WB | | 43 |
Links
Maharashtra Chess Association: Official site, fb page and twitter
---