Gowrichander wins Nagpur Below 1600 Rating Tournament 2022
by Shahid Ahmed - 09/09/2022
Gowrichander U won Nagpur Below 1600 Rating tournament. Six players scored 8/9 each. Out of them, Gowrichander of Tamil Nadu won the tournament due to better tie-break score. Akshat Mahobiya and Saket Atul Kumar were placed second and third. They both remained undefeated. The total prize fund of the tournament was ₹300000. Top three prizes were ₹51000 and a trophy, ₹30000 and ₹25000 each. The tournament was held between 14th and 16th August 2022 at Nagpur, Maharashtra. A total of 474 players took part from all over the country. 44th Chess Olympiad Bronze medalist WGM Divya Deshmukh and India's 71st GM Sankalp Gupta attended the inauguration ceremony. Photo: Bhushan Shriwas/Kalpana Prakash Welfare Foundation
Six players score 8/9
Second, Third and Sixth place finishers Akshat Mahobiya, Saket Atul Kumar and Prateek Chandwani remained undefeated. 12-year-old Yashad Bambeshwar of Chhattisgarh was the youngest finisher among top 10. He scored 7.5/9 to finish ninth.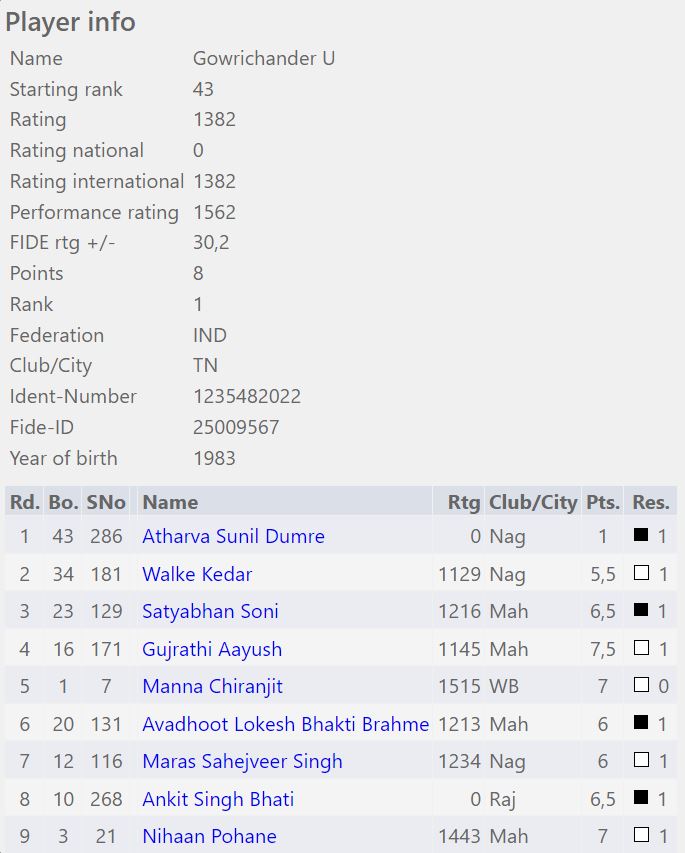 The tournament was inaugurated by Pravin Datke, MLC, Nagpur in presence of Girish Vyas, Ex-MLC and Vice President of Maharashtra Chess Association, Sanjay Bhende, Chairman, Nagpur Nagrik Sahakari Bank and Vice President, State BJP, Dr. Upendra Kothekar, Organizing Secretary, BJP Vidarbha, Advocate A A Bade, Shivchhatrapati Awardee in Chess Organisation, T N Bahadure, Ex-Secretary, MCA, 44th Chess Olympiad Bronze medalist WGM Divya Deshmukh and Assistant Coach of India 1 Open at the Olympiad, GM Sankalp Gupta.
Both WGM Divya Deshmukh and GM Sankalp Gupta were felicitated for their performance and contribution at the 44th Chess Olympiad 2022.
Prizes were distributed by Chief Guest - Advocate Nishant Gandhi, President, Chess Association Nagpur, Jayant Katdare, Ex-National A Player who was the Guest of Honour, IA Promodraj Moree, Chief Arbiter, Bhushan Shriwas, Organizing Secretary and S S Soman, Member, Tournament Committee, MCA.
Thanks to Bhushan Sriwas for providing photos and information about the tournament.
A total of 474 players took part from all over the country, in this three-day nine round Classical Rating tournament. The event was organized by Kalpana Prakash Welfare Foundation at Mundle Hall, The Blind Relief Association in Nagpur, Maharashtra from 16th to 18th August 2022. The time control of the event was 30 minutes + 30 seconds increment.
Final standings
| | | | | | | | | | | | | | |
| --- | --- | --- | --- | --- | --- | --- | --- | --- | --- | --- | --- | --- | --- |
| Rk. | SNo | | Name | Typ | sex | Rtg | Club/City | Pts. | TB1 | TB2 | TB3 | TB4 | TB5 |
| 1 | 43 | | Gowrichander U | | | 1382 | TN | 8 | 52 | 55 | 46,00 | 0 | 8 |
| 2 | 37 | | Akshat Mahobiya | | | 1394 | Chat | 8 | 49,5 | 53,5 | 46,50 | 0 | 7 |
| 3 | 63 | | Saket Atul Kumar | | | 1323 | MP | 8 | 49,5 | 53,5 | 44,00 | 0 | 7 |
| 4 | 76 | | Ghorghate Sahil | | | 1288 | Mah | 8 | 48,5 | 52,5 | 45,00 | 0 | 8 |
| 5 | 51 | | Ramteke Sumedh | | | 1355 | Nag | 8 | 48,5 | 51,5 | 41,00 | 0 | 8 |
| 6 | 24 | | Chandwani Prateek | | | 1427 | MP | 8 | 47 | 51 | 45,75 | 0 | 7 |
| 7 | 38 | | Sushant Tiwari | | | 1393 | Delhi | 7,5 | 49 | 53 | 40,75 | 0 | 7 |
| 8 | 171 | | Gujrathi Aayush | | | 1145 | Mah | 7,5 | 46,5 | 49,5 | 38,50 | 0 | 7 |
| 9 | 16 | | Yashad Bambeshwar | U13 | | 1466 | Chat | 7,5 | 46,5 | 48,5 | 40,50 | 0 | 7 |
| 10 | 7 | | Manna Chiranjit | | | 1515 | WB | 7 | 55 | 57,5 | 43,25 | 0 | 6 |
| 11 | 21 | | Nihaan Pohane | U11 | | 1443 | Mah | 7 | 53 | 54,5 | 40,00 | 0 | 7 |
| 12 | 57 | | Ravi Palsule | | | 1341 | MP | 7 | 50 | 54 | 38,75 | 0 | 6 |
| 13 | 56 | | Sharma Sai | U15 | | 1343 | Nag | 7 | 48,5 | 52,5 | 40,50 | 0 | 7 |
| 14 | 10 | | Madhvendra Pratap Sharma | U09 | | 1494 | MP | 7 | 48,5 | 52 | 38,75 | 0 | 6 |
| 15 | 6 | | Patodi Samyak | | | 1520 | Mah | 7 | 48,5 | 51 | 37,75 | 0 | 6 |
| 16 | 155 | | Agrawal Hardik | | | 1166 | Mah | 7 | 48,5 | 51 | 37,00 | 0 | 7 |
| 17 | 52 | | Amol Ramteke | | | 1351 | Nag | 7 | 48 | 52 | 40,00 | 0 | 6 |
| 18 | 5 | | Shubham Kumar | | | 1531 | Bih | 7 | 48 | 50 | 36,50 | 0 | 6 |
| 19 | 30 | | Koteswar Rao M | | | 1410 | Mah | 7 | 46 | 50 | 36,50 | 0 | 7 |
| 20 | 95 | | Gaigore Sanskar | U13 | | 1264 | Mah | 7 | 43,5 | 45 | 34,50 | 0 | 6 |
---