2nd Maharashtra GM 2023 R1: Arya and Goutham score big upsets
Arya Bhakta and Goutham Krishna H scored big upsets in the first round of 2nd Maharashtra GM 2023. Arya Bhakta used his theoretical knowledge in the Ruy Lopez to gain upper hand. Later he capitalized on his opponent GM Akash G's blunder in time trouble. Goutham Krishna H gained positional advantage in the middlegame against GM Alexei Fedorov. When he was low on time, he blundered in time trouble. Thankfully, his veteran opponent did not notice and he got away with it. Vidit Gujrathi and Raunak Sadhwani are off to a great start as they defeated Peter Svidler and Nigel Short respectively in the first Classical game. Round 2 starts today at 10 a.m. IST. Photos: Shahid Ahmed
Vidit and Raunak win Game 1
A lot of GMs and IMs were held to draws by their lower rated opponents. Kaivalya Sandip Nagare defeated IM Nitish Belurkar.
Arya - Akash
After getting the upper hand out of the Ruy Lopez opening, GM FT Akash G (2483) managed to equalize. However, in time pressure he blundered 29...dxe4?? and his opponent, Arya Bhakta (2103) had no trouble seizing his opportunity. 30.Qh5 Rxb3 31.Nxb3 Bb6 32.Rg1+ Kf8 33.Qxh6+ Ke8 34.Qh8+ Kd7 35.Rd1+ and it's over.
Aleksandrov - Kedar
30.Nb3? allowed Black to gain a decisive advantage Nd3 31.Rd1 Nxf4?! 32.Kg3 Ne2+ Black lost the knight and the upper hand. 31...Nxb2 followed by Nxc4 would have given Black great chances to win the game. Soon Black blundered and lost the game.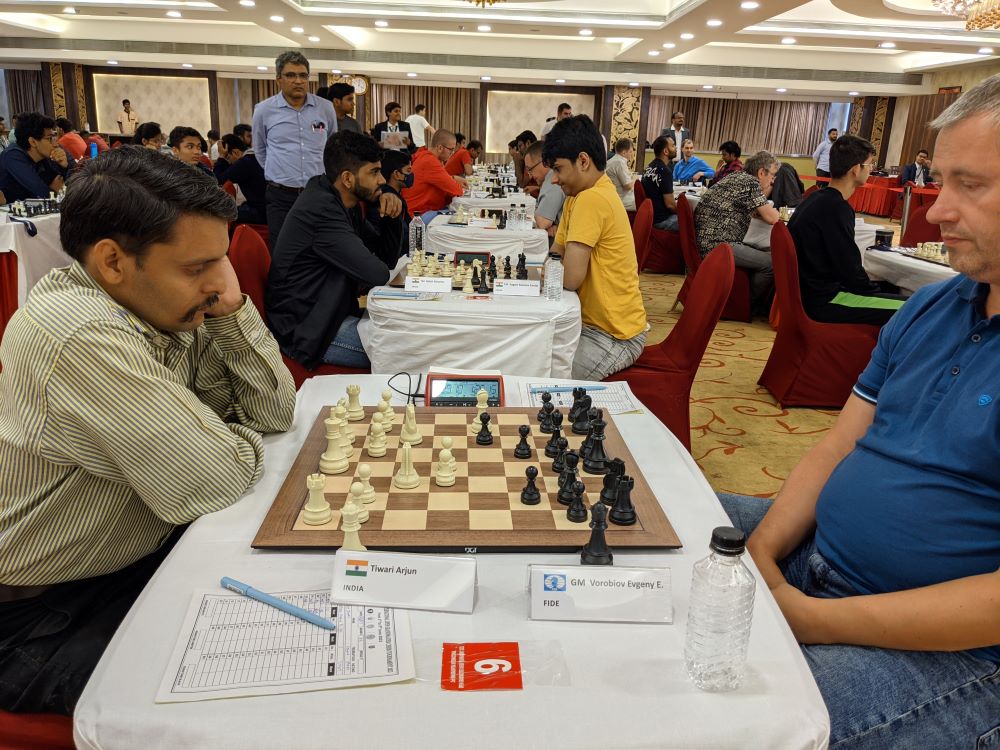 Nitish - Kaivalya
IM Nitish Belurkar (2450) erred in the endgame 60.Ke2?? against Kaivalya Sandeep Nagare (2085). Find out why it is a mistake. 60.c6 bxc6 61.bxc6 would have continued the game.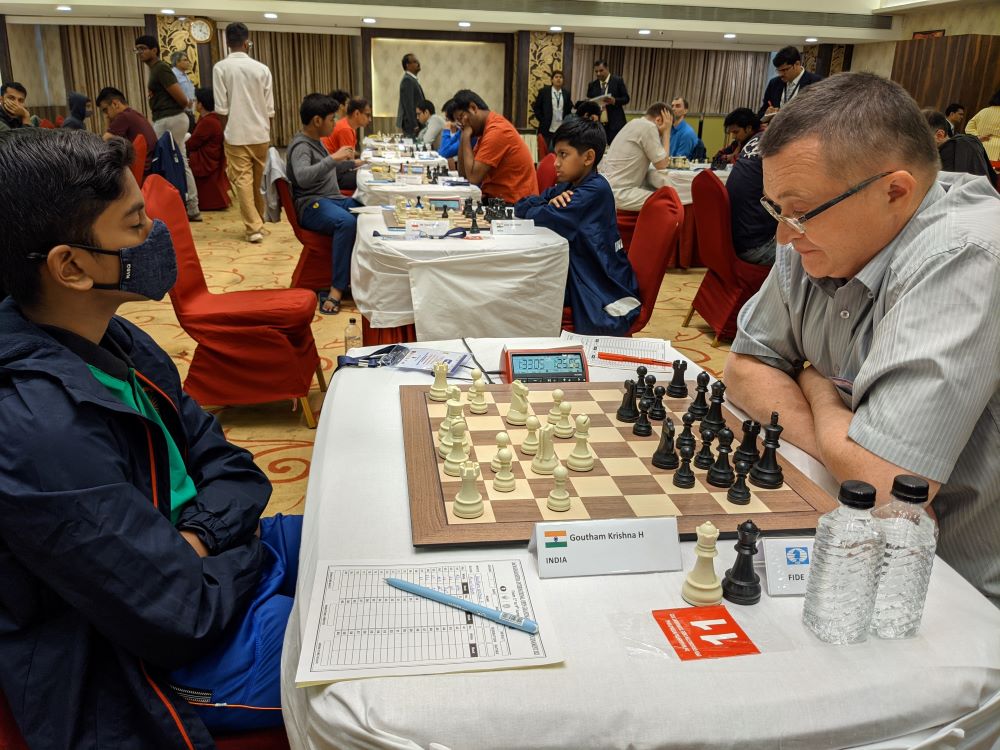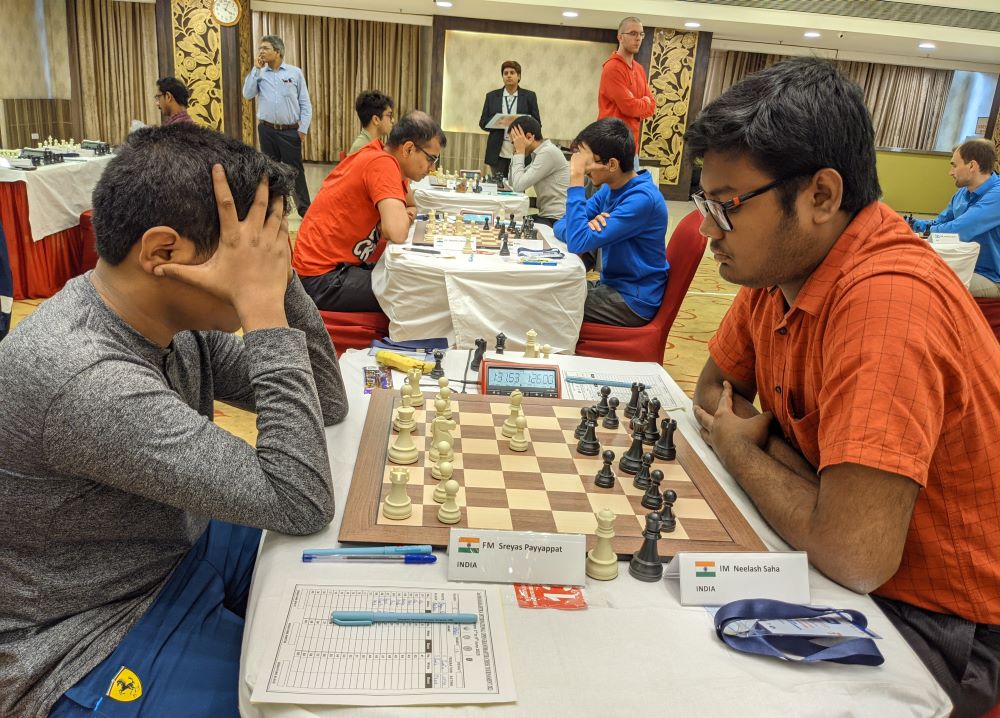 Vidit - Svidler, Game 1
15.c5! is certainly the move of the day. The idea is to maneuver the bishop to c4 via f1. Thus, the clearance of the c4-square. 15...Bxc5 16.Bf1 Re8 17.Bc4+ Kg7 18.Be5 Nc7 19.g4 White got a decisive advantage in less than 20 moves.
Short - Raunak, Game 1
Raunak Sadhwani got a free pawn at e4. Just like Vidit, he also got a decisive in under 20 moves. It all went downhill for White and eventually White got checkmated in the back rank.
Replay all Maharashtra Challenge Match games in interactive format and learn from IM Sagar Shah at Chessranga.
Video Gallery
For more Inauguration Ceremony, GM Round 1 and Below 2000 Round 1 photos, please click at the respective links.
Replay GM Open Round 1 games
Round 1 results
| | | | | | | | | | | | | | | | |
| --- | --- | --- | --- | --- | --- | --- | --- | --- | --- | --- | --- | --- | --- | --- | --- |
| Bo. | No. | | | Name | Rtg | Club/City | Pts. | Result | Pts. | | Name | Rtg | Club/City | | No. |
| 1 | 68 | | AFM | Pawar, Harshit | 2115 | DEL | 0 | 0 - 1 | 0 | GM | Savchenko, Boris | 2524 | RUS | | 1 |
| 2 | 2 | | GM | Zakhartsov, Viacheslav V. | 2514 | FID | 0 | 1 - 0 | 0 | | Phatak, Aanjaneya | 2115 | MAH | | 69 |
| 3 | 70 | | FM | Singh, Arvinder Preet | 2106 | PUN | 0 | 0 - 1 | 0 | GM | Paichadze, Luka | 2513 | GEO | | 3 |
| 4 | 4 | | GM | Burmakin, Vladimir | 2492 | RUS | 0 | 1 - 0 | 0 | IM | Deshmukh, Anup | 2105 | MAH | | 71 |
| 5 | 72 | | | Arya, Bhakta | 2103 | WB | 0 | 1 - 0 | 0 | GM | Akash, G | 2483 | TN | | 5 |
| 6 | 6 | | GM | Sengupta, Deep | 2473 | PSPB | 0 | ½ - ½ | 0 | GM | Ziatdinov, Raset | 2101 | USA | | 73 |
| 7 | 74 | | | Kishan, Gangolli | 2100 | KAR | 0 | 0 - 1 | 0 | GM | Venkatesh, M.R. | 2469 | PSPB | | 7 |
| 8 | 8 | | GM | Aleksandrov, Aleksej | 2461 | BLR | 0 | 1 - 0 | 0 | | Morvekar, Kedar | 2099 | MAH | | 75 |
| 9 | 76 | | | Tiwari, Arjun | 2092 | RLYS | 0 | ½ - ½ | 0 | GM | Vorobiov, Evgeny E. | 2454 | RUS | | 9 |
| 10 | 10 | | IM | Nitish, Belurkar | 2450 | GOA | 0 | 0 - 1 | 0 | CM | Nagare, Kaivalya Sandip | 2085 | MAH | | 77 |
| 11 | 78 | | FM | Goutham, Krishna H | 2082 | KER | 0 | 1 - 0 | 0 | GM | Fedorov, Alexei | 2449 | BLR | | 11 |
| 12 | 12 | | IM | Szpar, Milosz | 2447 | POL | 0 | ½ - ½ | 0 | AIM | Vaz, Ethan | 2073 | GOA | | 79 |
| 13 | 80 | | FM | Sreyas, Payyappat | 2070 | KER | 0 | ½ - ½ | 0 | IM | Neelash, Saha | 2440 | WB | | 13 |
| 14 | 14 | | IM | Sammed Jaykumar, Shete | 2440 | MAH | 0 | 1 - 0 | 0 | | Rohit, S | 2070 | TN | | 81 |
| 15 | 82 | | | Aniruddh, Chatterjee | 2054 | WB | 0 | ½ - ½ | 0 | IM | Viani, Antonio Dcunha | 2417 | KAR | | 15 |
Standings after Round 1
| | | | | | | | | | | | | | | | | | | | |
| --- | --- | --- | --- | --- | --- | --- | --- | --- | --- | --- | --- | --- | --- | --- | --- | --- | --- | --- | --- |
| Rk. | SNo | | | Name | Typ | sex | Gr | FED | Rtg | Club/City | Pts. | TB1 | TB2 | TB3 | TB4 | TB5 | Rp | K | rtg+/- |
| 1 | 1 | | GM | Savchenko, Boris | | | | FID | 2524 | RUS | 1 | 0 | 0 | 0,00 | 0 | 1 | 0 | 10 | 0,8 |
| | 2 | | GM | Zakhartsov, Viacheslav V. | | | | FID | 2514 | FID | 1 | 0 | 0 | 0,00 | 0 | 1 | 0 | 10 | 0,8 |
| | 3 | | GM | Paichadze, Luka | | | | GEO | 2513 | GEO | 1 | 0 | 0 | 0,00 | 0 | 1 | 0 | 10 | 0,8 |
| | 4 | | GM | Burmakin, Vladimir | | | | FID | 2492 | RUS | 1 | 0 | 0 | 0,00 | 0 | 1 | 0 | 10 | 0,9 |
| | 7 | | GM | Venkatesh, M.R. | | | | IND | 2469 | PSPB | 1 | 0 | 0 | 0,00 | 0 | 1 | 0 | 10 | 1 |
| | 8 | | GM | Aleksandrov, Aleksej | | | | FID | 2461 | BLR | 1 | 0 | 0 | 0,00 | 0 | 1 | 0 | 10 | 1 |
| | 14 | | IM | Sammed Jaykumar, Shete | | | | IND | 2440 | MAH | 1 | 0 | 0 | 0,00 | 0 | 1 | 0 | 10 | 1 |
| | 16 | | GM | Mirzoev, Azer | | | | AZE | 2416 | AZE | 1 | 0 | 0 | 0,00 | 0 | 1 | 0 | 10 | 1 |
| | 20 | | IM | Rohith, Krishna S | | | | IND | 2411 | TN | 1 | 0 | 0 | 0,00 | 0 | 1 | 0 | 10 | 0,9 |
| | 21 | | | Sanket, Chakravarty | | | | IND | 2389 | WB | 1 | 0 | 0 | 0,00 | 0 | 1 | 0 | 20 | 2 |
| | 22 | | FM | Panesar, Vedant | | | | IND | 2387 | MAH | 1 | 0 | 0 | 0,00 | 0 | 1 | 0 | 20 | 2 |
| | 23 | | GM | Babujian, Levon | | | | ARM | 2373 | ARM | 1 | 0 | 0 | 0,00 | 0 | 1 | 0 | 10 | 1,1 |
| | 24 | | IM | Barseghyan, Armen Ar. | | | | ARM | 2373 | ARM | 1 | 0 | 0 | 0,00 | 0 | 1 | 0 | 10 | 1,1 |
| | 26 | | | Subhayan, Kundu | | | | IND | 2353 | WB | 1 | 0 | 0 | 0,00 | 0 | 1 | 0 | 20 | 2,4 |
| | 27 | | GM | Teterev, Vitaly | | | | FID | 2344 | BLR | 1 | 0 | 0 | 0,00 | 0 | 1 | 0 | 10 | 1,2 |
Round 2 pairings
| | | | | | | | | | | | | | | | |
| --- | --- | --- | --- | --- | --- | --- | --- | --- | --- | --- | --- | --- | --- | --- | --- |
| Bo. | No. | | | Name | Rtg | Club/City | Pts. | Result | Pts. | | Name | Rtg | Club/City | | No. |
| 1 | 1 | | GM | Savchenko, Boris | 2524 | RUS | 1 | | 1 | FM | Navalgund, Niranjan | 2200 | KAR | | 54 |
| 2 | 56 | | WIM | Pandey, Srishti | 2188 | MAH | 1 | | 1 | GM | Zakhartsov, Viacheslav V. | 2514 | FID | | 2 |
| 3 | 3 | | GM | Paichadze, Luka | 2513 | GEO | 1 | | 1 | FM | Jaiswal, Rupesh | 2146 | NEP | | 63 |
| 4 | 60 | | | Dere, Pushkar | 2166 | MAH | 1 | | 1 | GM | Burmakin, Vladimir | 2492 | RUS | | 4 |
| 5 | 7 | | GM | Venkatesh, M.R. | 2469 | PSPB | 1 | | 1 | WIM | Ivana Maria, Furtado | 2139 | GOA | | 65 |
| 6 | 64 | | CM | Mayank, Chakraborty | 2141 | ASSM | 1 | | 1 | GM | Aleksandrov, Aleksej | 2461 | BLR | | 8 |
| 7 | 66 | | | Nagare, Akhilesh | 2139 | MAH | 1 | | 1 | IM | Sammed Jaykumar, Shete | 2440 | MAH | | 14 |
| 8 | 77 | | CM | Nagare, Kaivalya Sandip | 2085 | MAH | 1 | | 1 | GM | Mirzoev, Azer | 2416 | AZE | | 16 |
| 9 | 97 | | CM | Garv, Gaur | 2006 | HAR | 1 | | 1 | IM | Rohith, Krishna S | 2411 | TN | | 20 |
| 10 | 21 | | | Sanket, Chakravarty | 2389 | WB | 1 | | 1 | | Anadkat, Kartavya | 2130 | GUJ | | 67 |
| 11 | 103 | | | Apoorv, Kamble | 1994 | KAR | 1 | | 1 | FM | Panesar, Vedant | 2387 | MAH | | 22 |
| 12 | 23 | | GM | Babujian, Levon | 2373 | ARM | 1 | | 1 | | Arya, Bhakta | 2103 | WB | | 72 |
| 13 | 105 | | | Alekhya, Mukhopadhyay | 1993 | WB | 1 | | 1 | IM | Barseghyan, Armen Ar. | 2373 | ARM | | 24 |
| 14 | 113 | | CM | Adireddy, Arjun | 1968 | TEL | 1 | | 1 | | Subhayan, Kundu | 2353 | WB | | 26 |
| 15 | 27 | | GM | Teterev, Vitaly | 2344 | BLR | 1 | | 1 | FM | Goutham, Krishna H | 2082 | KER | | 78 |
Links
Maharashtra Chess Association: Official site, fb page and twitter
---