Diptayan wins All Bengal Open Rapid at Aaykar Bhawan Kolkata
GM Diptayan Ghosh wins All Bengal Open Rapid which started on his birthday at Aaykar Bhawan, organized by Income Tax Sports and Recreation Club to commemorate the 75th anniversary of the club. Starting out as the top seed, Diptayan scored 8.0/9 along with Subhayan Kundu, who also finished at the same points. However, due to a better tie-break score, Diptayn clinched the championship and Subhayan was declared as the runner-up. Eight players tied at the third spot with 7.5/9, but Arpan Das secured the second runner-up position according to the tie-break score. The tournament witnessed a total of 348 players across the state which is the highest for a two-day rapid tournament in the state. Photo: Shahid Ahmed
Birthday boy Diptayan gifts himself a championship
Kolkata's youngest GM at the moment and India #19, Diptayan Ghosh won All Bengal Open Rapid at Aaykar Bhawan Kolkata organized by Income Tax Sports and Recreation Club on 10th and 11th August 2019.
At the conclusion of the prize distribution ceremony, I managed to ask Diptayan about his decision to play a tournament on his birthday, what he said to his practice partner and much more things.
Here is Diptayan's best game from the tournament, selected by the champion himself:
Samriddhaa started out as the 50th seed, she remained undefeated and became the only female player to finish in top 45. This was her first tournament since becoming National under-17 champion, since it was held at her dad's office, all eyes were on her to perform and she delivered.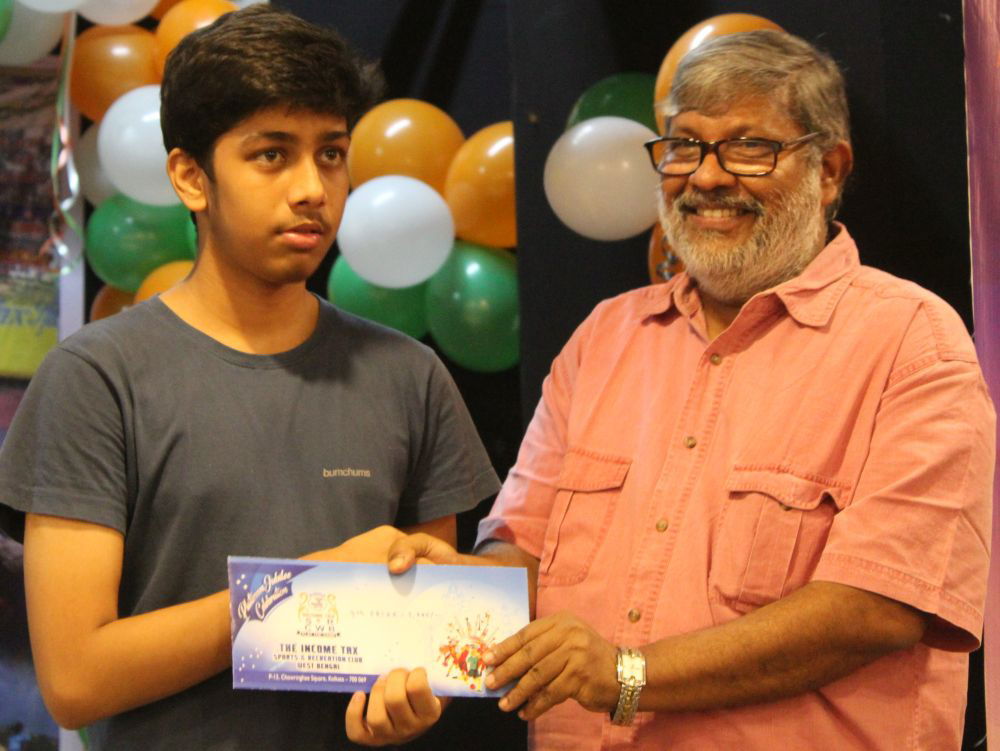 For more Prize Distribution Ceremony photos, click here.
Photo gallery: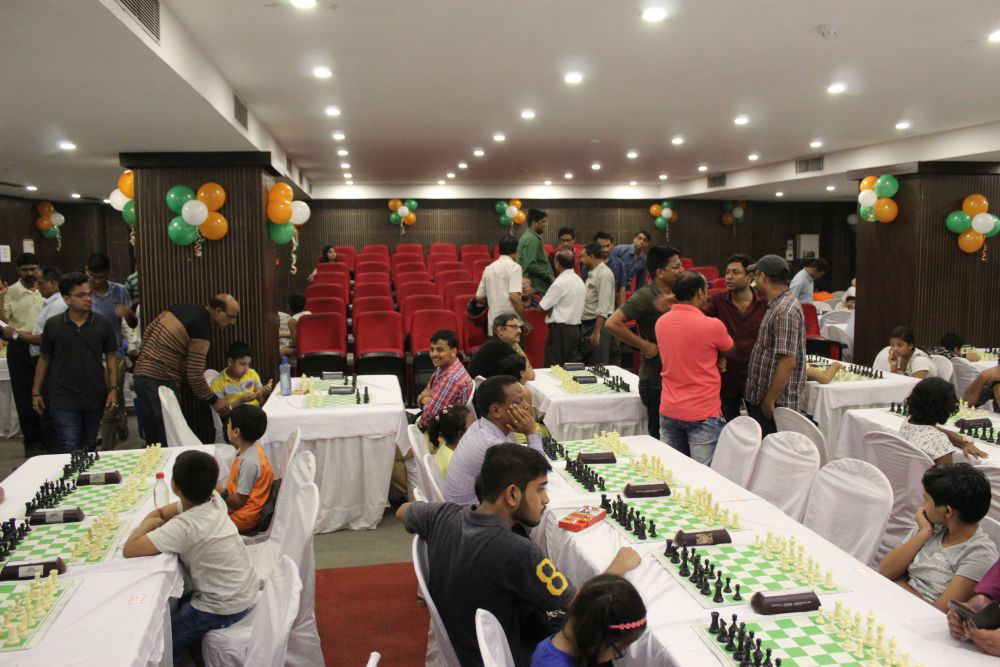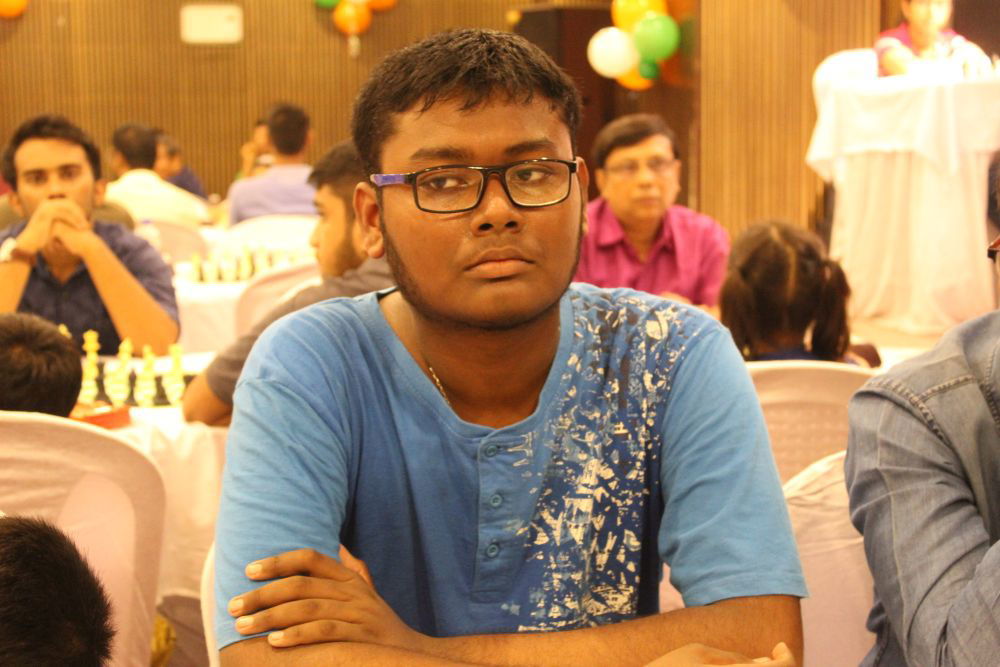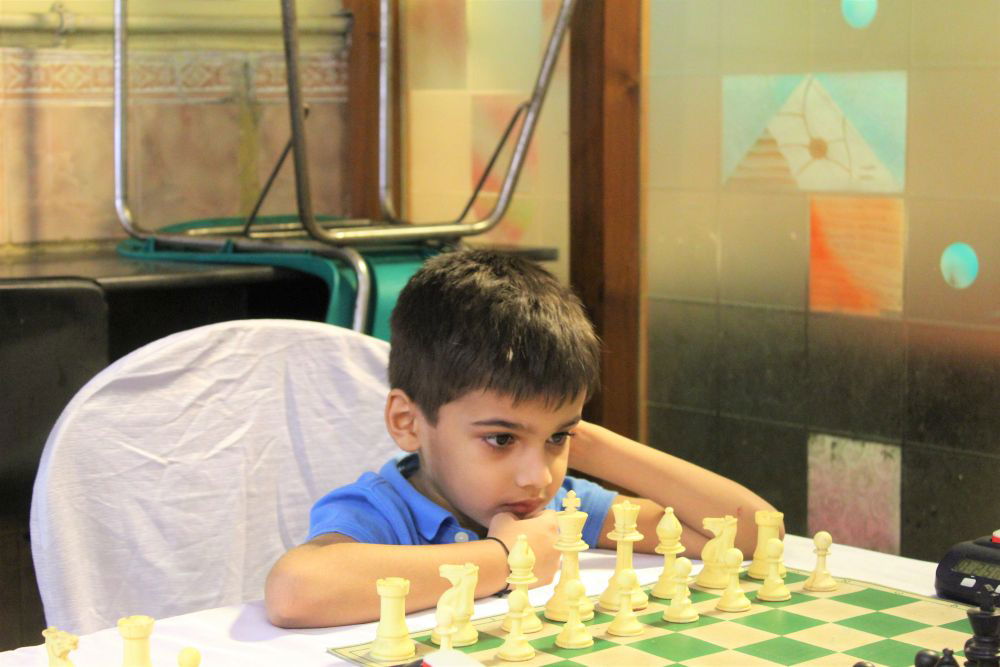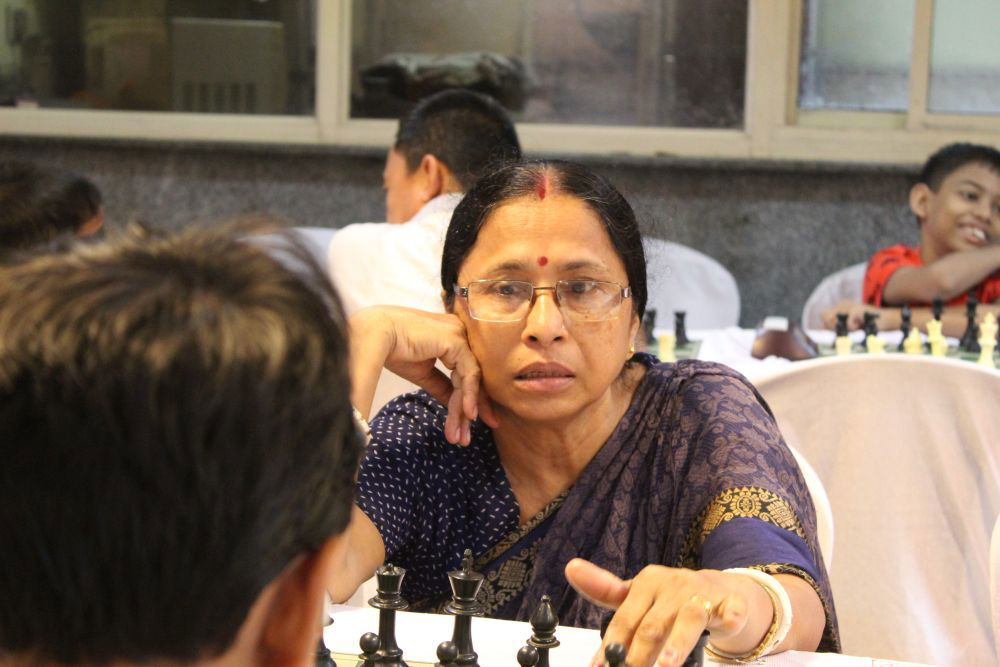 For more photos, click here.
Video Gallery:
The two-day All Bengal Open Rapid tournament witnessed a total participation of 348 players which is the highest for a two-day rapid tournament in West Bengal in this year. Income Tax Sports and Recreation Club organized the event to commemorate 75th year of the club's foundation.
Final Standings
| | | | | | | | | | | | | | |
| --- | --- | --- | --- | --- | --- | --- | --- | --- | --- | --- | --- | --- | --- |
| Rk. | SNo | | Name | Typ | sex | FED | Rtg | Pts. | TB1 | TB2 | TB3 | TB4 | TB5 |
| 1 | 1 | GM | Ghosh Diptayan | | | IND | 2484 | 8,0 | 0,0 | 54,5 | 59,5 | 52,00 | 7 |
| 2 | 20 | | Subhayan Kundu | | | IND | 1882 | 8,0 | 0,0 | 48,0 | 52,0 | 45,50 | 8 |
| 3 | 15 | | Arpan Das | | | IND | 1960 | 7,5 | 0,0 | 52,0 | 54,0 | 43,00 | 7 |
| 4 | 14 | | Anurag Jaiswal | | | IND | 1962 | 7,5 | 0,0 | 51,5 | 56,0 | 45,75 | 6 |
| 5 | 19 | IM | Neelash Saha | | | IND | 1883 | 7,5 | 0,0 | 51,5 | 54,5 | 45,25 | 6 |
| 6 | 50 | | Ghosh Samriddhaa | | w | IND | 1582 | 7,5 | 0,0 | 51,0 | 55,5 | 47,00 | 6 |
| 7 | 3 | | Arindam Mukherjee | | | IND | 2120 | 7,5 | 0,0 | 50,5 | 54,0 | 42,75 | 7 |
| 8 | 4 | | Kaustuv Kundu | | | IND | 2098 | 7,5 | 0,0 | 50,0 | 53,0 | 42,75 | 7 |
| 9 | 39 | | Arpan Das (Jr) | | | IND | 1705 | 7,5 | 0,0 | 48,0 | 51,0 | 39,75 | 7 |
| 10 | 30 | | Sarbojit Paul | | | IND | 1763 | 7,5 | 0,0 | 44,5 | 49,0 | 42,00 | 7 |
| 11 | 65 | | Atri Chattopadhyay | | | IND | 1456 | 7,0 | 0,0 | 51,0 | 55,0 | 39,50 | 7 |
| 12 | 81 | | Soumyajit Das (Jr) | | | IND | 1382 | 7,0 | 0,0 | 50,5 | 54,0 | 39,50 | 6 |
| 13 | 8 | | Debarshi Mukherjee | | | IND | 2027 | 7,0 | 0,0 | 50,0 | 53,0 | 40,50 | 6 |
| 14 | 6 | FM | Mitrabha Guha | | | IND | 2065 | 7,0 | 0,0 | 48,5 | 53,0 | 39,50 | 7 |
| 15 | 49 | | Bodhisatya Pal | | | IND | 1583 | 7,0 | 0,0 | 46,5 | 49,5 | 35,75 | 6 |
| 16 | 23 | | Suvradeepta Das | | | IND | 1827 | 7,0 | 0,0 | 46,5 | 47,5 | 34,50 | 7 |
| 17 | 16 | | Dilip Das | S60 | | IND | 1955 | 7,0 | 0,0 | 44,5 | 49,0 | 36,00 | 7 |
| 18 | 66 | | Soham Dey | | | IND | 1455 | 7,0 | 0,0 | 42,5 | 46,5 | 34,00 | 7 |
| 19 | 71 | | Sourath Biswas | | | IND | 1428 | 6,5 | 0,0 | 52,5 | 54,5 | 37,25 | 6 |
| 20 | 46 | | Ambarish Sharma | | | IND | 1598 | 6,5 | 0,0 | 51,0 | 54,0 | 37,00 | 5 |
---