Shankhodip and Rajanya win 31st West Bengal State Under-11 2019
Shankhodip De and Rajanya Datta won 31st West Bengal State under-11 in Open and Girls category respectively. Shankhodip scored 7.5/8 and finished half-a-point ahead of the runner-up Rwitik Chakraborty. Debaprabho Gorai also scored 7.0/8 but due to a lower tie-break score, he was placed 3rd. Rajanya scored 6.5/7 and finished half-a-point ahead of Mrittika Mallick, who scored 6.0/7 and finished at 2nd position. Jagriti Agarwal secured 3rd position with a score of 5.5/7. The 31st edition of West Bengal State Under-11 Open and Girls 2019 witnessed a mammoth 318 participants from various districts across the state. Photo: Shahid Ahmed
Top seeds maintain their crown
Very few times it is observed that the top seeds win a tournament especially in an age group category tournaments. However this time it was different, both Shankhodip De and Rajanya Datta proved why they were top seeds as finished half-a-point ahead of the runner-up to win the championship in the biggest State Under-11 in West Bengal Chess history.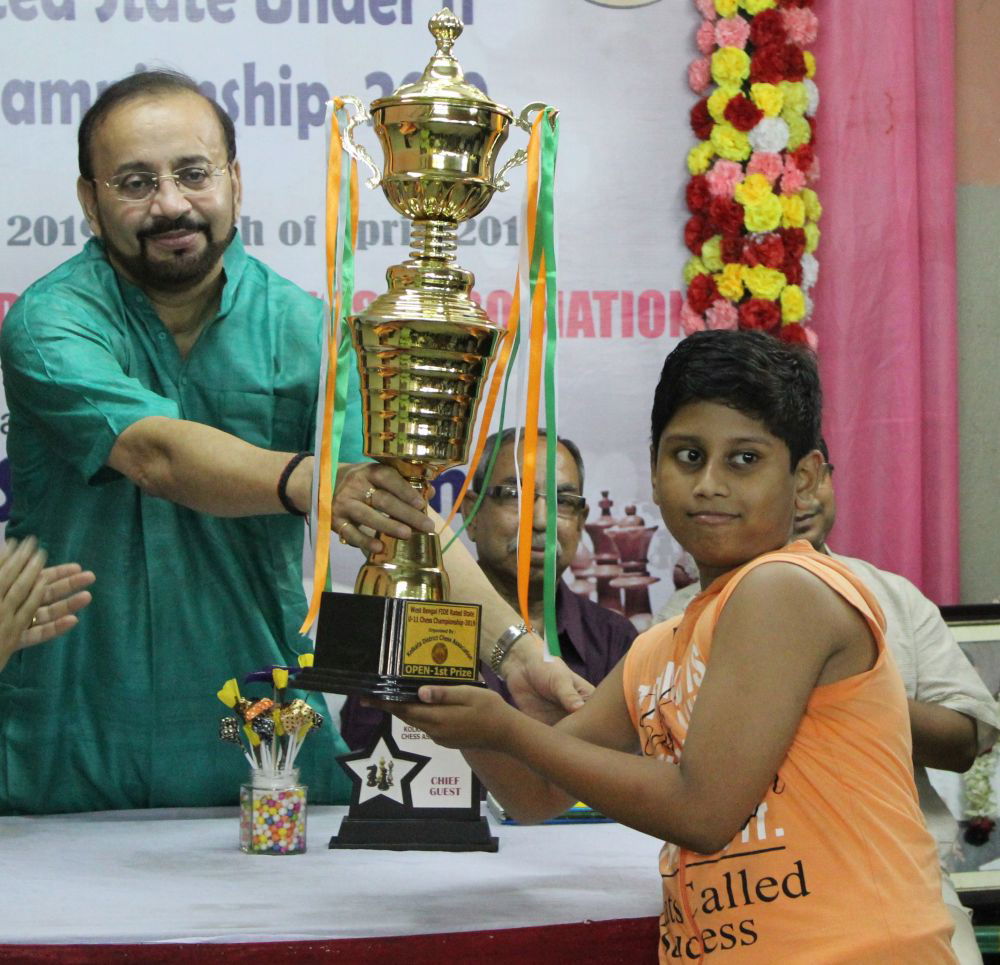 The only person who could have overtaken Shankhodip in the last round was his final round opponent and eventual runner-up of the tournament Rwitik Chakraborty. So he just needed a draw in the final round to win the tournament and he made a draw. Here is a game annotated by Shankhodip himself:
An annotated game by the Champion in girls section, Rajanya Datta
Here is an interview conducted with both Champions at the conclusion of the prize distribution ceremony.
Prize Distribution Ceremony photos: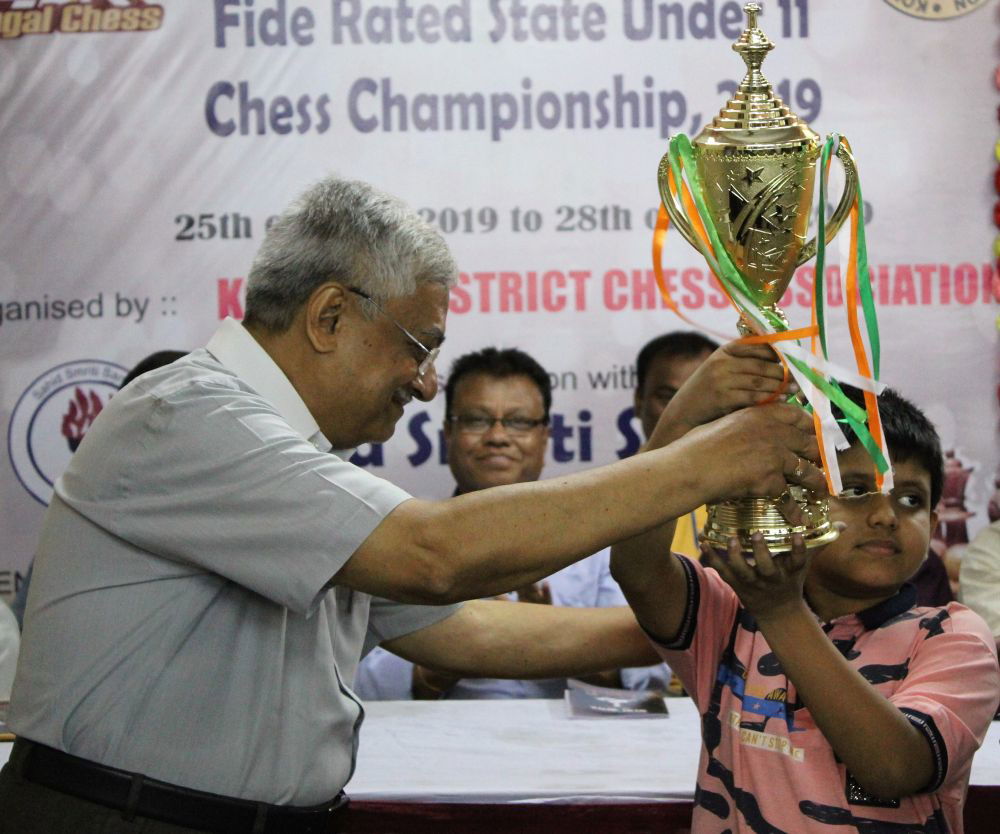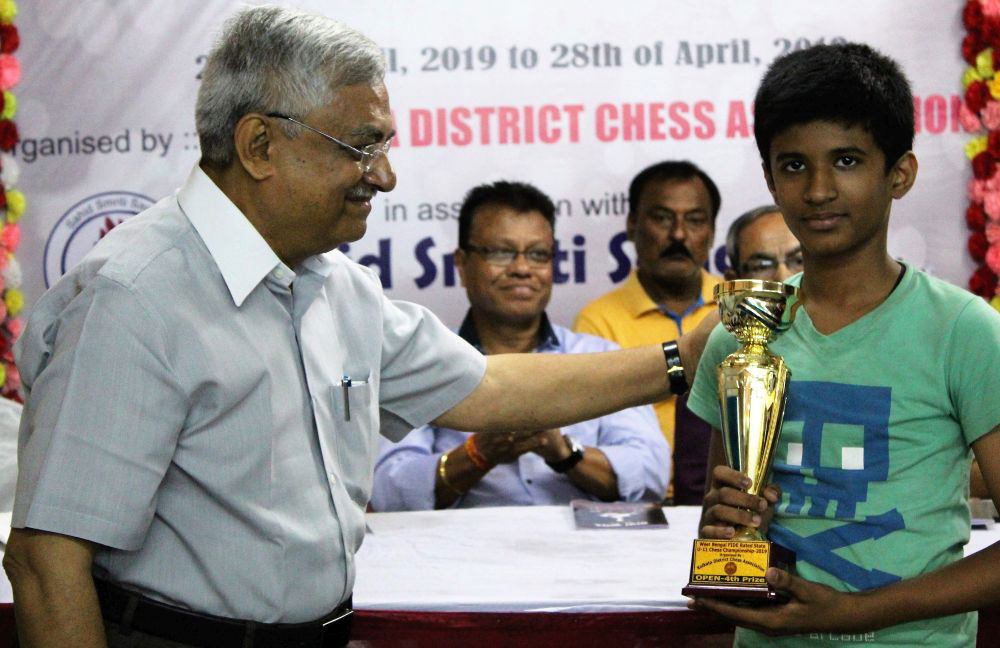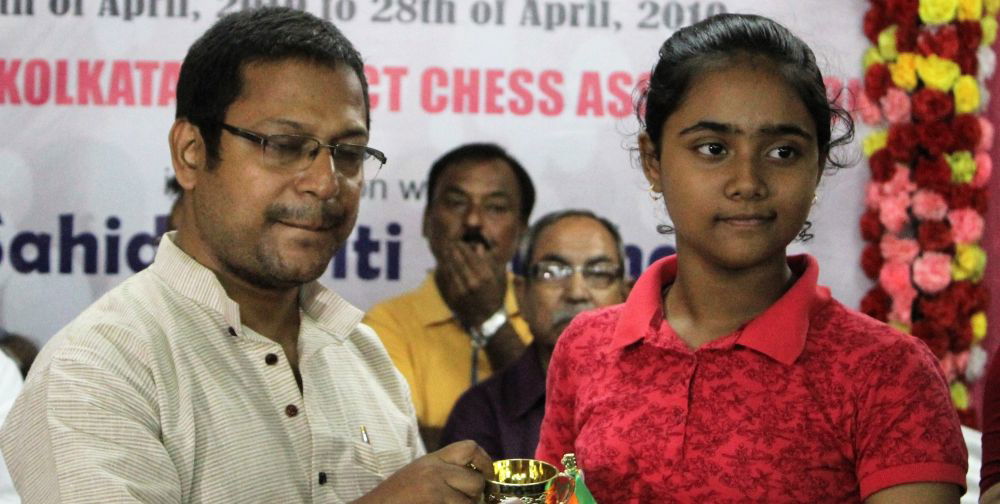 For more Prize Distribution Ceremony photos, click here
Video Gallery:
The tournament was organized by Kolkata District Chess Association & Sahid Smriti Sangha at Sahid Smriti Sangha, Kolkata from 25th-28th April 2019. The 31st edition of West Bengal State under-11 witnessed a record number of participation of 318 players from various districts across the state.
Final Ranking after 8 Rounds in Open category
| | | | | | | | | | |
| --- | --- | --- | --- | --- | --- | --- | --- | --- | --- |
| Rk. | SNo | Name | Typ | sex | RtgI | Pts. | TB1 | TB2 | TB3 |
| 1 | 1 | Shankhodip De | U11 | | 1561 | 7,5 | 0,0 | 41,0 | 43,5 |
| 2 | 21 | Rwitik Chakraborty | U11 | | 1215 | 7,0 | 1,0 | 41,0 | 45,0 |
| 3 | 6 | Debaprabho Gorai | U11 | | 1322 | 7,0 | 0,0 | 38,5 | 42,0 |
| 4 | 8 | Snehil Raj Singh | U11 | | 1313 | 6,5 | 0,0 | 41,5 | 45,5 |
| 5 | 3 | Atreya Nandy | U11 | | 1492 | 6,5 | 0,0 | 39,5 | 43,0 |
| 6 | 29 | Shreeyash Kejriwal | U09 | | 1146 | 6,5 | 0,0 | 38,5 | 41,5 |
| 7 | 16 | Srijak Sengupta | U11 | | 1241 | 6,5 | 0,0 | 38,0 | 40,5 |
| 8 | 4 | Eshan Bhattacharjee | U11 | | 1484 | 6,5 | 0,0 | 35,5 | 38,5 |
| 9 | 2 | Sankalan Shah | U11 | | 1507 | 6,0 | 0,0 | 42,5 | 45,5 |
| 10 | 7 | Projoy Jana | U11 | | 1315 | 6,0 | 0,0 | 39,5 | 43,5 |
| 11 | 19 | Archisman Patra | U09 | | 1222 | 6,0 | 0,0 | 38,5 | 43,0 |
| 12 | 17 | Swapneel Gupta | U11 | | 1239 | 6,0 | 0,0 | 38,0 | 41,0 |
| 13 | 22 | Suvayan Dey | U11 | | 1174 | 6,0 | 0,0 | 38,0 | 40,5 |
| 14 | 11 | Soureen Bhattacharya | U11 | | 1279 | 6,0 | 0,0 | 37,0 | 40,5 |
| 15 | 10 | Rupankar Kundu | U11 | | 1280 | 6,0 | 0,0 | 37,0 | 40,0 |
| 16 | 28 | Soumick Bandopadhyay | U09 | | 1150 | 6,0 | 0,0 | 36,5 | 38,5 |
| 17 | 217 | Sreedeep Ganguli | U11 | | 0 | 6,0 | 0,0 | 35,5 | 39,5 |
| 18 | 9 | Samyak Dharewa | U11 | | 1305 | 6,0 | 0,0 | 35,5 | 39,0 |
| 19 | 25 | Anutosh Mukherjee | U11 | | 1161 | 6,0 | 0,0 | 35,5 | 38,0 |
| 20 | 33 | Ritwik Datta Gupta | U11 | | 1113 | 6,0 | 0,0 | 35,5 | 38,0 |
Complete standings in open category
Final Ranking after 7 Rounds in Girls category
| | | | | | | | | | | |
| --- | --- | --- | --- | --- | --- | --- | --- | --- | --- | --- |
| Rk. | SNo | | Name | Typ | sex | RtgI | Pts. | TB1 | TB2 | TB3 |
| 1 | 1 | | Rajanya Datta | U11 | w | 1425 | 6,5 | 0,0 | 30,5 | 34,0 |
| 2 | 2 | | Mrittika Mallick | U11 | w | 1419 | 6,0 | 0,0 | 31,0 | 34,5 |
| 3 | 9 | | Jagriti Agarwal | U11 | w | 1045 | 5,5 | 0,0 | 31,0 | 35,0 |
| 4 | 8 | | Prapti Moulik | U11 | w | 1131 | 5,5 | 0,0 | 29,0 | 32,0 |
| 5 | 10 | | Prerana Ghosh | U11 | w | 1044 | 5,5 | 0,0 | 27,0 | 30,0 |
| 6 | 4 | | Anjistha Basak | U11 | w | 1257 | 5,5 | 0,0 | 26,0 | 29,5 |
| 7 | 3 | | Sneha Halder | U11 | w | 1384 | 5,0 | 0,0 | 28,5 | 31,5 |
| 8 | 13 | | Olivia Biswas | U11 | w | 1014 | 5,0 | 0,0 | 27,0 | 29,5 |
| 9 | 11 | | Ishani Mondal | U11 | w | 1016 | 5,0 | 0,0 | 25,5 | 28,5 |
| 10 | 6 | | Jhinuk Dutta | U11 | w | 1179 | 5,0 | 0,0 | 25,0 | 28,0 |
| 11 | 5 | | Debapriya Manna | U11 | w | 1183 | 5,0 | 0,0 | 25,0 | 27,5 |
| 12 | 7 | | Saparya Ghosh | U09 | w | 1136 | 5,0 | 0,0 | 24,5 | 27,0 |
| 13 | 19 | | Ahana Dutta Roy | U11 | w | 0 | 5,0 | 0,0 | 24,0 | 26,0 |
| 14 | 66 | | Samriddhi Gharami | U11 | w | 0 | 4,5 | 0,0 | 29,0 | 32,0 |
| 15 | 48 | | Kasturi Saha | U11 | w | 0 | 4,5 | 0,0 | 27,5 | 29,5 |
| 16 | 87 | | Vipassana Lama | U09 | w | 0 | 4,5 | 0,0 | 27,5 | 29,0 |
| 17 | 65 | | Sahana Chakraborty | U09 | w | 0 | 4,5 | 0,0 | 26,0 | 29,0 |
| 18 | 23 | | Alaktika Chatterjee | U11 | w | 0 | 4,5 | 0,0 | 25,0 | 27,5 |
| 19 | 47 | | Kashvi Chitlangia | U09 | w | 0 | 4,5 | 0,0 | 25,0 | 27,0 |
| 20 | 54 | | Oiendrila Bhattacharya | U11 | w | 0 | 4,5 | 0,0 | 24,0 | 25,5 |
Complete standings in girls category
---