Kaustuv Kundu dominates 1st All India Rating Open 2023 with a perfect 9/9
Kaustuv Kundu scored a perfect 9/9 to win 1st All India Rating Open 2023. He finished a staggering 1.5 points ahead of the field. Anurag Jaiswal scored sole 7.5/9 to secure second place. Eight players scored 7/9 each. Out of them, Arpan Das was placed third as he had the best tie-break score. Both Kaustuv and Anurag remained undefeated. Kaustuv got the better of the eventual second runner-up in the penultimate round. Despite needing just a draw to become a clear champion, the sole IM-norm holder wanted a perfect finish and won against Bishal Basak in the final round. The total prize fund of the tournament was ₹225000. The top three prizes were ₹40000, ₹25000 and ₹15000 along with a trophy each. Photo: Shahid Ahmed
Top two remain undefeated
This is Kaustuv's first Rating tournament triumph of 2023. Earlier, this year he had won the Kolkata District Chess Championship in February. He is known to be in the habit of winning tournaments all over the country in various formats. After this tournament, he won another Rating tournament in Telangana. We will mention it in a separate report. GM Dibyendu Barua and GM Saptarshi Roy distributed the prizes.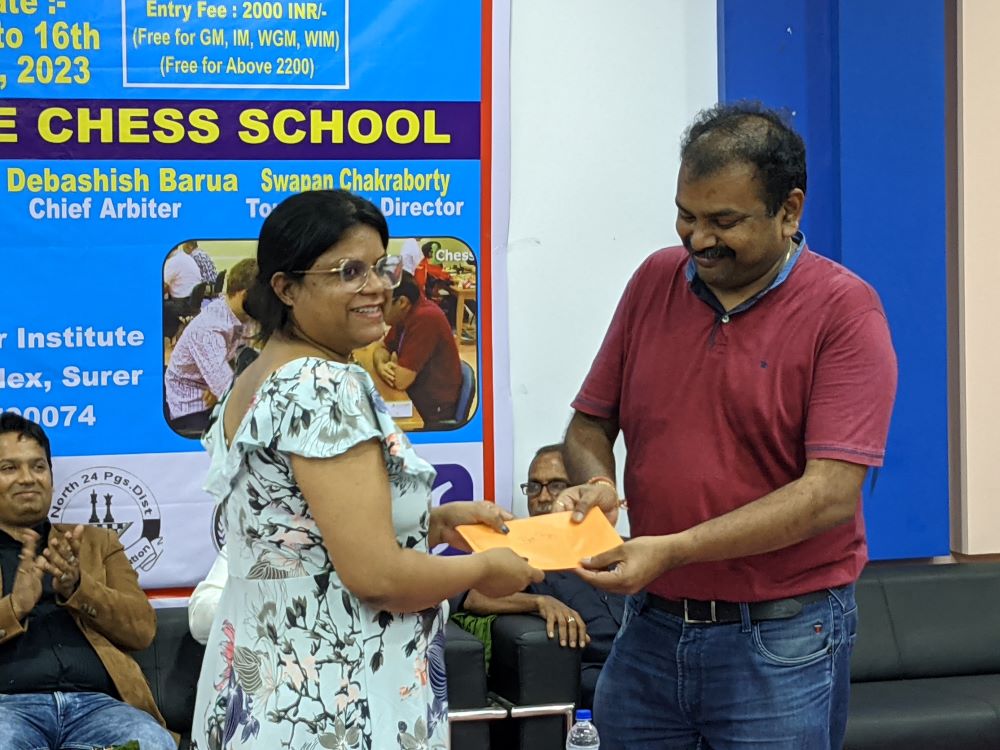 For more photos, please click here.
A total of 224 players from various states across the country. The six-day nine-round Swiss league Rating tournament was organized by The Chess School, Kolkata at Dr. Sudhir Chandra Sur Institute of Technology & Sports Complex, Dumdum in North 24 Parganas, West Bengal from 11th to 16th April 2023. The time control for the event was 90 minutes + 30 seconds increment from move no.1.
Final standings
| | | | | | | | | | | | | | | |
| --- | --- | --- | --- | --- | --- | --- | --- | --- | --- | --- | --- | --- | --- | --- |
| Rk. | SNo | | Name | Typ | sex | FED | Rtg | Club/City | Pts. | TB1 | TB2 | TB3 | TB4 | TB5 |
| 1 | 1 | | Kaustuv Kundu | | | IND | 2217 | WB | 9 | 51 | 55,5 | 54,50 | 0 | 9 |
| 2 | 10 | | Anurag Jaiswal | | | IND | 1777 | WB | 7,5 | 48 | 52 | 42,00 | 0 | 6 |
| 3 | 4 | | Arpan Das | | | IND | 1981 | WB | 7 | 51,5 | 56,5 | 42,00 | 0 | 6 |
| 4 | 8 | | Ritabrata Chakraborty | | | IND | 1787 | WB | 7 | 51,5 | 55 | 38,25 | 0 | 6 |
| 5 | 11 | | Bhattacharya Niladri Shekhar | | | IND | 1735 | WB | 7 | 50,5 | 55,5 | 41,75 | 0 | 6 |
| 6 | 6 | | Soumma Chakraborty | | | IND | 1872 | WB | 7 | 50 | 54 | 39,50 | 0 | 7 |
| 7 | 9 | | Basak Bishal | | | IND | 1785 | WB | 7 | 49,5 | 53,5 | 37,00 | 0 | 7 |
| 8 | 12 | | Alka Das | | w | IND | 1733 | JHAR | 7 | 46 | 50 | 37,50 | 0 | 6 |
| 9 | 25 | | Manna Chiranjit | | | IND | 1497 | WB | 7 | 45,5 | 49,5 | 33,00 | 0 | 6 |
| 10 | 20 | | Jyotshnav Talukdar | U15 | | IND | 1567 | ASM | 7 | 45,5 | 47,5 | 35,25 | 0 | 6 |
| 11 | 2 | CM | Sankalan Shah | U15 | | IND | 2179 | WB | 6,5 | 52 | 56,5 | 37,25 | 0 | 6 |
| 12 | 37 | | Sanjeeban Mandal | U13 | | IND | 1362 | WB | 6,5 | 50 | 53,5 | 35,50 | 0 | 6 |
| 13 | 24 | | Agnivo Chakraborty | U15 | | IND | 1522 | WB | 6,5 | 47,5 | 52 | 35,75 | 0 | 6 |
| 14 | 18 | | Arghya Sen | | | IND | 1604 | WB | 6,5 | 47,5 | 51 | 33,75 | 0 | 6 |
| 15 | 36 | | Ishan Sinha | U15 | | IND | 1373 | WB | 6,5 | 47,5 | 50,5 | 33,50 | 0 | 5 |
| 16 | 32 | ACM | Parigyan Chakraborty | U13 | | IND | 1396 | WB | 6,5 | 46 | 49 | 28,25 | 0 | 6 |
| 17 | 5 | | Mitra Swapan | S60 | | IND | 1975 | WB | 6,5 | 45 | 49,5 | 35,25 | 0 | 5 |
| 18 | 16 | | Anis Mukhopadhyay | | | IND | 1646 | WB | 6,5 | 45 | 47 | 31,50 | 0 | 6 |
| 19 | 3 | | Chatterjee K.K. | S60 | | IND | 2085 | WB | 6,5 | 44,5 | 48,5 | 33,75 | 0 | 5 |
| 20 | 27 | | Shankhadeep Maity | | | IND | 1485 | WB | 6,5 | 43 | 45 | 30,75 | 0 | 6 |
---