Kaustuv Kundu clinches Anantapur All India Rapid Rating Open
Untitled Kaustuv Kundu scored 8.5/9, remained undefeated to win All India Rapid Rating Open at Anantapur, Andhra Pradesh. He beat the seemingly invincible IM Ratnakaran K in the penultimate round to take sole lead. A win in the final round would have ensured his triumph and that is exact what Kaustuv did as he beat Balkishan A in the final round to win the tournament and finish ahead of all IMs. A total of 272 players including six IMs from various states across the country, took part in this nine-round Rapid Rating tournament with a time control of 25 mins + 5 seconds each. The total prize fund was ₹200000. Photo: Shahid Ahmed
Kaustuv finishes a full point ahead
Kaustuv faced three out of six IMs who took part in the event, defeated the eventual runner-up, IM Ratnakaran K and drew with the second runner-up, IM Himal Gusain. The winner received a trophy and ₹30000 cash prize. Runner-up got a trophy and ₹20000 cash. The second runner-up earned a trophy and ₹12500 cash as a prize.
Harikrishnan - Kaustuv, Round 7
In the final moments of the game, White made a practical mistake, 40.Rff7 which allowed Black to get back in the game 40...Qxf7 41.Rxf7 Kxf7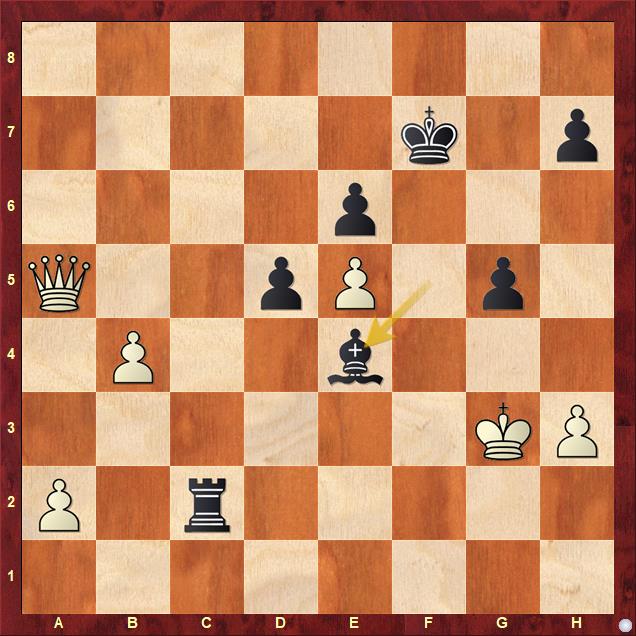 Black capitalized on White's mistake 47.b4, by creating a nice mating net 47...Be4. There is no way for White to defend this and Black soon won the game. This win allowed Kaustuv to be in the title fray, just a half point behind 6.5/7 the seemingly unstoppable sole leader IM Ratnakaran K who was at 7.0/7.
Kaustuv - Ratnakaran, Round 8
Should Black take the exchange at a1? Correct answer is no. In general, most of the time giving up the kingside fianchetto'd bishop especially when the castling is done on the same side, should not be used to capture the undeveloped rook. In this case, it is a particularly bad idea for multiple reasons - White still has a dark square bishop, g4-knight is in a pin and h-file can be opened very soon. So, Black might have gained an exchange with 18...Qxa1 but lost a huge positional advantage. Kaustuv converted his advantage into win very nicely to go into the final round with a half point lead 7.5/8.
This was the first-ever All India Open FIDE Rapid Rating Chess Tournament organized at Anantapur district, previously a Classical tournament was held in 2016.
The tournament was organized by All Anantapur Chess Association, co-organized by AP Police in association with Andhra Chess Association on 13th and 14th November 2021 at Police Training College, Anantapur. A total of 272 players including six IMs took part in the nine-round Swiss league event which had a time control of 25 minutes + 5 seconds increment from move no.1.
Final Standings
| | | | | | | | | | | | | | | | |
| --- | --- | --- | --- | --- | --- | --- | --- | --- | --- | --- | --- | --- | --- | --- | --- |
| Rk. | SNo | | | Name | Typ | sex | FED | Rtg | Club/City | Pts. | TB1 | TB2 | TB3 | TB4 | TB5 |
| 1 | 7 | | | Kaustuv Kundu | | | IND | 2098 | WB | 8,5 | 54,0 | 58,0 | 54,25 | 0,0 | 8 |
| 2 | 2 | | IM | Ratnakaran K. | | | IND | 2347 | S RAILWAYS | 7,5 | 55,0 | 60,0 | 45,75 | 0,0 | 7 |
| 3 | 1 | | IM | Gusain Himal | | | IND | 2394 | CH | 7,5 | 54,5 | 57,0 | 46,00 | 0,0 | 6 |
| 4 | 4 | | IM | Rajesh V A V | | | IND | 2277 | SC RAILWAYS | 7,5 | 53,0 | 57,0 | 45,75 | 0,0 | 7 |
| 5 | 8 | | IM | Harikrishnan.A.Ra | | | IND | 2074 | TN | 7,5 | 50,5 | 55,0 | 43,25 | 0,0 | 7 |
| 6 | 6 | | FM | Senthil Maran K | | | IND | 2171 | TN | 7,5 | 49,5 | 54,5 | 44,25 | 0,0 | 6 |
| 7 | 5 | | IM | Muthaiah Al | | | IND | 2214 | TN | 7,5 | 49,5 | 54,0 | 43,50 | 0,0 | 6 |
| 8 | 19 | | CM | Kushagra Mohan | | | IND | 1769 | TG | 7,5 | 48,0 | 51,5 | 40,25 | 0,0 | 7 |
| 9 | 3 | | IM | Ravi Teja S. | | | IND | 2343 | AP | 7,0 | 49,5 | 53,0 | 39,00 | 0,0 | 7 |
| 10 | 9 | | | Arpan Das | | | IND | 1960 | WB | 7,0 | 49,5 | 52,5 | 38,50 | 0,0 | 6 |
| 11 | 10 | | | Balkishan A. | | | IND | 1946 | KA | 7,0 | 48,5 | 51,5 | 36,50 | 0,0 | 7 |
| 12 | 28 | | | Sameer Kumar Y | | | IND | 1623 | TG | 7,0 | 47,0 | 47,5 | 32,50 | 0,0 | 7 |
| 13 | 31 | | | Velpula Sarayu | | w | IND | 1588 | TG | 7,0 | 46,5 | 50,0 | 36,50 | 0,0 | 7 |
| 14 | 25 | | | Sri Sai Baswanth P | | | IND | 1704 | AP | 7,0 | 45,0 | 48,0 | 35,00 | 0,0 | 7 |
| 15 | 42 | | | Vankadara Praveen Kumar | | | IND | 1395 | AP | 7,0 | 44,5 | 47,0 | 33,00 | 0,0 | 7 |
| 16 | 24 | | | Sham R | | | IND | 1725 | TN | 7,0 | 42,0 | 45,5 | 35,00 | 0,0 | 7 |
| 17 | 32 | | | Joglekar Abhijit | | | IND | 1548 | MH | 7,0 | 41,0 | 45,0 | 35,50 | 0,0 | 7 |
| 18 | 64 | | | Bhuvana Koppineni | F12 | w | IND | 1227 | AP | 7,0 | 41,0 | 45,0 | 32,00 | 0,0 | 7 |
| 19 | 43 | | | Md Bashiq Imrose | U14 | | IND | 1383 | TG | 6,5 | 53,0 | 57,0 | 38,75 | 0,0 | 5 |
| 20 | 20 | | | Raghav Srivathsav V | | | IND | 1756 | TG | 6,5 | 53,0 | 55,5 | 37,25 | 0,0 | 6 |
---