Kaustuv Kundu and Ravi Teja win Vizag Rapid and Blitz Rating Open 2022
Kaustuv Kundu and IM Ravi Teja S scored an unbeaten 8.5/9 and 8/9 each to win Vizag Rapid and Blitz Rating Open 2022 respectively. Both of them finished a half point ahead of the competition. IM Mehar Chinna Reddy C H scored sole 8/9 to secure second place. Ajay Mushini edged past IM Dhulipalla Bala Chandra Prasad on tie-breaks to finish third in Rapid. Four players scored 7.5/9 in the Blitz event. IM Bala and IM CRG Krishna were adjudged second and third respectively. The total prize fund of the tournament was ₹700000, ₹500000 for Rapid and ₹200000 for Blitz. The top three prizes were ₹35000, ₹21000 and ₹15000 in Rapid and ₹15000, ₹7000 and ₹6000 each respectively in the Blitz event. Photo: S Manikanta Rao
Kaustuv's third and Ravi's first Rating Open triumph of the year
Kaustuv Kundu has won a Classical Rating Open in April and a Rapid Rating Open in February this year. IM Ravi Teja S had four podium finishes combining Rapid and Blitz Rating events this year, however, this is his first Blitz Rating Open first place finish. 11-year-old Aaryan Balaji Rao is the youngest finisher among top ten in Rapid. He scored 7/9 and secured sixth place. In the Blitz event, 13-year-old Gyana Sai Santhosh M is the youngest among top ten. He made 7/9 to finish ninth.
Kaustuv Kundu shared his best game from the event against IM Mehar Chinna Reddy C H (2271) from round 6.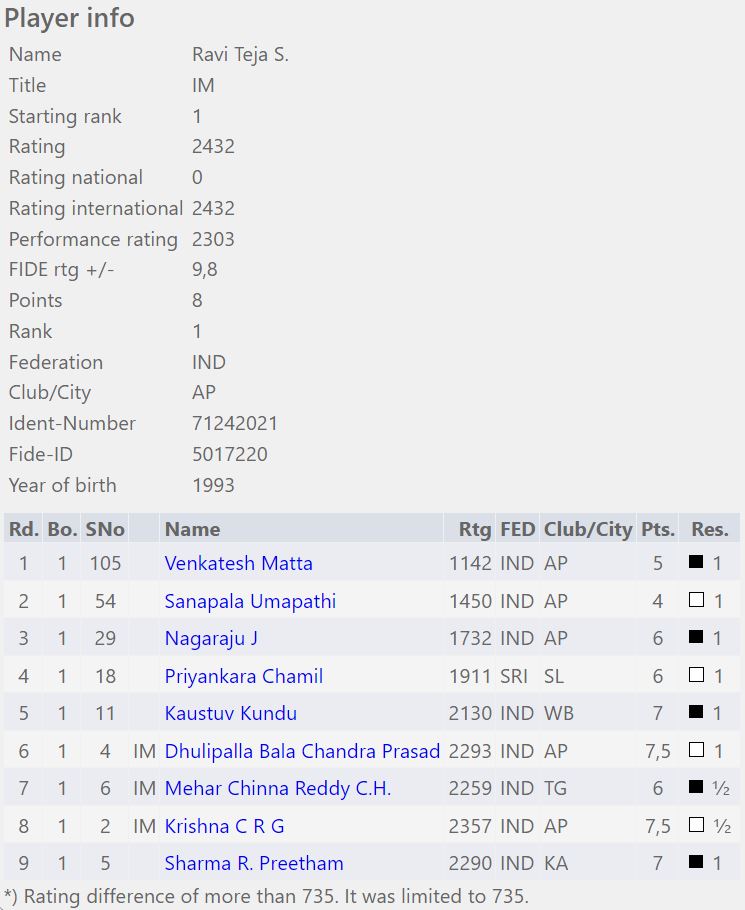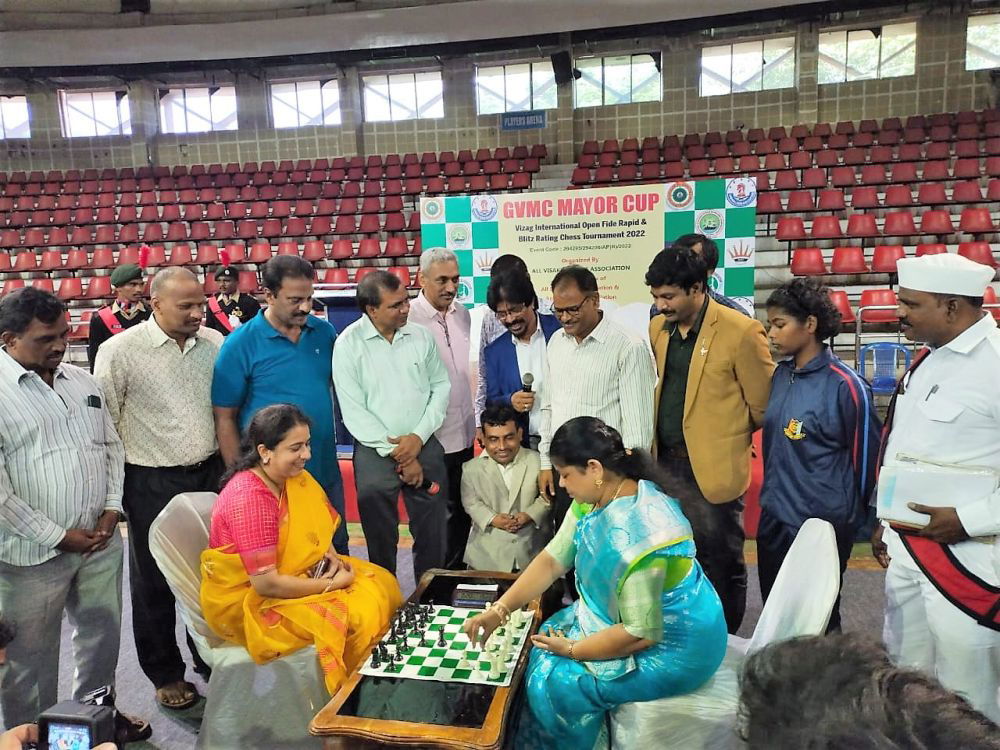 From R to L: Ms. Golagani Hari Venkata Kumari, Mr. KVV Sarma, President, Andhra Chess Association, Mr. Suresh Kumar, Patron, Andhra Chess Association, Mr. K Jwalamukhi, Treasurer, Andhra Chess Association, Mr. Baburao, Tournament Director, FA V Srikanth, Chief Arbiter, IA G V Kumar, Deputy Chief Arbiter, Mr. Surya Rao, District Sports Officer, Mr. Bhavanarayana Rao, Income Tax officer.
The Chief Guest at the closing ceremony was Sri Krishna Devarayalu, MP.
For more photos, please click here.
A special thanks to S Manikanta Rao, Secretary of All Visakha Chess Association for sharing the photos and providing valuable information about the tournament.
A total of 240 players in Rapid and 205 players including 7 IMs and a WIM took part from various parts of the country along with a player each from Sri Lanka and Syria in this two-day nine-round Swiss League Rapid and Blitz Rating tournament. The events were organized by All Visakha Chess Association at Swarna Bharathi, Indoor Stadium in Vizag, Andhra Pradesh on 17th and 18th September 2022. The time control for Rapid was 20 minutes + 5 seconds increment and for Blitz it was 3 minutes + 2 seconds increment.
Final standings in Rapid
| | | | | | | | | | | | |
| --- | --- | --- | --- | --- | --- | --- | --- | --- | --- | --- | --- |
| Rk. | SNo | | Name | Typ | FED | Rtg | Club/City | Pts. | TB1 | TB2 | TB3 |
| 1 | 8 | | Kaustuv Kundu | | IND | 2100 | WB | 8,5 | 53 | 57 | 53,75 |
| 2 | 2 | IM | Mehar Chinna Reddy C.H. | | IND | 2271 | TG | 8 | 53 | 58 | 50,00 |
| 3 | 12 | | Mushini Ajay | | IND | 1995 | AP | 7,5 | 52 | 56,5 | 45,25 |
| 4 | 7 | IM | Dhulipalla Bala Chandra Prasad | | IND | 2192 | AP | 7,5 | 47 | 52 | 41,25 |
| 5 | 20 | | Nikhil M | | IND | 1865 | AP | 7 | 53 | 57 | 41,50 |
| 6 | 30 | | Aaryan Balaji Rao | U13 | IND | 1699 | MH | 7 | 53 | 57 | 40,50 |
| 7 | 4 | IM | Chakravarthi Reddy M | | IND | 2232 | TG | 7 | 51,5 | 56 | 41,50 |
| 8 | 6 | IM | Ravi Teja S. | | IND | 2222 | AP | 7 | 49,5 | 55 | 42,25 |
| 9 | 13 | AIM | Md Imran | U13 | IND | 1948 | AP | 7 | 49 | 53,5 | 38,50 |
| 10 | 3 | IM | Sidhant Mohapatra | | IND | 2245 | ORI | 7 | 48,5 | 54 | 40,75 |
| 11 | 37 | | Aditya Varun Gampa | | IND | 1656 | AP | 7 | 48 | 52 | 37,50 |
| 12 | 19 | | Ramana Babu B. | | IND | 1876 | AP | 7 | 48 | 52 | 35,25 |
| 13 | 1 | IM | Krishna C R G | | IND | 2342 | AP | 7 | 47 | 52 | 39,25 |
| 14 | 22 | | Hari Madhavan N B | | IND | 1835 | TN | 7 | 46,5 | 51,5 | 38,50 |
| 15 | 14 | | Arpan Das | | IND | 1947 | WB | 7 | 46 | 51 | 39,00 |
| 16 | 23 | | Priyankara Chamil | | SRI | 1814 | SRI | 7 | 45,5 | 48,5 | 35,00 |
| 17 | 28 | | Joel Paul Ganta | | IND | 1719 | AP | 7 | 41 | 43,5 | 33,50 |
| 18 | 18 | AGM | Malla Nooka Raju | | IND | 1884 | AP | 6,5 | 50 | 54 | 35,75 |
| 19 | 64 | | Sarvani Cheedella | F13 | IND | 1344 | AP | 6,5 | 50 | 53,5 | 32,00 |
| 20 | 34 | | Ranadheer B J S K | | IND | 1672 | AP | 6,5 | 48 | 51,5 | 33,00 |
| 21 | 5 | IM | Srinath Rao S.V. | | IND | 2232 | CT | 6,5 | 44,5 | 48 | 33,25 |
| 22 | 72 | | Kolla Bhaavan | U11 | IND | 1313 | AP | 6,5 | 44 | 47 | 31,75 |
| 23 | 21 | FM | Venkata Krishna Karthik K | | IND | 1853 | AP | 6,5 | 42,5 | 46,5 | 31,50 |
| 24 | 9 | FM | Sauravh Khherdekar | | IND | 2096 | MH | 6,5 | 42 | 45 | 30,00 |
| 25 | 43 | | Madduri Satya Tejeswar | | IND | 1596 | AP | 6 | 51 | 54 | 32,50 |
| 26 | 70 | | Ravi Krishna G | U15 | IND | 1317 | AP | 6 | 48,5 | 50,5 | 31,00 |
| 27 | 46 | | Arnav Maheshwari | U15 | IND | 1587 | TN | 6 | 48 | 51,5 | 32,75 |
| 28 | 39 | | Gyana Sai Santhosh M | U15 | IND | 1635 | AP | 6 | 48 | 51 | 28,50 |
| 29 | 111 | | Shrihan Sabat | U13 | IND | 1137 | ORI | 6 | 47 | 49,5 | 30,00 |
| 30 | 10 | | Sharma R. Preetham | | IND | 2085 | KAR | 6 | 46,5 | 50,5 | 33,00 |
Final standing in Blitz
| | | | | | | | | | | | |
| --- | --- | --- | --- | --- | --- | --- | --- | --- | --- | --- | --- |
| Rk. | SNo | | Name | Typ | FED | Rtg | Club/City | Pts. | TB1 | TB2 | TB3 |
| 1 | 1 | IM | Ravi Teja S. | | IND | 2432 | AP | 8 | 51,5 | 55,5 | 49,25 |
| 2 | 4 | IM | Dhulipalla Bala Chandra Prasad | | IND | 2293 | AP | 7,5 | 53,5 | 58,5 | 47,00 |
| 3 | 2 | IM | Krishna C R G | | IND | 2357 | AP | 7,5 | 52,5 | 57 | 44,00 |
| 4 | 8 | IM | Chakravarthi Reddy M | | IND | 2197 | TG | 7,5 | 50,5 | 55,5 | 45,25 |
| 5 | 47 | | Velpula Sarayu | | IND | 1523 | TG | 7,5 | 47 | 49,5 | 37,75 |
| 6 | 5 | | Sharma R. Preetham | | IND | 2290 | KA | 7 | 51 | 56 | 41,50 |
| 7 | 27 | | Prudhvi Kumar V | | IND | 1763 | AP | 7 | 50 | 54 | 39,50 |
| 8 | 9 | IM | Sidhant Mohapatra | | IND | 2175 | OR | 7 | 49,5 | 54 | 39,25 |
| 9 | 41 | | Gyana Sai Santhosh M | U15 | IND | 1625 | AP | 7 | 49,5 | 52,5 | 37,00 |
| 10 | 16 | | Mushini Ajay | | IND | 1977 | AP | 7 | 49 | 54 | 40,50 |
| | 20 | | Mahesh Kumar K | | IND | 1843 | AP | 7 | 49 | 54 | 40,50 |
| 12 | 12 | AIM | Md Imran | U13 | IND | 2120 | AP | 7 | 48,5 | 53 | 38,50 |
| 13 | 23 | | Aditya Varun Gampa | | IND | 1798 | AP | 7 | 48 | 52,5 | 39,25 |
| 14 | 11 | | Kaustuv Kundu | | IND | 2130 | WB | 7 | 47 | 51 | 35,50 |
| 15 | 45 | | Madduri Satya Tejeswar | | IND | 1583 | AP | 7 | 46,5 | 49 | 32,50 |
| 16 | 7 | IM | Srinath Rao S.V. | | IND | 2201 | CT | 6,5 | 53 | 58,5 | 40,25 |
| 17 | 17 | | Arnav Maheshwari | U15 | IND | 1934 | TN | 6,5 | 50,5 | 54,5 | 35,50 |
| 18 | 43 | FM | Ayushh Ravikumar | | IND | 1607 | TN | 6,5 | 48 | 51,5 | 32,75 |
| 19 | 72 | | Naga Akhil Charan B | U15 | IND | 1325 | AP | 6,5 | 45 | 47,5 | 30,00 |
| 20 | 44 | | Karthik N | U15 | IND | 1586 | AP | 6,5 | 42,5 | 46,5 | 32,25 |
| 21 | 48 | | Sethu Madhav Upadhyayula | | IND | 1502 | AP | 6,5 | 41,5 | 45 | 31,75 |
| 22 | 30 | | Soumma Chakraborty | | IND | 1723 | WB | 6 | 51,5 | 52 | 31,50 |
| 23 | 6 | IM | Mehar Chinna Reddy C.H. | | IND | 2259 | TG | 6 | 50,5 | 55,5 | 33,50 |
| 24 | 18 | | Priyankara Chamil | | SRI | 1911 | SL | 6 | 48,5 | 52,5 | 30,00 |
| 25 | 13 | | Sanket Chakravarty | | IND | 2014 | WB | 6 | 47,5 | 51,5 | 32,25 |
| 26 | 10 | FM | Sauravh Khherdekar | | IND | 2155 | MH | 6 | 47,5 | 51,5 | 31,00 |
| 27 | 33 | WFM | Toshali V | | IND | 1691 | AP | 6 | 46,5 | 47 | 26,50 |
| 28 | 29 | | Nagaraju J | | IND | 1732 | AP | 6 | 45 | 49,5 | 29,00 |
| 29 | 21 | FM | Venkata Krishna Karthik K | | IND | 1839 | AP | 6 | 45 | 48,5 | 29,00 |
| 30 | 36 | | Mummana Venkata Ruthvik | U13 | IND | 1654 | AP | 6 | 44 | 47,5 | 26,25 |
---