B Giribabu wins Nellore District Senior Championship 2021
Top seed Bodugu Giribabu dominated the field as he scored 5.0/5 to win Nellore District Senior Chess Championship for the first time in his career. He finished a half point ahead of the competition. 8-year-old Mithilesh P was definitely the star performer of the event as he scored 4.5/5 and remained undefeated to secure the second position. Sriram Haricharan Bellamkonda was placed third with 4.0/5. A total of 43 players from Nellore district of Andhra Pradesh participated in this one-day five-round event. Photo: FI Abdul Azeez Shaik
8-year-old Mithilesh impresses all
B Giribabu won all five of his games to win Nellore District Championship. This was the first over-the-board official selection tournament in Andhra Pradesh state in over-a-year. The most impressive performance was by 8-year-old Mithilesh P as he scored an unbeaten 4.5/5 to secure second position. Six players finished at 4.0/5. Sriram Haricharan Bellamkonda secured third place according to tie-breaks.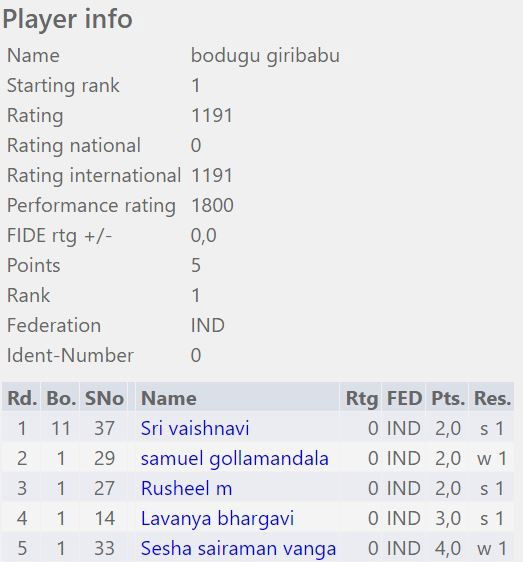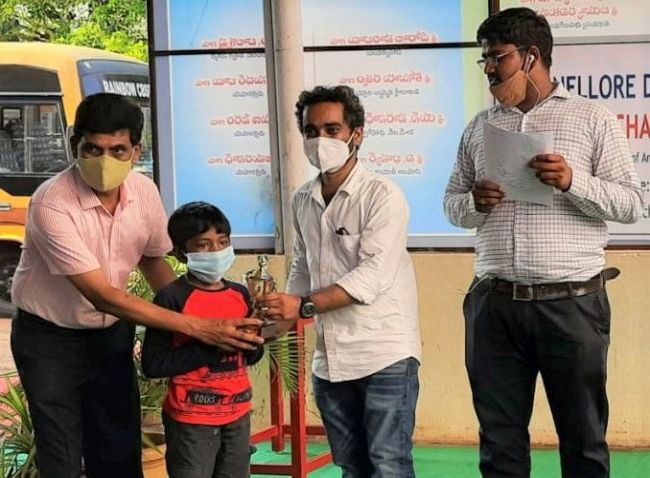 Top four players will represent Nellore District at the Andhra Pradesh State Championship.
Age group winners
Under-6
1st Keerthana B 2.5/5
2nd Monish P 2.0/5
3rd Akshaj Mallik 1.0/5
Under-9
1st Geethika Sri Rammadugu 3.0/5
2nd Rahul Karthikeya 1.0/5
Under-11
1st Ram Likhith 4.0/5
2nd Sai Chakradhar 3.5/5
3rd Thatthvgnya Pinnama Reddy 2.0/5
Here is a diagram of the position:
Six-year-old Akshaj found the beautiful tactics here in his debut tournament. This was his first and only win of the tournament, so it is definitely an incredible feat for him.
Photo Gallery
The tournament was inaugurated by the Superintendent of Police, Mr. Bhaskar Bhushan, IPS; Directors of Rainbow School Mr. and Mrs. Padma Subramanyam; FIDE Instructor, Mr. Abdul Azeez Shaik and Organizer Mr. Mastanbabu were present on the occasion along with Chief Arbiter Mr.Rajeev (National Arbiter) from Vijayawada and Deputy Chief Arbiter Mr. Uday Kumar Naidu (National Arbiter) from Anantapur.
School Correspondent Mr. Padma Subramanyam, Rainbow School Principal Ms. Aruna Swayam Prabha and Kindergarten Team leader Ms. Fathima Khan distributed prizes to all the winners. Rainbow School management sponsored the venue to the organizers. Covid-19 protocol maintained by the school management is commendable.
Replay few games
A total of 43 players participated from Nellore district of Andhra Pradesh in this one-day fuve-round Swiss league event. The tournament was organized by Mastanbabu P from 10th April 2021.
A special thanks to FI Abdul Azeez Shaik for sharing wonderful photos, info and games from the event.
Final Standings
| | | | | | | | | | |
| --- | --- | --- | --- | --- | --- | --- | --- | --- | --- |
| Rk. | SNo | | Name | FED | Rtg | Pts. | TB1 | TB2 | TB3 |
| 1 | 1 | | bodugu giribabu | IND | 1191 | 5,0 | 10,5 | 12,0 | 13,00 |
| 2 | 16 | | Mithilesh P | IND | 0 | 4,5 | 12,5 | 14,5 | 10,75 |
| 3 | 2 | | Sriram haricharan bellamkonda | IND | 1166 | 4,0 | 15,5 | 17,0 | 13,00 |
| 4 | 43 | | Vamsi krishna k | IND | 0 | 4,0 | 13,0 | 14,0 | 11,00 |
| 5 | 33 | | Sesha sairaman vanga | IND | 0 | 4,0 | 13,0 | 14,0 | 9,00 |
| 6 | 39 | | Teja banka | IND | 0 | 4,0 | 12,5 | 14,5 | 10,50 |
| 7 | 26 | | Rishi manohar makam | IND | 0 | 4,0 | 10,5 | 11,5 | 9,00 |
| 8 | 23 | | Ram likith makam | IND | 0 | 4,0 | 9,0 | 10,5 | 8,00 |
| 9 | 3 | | Sai chakradhar yadavalli | IND | 1009 | 3,5 | 14,0 | 16,5 | 10,25 |
| 10 | 7 | | Bhaswanth araveti | IND | 0 | 3,0 | 15,0 | 16,5 | 8,50 |
---