Suvankar Maity clinches 4th Kharagpur Chess Classic 2019-20
Starting out as the top seed Suvankar Maity scored 8.0/10 to win 4th Kharagpur Classic 2019 and received ₹10000 cash prize along with a trophy. His only loss was against the eventual runner-up Jodunath Biswas of Bangladesh who also finished at the same score. 11-year-old Srihaan Poddar of Philippines also finished at 8.0/10. He was placed third according to tie-break score. Total 137 players from three federations - India, Bangladesh and Philippines took part in this six-day ten-round Swiss league event from 26th December 2019 to 1st January 2020, making the biggest chess tournament in Paschim Medinipur history and also the first international FIDE rated event. Total ₹60000 prize fund was distributed among the prize winners. Photo: Yuva Chess Academy
Four players finish at 8.0/10
Top seed Suvankar Maity scored 8.0/10 and won 4th Kharagpur Classic 2019. He suffered his only loss against the eventual runner-up Jodunath Biswas of Bangladesh in the fifth round who also finished with the same score. 11-year-old Srihaan Poddar of Philippines also scored 8.0/10 and he was placed third according to his tie-break score.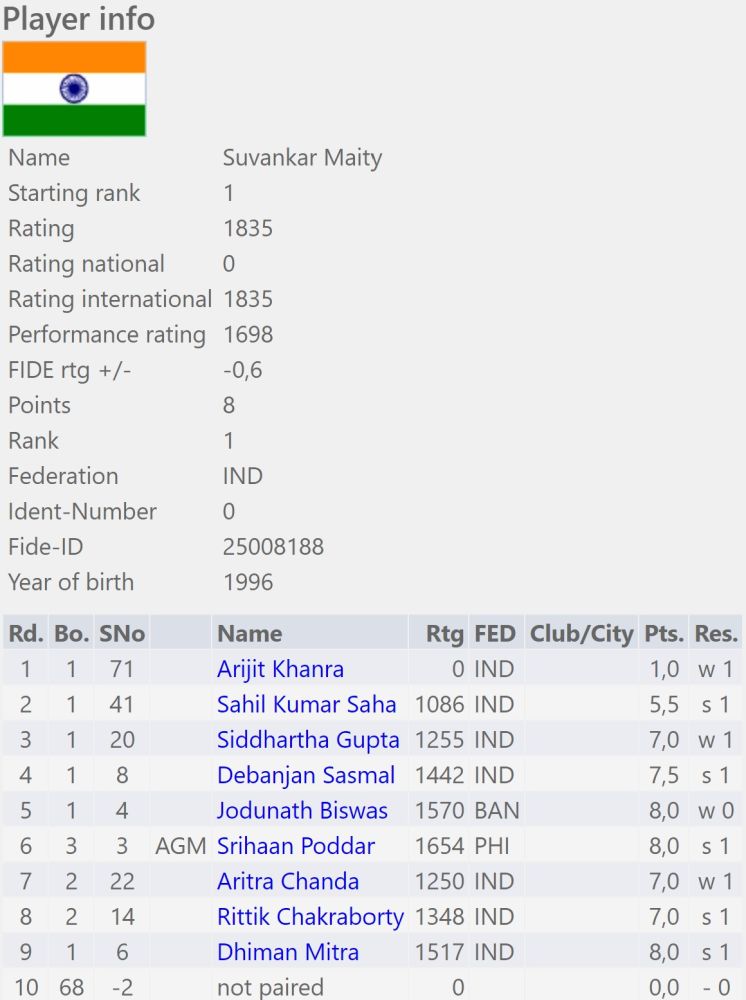 When I reached out to Suvankar to ask him about his triumph and the reason behind skipping the final round, this is what he had to say, "Thank you. I had made my decision to skip the last round before the tournament as I had a train (Duranto Express) to catch on 1st January morning to play in the IIFLW Open at Mumbai. I played the Kharagpur Classic for practice, IIFLW is more important."
Here is the best game of the champion annotated by himself against the eventual second runner-up Srihaan Poddar from round six. Suvankar had lost the previous round game. He felt like he was in a must-win situation and it was his best game of the tournament too.
The Tournament opened with the National Anthems of three countries in presence of Additional District Magistrate of Paschim Medinipur District Mr. Soura Mondal, District Panchayat and Rural Development Officer Mr. Sudipta Santra and Regional Manager SBI RBO Kharagpur Mr. Jayant Mani.
Total 137 players including three federation - India, Bangladesh and Philippines participated in this six-day ten-round Swiss League from 27th December 2019 to 1st January 2020 at Kharagpur Yuba Sangha Club organized by Yuva Chess Academy. This was the first ever International FIDE Rated Event of Paschim Medinipur District and it was also the biggest chess event of the district too. Total ten players from Paschim Medinipur District achieved FIDE rating through this event.
Final Standings
| | | | | | | | | | | | | |
| --- | --- | --- | --- | --- | --- | --- | --- | --- | --- | --- | --- | --- |
| Rk. | SNo | | | Name | Typ | FED | Rtg | Club/City | Pts. | TB1 | TB2 | TB3 |
| 1 | 1 | | | Suvankar Maity | | IND | 1835 | | 8,0 | 0,0 | 67,0 | 71,5 |
| 2 | 4 | | | Jodunath Biswas | | BAN | 1570 | | 8,0 | 0,0 | 65,5 | 70,5 |
| 3 | 3 | | AGM | Srihaan Poddar | U11 | PHI | 1654 | | 8,0 | 0,0 | 62,5 | 66,5 |
| 4 | 6 | | | Dhiman Mitra | | IND | 1517 | | 8,0 | 0,0 | 60,5 | 64,5 |
| 5 | 5 | | | Anish Rooj | U15 | IND | 1531 | | 7,5 | 0,0 | 60,5 | 65,0 |
| 6 | 8 | | | Debanjan Sasmal | | IND | 1442 | | 7,5 | 0,0 | 58,0 | 62,5 |
| 7 | 24 | | | Ishika Mondal | G15 | IND | 1234 | | 7,0 | 0,0 | 60,5 | 64,5 |
| 8 | 14 | | | Rittik Chakraborty | | IND | 1348 | | 7,0 | 0,0 | 59,5 | 63,5 |
| 9 | 12 | | | Somdeb Mazumder | | IND | 1368 | | 7,0 | 0,0 | 59,5 | 62,5 |
| 10 | 2 | | | Gias Uddin Ahmed | | BAN | 1831 | | 7,0 | 0,0 | 57,5 | 62,5 |
| 11 | 17 | | | Prapti Moulik | G11 | IND | 1299 | | 7,0 | 0,0 | 56,5 | 61,0 |
| 12 | 15 | | | Soureen Bhattacharya | U11 | IND | 1321 | | 7,0 | 0,0 | 56,5 | 60,5 |
| 13 | 22 | | | Aritra Chanda | U13 | IND | 1250 | | 7,0 | 0,0 | 56,5 | 59,5 |
| 14 | 23 | | | Tirthendu S Choudhury | | IND | 1250 | | 7,0 | 0,0 | 56,0 | 57,5 |
| 15 | 25 | | | Debapriyo Saha | U11 | IND | 1219 | YCA | 7,0 | 0,0 | 55,5 | 59,5 |
| 16 | 7 | | | Ujaan Bhattacharya | U15 | IND | 1494 | | 7,0 | 0,0 | 55,5 | 56,0 |
| 17 | 20 | | | Siddhartha Gupta | | IND | 1255 | | 7,0 | 0,0 | 55,0 | 59,0 |
| 18 | 21 | | | Urja Goyal | G13 | IND | 1253 | | 7,0 | 0,0 | 54,0 | 57,0 |
| 19 | 18 | | | Mitra Subhanil | U13 | IND | 1281 | | 6,5 | 0,0 | 60,0 | 64,5 |
| 20 | 31 | | | Anshuman Ganguly | U15 | IND | 1141 | | 6,5 | 0,0 | 58,5 | 63,0 |
---