Prantik Roy wins 21st MCA All Bengal Rapid Rating Open
Starting out as the top seed of the tournament, IM Prantik Roy scored 7.5/8, finished a half point ahead of the competition, remained undefeated to win 21st MCA All Bengal Rapid Rating Open 2019. He is also the reigning State Rapid champion and the runner-up at 1st SAARC Chess 2019. Five players finished at 7.0/8. IM Aronyak Ghosh and Arpan Das Jr. scored 7.0/8 each and they were placed second and third respectively. Total 294 players participated in this two-day All Bengal Open Rapid Rating event. Total Prize fund ₹90000 and 160 trophies were distributed among the prize winners. Read the report for photos from the event and two selected games of the champion. Photo: Pintu Chatterjee
Top seed becomes unbeaten champion
Reigning State Rapid champion and 1st SAARC Chess runner-up IM Prantik Roy scored an unbeaten 7.5/8 and finished a half point ahead of the competition to become 21st MCA All Bengal Rapid Rating champion. Five players finished at 7.0/9. The newly crowned 28th The Telegraph champion IM Aronyak Ghosh and Arpan Das Jr. was placed second and third according to their tie-break score.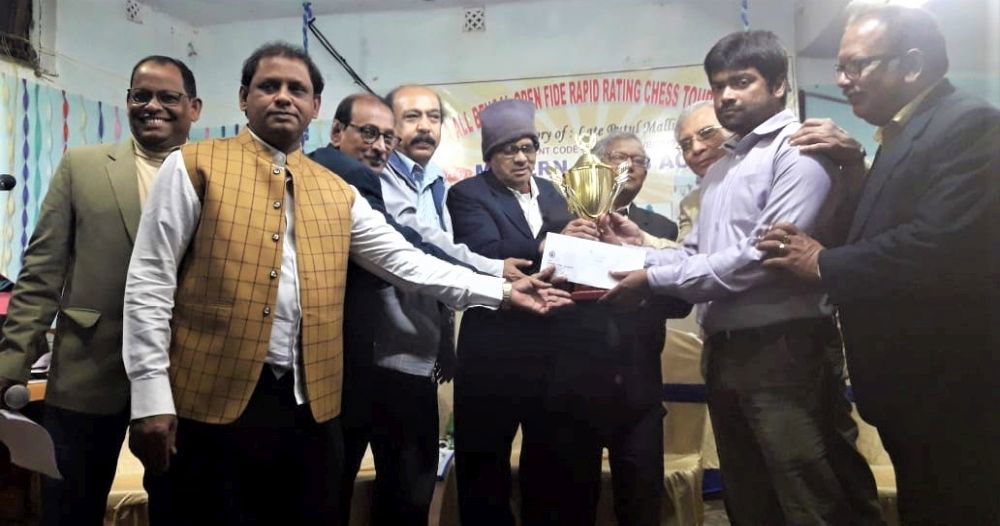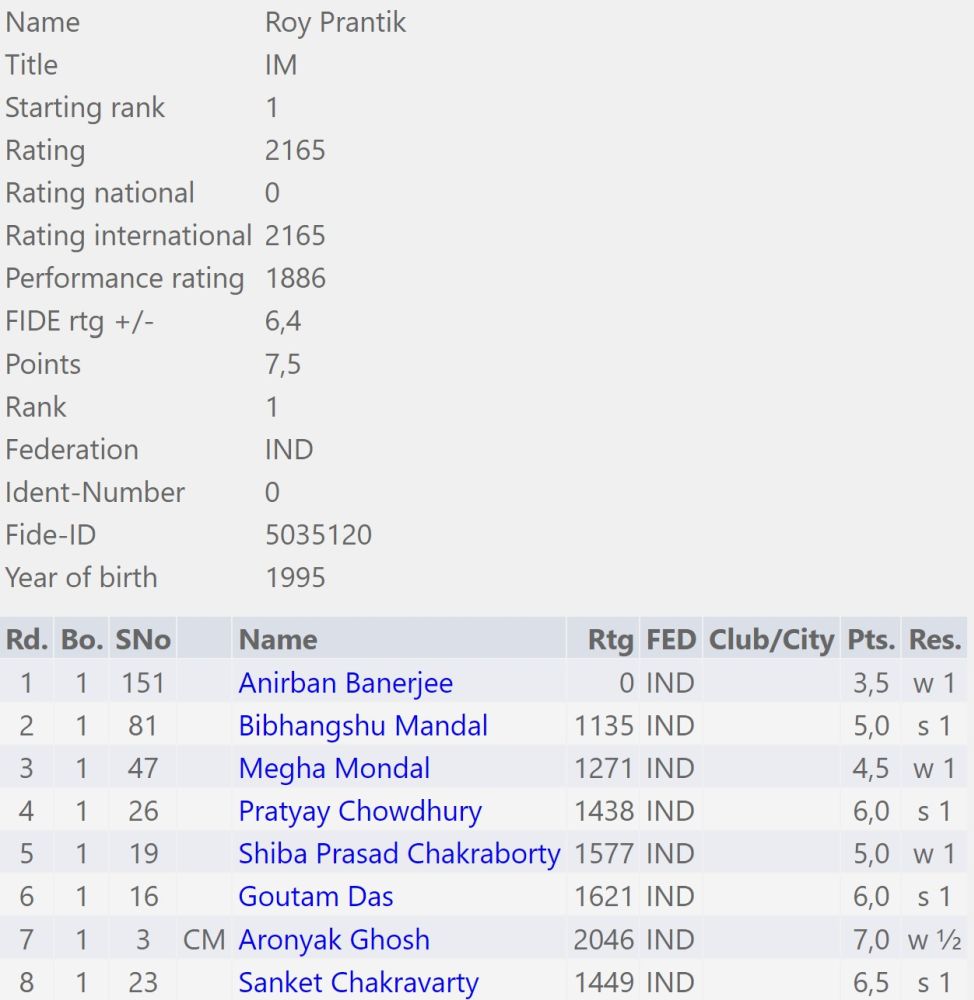 After the conclusion of the tournament, I caught up with Prantik and this is what he had to say, "I played with an experimental mood. In fact, I registered just a day before the tournament as it was completely unplanned for me. Since it was a Rapid rating event, I was more inclined to play. I wanted to have a full score but my game with Aronyak ended up in a draw. He defended pretty well. Overall quite happy with the fact that I could end 2019 on a good note."
Speaking about his performance in 1st SAARC championship, where he finished second, Prantik shared, "SAARC experience was a memorable event. I think I could play quite a few quality games. Especially against IM Lodhi Mahmood (PAK, 2336) and FM Aminul Islam (BAN, 2229). Both games are quite a contrast. First one was a tense wild battle and second one was a technical game."
The 'Chess Chatterjee' family
Modern Chess Academy was established in 1998 and they have consistently organized tournaments over the years.
IA Rudrani Charan Chatterjee is the first International Arbiter of West Bengal and one of the oldest IA of the country. He has also been a reporter and wrote several reports on chess tournaments for regional English and Bangla daily newspapers. All his sons are involved in chess in some capacity, Laltu Chatterjee, Srish Chatterjee and Pintu Chatterjee. While the oldest Srish is a coach, Laltu participated in the tournament and the youngest Pintu was an arbiter at the event. Rudrani's grandchildren Srijan and Alaktika, both of them participated in the event.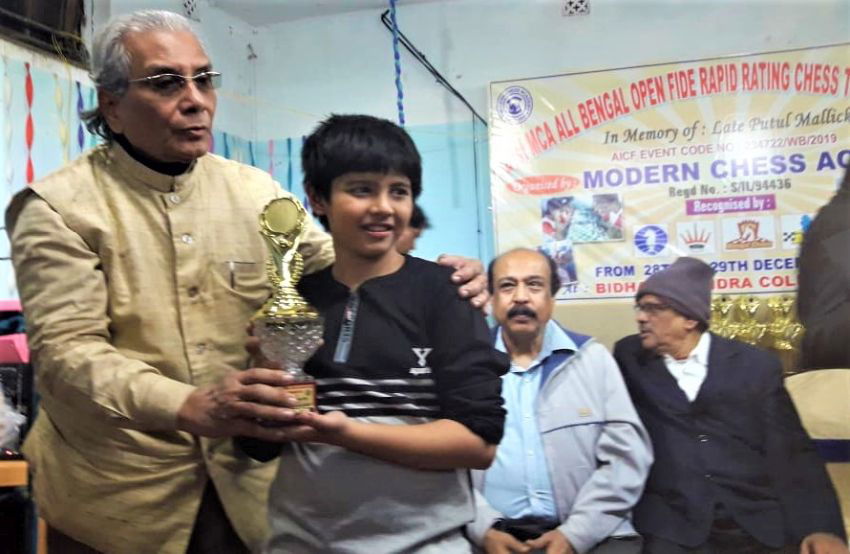 Total 294 players from all across the state participated in this two-day 21st MCA All Bengal Rapid Rating tournament, organized by Modern Chess Academy at Bidhan Chandra College, Hooghly, West Bengal on 28th and 29th December 2019. The tournament was organized in memory of Late Putul Mallick. Prizes were distributed by Dr. Samir Mallick, President HDCA, Mr. R C Chatterjee, President MCA and Chief Arbiter, Mr. Soumen Majumder, Secretary Alekhine Chess Club and Mr. Asit Baran Choudhury, Secretary HDCA and others.
Final Standings
| | | | | | | | | | | | | | | |
| --- | --- | --- | --- | --- | --- | --- | --- | --- | --- | --- | --- | --- | --- | --- |
| Rk. | SNo | | Name | Typ | sex | FED | Rtg | Club/City | Pts. | TB1 | TB2 | TB3 | TB4 | TB5 |
| 1 | 1 | IM | Roy Prantik | | | IND | 2165 | | 7,5 | 0,0 | 39,5 | 43,0 | 40,00 | 7 |
| 2 | 3 | CM | Aronyak Ghosh | | | IND | 2046 | | 7,0 | 0,0 | 40,5 | 44,5 | 38,00 | 6 |
| 3 | 12 | | Arpan Das (Jr) | | | IND | 1732 | | 7,0 | 0,0 | 40,5 | 44,0 | 37,50 | 6 |
| 4 | 5 | | Anurag Jaiswal | | | IND | 1962 | | 7,0 | 0,0 | 40,5 | 43,5 | 37,75 | 6 |
| 5 | 24 | | Debargha Basu | | | IND | 1446 | | 7,0 | 0,0 | 39,5 | 43,5 | 37,75 | 6 |
| 6 | 30 | | Soumyajit Das (Jr) | | | IND | 1382 | | 7,0 | 0,0 | 38,5 | 42,0 | 35,50 | 7 |
| 7 | 23 | | Sanket Chakravarty | | | IND | 1449 | | 6,5 | 0,0 | 40,5 | 43,5 | 33,00 | 5 |
| 8 | 4 | | Mallick Anjan | | | IND | 2021 | | 6,5 | 0,0 | 39,0 | 42,5 | 34,50 | 6 |
| 9 | 7 | | Shaon Chowdhury | | | IND | 1909 | | 6,5 | 0,0 | 38,5 | 42,5 | 32,50 | 6 |
| 10 | 14 | | Subham Saha | | | IND | 1657 | | 6,5 | 0,0 | 37,0 | 41,0 | 31,75 | 6 |
| 11 | 17 | | Aryan Bandyopadhyay | | | IND | 1598 | | 6,5 | 0,0 | 36,5 | 40,5 | 32,00 | 6 |
| 12 | 87 | | Sankalan Shah | U12 | | IND | 1120 | | 6,0 | 0,0 | 40,5 | 44,5 | 31,75 | 5 |
| 13 | 39 | | Subhabrata Roy | | | IND | 1334 | | 6,0 | 0,0 | 40,5 | 42,5 | 29,00 | 5 |
| 14 | 25 | | Subhankar Das | | | IND | 1439 | | 6,0 | 0,0 | 39,5 | 44,0 | 30,00 | 6 |
| 15 | 26 | | Pratyay Chowdhury | U14 | | IND | 1438 | | 6,0 | 0,0 | 39,5 | 43,0 | 29,00 | 6 |
| 16 | 15 | | Abijit Mistry | | | IND | 1652 | | 6,0 | 0,0 | 39,5 | 42,0 | 29,50 | 6 |
| 17 | 9 | | Sanjit Saha | | | IND | 1821 | | 6,0 | 0,0 | 39,0 | 42,0 | 30,25 | 5 |
| 18 | 16 | | Goutam Das | | | IND | 1621 | | 6,0 | 0,0 | 38,5 | 42,5 | 29,00 | 6 |
| 19 | 28 | | Alekhya Mukhopadhyay | U12 | | IND | 1392 | | 6,0 | 0,0 | 38,5 | 42,5 | 28,50 | 6 |
| 20 | 11 | | Mukherjee Dyutimoy | S60 | | IND | 1735 | | 6,0 | 0,0 | 38,5 | 41,5 | 29,00 | 5 |
| 21 | 10 | | Shrutarshi Ray | | | IND | 1742 | | 6,0 | 0,0 | 38,0 | 42,0 | 30,50 | 5 |
| 22 | 41 | | Rishiraj Baul | | | IND | 1309 | | 6,0 | 0,0 | 37,5 | 40,0 | 28,50 | 6 |
| 23 | 55 | | Shankhodip De | U10 | | IND | 1225 | | 6,0 | 0,0 | 37,5 | 40,0 | 27,50 | 6 |
| 24 | 18 | | Rupam Mukherjee | | | IND | 1594 | | 6,0 | 0,0 | 37,0 | 39,0 | 27,50 | 6 |
| 25 | 2 | | Chattarjee Laltu | | | IND | 2068 | | 6,0 | 0,0 | 36,0 | 40,0 | 28,50 | 6 |
| 26 | 119 | | Tanish Das | U10 | | IND | 1047 | | 6,0 | 0,0 | 35,5 | 40,0 | 29,75 | 5 |
| 27 | 36 | | Ritam Kundu | U12 | | IND | 1344 | | 6,0 | 0,0 | 35,5 | 39,5 | 27,50 | 6 |
| 28 | 94 | | Priyanshu Barua | U14 | | IND | 1107 | | 6,0 | 0,0 | 35,0 | 39,0 | 27,50 | 6 |
| 29 | 22 | | Pal C.N. | S60 | | IND | 1461 | | 6,0 | 0,0 | 35,0 | 38,5 | 27,00 | 6 |
| 30 | 78 | | Debapriya Manna | F10 | w | IND | 1137 | | 6,0 | 0,0 | 34,0 | 36,5 | 24,50 | 6 |
---