Arkady Dvorkovich: "We are absolutely ready to start the Candidates Tournament"
by Shahid Ahmed - 15/04/2021
On Tuesday, 13th April 2021, six days before the resumption of the FIDE Candidates Tournament in Yekaterinburg, FIDE organized a Press Conference at the Rossiyskaya Gazeta Media Center where the speakers answered questions of journalists from all parts of the world, who were attending the event online. The speakers of the press conference were: FIDE President Arkady Dvorkovich, multiple times World Сhess Champion, Сhairman of the Board of Trustees of the Sverdlovsk Region Chess Federation Anatoly Karpov, participant of many previous Candidates Tournaments and the winner of 2016 FIDE Candidates Tournament Sergey Karjakin, and Director of the Candidates Tournament, Executive Director of the Sverdlovsk Region Chess Federation Albert Stepanyan. Photo: FIDE
Press Conference of FIDE Candidates 2020-21
Arkady Dvorkovich started by thanking chess fans and media for waiting for the resumption of the tournament, which was stopped on March 26, 2020. "FIDE is very proud to announce the resumption of the Candidates Tournament in Yekaterinburg. After all the games are played it'll be determined who will be the World Champion Challenger and play the World Championship Match against Magnus Carlsen in Dubai in December 2021. We are absolutely ready to start the Candidates Tournament. All players are aware of the medical protocol, and we are in daily contact with all participants and their teams. The wearing of a mask during the tournament is not necessary for the players. Players will be required to have negative PCR tests done no earlier than 72 hours before the start of the tournament. They will not be required to do the tests during the tournament unless a player has symptoms. I know that 2 players have made the vaccination, I'm not aware of the other players, it's their personal decision. We have decided that spectators would be admitted to the tournament with some of the measures, such as wearing face masks and social distancing. Also, spectators must have either a vaccine, or antibodies, or a negative test for coronavirus infection."
Albert Stepanyan assured that organizers took all the measures to make the event safe for players and visitors: "The whole chess world was waiting for this tournament to be resumed. The first part of the event was quite nervous, we were not sure what to expect in this non-standard situation. Nowadays, we know how to adapt to these conditions. The organizers, medical authorities and all the other bodies involved in making this tournament have a clear vision of what to do and how to conduct this event on a high level". He also added that although the access to the playing hall will be limited, visitors will be able to listen to the live commentary of the games on the venue: "Access to the commentary hall will be free for everyone in accordance with all the necessary medical standards".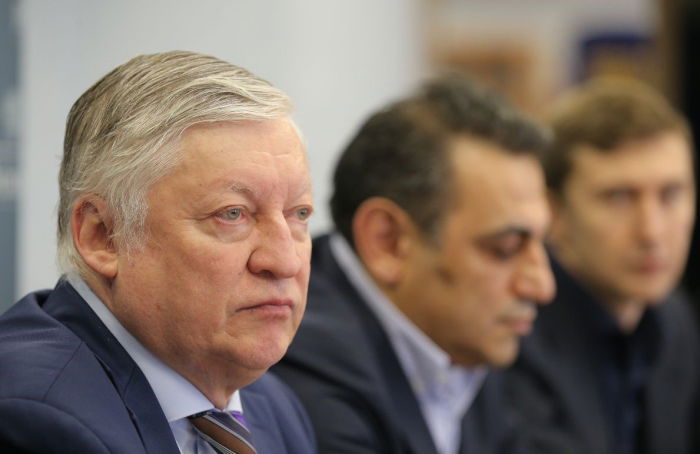 Anatoly Karpov reminded the reason the tournament was stopped: "All this time we were waiting for reopening borders between countries, and despite the fact that Russia was one of the first countries to open the borders, European Union and China were still keeping them shut. All this time Yekaterinburg was ready to resume the tournament at any moment. The next game is going to start on April 19th, and together with the whole chess world we are looking forward to knowing, who is going to get the right to play against the World Champion Magnus Carlsen".
Sergey Karjakin expressed his opinion that the event will run smoothly: "As a chess professional, I would like to say that I'm also very eager to see the start of the tournament and get to know who will be the next contender. I'm sure the organizers will do their best and conduct the tournament on the highest level. I have been to Yekaterinburg many times and know well how strong the local chess federation is".
The winner of the Candidates tournament 2016 gave some advice to the players, based on his own experience: "I think the players should find the way to abstract away from the tournament situation and the fact it's only 7 rounds left. They should mainly concentrate on their play. Under so stressful conditions everything will depend on who has better nerves, who will manage to be stable during the whole distance and not break down psychologically".
FIDE Candidates Tournament 2020-2021:
This double round-robin tournament kicked off on March 16, 2020. However, it had to be abruptly stopped 11 days later when the Russian government announced the closure of air traffic with other countries, amid a rapidly escalating coronavirus pandemic. After a long wait, the challenger to Magnus Carlsen's throne will be finally known by the 28th of April.
After the first half, the French Maxime Vachier-Lagrave and the Russian Ian Nepomniachtchi are in the lead, with 4½ points after seven games. Fabiano Caruana (USA), Anish Giri (Netherlands), Wang Hao (China) and Alexander Grischuk (Russia) are in the chasing pack, all with 3½ points.
Partners supporting the FIDE Candidates Tournament are:
Sima-land, a wholesale online store, as the General Partner
Algorand, as the Official Blockchain Partner
Kaspersky, as the Official Cybersecurity Partner
PhosAgro, a leading chemical company as the CFR General Partner
Chessable, as Event Partner
Pine Creek Golf Resort, the first and only world-class golf resort in the Urals, as event Partner
Mercedes-Benz Russia, as the Official Auto Partner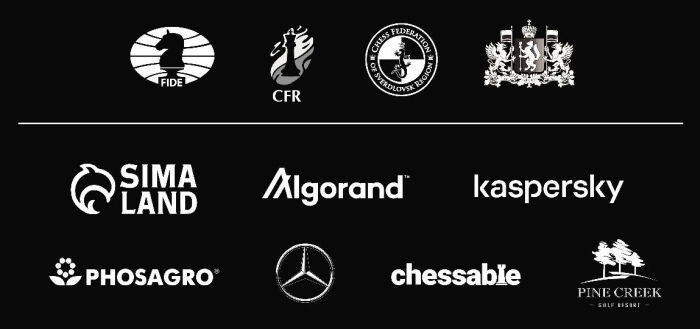 ---
Related news
:
The Ding Liren Interview on Candidates 2022

@ 09/07/2022 by Himank Ghosh (en)
Candidates 2022 R14: Nepomniachtchi remains unscathed, Ding Liren second

@ 05/07/2022 by Shahid Ahmed (en)
नेपो ही बने कैंडिडैट के राजा ,डिंग को दूसरा स्थान

@ 05/07/2022 by Niklesh Jain (hi)
Ian Nepomniachtchi wins Candidates 2022 with a round to spare

@ 04/07/2022 by Shahid Ahmed (en)
कैंडिडैट R 12 : नेपोमिन्सी का खिताब लगभग तय

@ 03/07/2022 by Niklesh Jain (hi)
Candidates 2022 R12: Radjabov dashes Ding Liren's hopes

@ 02/07/2022 by Shahid Ahmed (en)
कैंडिडैट R11 : अलीरेजा को हरा ,नेपो खिताब की ओर

@ 01/07/2022 by Niklesh Jain (hi)
Candidates 2022 R11: Hyperbullet chess derails Firouzja

@ 01/07/2022 by Shahid Ahmed (en)
कैंडिडैट R10 : दूसरे स्थान की लड़ाई हुई रोचक

@ 30/06/2022 by Niklesh Jain (hi)
Candidates 2022 R10: Nakamura vanquishes Firouzja

@ 30/06/2022 by Shahid Ahmed (en)
कैंडिडैट R 9: कारुआना से ड्रॉ खेल नेपो की बढ़त मजबूत

@ 28/06/2022 by Niklesh Jain (hi)
Candidates 2022 R9: A day of firsts

@ 28/06/2022 by Shahid Ahmed (en)
कैंडिडैट R 8 : नाकामुरा की कारुआना पर जीत से बढ़ा रोमांच

@ 27/06/2022 by Niklesh Jain (hi)
Candidates 2022 R8: Nakamura wins a positional masterpiece

@ 27/06/2022 by Shahid Ahmed (en)
फीडे कैंडिडैट R 7 : नेपोमिन्सी और कारुआना का जलवा

@ 26/06/2022 by Niklesh Jain (hi)
Candidates 2022 R7: Fabulous Fabiano showcases fantastic technique

@ 26/06/2022 by Shahid Ahmed (en)
फीडे कैंडिडैटस R6 : नेपोमिन्सी नें डूड़ा को दी मात

@ 24/06/2022 by Niklesh Jain (hi)
Candidates 2022 R6: Nepomniachtchi becomes 'The Shark'

@ 24/06/2022 by Shahid Ahmed (en)
Candidates 2022 R5: Be a Shark! - Magnus Carlsen

@ 23/06/2022 by Shahid Ahmed (en)
फीडे कैंडिडैट R 5 : नेपोमिन्सी की एकल बढ़त बरकरार

@ 23/06/2022 by Niklesh Jain (hi)
Candidates 2022 R4: Nepomniachtchi crushes Firouzja

@ 22/06/2022 by Shahid Ahmed (en)
Candidates 2022 R3: Nakamura douses fiery Firouzja

@ 20/06/2022 by Shahid Ahmed (en)
फीडे कैंडिडैट R2 : नाकामुरा की जोरदार वापसी

@ 19/06/2022 by Niklesh Jain (hi)
Candidates 2022 R2: Nakamura strikes back

@ 19/06/2022 by Shahid Ahmed (en)
फीडे कैंडीडेट R1 : नेपो-कारुआना नें जीत से खोला खाता

@ 18/06/2022 by Niklesh Jain (hi)
Candidates 2022 R1: Caruana and Nepomniachtchi start with a win

@ 18/06/2022 by Shahid Ahmed (en)
The highly anticipated FIDE Candidates 2022 starts today

@ 17/06/2022 by Shahid Ahmed (en)
फीडे कैंडीडेट्स 2022 : कौन जीतेगा खिताब ?

@ 16/06/2022 by Niklesh Jain (hi)
Ding Liren earns the final spot in the Candidates 2022

@ 19/05/2022 by Shahid Ahmed (en)
फीडे कैंडीडेट्स : कार्याकिन की जगह खेलेंगे डिंग लीरेन

@ 18/05/2022 by Niklesh Jain (hi)
फीडे कैंडीडेट्स : नाकामुरा और रिचर्ड नें बनाई जगह , कार्याकिन पर संशय बरकरार

@ 31/03/2022 by Niklesh Jain (hi)
Hikaru Nakamura and Richard Rapport in the Candidates 2022

@ 30/03/2022 by Shahid Ahmed (en)
2022 फीडे कैंडीडेट में कोनेरु हम्पी को मिला प्रवेश

@ 03/06/2021 by Niklesh Jain (hi)
FIDE Candidates 2020 R14: Redemption, Hat-trick and Retirement

@ 28/04/2021 by Shahid Ahmed (en)
Ian Nepomniachtchi wins FIDE Candidates 2020 with a round to spare

@ 27/04/2021 by Shahid Ahmed (en)
इयान नेपोंनियची बने मेगनस कार्लसन के चैलेंजर !

@ 26/04/2021 by Niklesh Jain (hi)
फीडे कैंडीडेट R12 - अनीश नें फबियानों को दी मात

@ 25/04/2021 by Niklesh Jain (hi)
Candidates 2020-21 R12: Giri beats Caruana with the black pieces

@ 25/04/2021 by Shahid Ahmed (en)
फीडे कैंडीडेट R 11 - क्या अनीश गिरि रंचेंगे इतिहास ?

@ 24/04/2021 by Niklesh Jain (hi)
Candidates 2020-21 R11: Giri scores a thumping win over Ding Liren

@ 24/04/2021 by Shahid Ahmed (en)
फीडे कैंडीडेट R 10 - नेपोंनियची की मजबूत बढ़त

@ 22/04/2021 by Niklesh Jain (hi)
फीडे कैंडीडेट R9 - अनीश गिरि नें भी दिखाया दम

@ 21/04/2021 by Niklesh Jain (hi)
Candidates Round 9: A position that is tough even for the Grandmasters to solve!

@ 21/04/2021 by Sagar Shah (en)
फीडे कैंडीडेट R8 - करूआना जीते: समीकरण बदले

@ 20/04/2021 by Niklesh Jain (hi)
Candidates Round 8: Don Fabi's poisonous new idea in the Najdorf

@ 20/04/2021 by Sagar Shah (en)
Candidates 2020-21 Live: Follow the games and commentary

@ 19/04/2021 by Sagar Shah (en)
फीडे कैंडीडेट : अप्रैल मे मिलेगा कार्लसन को प्रतिद्वंदी

@ 16/02/2021 by Niklesh Jain (hi)
FIDE resumes the Candidates Tournament

@ 16/02/2021 by Shahid Ahmed (en)
अभी नहीं होगा फीडे कैंडीडेट टूर्नामेंट

@ 20/10/2020 by Niklesh Jain (hi)
फिर शुरू होगा फीडे कैंडीडेट टूर्नामेंट 2020 !

@ 09/09/2020 by Niklesh Jain (hi)
Candidates 2020 to resume from the 1st of November 2020

@ 08/09/2020 by Sagar Shah (en)
13-year-old Aditya Mittal analyzes an AlphaZero inspired opening trend from Candidates 2020

@ 30/03/2020 by Satanick Mukhuty (en)
Sundararajan Kidambi goes deep into Vishnu Prasanna's analysis of a B+N vs B+N endgame

@ 29/03/2020 by Satanick Mukhuty (en)
"हम खिलाड़ियों की सुरक्षित घर वापसी सुनिश्चित कर रहे हैं"- फीडे प्रेसिडेंट आर्कादी द्वारकोविच

@ 27/03/2020 by Niklesh Jain (hi)
फीडे कैंडीडेट R7 - मेक्सिम की जीत से बढ़ा रोमांच पर कोरना के चलते टूर्नामेंट रोका गया

@ 26/03/2020 by Niklesh Jain (hi)
BREAKING: FIDE stops Candidates 2020

@ 26/03/2020 by Sagar Shah (en)
Candidates R07: The French Defense against French no.1 wasn't a good idea!

@ 26/03/2020 by Sagar Shah (en)
Out Preparing the Candidates with Fat Fritz Part 2

@ 25/03/2020 by Tanmay Srinath (en)
Candidates 2020 R06: If you spot ...Re5, you should be disqualified!

@ 24/03/2020 by Sagar Shah (en)
फीडे कैंडीडेट R6 - नेपोमनियाची नें तोड़ी चीन की दीवार

@ 23/03/2020 by Niklesh Jain (hi)
Candidates R05: Nepo leads; players worried about the global pandemic

@ 23/03/2020 by Sagar Shah (en)
फीडे कैंडीडेट R4&5 - नेपोमनियाची नें बनाई बढ़त

@ 22/03/2020 by Niklesh Jain (hi)
Candidates R04: The Pledge, The Turn and The Prestige

@ 22/03/2020 by Sagar Shah (en)
Candidates 2020 R03: Hilarious and instructive post game interviews!

@ 21/03/2020 by Sagar Shah (en)
Out-Preparing the Candidates with Fat Fritz Part 1

@ 21/03/2020 by Tanmay Srinath (en)
कैंडीडेट R3: दो हार के बाद डिंग लीरेन का पलटवार

@ 20/03/2020 by Niklesh Jain (hi)
Aditya Mittal analyses Fabiano Caruana's dynamic play against the Nimzo-Indian

@ 20/03/2020 by Satanick Mukhuty (en)
How Ding Liren fought the "Caruana" virus (in pictures)!

@ 20/03/2020 by Sagar Shah (en)
कैंडीडेट R2: फबियानों और मेक्सीम की पहली जीत

@ 19/03/2020 by Niklesh Jain (hi)
Candidates 2020 R02: Elbowshakes, long thinks and Grischuk's humour!

@ 19/03/2020 by Sagar Shah (en)
Decoding the queen versus rook ending that Nepomniachtchi played to perfection

@ 18/03/2020 by Karthik Rangarajan (en)
कैंडीडेट R1: इयान और वांग की जीत जीत से शुरुआत

@ 18/03/2020 by Niklesh Jain (hi)
Candidates 2020 R01: Ian Nepomniachtchi shows his class

@ 18/03/2020 by Sagar Shah (en)
फीडे कैंडीडेट 2020 का हुआ शुभारंभ:देखे LIVE

@ 17/03/2020 by Niklesh Jain (hi)
Live Games and Updates of FIDE Candidates 2020

@ 17/03/2020 by Sagar Shah (en)
Russian Ministry of Sports cancels all sporting events, but Candidates is still ON!

@ 17/03/2020 by Sagar Shah (en)
चेसबेस इंडिया कैंडीडेट प्रतियोगिता 2020

@ 16/03/2020 by Sagar Shah (hi)
The ChessBase India Candidates Contest 2020

@ 16/03/2020 by Sagar Shah (en)
Candidates 2020! It's really happening!

@ 16/03/2020 by Sagar Shah (en)
फीडे कैंडीडेट - 1950 से 2020 तक का सफर

@ 15/03/2020 by Niklesh Jain (hi)
कैंडीडेट 2020 - कोरोनो के साये में कौन बनेगा विजेता ?

@ 14/03/2020 by Niklesh Jain (hi)
Why has Radjabov pulled himself out of the Candidates 2020?

@ 06/03/2020 by Sagar Shah (en)
Will the Coronavirus mar the 'youngest' Candidates tournament ever?

@ 24/02/2020 by Ishaan Bansal (en)
Russia will be the hotbed for chess in 2020

@ 13/11/2019 by Sagar Shah (en)
Mariya becomes the only player to beat Goryachkina at Women's Candidates

@ 18/06/2019 by Shahid Ahmed (en)
Women's Candidates: Anna shows true grit

@ 17/06/2019 by Shahid Ahmed (en)
Goryachkina wins Women's Candidates with two rounds to spare

@ 15/06/2019 by Shahid Ahmed (en)
Women's Candidates: Goryachkina is a win away from winning the Candidates

@ 14/06/2019 by Shahid Ahmed (en)
Women's Candidates: Goryachkina unstoppable, Kosteniuk scores a win

@ 13/06/2019 by Shahid Ahmed (en)
Women's Candidates: Muzychuk sisters win, Goryachkina stays at the top

@ 11/06/2019 by Shahid Ahmed (en)
Women's Candidates: Goryachkina scores her fifth win of the tournament

@ 10/06/2019 by Shahid Ahmed (en)
Women's Candidates: Gunina beats Zhongyi, Goryachkina extends her lead

@ 09/06/2019 by Shahid Ahmed (en)
Women's Candidates: Muzychuk sisters score their first win of the tournament, Goryachkina extends her lead

@ 07/06/2019 by Shahid Ahmed (en)
Women's Candidates round 5: Goryachkina is back in the lead and still undefeated

@ 06/06/2019 by Shahid Ahmed (en)
Women's Candidates: Nana takes sole lead after round 4

@ 05/06/2019 by Shahid Ahmed (en)
Women's Candidates Round 3: Goryachkina and Dzagnidze in joint lead

@ 03/06/2019 by Shahid Ahmed (en)
Goryachkina and Dzagnidze score their first win in Women's Candidates

@ 02/06/2019 by Shahid Ahmed (en)
Women's Candidates: Gunina survives a scare in round 1

@ 01/06/2019 by Shahid Ahmed (en)
FIDE Women`s Candidates Tournament kicks off in Kazan

@ 31/05/2019 by Shahid Ahmed (en)
FIDE Women's Candidates: Drawing of lots

@ 02/05/2019 by Shahid Ahmed (en)