Live Games and Updates of FIDE Candidates 2020
The Candidates 2020 will take place in the city of Yekaterinburg, Russia from the 17th of March to the 3rd of April 2020. Eight players - Fabiano Caruana, Ding Liren, Alexander Grischuk, Ian Nepomniachtchi, Anish Giri, Maxime Vachier-Lagrave, Wang Hao and Kirill Alekseenko will fight it out to win the tournament and earn the right to challenge Magnus Carlsen. On this page you will find the Live games, commentary as well as real time updates by the ChessBase India team. Games begin each day at 4.30 p.m. Indian time. We hope you will enjoy our coverage of this mega event.
Keep Refreshing this page for constant live updates!
Round reports:
Round 1: Ian Nepomniachtchi shows his class
Round 2: Elbowshakes, Long thinks and Grischuk's humour
Round 3: How Ding Liren fought the Caruana virus (in pictures)
Round 4: The Pledge, The Turn, The Prestige
Round 5: Nepo leads, players worried about the global pandemic
Round 6: If you spot ...Re5, you should be disqualified
Round 7: It's not a good idea to play the French against the French no.1
Live Updates for Round 8:
Caruana vs MVL
Wang Hao vs Ding Liren
Nepo vs Giri
Alekseenko vs Grischuk
Live Games begin at 4.30 p.m. IST
Finished Games
Playing Schedule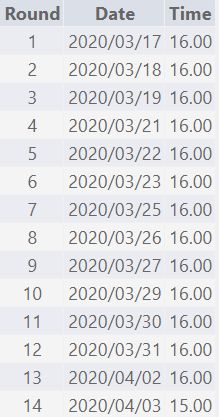 Important links
All articles on the Candidates on ChessBase India:
Preview of the Candidates 2020
Why has Radjabov pulled himself out of the Candidates 2020
The ChessBase India Candidates 2020 contest
Round1: Ian Nepomniachtchi shows his class
Decoding the queen vs rook endgame that Nepo played to perfection
Round 2: Elbowshakes, Long thinks and Grischuk's humour
Aditya Mittal analyzes Caruana's bold play in the 4.f3 Nimzo
Round 3: How Ding Liren fought the Caruana virus (in pictures)
Outpreparing the Candidates with Fat Fritz Part I
Round 3: Hilarious and instructive post game interviews
Round 4: The pledge, the turn, the prestige
Round 5: Nepo leads, players worried about the global pandemic
Round 6: If you don't spot ...Re5, you should be disqualified
Outpreparing the Candidates with Fat Fritz Part II
Round 7: It's not a good idea to play the French against French no.1
---