Candidates 2020 R03: Hilarious and instructive post game interviews!
The most important game of round three was between Ding Liren and Caruana. On our newspage we covered this game extensively, but the other games were not uninteresting. In fact Alekseenko was quite close to beating Nepomniachtchi and so was Grischuk against Wang Hao. Giri played a solid draw against MVL. We bring you in this article not just the analysis and pictures, but also post-game interviews and most importantly, high class analysis by GM Vidit Gujrathi. Checking them along with the questions posed to you will surely improve your chess understanding.
Giri vs MVL
Anna Burtasova (AB) : Maxime, you didn't experience any preparation problems today, did you?
Maxime: Well, I still had to figure out a few things over the board. And the position actually felt dangerous to me because any time Anish could go e5, f5, and Qh6 with a big attack. But it turned out that I managed to simplify into a slightly worse endgame which was holdable.
AB: Anish, do you feel that you could press more in the opening?
Anish: Yes, it has to be because there are like ten ways to equalize against this line and this wasn't one of those ten ways, or maybe it is an eleventh line that I don't remember. I knew Rd8 instead of Nd7 because there is a game by Ian Nepomniachtchi and I know all games by Nepomniachtchi by heart (Smiles). But after Nd7 I thought it was positionally crushing. It is just e5 or f5 or something like that. He played d4 first and I wondered what was his point...
...because he can first move the queen as well forcing e5 but then after Qd7 I realized his idea. Qd7 was pretty strong because it keeps in touch with the d4 pawn and I was not in time to go for f5.
AB: Well, tomorrow is a free day. What are your plans for it?
Anish: Free day is one more day where you might get sick right? It is very dangerous! (Laughs)\
MVL: Normally, I don't welcome too many free days but considering that I have a lot of things to remember I think I know how to spend that free day. It would certainly be all about chess. Not like me but it's a new me! (Smiles)
AB: There's now a new fashion in the playing hall, the so called elbow shake instead of normal handshake. What do you think about it?
Anish: I mean it looks very perverted to me. I was thinking to propose in the technical meeting that we do something instead of handshake because otherwise it sometimes becomes awkward and disrespectful when somebody doesn't want to shake or something. I was going to propose some kind of code. But this elbow shake is just too creepy. I think a bow, what they do in Shogi, is much more elegant!
MVL: I just want to say that so far nobody is sick. Let's keep things that way after that we can shake hands all the time.
Anish: Yes, the doctor keeps telling me twice a day that I am fine and that I don't have fever or sore throat but it is clear from the way I am playing that I am certainly not fine. I need a different kind of doctor at this point who can tell me whether there is something wrong with my brain instead of the throat (laughs).
Alekseenko vs Nepomniachtchi
Anna Burtasova (AB): Could you walk us throught the key moments. Perhaps explain the move g7-g6 because it seemed that White could take on g6.
Nepo: I don't think g6 was a particularly important moment in the game because strategically Black had something quite promising right out of the opening.
After Bf4 I was intending to play Nf6 and exploit the pin and somehow get in Ne4 but in the end I wasn't sure about it whether to play Ne4 and allow White two active moves. Maybe some ideas of g5 could have also worked, I don't know. Perhaps 0-0-0 would have worked too at this moment or any other moment. In the game a6 was logical just with the idea to follow up with Bb5 and exchange bad light-squared bishops.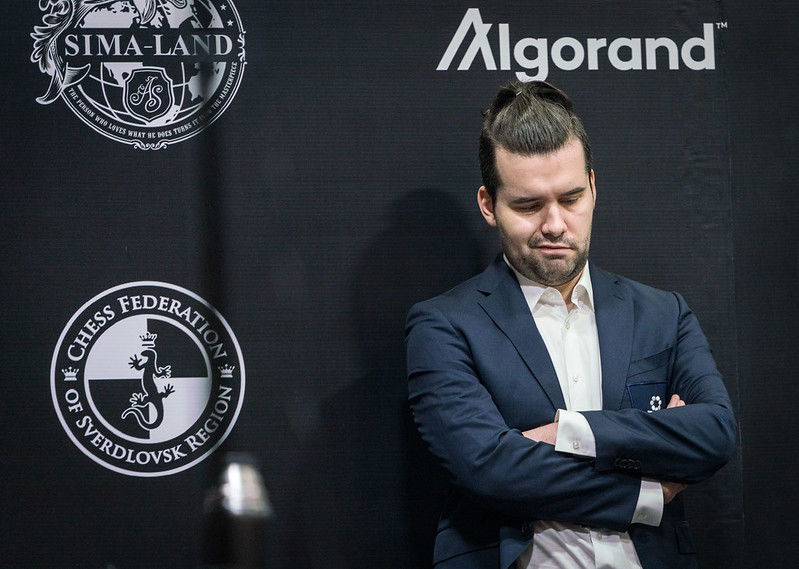 AB: Kirill, how did you estimate this position?
Kirill: I didn't like my position before Qc5 because I didn't know what to do. But after Qc5 my pieces had more space, at least it became more interesting. After Bd2 I was a bit confused between Qe2 and Re1, couldn't understand which one is more useful.
Grischuk vs Wang Hao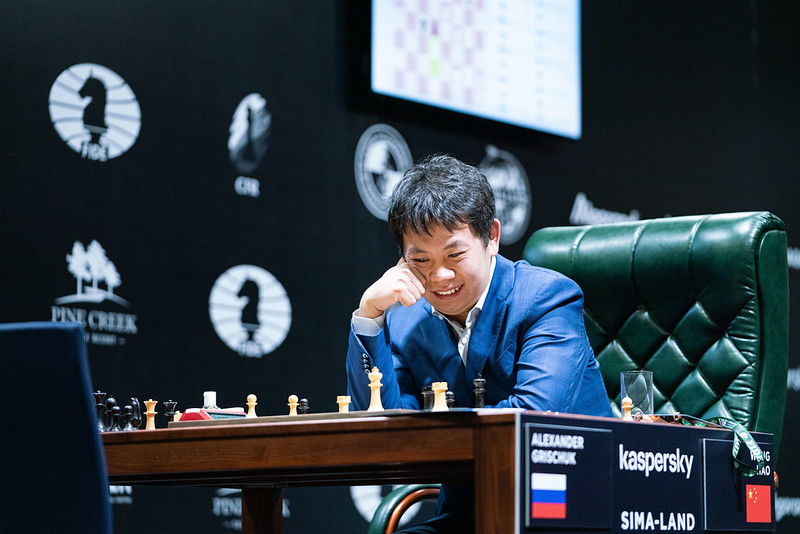 Anna Burtasova (AB): Your game ended in a draw today. Some people might argue that it was a boring game but I think Alexander you are in your element in such positions. Was it your intention to go into this kind of position that you had today?
Grischuk: No I don't know why it should be considered boring. I was clearly better in the position and close to winning.
AB: Yes, but since it simplified into an endgame very quickly some people might have found it a bit dull.
Grischuk: Okay. But then such people shouldn't watch chess. All endgames are not the same, this one was clearly better for me and I think was close to winning. The worse thing is that I even saw this trick with Ne4 because he could play it even some moves ago but it wasn't working at the time. But then the problem was he moved his king to the e-file, his rook away from the e-file, and then his king back to f7, and I completely forgot about it. The only thing worse than the blunder was the fact that I even saw the trick some moves ago.
AB: Hao, how did you evaluate the position from your side?
Hao: Okay, of course I saw that White was much better. I was lucky to make this draw. It was really dangerous for me and fortunately he was under time pressure and forgot some things. In the end I was very lucky to find this trick.
AB: Alexander, very often you experience time trouble but at the same time you are a very great blitz player. You are a three-time world blitz champion. Why do you think you have such time management problems?
Grischuk: Well, sometimes I don't know. But today I was just not able to calculate anything. For example I took 1 hour to find this move f3. I simply didn't see it. If I had seen it earlier I would have played it.
It was crucial otherwise Black more or less draws with Bd4 Ng4 etc. Well, sometimes there is no reason to get into time trouble but today I was completely blind so it is more or less understandable.
AB: Tomorrow is free day. Are you going to go for chess all day tomorrow or are you going to take rest and not look at the wooden pieces again?
Grischuk: No usually during rest days I go to some museum in the morning and in the evening to some theatre. But now everything is closed so it's bad luck. (laughs)
Hao: I have no plans. I will just stay in the room and play some (video) games. This is what I like to do and probably will do so.
Satanick Mukhuty contributed to this article
---