Muthaiah Al triumphs at Tirumala Tirupati Rapid Rating Open 2022
by Shahid Ahmed - 23/11/2022
Top seed of the tournament IM Muthaiah Al, Saranya Y and FM Karthik Rajaa scored 8/9 each. Muthaiah clinched Tirumala Tirupati Rapid Rating Open 2022 due to better tie-breaks. Saranya and Karthik were adjudged second and third. Both Muthaiah and Karthik remained undefeated. The total prize fund of the tournament was ₹500000. The top three prizes were ₹35000, ₹21000 and ₹15000 each. A total of 226 players took part in this event. This was Muthaiah's first Rapid Rating Open triumph of the year, second overall. Earlier, he won Radnickichess GM Round Robin 2 and earned his maiden GM-norm in July this year.
Top three score 8/9
IM Muthaiah Al went on to win another Rapid Rating tournament, early this month. It will be mentioned in a separate report. This was Saranya's first-ever podium finish in a Rapid Rating Open event, definitely a commendable performance.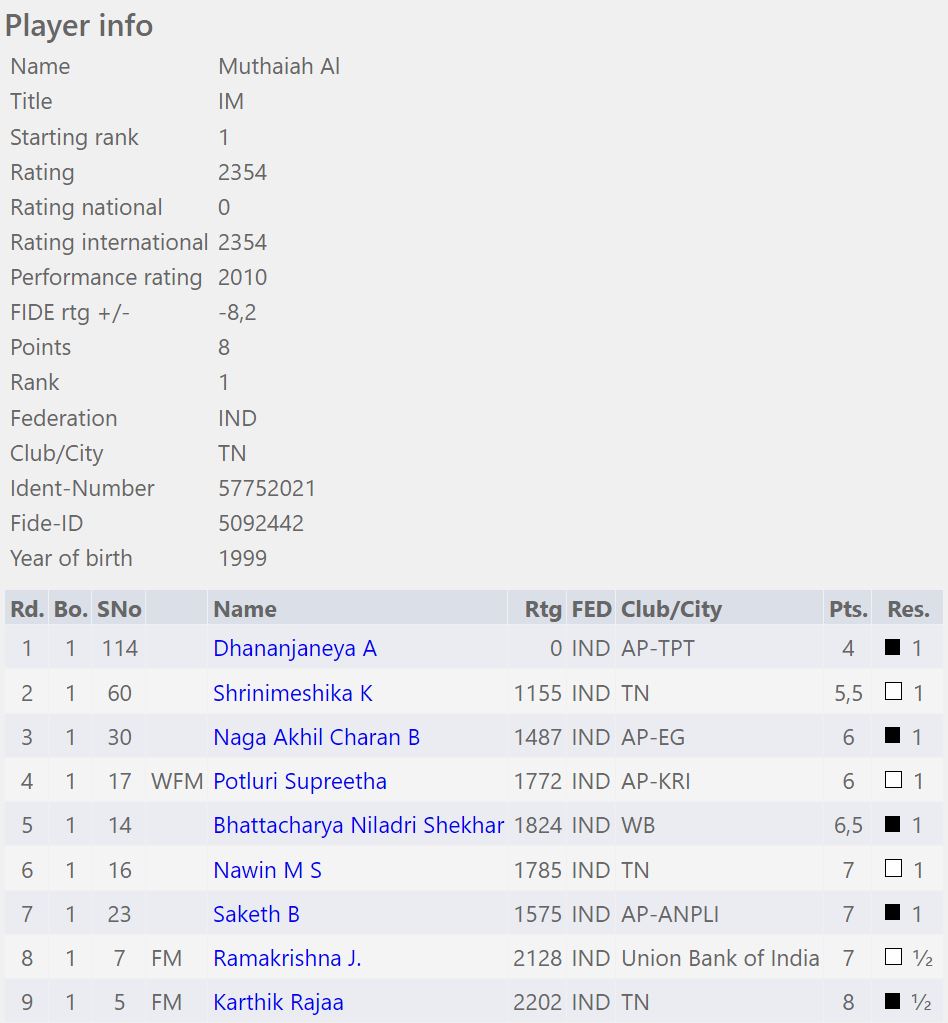 A total of 226 players including 2 IMs took part from various parts of the country and one from Sri Lanka. The two-day nine-round Swiss league Rapid Rating tournament took place in Tirupati, Andhra Pradesh on 29th and 30th October 2022. The time control of the tournament was 25 minutes + 5 seconds increment from move no.1.
Final standings
| | | | | | | | | | | |
| --- | --- | --- | --- | --- | --- | --- | --- | --- | --- | --- |
| Rk. | SNo | | Name | FED | Rtg | Club/City | Pts. | TB1 | TB2 | TB3 |
| 1 | 1 | IM | Muthaiah Al | IND | 2354 | TN | 8 | 53 | 56,5 | 49,50 |
| 2 | 13 | | Saranya Y | IND | 1844 | TN | 8 | 50,5 | 55 | 47,50 |
| 3 | 5 | FM | Karthik Rajaa | IND | 2202 | TN | 8 | 50,5 | 53,5 | 46,50 |
| 4 | 4 | | Anustoop Biswas | IND | 2212 | WB | 7,5 | 52,5 | 56,5 | 45,75 |
| 5 | 3 | FM | Sharma R. Preetham | IND | 2218 | KA | 7,5 | 51,5 | 55 | 44,75 |
| 6 | 7 | FM | Ramakrishna J. | IND | 2128 | Union Bank of India | 7 | 55 | 58 | 42,75 |
| 7 | 6 | IM | Sai Agni Jeevitesh J | IND | 2187 | TEL | 7 | 52,5 | 57,5 | 42,50 |
| 8 | 2 | | Arpan Das (Jr) | IND | 2264 | WB | 7 | 52,5 | 56,5 | 41,75 |
| 9 | 16 | | Nawin M S | IND | 1785 | TN | 7 | 52 | 55 | 40,25 |
| 10 | 23 | | Saketh B | IND | 1575 | AP-ANPLI | 7 | 52 | 55 | 39,50 |
| 11 | 11 | | Karthick Narayanan S | IND | 1921 | TN | 7 | 50,5 | 54,5 | 40,50 |
| 12 | 12 | | Rao J. Malleswara | IND | 1917 | AP-KRI | 7 | 50 | 53 | 38,00 |
| 13 | 9 | | Shivkumar L.V. | IND | 2075 | TEL | 7 | 49 | 53,5 | 37,00 |
| 14 | 15 | | Priyankara Chamil | SRI | 1803 | SRI LANKA | 7 | 46 | 50 | 38,00 |
| 15 | 35 | | Pawar Sohum | IND | 1400 | MAH | 7 | 45 | 47,5 | 32,50 |
| 16 | 14 | | Bhattacharya Niladri Shekhar | IND | 1824 | WB | 6,5 | 50 | 53 | 35,00 |
| 17 | 19 | | Vijay Anand M. | IND | 1745 | TN | 6,5 | 49,5 | 52,5 | 35,25 |
| 18 | 32 | | Sarvani Cheedella | IND | 1427 | AP-KRI | 6,5 | 47,5 | 52 | 34,75 |
| 19 | 36 | | Talla Nischal | IND | 1387 | AP-KRI | 6,5 | 47 | 52 | 35,00 |
| 20 | 18 | | Jai Sankar Subramanian | IND | 1747 | TN | 6,5 | 47 | 51 | 33,00 |
| 21 | 27 | | Ramachandra Bhat | IND | 1530 | KA | 6,5 | 46,5 | 49,5 | 31,75 |
| | 33 | AFM | Naveen Kumar P | IND | 1411 | TN | 6,5 | 46,5 | 49,5 | 31,75 |
| 23 | 24 | | Nihal Swarna | IND | 1574 | AP-TPT | 6,5 | 46 | 49,5 | 31,50 |
| 24 | 29 | | Ajjesh J R | IND | 1518 | TN | 6,5 | 45,5 | 49 | 33,00 |
| 25 | 40 | | Avinash Vvus | IND | 1294 | TEL | 6,5 | 43,5 | 45 | 28,75 |
| 26 | 30 | | Naga Akhil Charan B | IND | 1487 | AP-EG | 6 | 50 | 53,5 | 30,50 |
| 27 | 17 | WFM | Potluri Supreetha | IND | 1772 | AP-KRI | 6 | 49 | 54 | 33,50 |
| 28 | 28 | | Joglekar Abhijit | IND | 1523 | MAH | 6 | 49 | 53,5 | 32,50 |
| 29 | 34 | | Abhishek J R | IND | 1404 | TN | 6 | 49 | 52,5 | 30,75 |
| 30 | 20 | | Bhillva Nilaya K E K | IND | 1719 | AP-TPT | 6 | 48 | 51,5 | 32,00 |
---