Tamil Nadu to host 50 IM-norm Closed Circuit tournaments
The first ten of 50 Closed Circuit IM-norm tournament starts tomorrow in Chennai, Tamil Nadu. The President of Tamil Nadu State Chess Association - Dr. M Manickam, proposed the idea, to produce more and more International Masters in Tamil Nadu which will eventually result in having more Grandmasters from the state. Thus, the concept of 50 IM-norm tournaments was born. The government of Tamil Nadu has assured to render a helping hand by providing financial assistance. Each tournament carries the prize fund US$ 1000 (approx. ₹85000). Out of the five/six Indians, two will be fielded by AICF and the remaining three/four players will be from home state - Tamil Nadu.
A Never Before Heard Series in the Indian History
Tamil Nadu is acclaimed as the chess capital of India and its activities are growing by leaps and bounds, especially after the government of Tamil Nadu, under the able guidance of the honorable chief minister Mr. M K Stalin, successfully organized the 44th Chess Olympiad 2022 at Mahabalipuram. The rest of the world is astonished, amazed and also bewildered about the way in which the Chess Olympiad was planned and conducted meticulously without a single hitch, in a very short span of four months, which otherwise normally takes four years for preparation.
The Chess Olympiad brought into focus many budding youngsters from Tamil Nadu, like D Gukesh and R Praggnanandhaa who stole the limelight in the Olympiad by winning prestigious medals for the country. D Gukesh of Tamil Nadu, currently world no.8 has overtaken the five times world champion Vishy Anand in terms of international rating and he is the new India no. 1 in Chess. R Praggnaanandhaa created history as the youngest Indian to reach the finals of a FIDE World Cup.
The President of Tamil Nadu State Chess Association - Dr. M Manickam, son of Dr. N Mahalingam, former President of All India Chess Federation, proposed the innovative idea to produce more and more International Masters in Tamil Nadu. He mooted the concept of organizing 50 international norm closed circuit tournaments in various cities of Tamil Nadu, which will in turn generate more Grandmasters later. The government of Tamil Nadu has assured to render a helping hand by providing financial assistance. This will be a boon to deserving and potential youngsters who cannot travel abroad to secure IM-norms.
The first series of ten tournaments starts at Chennai on 16th October and will go on every week, with occasional breaks during the other international chess tournaments in Tamil Nadu like Chennai Open and the Athens of the East Madurai Open. In general, each tournament starts on Monday and ends on Saturday, as the players need rest for a day and also have to be transported from one venue to another.
Format of the Tournaments
Each tournament will be of nine rounds, comprising ten players, likely to be four/five foreigners and five/six Indians. Among the Indians, two players will be fielded by the All India Chess Federation from the pool of potential candidates from states other than Tamil Nadu and the remaining three or four players will be from the home state.
Efforts have been made to choose players so that the average rating of the opponents for each IM norm aspirant has to be a minimum of 2230. If the average rating has a range of 2230 to 2283, then the player has to score at least seven points against nine opponents to get the IM norm. It is enough to score 6.5 points, if the average rating is 2284 to 2324. The norm seekers also have to meet three IMs or GMs and two more title holders.
The venues and dates for the first ten tournaments have been already confirmed and they have been registered with the FIDE (World Chess Federation), through All India Chess Federation.
| | | |
| --- | --- | --- |
| Sl. No. | Date | Venue |
| 1 | 16th to 21st October 2023 | Chennai |
| 2 | 23rd to 28th October 2023 | Pollachi |
| 3 | 30th October to 4th November 2023 | Madurai |
| 4 | 6th to 11th November 2023 | Kodaikanal |
| 5 | 12th to 17th November 2023 | Kodaikanal |
| 6 | 19th to 24th November 2023 | Chennai |
| 7 | 26th November to 1st December 2023 | Coimbatore |
| 8 | 3rd to 8th December 2023 | Erode |
| 9 | 10th to 15th December 2023 | Salem |
| 10 | 17th to 22nd December 2023 | Sivakasi |
Foreign players
The following seven foreign players have already confirmed their participation for the first seven or eight tournaments, and a few may be replaced by other foreign players after three or four tournaments.
| | | | | |
| --- | --- | --- | --- | --- |
| Sl. No. | Players | Federation | Title | Rating (as on 01.10.2023) |
| 1 | Rashit Ziyatdinov | USA | GM | 2081 |
| 2 | Asylbek Abdyzhapar | Kyrgyzstan | IM | 2314 |
| 3 | David Gochelashvili | Russia | IM | 2277 |
| 4 | Allahverdiyeva Ayan | Azerbaijan | WFM | 2198 |
| 5 | Annageldiyev Orazly | Turkmenistan | GM, FST | 2316 |
| 6 | Buscara Sevan | France | IM | 2367 |
| 7 | Touzane Oliver Ivan | France | IM | 2249 |
Indian and Tamil Nadu Players
A player has to get three IM norms in at least 27 games in these three tournaments, to get the IM title. They also should have reached a rating of 2400 rating in their career, while awarding the title. Considering these two criteria, the selection committee has given priority to players who already have one or two such norms in their kit and also based on their preferences of the venues.
Date
Place
Player
Title
Rating
16th to 21st October 2023
Chennai
Harshad S
FM
2177
Ashwath R
FM
2298
Srija Seshadri
WGM
2214
Goutham Krishna H
FM
2352
Srihari L
2200
FM Harshad S, WGM Srija Seshadri, FM Ashwath R and FM Goutham Krishna H already have two norms in their kitty while L Srihari, have achieved one norm. All the six players (including WFM Ayan) who can vie for the IM norm have opponents' rating average as at least 2235.
Each tournament carries a prize money of 1000 US$ (approximately ₹85000). The first tournament at Hotel Abu Palace, Chennai will be inaugurated by Mr Atulya Mishra, Secretary for Sports, Government of Tamil Nadu in the august presence of Dr. M. Manickam, President of TNSCA, Mr. D V Sundar, former Vice President, FIDE, Mr. J Meghanatha Reddy IAS, Member Secretary, Sports Development Authority of Tamil Nadu. Indian players having a rating around 2200 or more and looking for IM norms may also contact All India Chess Federation.
Players Profile – 1st Tournament in Chennai
Raset Agiliaevich Ziatdinov (born 1958) is an Uzbek-American chess grandmaster, who has won the Uzbekistan national championship in 1983 and 1985. He is a regular participant in the Indian grandmaster norm tournaments. He now lives in New York. He achieved the GM title in 2005.
Belgrade Open 1990 – Champion
Telecom Eireann, Ireland 1991 – Tied first
Castellar Open, Spain 1996 – Champion
Stratton Mountain Open USA 1997 – Tied first
Atlantic Open USA 1997 and 98 – champion
Las Vegas Open USA – Tied first
New Delhi Open 2014 – Tied first
Current rating 2081 and Peak rating 2535
Asylbek Abdyjapar (born 1988) is a player from Kyrgyztan. He was awarded the title of International Master in 2013. Asyl Abdyjapar has played Madurai Athens of the East, KIIT Odisha etc GM tournaments in India.
He has represented Kyrgyzstan in a number of Chess Olympiads, including 2012, 2014, 2016 &2018
He won the 2021 Kyrgyzstan Chess Championship
He qualified for the Chess World Cup 2021
Current rating: 2314 & peak rating: 2464
David Gochelashvili Russian IM
Born: 1984 Current rating: 2277 and peak rating 2463
IM title in 2007
A regular player in Moscow Open and Russian Higher League
WFM Ayan Allahverdiyeva Azerbaijan WFM, 2005 born
Current and peak rating 2198
A former European Youth under 14 girls champion and was placed fifth in the World Youth under 14 girls championship.
IM K Murugan
Born: 1964
Current rating: 2355
Also a FIDE trainer – has produced many top level players like WGM Srija Seshadri. Murugan is a last minute replacement for the Turkmenistan GM Annageldiyev Orazly, who had to turn back from the Turkmenistan airport, two days before the tournament because of immigration clearance problems. In the prestigious National A (now National Men) championship at Neyveli in 1998, Murugan was placed second behind five times world champion Vishy Anand.
WGM Srija Seshadri
Born: 1997
She is from Neyveli and employed in NLC, Neyveli.
She has two IM-norms
WGM title in 2019
Former Asian Under-12 and Under-14 champion
Former National Under-11 and Under-15 champion
Current rating 2214 and peak rating 2306
She also has the FIDE Instructor title
FM Goutham Krishna H
Born: 2010
He has two norms
FM from Thiruvananthapuram, Kerala
2350 rated third in the World Under 12 rapid 2021 (online)
Former National Under 12 2022 champion
He has beaten many grandmasters at a young age
He earned his second IM-norm in the Tsaghkadzor Open 2023 last month and increased his rating by 84 points there
FM Harshad S
Born: 2006
FM from Coimbatore
He has two IM norms
Current rating: 2177 and peak rating: 2343
Silver medalist in Asian Youth Under 16 Open 2022
Harshad was runner up in the National under 17 championship 2022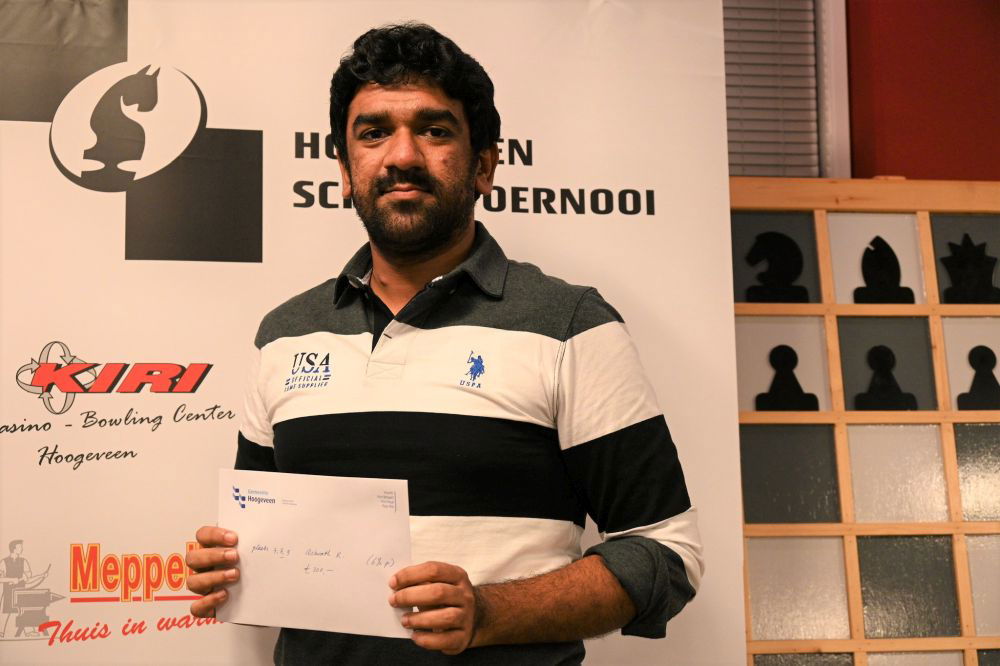 Ashwath R
Born: 1991
FM from Chennai
He has twp IM-norms
Current rating 2298 and peak rating 2388
Ashwath R finished eighth at Hoogeven Open Netherlands 2022
Srihari L
Born: 2004
He is from Pondicherry
He has one IM norm
Current rating: 2200 and peak: 2356
Defeated B Adhiban a former 2700 rated player in the National Team Championship 2022
Silver medalist in the Asian Junior Rapid Open 2023
Won the 7th SCS Rating Open at Sivakasi a few months back with a perfect score of 8/8
Tournament Committee Chairman: Dr. M Manickam, President, Tamil Nadu State Chess Association
Tournament Director: P Stephen Balasamy, Secretary, Tamil Nadu State Chess Association
Tournament Coordinator: R Anantharam IA, Vice President, Tamil Nadu State Chess Association
+ 9194431 55852
e-mail: imnorm.tn@gmail.com
hone: TNSCA: +91 44 2538 4477
About the Author
Prof. Rathinam Anantharam is an A-grade international arbiter. Member of FIDE Arbiters' Commission, Chairman of Titles Commission in All India Chess Federation, Vice President of Tamil Nadu State Chess Association, Chief Arbiter for six world championships, many Asian, International and National Championships.
The report was edited by Shahid Ahmed
---