Pranav V wins 68th Tamil Nadu State Open 2021 with a 100% score 9.0/9
by Shahid Ahmed - 07/04/2021
Pranav Venkatesh of Chennai district won the 68th edition of Tamil Nadu State Open for the second consecutive time since 2019 as he finished with a 100% score of 9.0/9. He scored 1.5 points more than the remaining podium finishers. Four players finished at 7.5/9 - IM Ramnathan Balasubramaniam, Ilamparthi A R and S S Manigandan. They were placed second to fourth respectively. A total of 368 players took part from various districts across Tamil Nadu in five-day nine-round Swiss league event organized by Tirunelveli District Chess Development Association. Photo: IA Ganesh Babu S
Second consecutive Tamil Nadu State Open title
Starting out as the top seed, Pranav completely outperformed all his opponents and finished 1.5 points ahead of the competition. He performed at 2513 and gained 18 Elo rating points. This is his second Tamil Nadu State Open triumph since 2019. Four players finished at 7.5/9. Out of them IM Ramnathan Balasubramaniam and Ilamparthi A R were placed second and third according to their tie-breaks.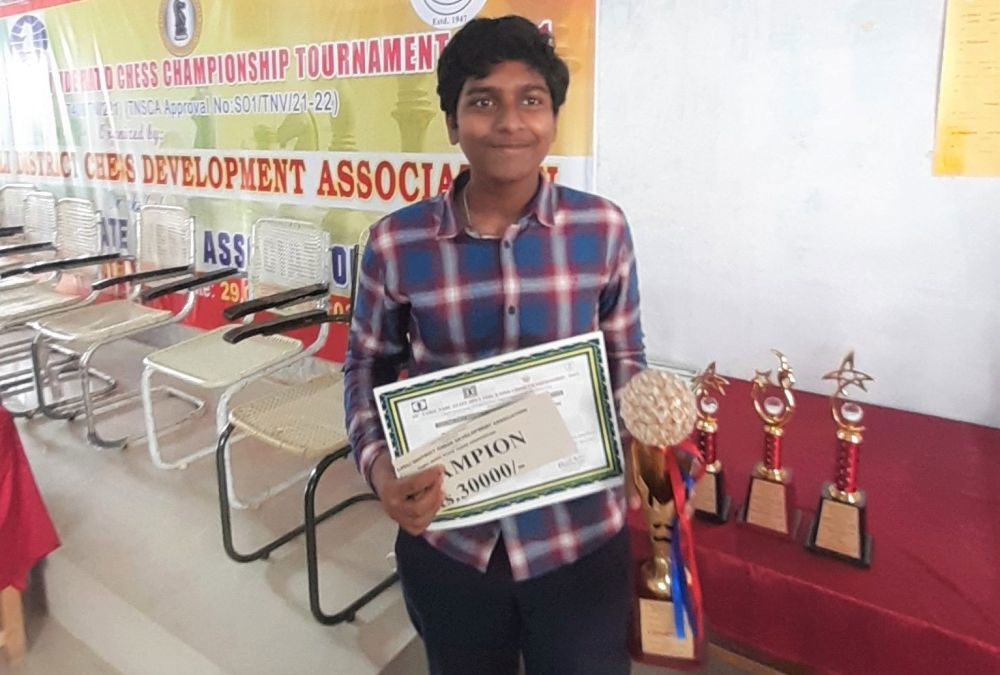 Pranav scored a comfortable win over Suganthan S in the final round.
S S Manigandan got a better position early in the middlegame against Vignesh B in the last round but he took a bit longer to convert his advantage.
Manigandan - Vignesh, Round 9
The game continued with 69.a7 and black promptly took the pawn with 69...Nxa7. What was the better continuation for white here? Eventually white won the Rook-Bishop vs. Rook endgame as black blundered into a checkmate trap.
The chess society has to thank Thamirabharani Engineering College, Tirunelveli for its bold venture to organise the state open championship proficiently when the Covid-19 started its second innings in Tamil Nadu. The chairman of the college Mr. M R Paulraj, his son and secretary Mr. Senthil Palraj and the Principal Mrs. Annalakshmi worked in tandem with Tirunelveli District Chess Development Association for the tournament's success.
• Covid-19 measures followed in the tournament.
• Rooms and chess pieces were sanitized half an hour before every round
• Players entered the playing area after sanitizing their hands
• Thermal checking was done to all players before they started the game
• Social distance was maintained
Photo Gallery
A total of 368 players participated from various districts across Tamil Nadu in this five-day nine-round Swiss league event. The tournament was organized by Tirunelveli District Chess Development Association from 29th March to 2nd April 2021. A special thanks to Chief Arbiter of the tournament IA Ganesh Babu S for providing us games, beautiful photos and important information for this report.
Final Standings after 9 rounds
| | | | | | | | | | | | | | | | |
| --- | --- | --- | --- | --- | --- | --- | --- | --- | --- | --- | --- | --- | --- | --- | --- |
| Rk. | SNo | | Name | Typ | sex | RtgI | Club/City | Pts. | TB1 | TB2 | TB3 | TB4 | TB5 | K | rtg+/- |
| 1 | 1 | | Pranav V | U17 | | 2348 | CHE | 9,0 | 52,5 | 56,5 | 56,50 | 0,0 | 9 | 20 | 18,4 |
| 2 | 4 | IM | Ramnathan Balasubramaniam | | | 2180 | CG | 7,5 | 54,5 | 58,0 | 45,25 | 0,0 | 7 | 10 | 2,5 |
| 3 | 13 | | Ilamparthi A R | U13 | | 1989 | CG | 7,5 | 50,0 | 54,0 | 43,75 | 0,0 | 6 | 40 | 10,8 |
| 4 | 5 | | Manigandan S S | | | 2154 | MDU | 7,5 | 50,0 | 53,5 | 44,00 | 0,0 | 6 | 20 | -9,2 |
| 5 | 19 | | Dinesh Kumar Jaganathan | U17 | | 1908 | CHE | 7,5 | 48,5 | 51,0 | 40,50 | 0,0 | 7 | 40 | 35,2 |
| 6 | 31 | | Nandha Kumar K | | | 1740 | CBE | 7,0 | 51,5 | 54,0 | 38,00 | 0,0 | 6 | 20 | 44,0 |
| 7 | 16 | | Srimathi R | | w | 1948 | MDU | 7,0 | 50,5 | 55,5 | 41,75 | 0,0 | 5 | 20 | -3,6 |
| 8 | 33 | | Kishore Kumar Jaganathan | | | 1736 | CHE | 7,0 | 50,5 | 54,5 | 38,00 | 0,0 | 7 | 20 | 23,4 |
| 9 | 35 | | Suthershun A | | | 1723 | TRR | 7,0 | 49,5 | 53,5 | 39,00 | 0,0 | 6 | 40 | 79,6 |
| 10 | 21 | | Suganthan S | U17 | | 1885 | TNLV | 7,0 | 48,0 | 53,0 | 38,50 | 0,0 | 7 | 40 | 15,2 |
| 11 | 20 | | Anup Shankar R | | | 1886 | TRY | 7,0 | 48,0 | 52,5 | 40,00 | 0,0 | 6 | 20 | -10,0 |
| 12 | 17 | AGM | Sa Kannan | | | 1927 | SVG | 7,0 | 47,5 | 52,0 | 39,00 | 0,0 | 6 | 20 | -13,2 |
| 13 | 15 | | Senthil Kumaran R.P. | | | 1952 | TNJ | 7,0 | 47,0 | 52,0 | 39,50 | 0,0 | 7 | 20 | -8,4 |
| 14 | 14 | | Rathina Sabapathi A | U17 | | 1959 | CG | 7,0 | 47,0 | 51,5 | 39,00 | 0,0 | 6 | 40 | -27,2 |
| 15 | 3 | FM | Senthil Maran K | | | 2246 | TVLR | 7,0 | 47,0 | 51,0 | 38,50 | 0,0 | 5 | 20 | -25,6 |
| 16 | 2 | | Lokesh N. | | | 2277 | KGI | 7,0 | 46,5 | 50,5 | 38,25 | 0,0 | 6 | 20 | -25,6 |
| 17 | 49 | | Nandish V S | U13 | | 1625 | CBE | 7,0 | 46,0 | 50,5 | 38,50 | 0,0 | 6 | 40 | 76,8 |
| 18 | 11 | FM | Vinoth Kumar M. | | | 2038 | CHE | 7,0 | 46,0 | 50,0 | 38,50 | 0,0 | 7 | 20 | -24,8 |
| 19 | 28 | | Subramanian R M | | | 1810 | MDU | 6,5 | 50,0 | 52,0 | 34,25 | 0,0 | 6 | 20 | 30,8 |
| 20 | 7 | | Gugan G | U17 | | 2149 | SLM | 6,5 | 49,0 | 53,5 | 37,50 | 0,0 | 6 | 40 | -64,8 |
| 21 | 9 | | Barath Kalyan M | | | 2135 | TRR | 6,5 | 48,5 | 52,5 | 36,50 | 0,0 | 5 | 20 | -31,6 |
| 22 | 18 | AGM | Vignesh B | U17 | | 1912 | CG | 6,5 | 48,5 | 52,5 | 33,75 | 0,0 | 6 | 40 | 34,8 |
| 23 | 42 | | Aravinth Shanmugam S | U17 | | 1660 | MDU | 6,5 | 48,0 | 51,0 | 33,75 | 0,0 | 5 | 40 | 47,2 |
| 24 | 25 | | Arnav Maheshwari | U17 | | 1844 | TVLR | 6,5 | 48,0 | 50,5 | 34,25 | 0,0 | 5 | 40 | 18,8 |
| 25 | 34 | | Arul Anandh S P K | U17 | | 1729 | CBE | 6,5 | 47,5 | 51,0 | 33,75 | 0,0 | 5 | 40 | 30,0 |
---