Harikrishnan A Ra dominates 1st Smart Chess Academy Rapid Rating Open 2023
by Shahid Ahmed - 17/10/2023
IM FT Harikrishnan A Ra scored an unbeaten 8.5/9 to win 1st Smart Chess Academy Rapid Rating Open 2023. Harikrishnan finished a half point ahead of the competition. Five players - IM Nitin S, FM Harshad S, Manigandan S S, Aakash G and Prasannaa S scored 8/9 each. They were placed second to sixth according to tie-breaks. The eventual winner, Harikrishnan drew against the \runner-up, Nitin, in the penultimate round. Both of them remained undefeated. The total prize fund of the tournament was ₹200000. The top three prizes were ₹20000, ₹17000 and ₹15000 along with a trophy each respectively. This is Harikrishnan's ninth rating and eleventh overall tournament triumph of the year. Photos: Manigandan Ayyappan
Harikrishnan's ninth rating and eleventh overall tournament triumph of 2023
12-year-old Aakash G scored an unbeaten 8/9 to finish fifth in tie-breaks. He is the youngest top ten finisher of the event.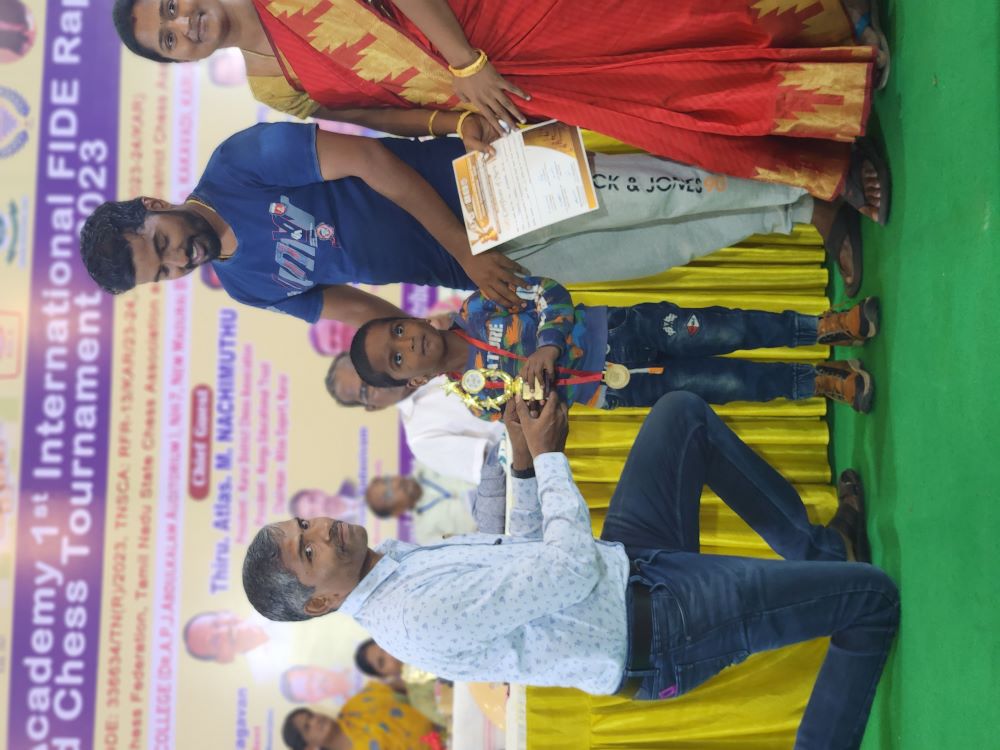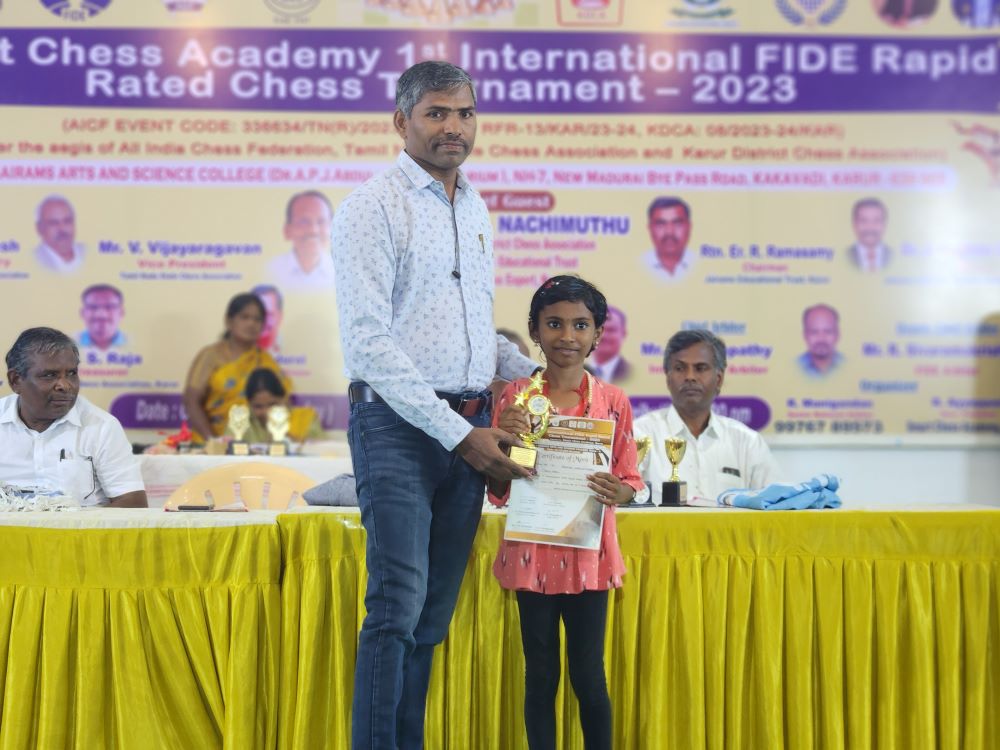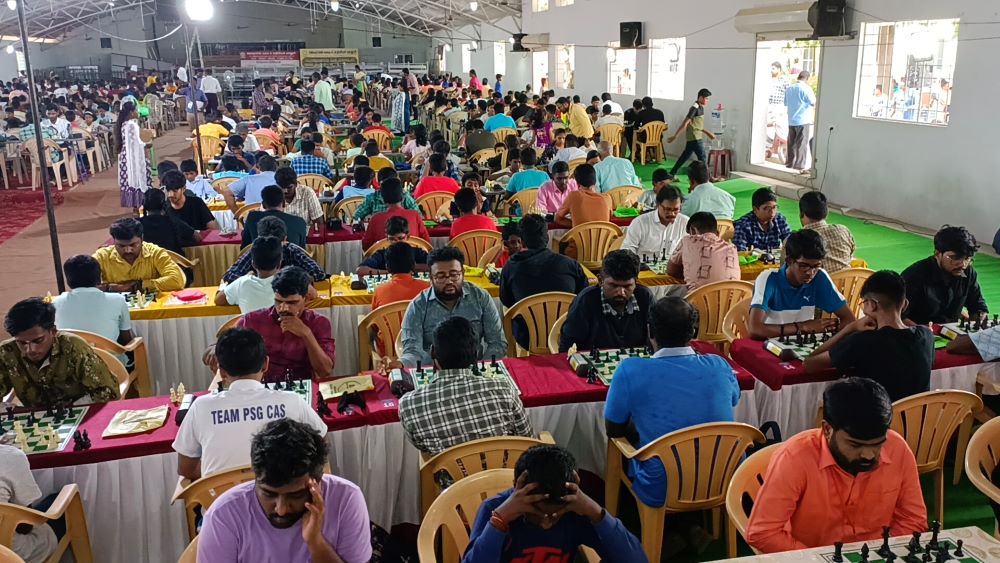 Thanks to Manigandan Ayyappan for sharing the photos.
A total of 600 players including 3 IMs took part from various places all over the country in this one-day nine round Rapid Rating Open tournament. It was organized by Smart Chess Academy, Karur at Jairams Arts and Science College at Kakavadi in Karur, Tamil Nadu on 1st October 2023. The time control of the event was 10 minutes + 5 seconds increment per move.
Final standings
| | | | | | | | | | | | | | | | |
| --- | --- | --- | --- | --- | --- | --- | --- | --- | --- | --- | --- | --- | --- | --- | --- |
| Rk. | SNo | | Name | Typ | sex | Gr | FED | Rtg | Club/City | Pts. | TB1 | TB2 | TB3 | TB4 | TB5 |
| 1 | 2 | IM | Harikrishnan.A.Ra, | | | | IND | 2274 | TN | 8,5 | 57 | 60,5 | 57,00 | 0 | 8 |
| 2 | 1 | IM | Nitin, S. | | | | IND | 2287 | TN | 8 | 56,5 | 58,5 | 50,50 | 0 | 7 |
| 3 | 5 | FM | Harshad, S | U20 | | | IND | 2164 | TN | 8 | 54,5 | 59 | 50,50 | 0 | 8 |
| 4 | 13 | | Manigandan, S S | | | | IND | 1880 | TN | 8 | 54 | 57 | 48,50 | 0 | 8 |
| 5 | 9 | | Aakash, G | U13 | | | IND | 2014 | TN | 8 | 53,5 | 57 | 50,25 | 0 | 7 |
| 6 | 8 | FM | Prasannaa.S, | | | | IND | 2046 | TN | 8 | 53 | 58 | 50,00 | 0 | 8 |
| 7 | 3 | FM | Nawin, J J | U20 | | | IND | 2245 | TN | 7,5 | 54,5 | 57,5 | 45,00 | 0 | 7 |
| 8 | 6 | FM | Senthil, Maran K | | | | IND | 2157 | TN | 7,5 | 53,5 | 56,5 | 45,50 | 0 | 7 |
| 9 | 4 | IM | Manish, Anto Cristiano F | U20 | | | IND | 2174 | TN | 7,5 | 52,5 | 57,5 | 45,75 | 0 | 7 |
| 10 | 20 | | Srihari, K R | U20 | | | IND | 1714 | TN | 7,5 | 51 | 55,5 | 44,25 | 0 | 7 |
| 11 | 11 | CM | Barath, Kalyan M | | | | IND | 1886 | TN | 7,5 | 51 | 53 | 42,50 | 0 | 6 |
| 12 | 41 | | Nikhil, T L | U15 | | | IND | 1336 | TN | 7,5 | 50,5 | 55 | 43,25 | 0 | 7 |
| 13 | 49 | | Vinni, Prabhu R | | | | IND | 1298 | TN | 7,5 | 47,5 | 51,5 | 41,00 | 0 | 7 |
| 14 | 43 | | Balamurugan, Senthilkumar | U20 | | | IND | 1315 | TN | 7,5 | 44 | 46 | 37,25 | 0 | 7 |
| 15 | 21 | | Femil, Chelladurai | F20 | w | | IND | 1640 | TN | 7,5 | 43 | 45 | 37,25 | 0 | 7 |
| 16 | 17 | | Vigneshwaran, S | | | | IND | 1739 | TN | 7 | 53,5 | 56,5 | 40,50 | 0 | 7 |
| 17 | 7 | CM | Lakshmi, Narayanan M V | | | | IND | 2060 | TN | 7 | 52,5 | 57,5 | 42,00 | 0 | 7 |
| 18 | 26 | | Ahaz, E U | U13 | | | IND | 1542 | KERALA | 7 | 52,5 | 55,5 | 39,75 | 0 | 6 |
| 19 | 25 | | Yashwant, B | U13 | | | IND | 1566 | TN | 7 | 52,5 | 55 | 40,50 | 0 | 7 |
| 20 | 18 | | Tarun, V | U20 | | | IND | 1731 | TN | 7 | 52 | 56 | 40,50 | 0 | 7 |
| 21 | 31 | | Sivanesh, S | U15 | | TN-K | IND | 1419 | TN-KARUR | 7 | 52 | 54 | 38,50 | 0 | 7 |
| 22 | 15 | | Sarveshwaran, V | U20 | | | IND | 1831 | TN | 7 | 51,5 | 56 | 40,50 | 0 | 7 |
| 23 | 24 | | Nigash, G | U20 | | | IND | 1568 | TN | 7 | 50 | 53 | 38,00 | 0 | 7 |
| 24 | 16 | AGM | Sa, Kannan | | | | IND | 1750 | TN | 7 | 48,5 | 52,5 | 38,50 | 0 | 7 |
| 25 | 19 | | Rajasekaran, P. | | | | IND | 1715 | TN | 7 | 48,5 | 52,5 | 38,25 | 0 | 6 |
| 26 | 27 | | Raaghav, Kabil M | U20 | | | IND | 1522 | TN | 7 | 47,5 | 49,5 | 37,00 | 0 | 7 |
| 27 | 42 | | Shuruthi, Arulmani | F15 | w | | IND | 1322 | TN | 7 | 47 | 50,5 | 37,00 | 0 | 7 |
| 28 | 51 | | Guru, Rudraks S A | U15 | | | IND | 1296 | TN | 7 | 47 | 50 | 35,50 | 0 | 7 |
| 29 | 60 | | Padmapriyan, A R | U20 | | | IND | 1271 | TN | 7 | 47 | 50 | 35,00 | 0 | 7 |
| 30 | 55 | | Kamalnath, Dv | U20 | | TN-K | IND | 1280 | TN-KARUR | 7 | 46,5 | 50 | 36,00 | 0 | 7 |
---
Related news
:
Alexei Fedorov dominates 7th Tamil Nadu IM-norm Closed Circuit 2023, Sai second and Arjun Adireddy third

@ 02/12/2023 by R Anantharam (en)
Alexei Fedorov terrific at 6th Tamil Nadu IM-norm Closed Circuit 2023, Ajay Santhosh Parvathareddy third

@ 25/11/2023 by R Anantharam (en)
Arnav Maheshwari wins 5th Tamil Nadu IM-norm Closed Circuit 2023

@ 19/11/2023 by R Anantharam (en)
Nandhidhaa wins 4th Tamil Nadu IM-norm Closed Circuit 2023, Srihari L second

@ 12/11/2023 by R Anantharam (en)
Harikrishnan A Ra dominates D A V Krida Kendram Blitz Rating Open 2023

@ 11/11/2023 by Shahid Ahmed (en)
Ajay Karthikeyan wins D A V Krida Kendram Rapid Rating Open 2023

@ 11/11/2023 by Shahid Ahmed (en)
Back to back GM Tournaments in Madurai and Chennai

@ 10/11/2023 by R Anantharam (en)
Arjun Adireddy dominates 3rd Tamil Nadu IM-norm Closed 2023 with a 2709 performance, Harsh second

@ 07/11/2023 by R Anantharam (en)
Prasannaa S triumphs at 1st Rainbow Chess Academy Rapid Rating Open 2023

@ 01/11/2023 by Shahid Ahmed (en)
Dinesh Rajan M wins 2nd Nanban CEG Rapid Rating Open 2023

@ 01/11/2023 by Shahid Ahmed (en)
Asylbek Abdyzhapar triumphs at 2nd Tamil Nadu IM-norm Closed Circuit 2023, Srija Seshadri third

@ 30/10/2023 by R Anantharam (en)
Praveen Kumar C wins 1st Hindustan Chess Rapid Rating Open 2023

@ 28/10/2023 by Shahid Ahmed (en)
Harshad wins 1st Tamil Nadu IM-norm Closed Circuit 2023, Srihari L second

@ 23/10/2023 by R Anantharam (en)
Tamil Nadu to host 50 IM-norm Closed Circuit tournaments

@ 15/10/2023 by R Anantharam (en)
Hari Madhavan N B wins 2nd SRM Rapid Rating Open 2023

@ 10/10/2023 by Shahid Ahmed (en)
Castle Red invites you to 2nd Nanban CEG Rapid Rating Open 2023 offering ₹3 lacs prizes

@ 09/10/2023 by Shahid Ahmed (en)
School boy Hari Ganesh lifts 21st Adyar Times Rating Open 2023 Trophy

@ 18/09/2023 by S Paul Arokia Raj (en)
Velammal Nexus felicitates Gukesh and Praggnanandhaa with ₹20 lacs cash award each

@ 15/09/2023 by Shahid Ahmed (en)
Harikrishnan A Ra clinches VHNSN College Rapid Rating Open 2023 with a perfect 9/9

@ 14/09/2023 by R Anantharam (en)
Kunal M and Bharath Subramaniyam win GM Chess 1st Rapid and Blitz Rating Open 2023

@ 13/09/2023 by Shahid Ahmed (en)
Harsh Suresh wins Muralimohan Memorial 2nd Capa Chess Academy Rapid Rating Open 2023

@ 15/08/2023 by Shahid Ahmed (en)
Laxman clinches 2nd Athens of the East Blitz Rating Open 2023

@ 05/08/2023 by Shahid Ahmed (en)
Vishnu wins Golden Jubilee of Sivakasi Chess Club, NPSS Rathina Nadar - Dr. N Mahalingam Rating Open 2023

@ 30/07/2023 by R Anantharam (en)
Arjun Kalyan wins Chairman's Trophy Rapid Rating Open 2023

@ 28/07/2023 by Shahid Ahmed (en)
Ram S Krishnan wins Sivakasi Chess Club NPSS Rathina Nadar Dr. N Mahalingam Rapid Rating Open 2023

@ 13/07/2023 by R Anantharam (en)
Vijay Shreeram P clinches 2nd SSS Rating Open 2023

@ 26/06/2023 by Shahid Ahmed (en)
Sivakasi Chess Club celebrates 50th year - Triple Tournament Treat for the Chess Lovers

@ 23/06/2023 by R Anantharam (en)
Srihari L clinches Visalakshi Arunachalam 7th SCS Rating Open 2023 with a perfect 8/8

@ 23/06/2023 by R Anantharam (en)
Sethuraman S P wins Rotachess Rapid Rating Open 2023

@ 21/06/2023 by Shahid Ahmed (en)
Rotachess Rapid Rating Open 2023 R1-4: Haridev stuns Karthik

@ 17/06/2023 by Shahid Ahmed (en)
Harshad and Harikrishnan triumph at 1st Kanyakumari Parents Forum Rapid and Blitz Rating Open 2023

@ 13/06/2023 by Shahid Ahmed (en)
Harikrishnan clinches May Day Celebration Rapid Rating Open 2023

@ 07/06/2023 by Shahid Ahmed (en)
T Nagar Chess Academy invites you to RCMIC Rotachess Rapid Rating Open 2023 offering ₹5.55 lacs prizes

@ 01/06/2023 by Shahid Ahmed (en)
Ajay Karthikeyan clinches 1st RCA Rapid Rating Open 2023

@ 08/04/2023 by Shahid Ahmed (en)
Senthil Maran wins 1st Xaverian Rating Open 2023

@ 25/03/2023 by Shahid Ahmed (en)
Harikrishnan clinches 34th KCF Rapid Rating Open 2023

@ 11/03/2023 by Shahid Ahmed (en)
A cakewalk for Phani Kanuri of AP at 1st Tirupattur Rapid Rating Open 2023

@ 07/03/2023 by R Anantharam (en)
Laxman triumphs at CMI Tessellate Rapid Rating Open 2023

@ 02/03/2023 by Shahid Ahmed (en)
Arul Anandh wins 3rd Little England Rating Open 2023 with a round to spare

@ 15/02/2023 by R Anantharam (en)
Aravindh Chithambaram clinches 19th International Chess Solving Contest 2023

@ 14/02/2023 by V Ravichandran (en)
Harikrishnan dominates Velammal Republic Day Celebration Rapid Rating Open 2023

@ 06/02/2023 by Shahid Ahmed (en)
Pranesh wins 1st ENS Rapid Rating Open 2023 and a brand new TVS Raider-125 Bike

@ 31/01/2023 by Shahid Ahmed (en)
Muthaiah Al triumphs at Tirumala Tirupati Rapid Rating Open 2022

@ 23/11/2022 by Shahid Ahmed (en)
Ilamparthi A R wins Mrs. Meera Memorial Rapid Rating Open 2022

@ 22/11/2022 by Shahid Ahmed (en)
Nitin and Rathanvel win D A V Krida Kendram Rapid and Blitz Rating Open 2022

@ 13/11/2022 by Shahid Ahmed (en)
Kunal clinches Hatsun - Idhayam 6th SCS Rating Open 2022

@ 20/10/2022 by R Anantharam (en)
Kunal wins 1st SRM Rapid Rating Open 2022 featuring 575 players

@ 16/10/2022 by Shahid Ahmed (en)
Harshad wins Azure All India Rapid Rating Open 2022

@ 13/10/2022 by Shahid Ahmed (en)
Mitrabha, Murali Krishnan and Koustav are the winners of 44th Olympiad Celebration Rating Open events

@ 30/08/2022 by Shahid Ahmed (en)
Vishnu Prasanna clinches Olympiad Curtain Raiser Rapid Rating Open with a perfect 9/9

@ 23/08/2022 by Shahid Ahmed (en)
Tamil Nadu State Government awards ₹1 Crore each to the Bronze medal winning Indian teams

@ 11/08/2022 by Shahid Ahmed (en)
Laxman and Nitin win GRT Shasun Jain College Rapid and Blitz Rating Open 2022

@ 29/07/2022 by Shahid Ahmed (en)
Hrithickkesh Pr dominates Dr. KCG Verghese Memorial Rating Open 2022

@ 25/07/2022 by Shahid Ahmed (en)
Chess Grad wins 1st CEG Trophy State level Open Team 2022

@ 18/05/2022 by Shahid Ahmed (en)
Ramnathan Balasubramaniam wins 1st SSS All India Rating Open 2022

@ 16/05/2022 by Shahid Ahmed (en)
Golden Knights Chess Academy A scores a hat-trick at 28th Tamil Nadu State Team Rating 2022

@ 09/05/2022 by Shahid Ahmed (en)
Pranav Venkatesh wins 1st BCF Rapid Rating Open 2022

@ 14/04/2022 by Shahid Ahmed (en)
Laxman R R wins 1st Vellore Rapid Rating Open 2021

@ 11/01/2022 by Shahid Ahmed (en)
IM Harikrishnan A Ra wins Sivakasi Chess Club Rapid Rating Open

@ 14/12/2021 by R Anantharam (en)
Tamil Nadu State Government felicitates players with 1 crore 98 lacs cash award

@ 09/10/2021 by Shahid Ahmed (en)
15 वर्षीय प्रणव बने तामिलनाडु राज्य शतरंज विजेता

@ 07/04/2021 by Niklesh Jain (hi)
Pranav V wins 68th Tamil Nadu State Open 2021 with a 100% score 9.0/9

@ 07/04/2021 by Shahid Ahmed (en)
68th Tamil Nadu State Open: Pranav V takes sole lead 6.0/6

@ 31/03/2021 by Shahid Ahmed (en)
Sivakasi Chess Club and Covid-19

@ 19/02/2021 by R Anantharam (en)
Adhiban, Sethuraman, Gukesh, Laxman and Nandhidhaa receive Outstanding Sportsperson award by Tamil Nadu government

@ 11/02/2021 by Shahid Ahmed (en)
Aravindh wins Karaikudi Grand Prix Rapid Rating Open

@ 06/02/2020 by R Anantharam (en)
Laxman wins 2nd Open Rapid Rating at Trichy

@ 11/01/2020 by R Anantharam (en)
IM Harikrishnan wins Ramco 2nd FIDE Rated Open 2019

@ 16/12/2019 by R Anantharam (en)
Vaishali wins Sivakasi Grand Prix Open Rapid

@ 28/11/2019 by R Anantharam (en)
IM Arjun Kalyan and Pranav Venkatesh win Velammal Rapid and Blitz

@ 12/11/2019 by R Anantharam (en)
Balasubramaniam wins 19th Adyar Times Open for a record fourth time

@ 13/10/2019 by S Paul Arokia Raj (en)
Manigandan wins 15th KCM Open

@ 08/10/2019 by Shahid Ahmed (en)
Sabarish triumphs at Rotary 100 years Celebration open

@ 04/10/2019 by Shahid Ahmed (en)
IM Khusenkhojaev wins Courtalam Saaral FIDE Rated Open

@ 18/09/2019 by R Anantharam (en)
Raahul V S triumphs at Talent Chess Academy 1st Open Rating

@ 02/09/2019 by Shahid Ahmed (en)
Courtalam Saaral International Rating Open Preview

@ 25/08/2019 by R Anantharam (en)
Karthikeyan Murali wins 1st A S Subbaraman Memorial Trophy Blitz Rating 2019

@ 23/08/2019 by Shahid Ahmed (en)
R Balasubramaniam wins Thalavaipuram All India Open

@ 22/08/2019 by R Anantharam (en)
Chess Bonanza in Tamil Nadu

@ 16/05/2019 by R Anantharam (en)