Golden Knights Chess Academy A scores a hat-trick at 28th Tamil Nadu State Team Rating 2022
by Shahid Ahmed - 09/05/2022
Second seed of the tournament, Golden Knights Chess Academy A scored 100% 14.0/14 to win 28th Tamil Nadu State Team FIDE Rated Chess Championship 2022. This is their third consecutive Tamil Nadu State Team triumph, after winning the previous two editions in 2018 and 2019. They finished two points ahead of the runner-up Velammal Nexus 12.0/14 who also remained undefeated. Ananthi Chess Academy B scored 11.0/14 to secure third place. The total prize fund for the tournament was ₹50000. Top three prizes were ₹10000, ₹8000 and ₹6000 cash along with a trophy each respectively. Also check out a few interesting games from the tournament. Photo: GKCA
Golden hat-trick for Golden Knights Chess Academy
Golden Knights Chess Academy won their third consecutive Tamil Nadu State Team Chess Championship. They have not lost a single match since 2018. Their undefeated team streak is now at 23 matches. Only Manigandan S S and Ganesh Babu S have been part of all three triumphs. This time, Manigandan spearheaded the team with a 100% score 7.0/7, followed by Subramaniam R M 5.5/6 and Dusthageer Ibrahim M 6.0/7. The highest rated player of the team CM Lakshmi Narayanan M V scored a credible 5.5/7. The Tournament Director IA Ganesh Babu S won the only game he played.

Board prize winners
#1 - Adithya S (Ignited Mind Chess Academy B) 92.9% 6.5/7
#2 - Gowrichander U (Tiruvallur DCA) 92.9% 6.5/7
#3 - Madhavakrishnan R (Madurai District Chess Association A) 92.9% 6.5/7
#4 - Manigandan S S (Golden Knights Chess Academy A) 100% 7.0/7
#5 - Gokul Ramesh (Bloom Chess Academy B) 75% 4.5/6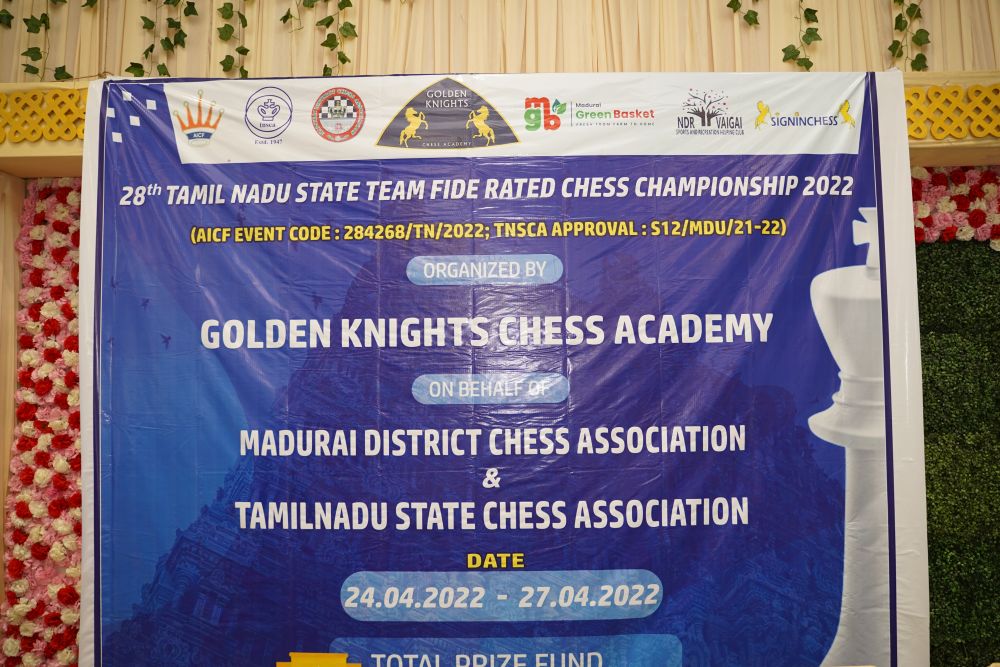 For more photos, please click here.
A total of 59 teams comprising 254 players including two IMs participated from various districts across Tamil Nadu. The four-day seven round Swiss league Team Championship was held between 24th and 27th April 2022 at Arunachalam Kamalambal Mahal, Kamarajar Salai, Madurai. It was organized by Golden Knights Chess Academy. The time control of the tournament was 90 minutes + 30 seconds increment from move no.1.
A special thanks to the Tournament Director IA Ganesh Babu Sabapathy for sharing photos, valuable info and few interesting games from the event.
Replay few interesting games
Final Standings
| | | | | | | | | | |
| --- | --- | --- | --- | --- | --- | --- | --- | --- | --- |
| Rk. | SNo | Team | Games | + | = | - | TB1 | TB2 | TB3 |
| 1 | 2 | Golden Knights Chess Academy A | 7 | 7 | 0 | 0 | 14 | 25,0 | 405,0 |
| 2 | 4 | Velammal Nexus | 7 | 5 | 2 | 0 | 12 | 20,0 | 340,0 |
| 3 | 7 | Ananthi Chess Academy B | 7 | 5 | 1 | 1 | 11 | 16,0 | 238,8 |
| 4 | 1 | Ananthi Chess Academy A | 7 | 5 | 0 | 2 | 10 | 20,5 | 343,8 |
| 5 | 3 | Master Mind Chess Academy | 7 | 5 | 0 | 2 | 10 | 19,0 | 300,3 |
| 6 | 6 | Hatsun Chess Academy A | 7 | 4 | 2 | 1 | 10 | 19,0 | 291,5 |
| 7 | 10 | Golden Knights Chess Academy B | 7 | 5 | 0 | 2 | 10 | 17,5 | 257,3 |
| 8 | 11 | Coimbatore Chess Centre | 7 | 4 | 2 | 1 | 10 | 16,0 | 285,3 |
| 9 | 12 | Guna Chess Academy A | 7 | 5 | 0 | 2 | 10 | 16,0 | 244,8 |
| 10 | 24 | Hatsun Chess Academy B | 7 | 4 | 1 | 2 | 9 | 19,0 | 253,5 |
---