T Nagar Chess Academy invites you to RCMIC Rotachess Rapid Rating Open 2023 offering ₹5.55 lacs prizes
by Shahid Ahmed - 01/06/2023
YMCA Madras - Royapettah Branch in association with Rotary Club of Madras Industrial City presents RCMIC Rotachess Rapid Rating Open 2023. The inaugural edition of this event is offering a first prize of ₹75000 and a total prize fund of ₹550000. Total 146 prizes are up for grabs. A grandeur event undoubtedly attracts strong players. India's 75th GM Pranav Venkatesh, 68th GM Arjun Kalyan, GM-elect IM Arghyadip Das, IM Ajay Karthikeyan, IM Hari Madhavan N B, IM S Rohith Krishna and IM R Balasubramaniam are the confirmed titled players so far. Entry is FREE and lunch will be given to the GM, IM, WGM and WIMs. Free accommodation will be provided for the Grandmasters. So, hurry up and register yourself if you haven't yet. All tournament info photos are from tournament circular.
This June play a strong Rapid Rating Open in Chennai
If you are planning to play a Rapid Rating Open tournament in this month, look no far. T Nagar Chess Academy is organizing a Rapid Rating tournament on Saturday 17th and Sunday 18th June at YMCA Royapettah in Chennai, Tamil Nadu. Check out all the details below.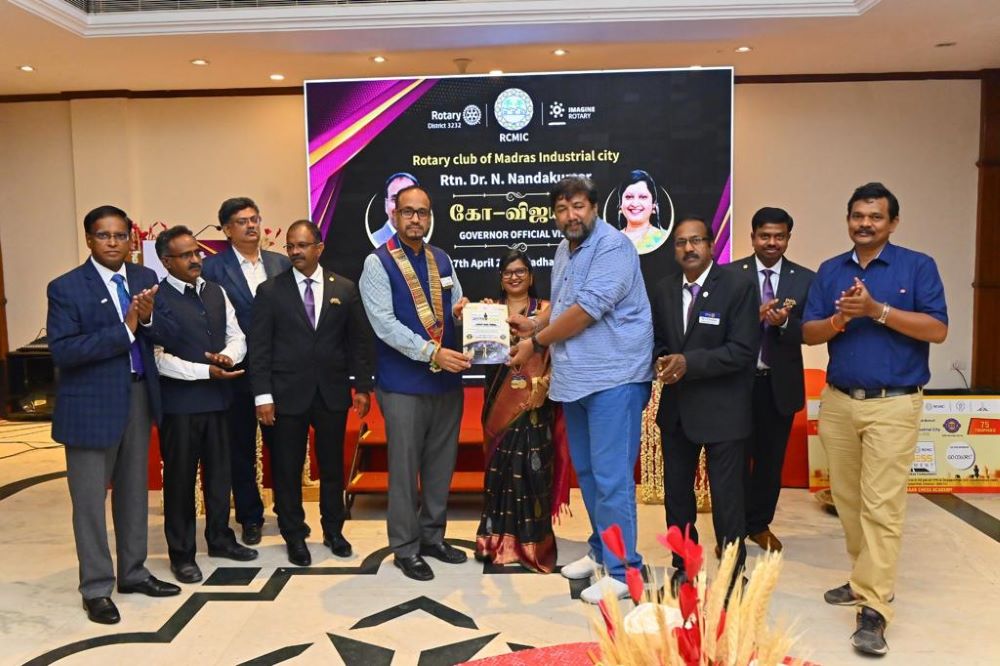 Schedule
The tournament will take place on 17th and 18th June 2023. There are four rounds on Saturday 17th and five rounds on Sunday 18th June 2023.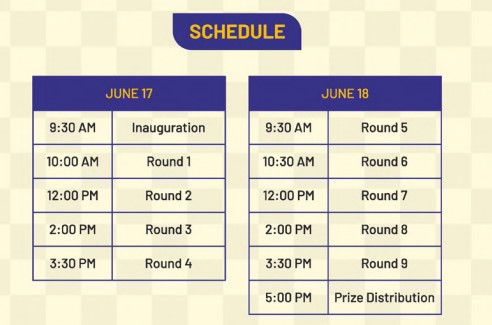 Venue
YMCA Royapettah (Air-Conditioned Hall) at 24, West Cottage Road, Royapettah, Chennai - 600014.
Prizes
The total cash prize fund is ₹550000. The top three prizes are ₹75000, ₹50000 and ₹35000 each. There are 50 main prizes, 15 rating category prizes; Top 3 in Best Women, Best Veteran (Above 55 years) and Best Unrated player categories. Three age group - Under-8, Under-11 and Under-14 has ten trophies each for Boys and Girls, Best Unrated has ten trophies and youngest boy and girl will get a trophy each.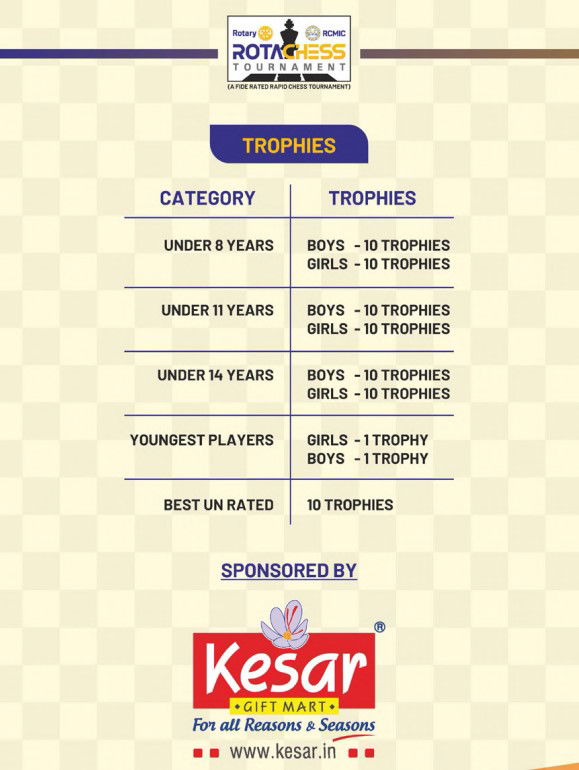 Rules and Regulations
Check out the complete rules and regulations
Entry fees and details
Entry fee is ₹1500 for rated and unrated players. Entry is free for GM, IM, WGM and WIMs. Free accommodation for Grandmasters. Lunch will be provided for all GM, IM, WGM and WIMs. Other players will have to make their own arrangements for food and stay. GM, IM, WGM and WIM can directly email the filled form to rcmic rotachess@gmail.com.
*First come first serve basis
Registration is mandatory between 9 and 10 a.m.
Confirmed titled players
By Gopinath, Rotarian
Rotary International is a global network of 1.2 million neighbours, friends, leaders, and problem-solvers who see a world where people unite and take action to create lasting change – across the globe, in our communities, and in ourselves.
Rotary Club of Madras Industrial City (RCMIC) is a 26-year-old premier club in Rotary District 3232. RCMIC as a Rotary club applies its expertise, time and money on many projects that are required for the community at large. RCMIC has provided free dialysis machines, conduct blood donation camps, skill the youth of Chennai among many other projects.
Rotary believes in developing the next generation of leaders. Our programs help younger leaders build leadership skills, expand education, and learn the value of service. Rotarians recognize the positive change that young people bring about in the community.
Recognizing this, one of our projects dovetailed towards the youth, is its project "RCMIC Rota Chess Rapid Rating Open Tournament". Our mission is to spread awareness about chess, promote budding FIDE-rated players to pursue their talent, and make this event a hallmark tournament for years to come in the Indian chess circuit.
The event is a FIDE rated rapid chess tournament in association with YMCA Madras, Royapettah Branch at its air-conditioned hall. This tournament is also approved by the AICF and TNSCA.
We are setting the total prize money for the tournament as Rs.5.55 lacs. We are also planning to recognise winners and runners-up in various categories with about 75 trophies and certificates.
On the side-lines, it is proposed to conduct a health camp (Dental & Cardiac screening), for the parents / guardians of the chess players. It is also proposed to have a small food court for the benefit of the parents who are waiting for their wards.
In all, RCMIC's endeavour is to provide a wholesome experience to the chess enthusiasts at RCMIC Rotachess Tournament and make it a signature annual event in the Chess Circuit.
We will bring you detailed coverage of the event as I will be present at the venue.
Download the tournament circular from our calendar.
Players list
| | | | | | |
| --- | --- | --- | --- | --- | --- |
| No. | | Name | FideID | FED | Rtg |
| 1 | GM | Pranav, V | 25060783 | IND | 2465 |
| 2 | GM | Arjun, Kalyan | 35018701 | IND | 2387 |
| 3 | IM | Das, Arghyadip | 5003610 | IND | 2317 |
| 4 | IM | Ajay, Karthikeyan | 35011685 | IND | 2295 |
| 5 | IM | Hari, Madhavan N B | 25054309 | IND | 2275 |
| 6 | IM | Rohith, Krishna S | 46617051 | IND | 2270 |
| 7 | CM | Gireman, Ja | 5043794 | IND | 2199 |
| 8 | | Srinivasa, Rangan | 5054990 | IND | 2031 |
| 9 | | Rohit, S | 46633847 | IND | 1998 |
| 10 | IM | Ramnathan, Balasubramaniam | 5001277 | IND | 1852 |
---