Raahul V S triumphs at Talent Chess Academy 1st Open Rating
by Shahid Ahmed - 02/09/2019
Raahul V S of Tamil Nadu edged ahead of IM Sayantan Das and CM Rajarishi Karthi, all three of them scored 8.0/9 each, due to a better tie-break score, Raahul clinched the championship. Sayantan and Rajarishi had to settle for second and third position respectively. Total 361 players including 4 IMs, 2 FMs, a WFM and CM each from 12 different states, 2 union territories, a player from USA participated in this event. Total ₹731000 prize fund was distributed among the prize winners in this five-day open rating tournament organized by S Vijayakumar and Talent Chess Academy. Photo: Go Checkmate
Raahul's no draw approach to victory
Surprisingly all three players who finished at the top with a score of 8.0/9, lost one game each in the tournament, none against each other or the same opponent. This is Raahul's first major triumph since winning National Amateur in 2016.
L to R: IA GG Satheish, Dy. Chief Arbiter; Mr. Anand Anbazhagan, Chairman, Sport India; V S Raahul winner of the tournament from Tamil Nadu; Dr. Amutha Balakrishnan, Amutha Educational Trust, Chennai; IA S Balaraman, Chief Arbiter of the tournament; S Natarajan, Secretary, Master Mind Chess Academy and S Vijaya Kumar, organizer of the tournament.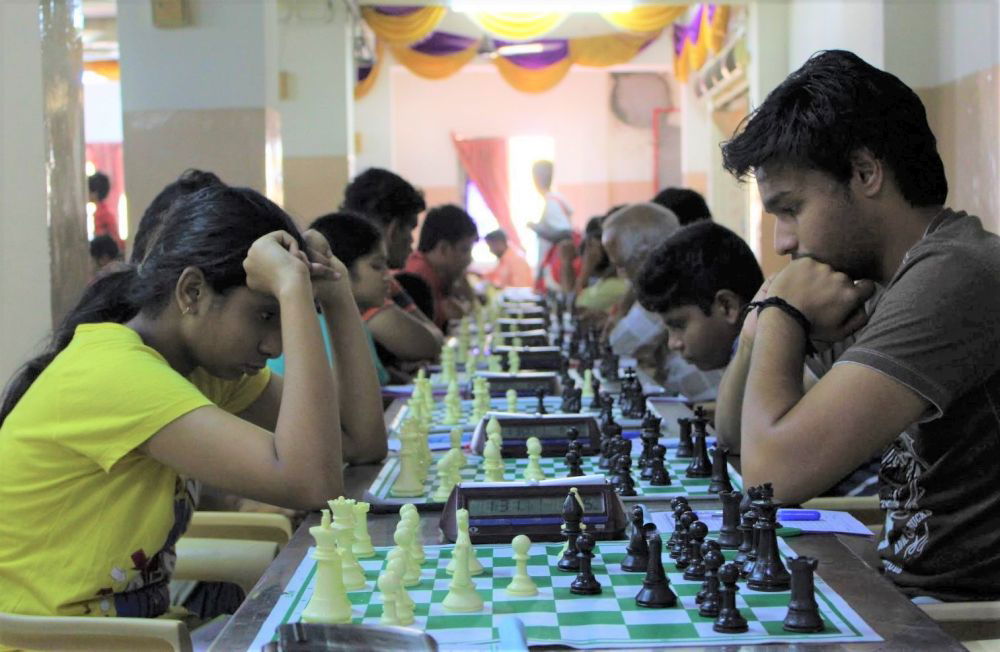 Total 361 players including 4 IMs, 2 FMs, a WFM and CM each from 12 different states, 2 union territories, a player from USA participated in this event. Total ₹731000 prize fund was distributed among the prize winners in this five-day open rating tournament organized by S Vijayakumar and Talent Chess Academy held at Virugambakkam, Chennai from 21st to 25th August 2019.
Final Ranking after 9 Rounds
| | | | | | | | | | | | | | | |
| --- | --- | --- | --- | --- | --- | --- | --- | --- | --- | --- | --- | --- | --- | --- |
| Rk. | SNo | | Name | sex | FED | Rtg | Club/City | Pts. | TB1 | TB2 | TB3 | TB4 | TB5 | Rp |
| 1 | 4 | | Raahul V S | | IND | 2270 | TN | 8,0 | 0,0 | 55,0 | 51,0 | 48,50 | 8 | 2130 |
| 2 | 1 | IM | Das Sayantan | | IND | 2409 | Wes | 8,0 | 0,0 | 53,5 | 49,5 | 48,00 | 8 | 2060 |
| 3 | 14 | CM | Rajarishi Karthi | | IND | 2084 | TN | 8,0 | 0,0 | 52,5 | 49,0 | 45,50 | 8 | 2154 |
| 4 | 10 | IM | Ramnathan Balasubramaniam | | IND | 2200 | TN | 7,5 | 0,0 | 57,0 | 52,0 | 45,75 | 7 | 2086 |
| 5 | 3 | IM | Nitin S. | | IND | 2358 | Railways | 7,5 | 0,0 | 56,5 | 53,0 | 46,00 | 6 | 2131 |
| 6 | 6 | FM | Srihari L R | | IND | 2227 | TN | 7,5 | 0,0 | 56,0 | 51,5 | 46,00 | 6 | 2095 |
| 7 | 11 | | Balkishan A. | | IND | 2173 | Kar | 7,0 | 0,0 | 56,5 | 51,5 | 41,50 | 7 | 1965 |
| 8 | 18 | FM | Vinoth Kumar M. | | IND | 1991 | TN | 7,0 | 0,0 | 56,0 | 51,5 | 37,25 | 6 | 2053 |
| 9 | 5 | | Prasannaa.S | | IND | 2237 | TN | 7,0 | 0,0 | 55,5 | 51,0 | 41,50 | 7 | 1994 |
| 10 | 8 | | Senthil Maran K | | IND | 2222 | TN | 7,0 | 0,0 | 54,5 | 50,5 | 40,75 | 6 | 1933 |
| 11 | 15 | | Rakesh Kumar Nayak | | IND | 2042 | ORI | 7,0 | 0,0 | 54,5 | 50,0 | 41,25 | 6 | 1883 |
| 12 | 16 | WFM | Saranya J | w | IND | 2035 | TN | 7,0 | 0,0 | 53,5 | 48,5 | 39,50 | 7 | 1788 |
| 13 | 7 | | Ram S. Krishnan | | IND | 2224 | TN | 7,0 | 0,0 | 53,5 | 48,5 | 39,00 | 7 | 1892 |
| 14 | 22 | AGM | Vignesh B | | IND | 1840 | TN | 7,0 | 0,0 | 52,5 | 48,5 | 36,50 | 7 | 1859 |
| 15 | 9 | IM | Praveen Kumar C | | IND | 2205 | ICF | 7,0 | 0,0 | 52,5 | 48,0 | 38,50 | 6 | 1855 |
| 16 | 13 | AGM | Rathneesh R | | IND | 2136 | TN | 7,0 | 0,0 | 51,0 | 47,0 | 37,75 | 6 | 1873 |
| | 19 | | Badrinath S. | | IND | 1970 | TN | 7,0 | 0,0 | 51,0 | 47,0 | 37,75 | 6 | 1820 |
| 18 | 74 | | Vijayasubhasri S | w | IND | 1507 | TN | 7,0 | 0,0 | 47,5 | 44,5 | 32,50 | 7 | 1634 |
| 19 | 75 | | Borse Pankaj | | IND | 1505 | Mah | 7,0 | 0,0 | 47,0 | 44,0 | 34,00 | 7 | 1754 |
| 20 | 17 | | Gunasekaran K. | | IND | 2025 | ICF | 6,5 | 0,0 | 56,5 | 52,5 | 37,25 | 6 | 1879 |
| 21 | 23 | | Rathina Sabapathi A | | IND | 1816 | TN | 6,5 | 0,0 | 54,5 | 50,0 | 35,75 | 6 | 1784 |
| 22 | 44 | | Kiruthika B | w | IND | 1636 | TN | 6,5 | 0,0 | 53,0 | 49,0 | 34,75 | 6 | 1735 |
| 23 | 36 | | Gowtham K K | | IND | 1675 | TN | 6,5 | 0,0 | 52,0 | 48,0 | 35,75 | 6 | 1795 |
| 24 | 42 | | Nichat Ajinkya | | IND | 1641 | Mah | 6,5 | 0,0 | 50,5 | 46,0 | 35,50 | 6 | 1709 |
| 25 | 12 | | Syed Anwar Shazuli | | IND | 2173 | ICF | 6,5 | 0,0 | 50,0 | 47,0 | 36,00 | 5 | 1700 |
---