IM Al Muthaiah wins 6th Kurukshetra Open 2019
IM Al Muthaiah continues his phenomenal run in 2019. He gets lucky and wins 6th Kurukshetra Open by scoring 8.0/10, finishing first in tie-breaks. A pack of six players including the champion finished at 8.0/10. They are - IM R Balasubramaniam, GM Saptarshi Roy Choudhury, IM Somak Palit, FM Joydeep Dutta and IM Neeraj Mishra. They were placed 2nd to 6th respectively. This is his second consecutive tournament win in Assam in just 10 days. In both tournaments, Muthaiah drew with Joydeep with the same color black in the final round. Photo: IA Asit Baran Choudhury
Muthaiah wins consecutive tournaments in 10 days, his seventh win in as many months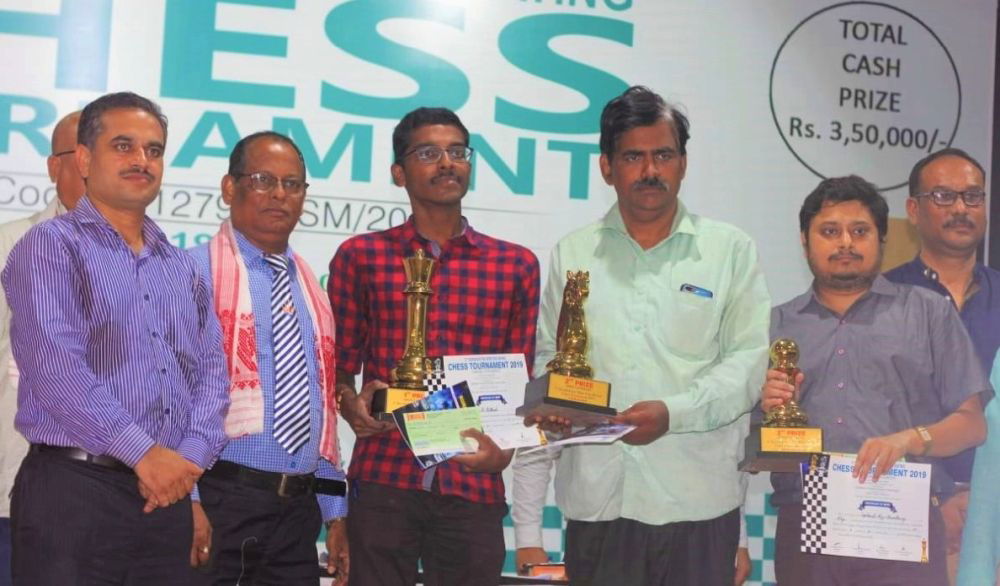 Top seed of the tournament IM Al Muthaiah scored an unbeaten 8.0/10 to win 6th Kurukshetra Open 2019. Muthaiah received a a trophy designed in the shape of a king and ₹40000. He drew with all who scored same point as him, only beat India's renowned trainer IM Neeraj Kumar Mishra in round 5.
10 days before winning 6th Kurukshetra Open, Muthaiah won 3rd International Open in Assam by scoring unbeaten 8.5/10. In both tournaments Muthaiah drew with FM Joydeep Dutta in the last round with black pieces. Muthaiah won ₹50000 cash and a beautiful trophy.
In the closing ceremony Mr. Narendra Mahila, Vice President, DHSK College, Dr. Intikabur Rahaman, President, Organizing Committee, Mr. Prabin Gogoi, President, Dibrugarh District Chess Association, Mr. Sudhir Nath, Ex-Secretary, AACA were present and distributed the prizes.
Total 195 players including a GM, 4 IMs participated in the tournament from various state across the country. The tournament was organized by Guardians of Greater Dibrugarh Chess Players at DHSK College in Dibrugarh, Assam from 19th to 24th July 2019.
Final Ranking after 10 Rounds
| | | | | | | | | | | | | | | | | | | | | |
| --- | --- | --- | --- | --- | --- | --- | --- | --- | --- | --- | --- | --- | --- | --- | --- | --- | --- | --- | --- | --- |
| Rk. | SNo | | Name | Typ | sex | FED | Rtg | Club/City | Pts. | TB1 | TB2 | TB3 | TB4 | TB5 | n | w | we | w-we | K | rtg+/- |
| 1 | 1 | IM | Muthaiah Al | | | IND | 2384 | TN | 8,0 | 0,0 | 66,5 | 70,5 | 55,00 | 6 | 10 | 8 | 8,05 | -0,05 | 10 | -0,5 |
| 2 | 5 | IM | Ramnathan Balasubramaniam | | | IND | 2198 | TN | 8,0 | 0,0 | 66,0 | 72,0 | 56,25 | 7 | 10 | 8 | 7,09 | 0,91 | 10 | 9,1 |
| 3 | 3 | GM | Roy Chowdhury Saptarshi | | | IND | 2291 | Rlys | 8,0 | 0,0 | 65,0 | 70,0 | 54,25 | 6 | 10 | 8 | 7,62 | 0,38 | 10 | 3,8 |
| 4 | 2 | IM | Palit Somak | | | IND | 2322 | Rlys | 8,0 | 0,0 | 63,5 | 69,0 | 53,00 | 7 | 10 | 8 | 8,06 | -0,06 | 10 | -0,6 |
| 5 | 7 | FM | Dutta Joydeep | | | IND | 2051 | Rlys | 8,0 | 0,0 | 62,5 | 67,5 | 53,50 | 6 | 10 | 8 | 7,33 | 0,67 | 20 | 13,4 |
| 6 | 4 | IM | Mishra Neeraj-Kumar | | | IND | 2253 | JHAR | 8,0 | 0,0 | 62,0 | 67,0 | 51,75 | 7 | 10 | 8 | 8,59 | -0,59 | 10 | -5,9 |
| 7 | 6 | | Santu Mondal | | | IND | 2088 | CCSC | 7,5 | 0,0 | 62,0 | 67,0 | 48,00 | 6 | 10 | 7,5 | 6,91 | 0,59 | 20 | 11,8 |
| 8 | 16 | | Amlan Mahanta | | | IND | 1759 | ASSAM | 7,5 | 0,0 | 60,5 | 65,5 | 46,25 | 6 | 10 | 7,5 | 6,69 | 0,81 | 20 | 16,2 |
| 9 | 17 | | Iftikar Alom Mazumdar | | | IND | 1750 | ASSAM | 7,5 | 0,0 | 59,5 | 64,0 | 46,25 | 6 | 10 | 7,5 | 6,72 | 0,78 | 20 | 15,6 |
| 10 | 13 | | Himanshu Moudgil | | | IND | 1783 | CCSC | 7,5 | 0,0 | 58,0 | 63,0 | 44,50 | 7 | 9 | 6,5 | 6,08 | 0,42 | 20 | 8,4 |
| 11 | 10 | | Rakesh Chakravorty | | | IND | 1877 | | 7,0 | 0,0 | 61,5 | 66,0 | 43,00 | 6 | 10 | 7 | 6,54 | 0,46 | 20 | 9,2 |
| 12 | 11 | | Neelabh Jyoti Borthakur | | | IND | 1865 | ASSAM | 7,0 | 0,0 | 61,0 | 65,5 | 43,75 | 6 | 10 | 7 | 6,98 | 0,02 | 20 | 0,4 |
| 13 | 23 | | Cheniram Pegu | | | IND | 1684 | ASSAM | 7,0 | 0,0 | 60,5 | 65,5 | 42,00 | 7 | 10 | 7 | 5,56 | 1,44 | 20 | 28,8 |
| 14 | 18 | | Tuhin Kashyap | | | IND | 1730 | ASSAM-DBRG | 7,0 | 0,0 | 59,5 | 64,0 | 40,00 | 7 | 10 | 7 | 5,45 | 1,55 | 40 | 62,0 |
| 15 | 30 | | Rintu Brahma | | | IND | 1651 | ASSAM | 7,0 | 0,0 | 58,5 | 62,5 | 41,75 | 5 | 10 | 7 | 5,28 | 1,72 | 20 | 34,4 |
| 16 | 24 | | Elangbam Shashikanta Singh | | | IND | 1684 | MANI | 7,0 | 0,0 | 56,5 | 61,0 | 40,50 | 6 | 10 | 7 | 6,10 | 0,90 | 20 | 18,0 |
| 17 | 22 | | Akash Tiwari | | | IND | 1695 | WB | 7,0 | 0,0 | 56,0 | 60,5 | 40,75 | 6 | 10 | 7 | 7,52 | -0,52 | 20 | -10,4 |
| 18 | 12 | | Suvankar Maity | | | IND | 1845 | WB | 7,0 | 0,0 | 56,0 | 60,0 | 41,00 | 6 | 10 | 7 | 8,59 | -1,59 | 20 | -31,8 |
| 19 | 14 | | Subhajit Dhar | | | IND | 1775 | ASSAM | 7,0 | 0,0 | 55,0 | 60,0 | 41,25 | 4 | 10 | 7 | 8,48 | -1,48 | 20 | -29,6 |
| 20 | 26 | | Srivastav J.P | | | IND | 1681 | CCSC | 7,0 | 0,0 | 55,0 | 59,5 | 39,50 | 5 | 10 | 7 | 7,78 | -0,78 | 20 | -15,6 |
---