IM Al Muthaiah wins 3rd Holi Cup Lakecity Open 2019
IM Al Muthaiah of Tamil Nadu scored 7.0/8 and won 3rd Holi Cup Lakecity 2019. There was a six-way tie for the pole position. However, Muthaiah edged ahead due to a better tie-break score. This is Muthaiah's third tournament win in 47 days. Lokesh N, Manigandan S S, FM Matta Vinay Kumar, IM Somak Palit and Shubham are the other five players who also scored 7.0/8 and finished from 2nd to 6th position respectively. Top seed IM Sayantan Das finished at 7th position by scoring 6.5/8. Total 436 players including 7 IMs from all over India and a player each from Bangladesh and Nepal took part in this four-day 8-round Swiss League tournament. Total Rs 800000 cash prize was distributed among prize winners along with trophies and medals. Photo: Lakecity Chess
IM Al Muthaiah wins 3rd tournament in 47 days
It is safe to say that IM Al Muthaiah of Tamil Nadu is on fire. He won three tournaments in just 47 days and within the first three months of the year. He won KCA's 18th Open on 12th February, then he won 3rd Shaastra Rapid Rating on 24th February and now he won 3rd Holi Cup Lakecity Open 2019.
Fun fact: Last game Muthaiah lost was on 3rd February in the last round of All India Rapid Rating against Pranesh M. Currently his undefeated streak is at 36 games including 4 tournaments out of which he has won 3 of them.
Here is a game annotated by the champion Al Muthaiah himself against FM Sauravh Khherdekar of Maharashtra from the penultimate round:
An interview was conducted by the author of this article with the man who is on fire lately, IM Al Muthaiah.
Shahid Ahmed (SA): How does it feel to win 3rd Holi Cup Lakecity Open 2019 ? Did you expect to win it before you started your tournament?
Al Muthaiah (AM): It feels great to win a tournament and I am happy about that. I didn't expect to win the tournament as I did not play well in the DCA Open Fide Rating Chess tournament which finished a day before this Lakecity tournament had started. My intention was to play good games.
SA: This is your third tournament win in 47 days and you are undefeated for 36 consecutive games spanning across 3 tournaments. What does it mean to you?
AM: I didn't really know the stats which you are telling me. But yeah it feels great to be undefeated for 36 games.
SA: How does it to feel win three tournaments in such a short span?
AM: It feels good when you win a tournament. My intention is to play good chess in every game and I don't focus much on the results.
SA: What do you do with all the prize money you have won?
AM: I will probably use the prize money to play some abroad tournaments and buy some chess materials.
SA: Whom will you thank for your success?
AM: I would like to thank my family and friends for their support and everyone who has wished well for me.
SA: Who is your coach?
AM: Currently, I am working alone.
SA: What are you doing currently in terms of academics?
AM: I am studying B.Com (General) 2nd year at SRM University, Vadapalani, Chennai.
SA: How much support do you get from family and friends?
AM: My family supports me at all my ups and downs. And my chess friends also support me in every way they could. Especially my college, they provide me OD and take special classes to cope up with my studies.
SA: What's next for you?
AM: I am not playing anything for this month as I am having the semester exams.
SA: Thank you Muthaiah for your time and I wish you all the best in your future endeavors.
AM: Thanks for the interview.
Photo Gallery: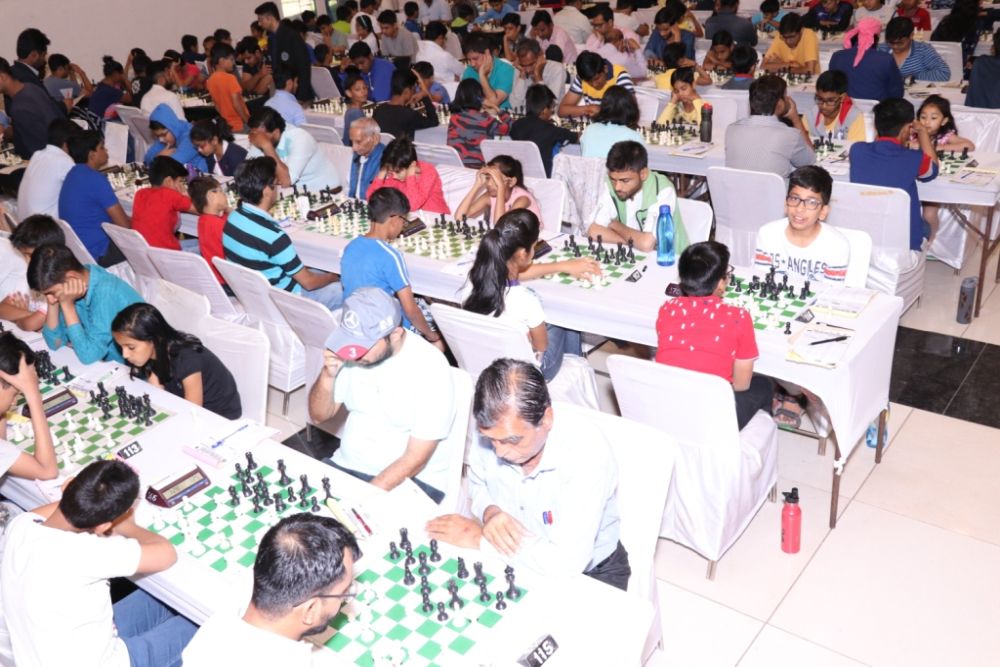 The tournament witnessed over 430 players including 7 IMs from all over India and a player each from Bangladesh and Nepal took part in this four-day 8-round Swiss League tournament. Total Rs 800000 cash prize was distributed among prize winners along with trophies and medals. It was organized by Chess in Lakecity at Orbit Resort in Udaipur, Rajasthan from 28th to 31st March 2019.
Final Standings after Round 8
| | | | | | | | | | | | | | | | |
| --- | --- | --- | --- | --- | --- | --- | --- | --- | --- | --- | --- | --- | --- | --- | --- |
| Rk. | SNo | | | Name | Typ | sex | FED | Rtg | Club/City | Pts. | TB1 | TB2 | TB3 | TB4 | TB5 |
| 1 | 2 | | IM | Muthaiah Al | | | IND | 2426 | TN | 7,0 | 0,0 | 42,0 | 46,5 | 39,75 | 6 |
| 2 | 8 | | | Lokesh N. | | | IND | 2157 | TN | 7,0 | 0,0 | 40,0 | 44,0 | 37,50 | 6 |
| 3 | 9 | | | Manigandan S S | | | IND | 2157 | TN | 7,0 | 0,0 | 39,5 | 43,0 | 36,00 | 6 |
| 4 | 10 | | FM | Matta Vinay Kumar | | | IND | 2146 | AB | 7,0 | 0,0 | 39,0 | 43,5 | 37,50 | 6 |
| 5 | 6 | | IM | Palit Somak | | | IND | 2330 | WB | 7,0 | 0,0 | 38,0 | 41,5 | 36,25 | 6 |
| 6 | 31 | | | Shubham | | | IND | 1880 | DEL | 7,0 | 0,0 | 35,0 | 38,5 | 33,50 | 7 |
| 7 | 1 | | IM | Das Sayantan | | | IND | 2435 | WB | 6,5 | 0,0 | 42,0 | 46,0 | 36,00 | 5 |
| 8 | 3 | | IM | Harikrishnan.A.Ra | | | IND | 2413 | TN | 6,5 | 0,0 | 40,0 | 44,0 | 33,50 | 6 |
| 9 | 4 | | IM | Rajesh V A V | | | IND | 2413 | TN | 6,5 | 0,0 | 40,0 | 43,0 | 33,25 | 6 |
| 10 | 22 | | | Arun Rathi | | | IND | 1939 | HAR | 6,5 | 0,0 | 38,5 | 42,0 | 32,25 | 6 |
| 11 | 14 | | FM | Dutta Joydeep | | | IND | 2097 | WB | 6,5 | 0,0 | 38,0 | 42,5 | 34,25 | 5 |
| 12 | 30 | | | Awadh Chaitanya | | | IND | 1882 | MP | 6,5 | 0,0 | 38,0 | 42,5 | 32,75 | 6 |
| 13 | 7 | | FM | Sauravh Khherdekar | | | IND | 2272 | MAH | 6,5 | 0,0 | 38,0 | 42,0 | 32,50 | 6 |
| 14 | 11 | | | Joshi Govind Ballabh | S55 | | IND | 2128 | DEL | 6,5 | 0,0 | 37,0 | 41,0 | 32,50 | 5 |
| 15 | 15 | | | Rathore S.K. | S55 | | IND | 2092 | MP | 6,5 | 0,0 | 35,0 | 38,5 | 31,25 | 6 |
| 16 | 44 | | | Chandan Mandal | | | IND | 1799 | DEL | 6,5 | 0,0 | 34,5 | 38,5 | 30,25 | 5 |
| 17 | 159 | | | Dhiraj Patil | | | IND | 1425 | MAH | 6,0 | 0,0 | 40,5 | 42,5 | 29,00 | 6 |
| 18 | 34 | | | Ayush Jha | U15 | | IND | 1861 | WB | 6,0 | 0,0 | 38,0 | 42,0 | 29,50 | 5 |
| 19 | 18 | | | Anadkat Kartavya | U15 | | IND | 1998 | GUJ | 6,0 | 0,0 | 38,0 | 41,5 | 29,50 | 5 |
| 20 | 13 | | | Dahale Atul | | | IND | 2102 | MAH | 6,0 | 0,0 | 38,0 | 41,0 | 28,50 | 5 |
| 21 | 36 | | | Chudasama Ankit | | | IND | 1853 | GUJ | 6,0 | 0,0 | 37,5 | 41,0 | 30,50 | 6 |
| 22 | 42 | | | Sanchit Anand | | | IND | 1817 | DEL | 6,0 | 0,0 | 37,0 | 40,5 | 27,50 | 5 |
| 23 | 40 | | | Dubey Sanchay | | | IND | 1828 | UP | 6,0 | 0,0 | 36,5 | 40,0 | 29,00 | 6 |
| 24 | 65 | | | Raj D Vyas | | | IND | 1698 | GUJ | 6,0 | 0,0 | 36,5 | 40,0 | 26,50 | 6 |
| 25 | 47 | | | Nirgun Keval | | | IND | 1779 | MAH | 6,0 | 0,0 | 36,5 | 39,5 | 26,50 | 6 |
| 26 | 64 | | | Cheniram Pegu | | | IND | 1698 | ASS | 6,0 | 0,0 | 36,0 | 40,0 | 28,00 | 6 |
| 27 | 87 | | | Krishnan Ritvik | U13 | | IND | 1607 | MAH | 6,0 | 0,0 | 36,0 | 38,5 | 26,75 | 5 |
| 28 | 46 | | | Shah Moxit J | U13 | | IND | 1785 | GUJ | 6,0 | 0,0 | 35,5 | 39,5 | 28,50 | 5 |
| | 54 | | | Atri Chattopadhyay | U15 | | IND | 1743 | WB | 6,0 | 0,0 | 35,5 | 39,5 | 28,50 | 5 |
| 30 | 68 | | | Chandan Palash N | | | IND | 1689 | MAH | 6,0 | 0,0 | 35,0 | 38,0 | 27,00 | 6 |
---