John Paul Wallace wins 6th Kragero Resort Open 2023, Leon third
by Shahid Ahmed - 08/03/2023
IM John Paul Wallace (AUS) headed into the final round of 6th Kragero Resort Open 2023 with a full point lead 7/8. Despite losing the final round game to GM Titas Stremavicius (LTU), John still managed to finish first on tie-breaks, Titas was placed second. Seven players - GM Leon Luke Mendonca, GM Kaido Kulaots (EST), GM Lucas van Foreest (NED), GM Visakh N R, GM Valery Kazakouski (LTU), IM Elham Abdulrauf (NOR) and FM Saad Abobaker Elmi (NOR) finished with 6.5/9. They were placed third to ninth respectively according to tie-breaks. The top three prizes were NOK 25000, 15000 and 10000 each respectively. Photo: SjakkTromsø
Seven players score 6.5/9
GM Leon Luke Mendonca had a great tournament. His sole loss was against the eventual champion, IM John Paul Wallace (AUS). Apart from Leon, GM Visakh N R was the only other Indian who participated in this event. He scored 6.5/9 and was placed sixth. Leon is currently playing at ChessOrg Festival Bad Woerishofen 2023 where he is in a four-way lead with GM Visakh N R, GM Iniyan P and the reigning Commonwealth Open 2022 champion, IM P Shyam Nikhil with a score of 4.5/6 each.
Leon - Dagur, Round 7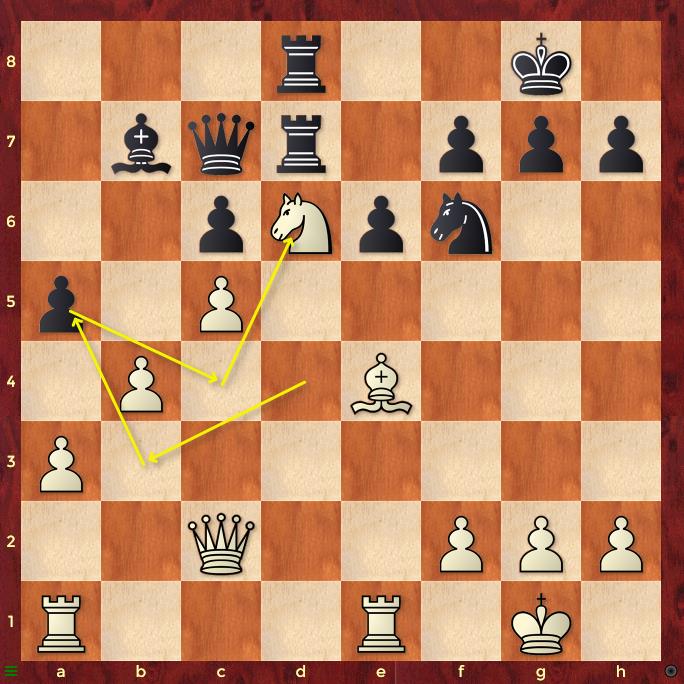 GM Leon Luke Mendonca (2541) did a simple yet effective knight maneuver from d4 to d6 via b3, a5 and c4. The game continued 27...Ba6 28.Rad1 axb4 29.axb4 Rb8 30.Ra1 Bc8 31.Ra4 h6 32.Rea1 and soon Black gave up his queen for a rook and knight. Leon went on to beat FM Dagur Ragnarsson (ISL, 2343) eventually.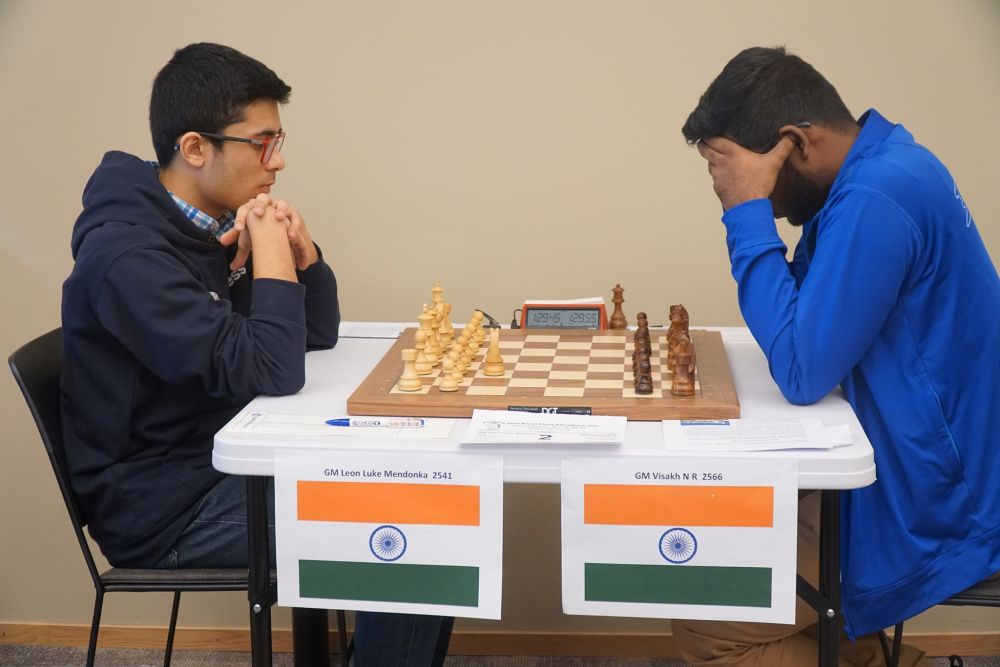 A total of 100 players including 11 GMs, 19 IMs, 5 WGMs and 2 WIMs participated from 23 countries across the world in this five-day nine-round Swiss league Rating tournament. The tournament was organized by IA Truls R Jørgensen - Kragero Chess Club from 22nd to 26th February 2023 at Kragero Resort, Kragero, Norway. The time control for the event was 90 minutes + 30 seconds increment.
Replay all available games
Final standings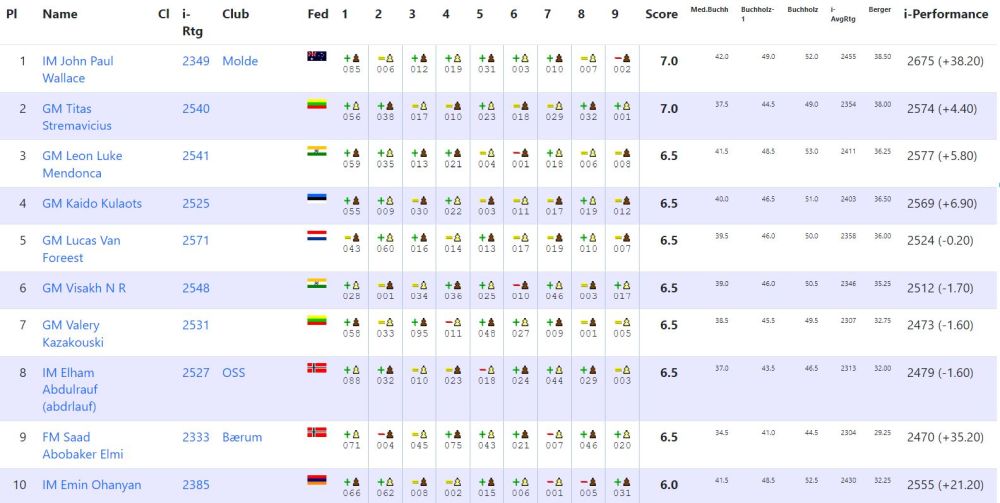 ---
Related news
:
नाकामुरा नें जीता नॉर्वे शतरंज, बने विश्व नंबर 2, तीसरे स्थान पर रहे गुकेश

@ 11/06/2023 by Niklesh Jain (hi)
Nakamura wins 11th Norway Chess 2023 in a photo finish, Gukesh third

@ 10/06/2023 by Shahid Ahmed (en)
11th Norway Chess 2023 R8: Gukesh crushes Tari, now World no.13

@ 09/06/2023 by Shahid Ahmed (en)
नॉर्वे शतरंज 2023 : क्या गुकेश बनाएँगे शीर्ष 3 में जगह

@ 08/06/2023 by Niklesh Jain (hi)
11th Norway Chess 2023 R7: Caruana loses on time in Armageddon against Gukesh

@ 07/06/2023 by Shahid Ahmed (en)
11th Norway Chess 2023 R6: Gukesh wins Armageddon against Giri

@ 06/06/2023 by Shahid Ahmed (en)
11th Norway Chess 2023 R5: Gukesh beats Abdusattorov

@ 05/06/2023 by Shahid Ahmed (en)
11th Norway Chess 2023 R4: Gukesh draws the Classical against Carlsen

@ 04/06/2023 by Shahid Ahmed (en)
11th Norway Chess 2023 R3: Gukesh bests Mamedyarov in Armageddon

@ 02/06/2023 by Shahid Ahmed (en)
नॉर्वे शतरंज R2 : नाकामुरा से हारे गुकेश

@ 01/06/2023 by Niklesh Jain (hi)
11th Norway Chess 2023 R2: Firouzja survives Mamedyarov's exciting attack

@ 01/06/2023 by Shahid Ahmed (en)
नॉर्वे शतरंज 2023 : अलीरेजा को हराकर गुकेश का दमदार आरंभ

@ 31/05/2023 by Niklesh Jain (hi)
11th Norway Chess 2023 R1: Gukesh douses Firouzja at his own game, now World no.15

@ 31/05/2023 by Shahid Ahmed (en)
नॉर्वे शतरंज 2023 : कार्लसन से ब्लिट्ज़ मुक़ाबला जीते गुकेश ,अब आज से क्लासिकल की चुनौती

@ 30/05/2023 by Niklesh Jain (hi)
11th Norway Chess 2023 Blitz: Gukesh beats Carlsen for the first time in a rated game on his 17th birthday

@ 30/05/2023 by Shahid Ahmed (en)
Leon Luke Mendonca clinches Baku Open 2023 with a 2732 performance

@ 13/05/2023 by Shahid Ahmed (en)
An interview with the boy who scored 9/9 - GM Leon Mendonca

@ 26/03/2023 by Himank Ghosh (en)
Leon Luke Mendonca finishes with an immaculate 9/9 after winning 27th Hit Open 2023

@ 24/03/2023 by Shahid Ahmed (en)
Leon Luke Mendonca conquers 27th Hit Open 2023 scoring 8/8 and one round to spare

@ 23/03/2023 by Shahid Ahmed (en)
27th Hit Open 2023 R1-7: Leon Luke Mendonca is in perfect harmony 7/7

@ 22/03/2023 by Shahid Ahmed (en)
अब नॉर्वे शतरंज में नजर आएंगे भारत के गुकेश

@ 15/03/2023 by Niklesh Jain (hi)
Gukesh set to battle Carlsen, Nakamura and co. at 11th Norway Chess 2023

@ 14/03/2023 by Shahid Ahmed (en)
Leon Luke Mendonca triumphs at 38th ChessOrg Festival Bad Woerishofen 2023, Visakh second and Shyam third

@ 14/03/2023 by Shahid Ahmed (en)
Endgame Magic #229: Indian talent Leon Luke Mendonca shows endgame highlights from his games

@ 01/03/2023 by Karsten Müller (en)
Leon Luke Mendonca wins Gold and Silver for Varos Arad at Romanian Superliga Team 2022

@ 11/10/2022 by Shahid Ahmed (en)
Your chance to meet Vishy Anand and the young super talents of Indian chess in Bangalore!

@ 06/09/2022 by Sagar Shah (en)
No-castling chess: GM Prithu Gupta vs IM Tor Fredrik Kaasen

@ 06/08/2022 by Himank Ghosh (en)
Platon Galperin wins 10th Pontevedra Masters, Leon Luke Mendonca third

@ 02/08/2022 by Shahid Ahmed (en)
आनंद से जीते गेलफंड, बने लियॉन मास्टर्स विजेता

@ 12/07/2022 by Niklesh Jain (hi)
Blazing fast Gelfand wins 35th Leon Masters in Playoffs

@ 11/07/2022 by Shahid Ahmed (en)
आनंद और गेलफंड खेलेंगे लियॉन मास्टर्स का फाइनल

@ 10/07/2022 by Niklesh Jain (hi)
35th Leon Masters: Vishy Anand beats Jaime Santos Latasa, advances to the Final

@ 09/07/2022 by Shahid Ahmed (en)
Anand's fantastic performance in Norway Chess!

@ 12/06/2022 by Himank Ghosh (en)
कार्लसन नें रिकॉर्ड 5वीं बार जीता नॉर्वे शतरंज का खिताब

@ 11/06/2022 by Niklesh Jain (hi)
Praggnanandhaa wins Norway Chess Open 2022

@ 11/06/2022 by Shahid Ahmed (en)
Magnus Carlsen clinches his fifth Norway Chess title, Vishy Anand third

@ 11/06/2022 by Shahid Ahmed (en)
10th Norway Chess 2022 R8: Carlsen survives Maxime scare, Anand blunders

@ 10/06/2022 by Shahid Ahmed (en)
10th Norway Chess 2022 R7: Anand scores, Carlsen loses his third Armageddon

@ 08/06/2022 by Shahid Ahmed (en)
नॉर्वे शतरंज - आनंद ने अनीश से हिसाब किया बराबर

@ 07/06/2022 by Niklesh Jain (hi)
10th Norway Chess 2022 R6: Carlsen gains sole lead, Anand wins Armageddon against Giri

@ 07/06/2022 by Shahid Ahmed (en)
10th Norway Chess 2022 R5: 'The Lightning Kid' Anand conquers Carlsen again

@ 06/06/2022 by Shahid Ahmed (en)
नॉर्वे शतरंज - आनंद के साथ अब कार्लसन भी सयुंक्त बढ़त पर

@ 04/06/2022 by Niklesh Jain (hi)
10th Norway Chess 2022 R4: Wesley So ends Anand's unbeaten streak, Carlsen catches up

@ 04/06/2022 by Shahid Ahmed (en)
10th Norway Chess 2022 R3: Anand beats Hao in Armageddon, maintains sole lead

@ 03/06/2022 by Shahid Ahmed (en)
10th Norway Chess 2022 R2: So beats Carlsen again, Anand reenters World top 10

@ 02/06/2022 by Shahid Ahmed (en)
नॉर्वे शतरंज - आनंद का जलवा कायम ,अब टोपालोव को हराया

@ 02/06/2022 by Niklesh Jain (hi)
एमवीएल को मात दे आनंद नें किया नॉर्वे चैस का आरंभ

@ 01/06/2022 by Niklesh Jain (hi)
10th Norway Chess 2022 R1: Accurate Anand strikes Maxime Vachier-Lagrave

@ 01/06/2022 by Shahid Ahmed (en)
नॉर्वे ब्लिट्ज़ :5 साल बाद आनंद नें दी कार्लसन को मात

@ 31/05/2022 by Niklesh Jain (hi)
10th Norway Chess 2022 Blitz: Anand beats Carlsen for the first time in almost five years

@ 31/05/2022 by Shahid Ahmed (en)
Vishy Anand set to clash with Magnus Carlsen and others at 10th Norway Chess 2022 starting today

@ 30/05/2022 by Shahid Ahmed (en)
Leon Luke Mendonca triumphs at Hamburg Chess Club GM Invitational 2022

@ 28/05/2022 by Shahid Ahmed (en)
कार्लसन नें लगातार तीसरी बार जीता "नॉर्वे शतरंज "

@ 18/09/2021 by Niklesh Jain (hi)
Magnificent Carlsen does a hat-trick of Norway Chess triumphs

@ 18/09/2021 by Shahid Ahmed (en)
नॉर्वे शतरंज - कार्याकिन को हराकर कार्लसन नें बनाई बढ़त

@ 17/09/2021 by Niklesh Jain (hi)
Norway Chess R9: Carlsen scores four in-a-row, takes sole lead

@ 17/09/2021 by Shahid Ahmed (en)
नॉर्वे शतरंज 2021 : क्या कार्लसन लगाएंगे ख़िताबी हैट्रिक

@ 16/09/2021 by Niklesh Jain (hi)
Norway Chess R8: Carlsen does a hat-trick by beating Rapport

@ 16/09/2021 by Shahid Ahmed (en)
Norway Chess R7: Rapport overcomes Karjakin, moves to World no.6

@ 15/09/2021 by Shahid Ahmed (en)
Norway Chess R6: Karjakin gets his revenge against Nepomniachtchi

@ 14/09/2021 by Shahid Ahmed (en)
Norway Chess R5: Karjakin beats Carlsen in Classical first time since 2016

@ 13/09/2021 by Shahid Ahmed (en)
Norway Chess R4: Carlsen beats Nepomniachtchi in Armageddon

@ 11/09/2021 by Shahid Ahmed (en)
Norway Chess R3: Rapport misses his chance against Carlsen

@ 10/09/2021 by Shahid Ahmed (en)
Norway Chess R2: Carlsen overcomes the Tari turmoil

@ 09/09/2021 by Shahid Ahmed (en)
Norway Chess R1: Carlsen survives a scare, beats Firouzja in Armageddon

@ 08/09/2021 by Shahid Ahmed (en)
IM Raja Rithvik scores second GM-norm at Skalica Open, Leon finishes third in Masters

@ 06/09/2021 by Shahid Ahmed (en)
Leon makes a double hat-trick of tournament wins

@ 28/06/2021 by Shahid Ahmed (en)
Unstoppable Leon conquers three events in April 2021

@ 02/05/2021 by Shahid Ahmed (en)
नॉर्वे शतरंज अब मई की जगह सितंबर मे होगा

@ 01/04/2021 by Niklesh Jain (hi)
Leon Luke Mendonca becomes unbeaten champion again at 2nd Kumania GM

@ 25/03/2021 by Shahid Ahmed (en)
Leon Luke Mendonca wins 1st Vezerkepzo IM Round-Robin

@ 05/02/2021 by Shahid Ahmed (en)
1st Vezerkepzo IM R8: Leon takes a full point lead heading into the final round

@ 03/02/2021 by Shahid Ahmed (en)
Leon maintains his sole lead at 1st Vezerkepzo IM Round-Robin

@ 02/02/2021 by Shahid Ahmed (en)
Blitz Challenge with India's latest GM Leon Mendonca

@ 08/01/2021 by Shahid Ahmed (en)
14 साल के लियॉन मेदोंसा बने भारत के 67वे ग्रांड मास्टर

@ 05/01/2021 by Niklesh Jain (hi)
लियॉन नें जीता कुमानिया इंटरनेशनल शतरंज

@ 02/12/2020 by Niklesh Jain (hi)
Leon Mendonca wins Kumánia Championship

@ 02/12/2020 by Shahid Ahmed (en)
Leon and Souhardo dominate First Saturday November 2020

@ 18/11/2020 by Shahid Ahmed (en)
Leon wins Budapest Rigochess and makes his his maiden GM-norm

@ 27/10/2020 by Shahid Ahmed (en)
लियॉन को ग्रांड मास्टर नार्म ! रेटिंग भी 2500 पार

@ 26/10/2020 by Niklesh Jain (hi)
अरोनियन से हारकर भी कार्लसन नें जीता नॉर्वे शतरंज

@ 17/10/2020 by Niklesh Jain (hi)
Altibox Norway Chess R10: Aronian beats Carlsen

@ 17/10/2020 by Shahid Ahmed (en)
नॉर्वे शतरंज R9 : एक राउंड पहले ही कार्लसन विजेता

@ 16/10/2020 by Niklesh Jain (hi)
Carlsen wins Altibox Norway Chess 2020 with a round to spare

@ 16/10/2020 by Shahid Ahmed (en)
नॉर्वे शतरंज R8 : मेगनस कार्लसन नें फिर बनाई बढ़त

@ 14/10/2020 by Niklesh Jain (hi)
Altibox Norway Chess R8: Carlsen regains his sole lead

@ 14/10/2020 by Shahid Ahmed (en)
Altibox Norway Chess R7: Firouzja maintains his sole lead

@ 13/10/2020 by Shahid Ahmed (en)
नॉर्वे शतरंज R 7 - अलीरेजा फिरौजा की बढ़त बरकरार

@ 13/10/2020 by Niklesh Jain (hi)
नॉर्वे शतरंज R6 : 17 वर्षीय अलीरेजा नें बनाई एकल बढ़त

@ 12/10/2020 by Niklesh Jain (hi)
Altibox Norway Chess R6: Carlsen avenges his loss

@ 12/10/2020 by Shahid Ahmed (en)
Jan-Krzysztof Duda ends Carlsen's 125-game unbeaten streak

@ 11/10/2020 by Shahid Ahmed (en)
802 दिन बाद : 125 मुकाबलों बाद हारे मेगनस कार्लसन

@ 11/10/2020 by Niklesh Jain (hi)
Altibox Norway Chess R4: Carlsen takes sole lead

@ 09/10/2020 by Shahid Ahmed (en)
नॉर्वे शतरंज R4 : करूआना को हरा कार्लसन सबसे आगे

@ 09/10/2020 by Niklesh Jain (hi)
नॉर्वे शतरंज R 3 : मेगनस कार्लसन को मिली पहली जीत

@ 08/10/2020 by Niklesh Jain (hi)
Altibox Norway Chess R3: Firouzja beats Caruana in the Armageddon

@ 08/10/2020 by Shahid Ahmed (en)
नॉर्वे शतरंज :R 2 : फबियानों की लगातार दूसरी जीत

@ 07/10/2020 by Niklesh Jain (hi)
Altibox Norway Chess R2: Carlsen survives a massive scare

@ 07/10/2020 by Shahid Ahmed (en)
Altibox Norway Chess R1: Carlsen starts with an Armageddon victory

@ 06/10/2020 by Shahid Ahmed (en)
कार्लसन के नमस्कार से शुरू हुआ नॉर्वे शतरंज 2020

@ 06/10/2020 by Niklesh Jain (hi)
नॉर्वे शतरंज - 211 दिन बाद :ऑन द बोर्ड कार्लसन

@ 05/10/2020 by Niklesh Jain (hi)
Carlsen returns to OTB at Altibox Norway Chess 2020

@ 05/10/2020 by Shahid Ahmed (en)
तैयार हो जाये आ रहा है नॉर्वे शतरंज क्लासिकल

@ 29/09/2020 by Niklesh Jain (hi)
Stranded in Budapest – but rewarded by the world's best! + Anand returns!

@ 30/05/2020 by Lyndon Mendonca (en)
Lucena in Lockdown #2: IM Leon Mendonca

@ 09/04/2020 by Avathanshu Bhat (en)
Ivanchuk's endgame sorcery overcomes Nihal's youthful magic!

@ 06/07/2019 by Tanmay Srinath (en)
How Magnus Carlsen's exploits changed chess from a minor sport in Norway to prime time television!

@ 17/06/2019 by Tanmay Srinath (en)
नॉर्वे शतरंज 2019 – मेगनस कार्लसन बने विजेता ! आनंद को सातवाँ स्थान

@ 15/06/2019 by Niklesh Jain (hi)
Caruana's London Redemption and Yu Yangyi's Stirring Finish!

@ 15/06/2019 by Tanmay Srinath (en)
Magnus Carlsen wins Norway Chess 2019 with one round to spare!

@ 14/06/2019 by Tanmay Srinath (en)
Carlsen's Cascade and Ding's Annihilator underline an inexorable day!

@ 13/06/2019 by Tanmay Srinath (en)
नॉर्वे शतरंज 2019 - तीन जीत के बाद हारे आनंद

@ 11/06/2019 by Niklesh Jain (hi)
Fatigue supersedes brilliance as Carlsen continues to march ahead

@ 11/06/2019 by Tanmay Srinath (en)
Norway 2019 Round 5: Aronian's trickery and Vishy's consecutive Armageddon wins!

@ 10/06/2019 by Tanmay Srinath (en)
Norway 2019 Round 4: The Tiger Roars, while the Mozart of Chess eases through!

@ 09/06/2019 by Tanmay Srinath (en)
From Hollandaise sauce to Salmon, Vishy Anand is unbeatable as a chef!

@ 08/06/2019 by Sagar Shah (en)
नॉर्वे शतरंज 2019 - आनंद की वापसी आगे और चुनौती

@ 08/06/2019 by Niklesh Jain (hi)
Norway 2019 Round 3: Carlsen's Alpha Zero Strategy amidst an uncompromising day!

@ 07/06/2019 by Tanmay Srinath (en)
Norway Chess 2019 Round 2: Caruana's Norwegian Immortal and Mamedyarov's Tai-Chi Reversal!

@ 06/06/2019 by Tanmay Srinath (en)
Norway Chess 2019 Round 1: Armaggeddon Crazy Chess at Norway 2019!

@ 05/06/2019 by Tanmay Srinath (en)
Norway Blitz: Hurricane MVL destroys the competition, moves to world no.1 with 2948 Elo!

@ 04/06/2019 by Tanmay Srinath (en)
Home Front - The Hidden Bane of Top Level Chess

@ 03/06/2019 by Tanmay Srinath (en)
नॉर्वे शतरंज 2019- क्या आनंद दोहराएंगे परिणाम ?

@ 01/06/2019 by Niklesh Jain (hi)
12 साल के लियॉन बने भारत के नए इंटरनेशनल मास्टर

@ 18/02/2019 by Niklesh Jain (hi)
12-year-old Leon Mendonca creates history by scoring three IM norms in 17 days!

@ 17/02/2019 by Sagar Shah (en)
11-year-old Nihal Sarin has a plan!

@ 27/04/2016 by Dirk Jan ten Geuzendam (en)