Leon Mendonca wins Kumánia Championship
by Shahid Ahmed - 02/12/2020
IM Leon Mendonca won his second tournament in Hungary in two weeks as he scored an unbeaten 9.0/11 to win Kumánia Championship. Two weeks ago Leon won First Saturday GM November. The tournament was only an IM-norm event, so Leon's search for the final GM-norm to become India's 67th GM is still on. We hope he becomes one before the year concludes. He is also the brand ambassador of Geno and Microsense for a reason. He continues his quest with his determination and shows everyone that one should not get distracted from their goals even in the face of adversity. Photo: Lyndon Mendonca
Leon becomes unbeaten champion for the second time in two weeks
Brand Ambassador of Geno and Microsense IM Leon Mendonca won his second tournament in November by scoring 9.0/11. Once again he remained undefeated on his path to championship. This was an IM-norm tournament only, so Leon's quest for the third and final GM-norm to become India's 67th GM is still on. Leon won a beautiful trophy and 200000 Hungarian Forint (about ₹50000) for his efforts.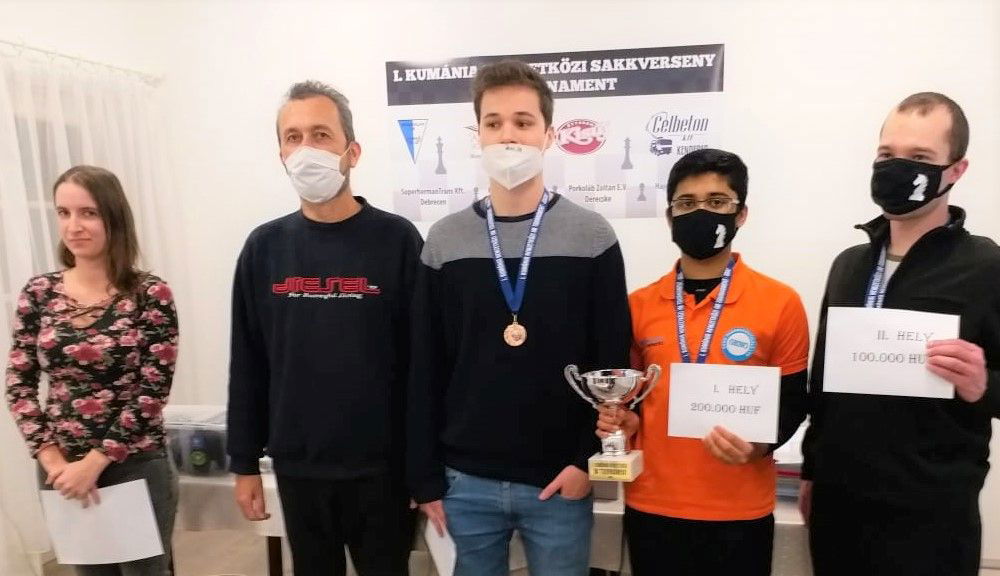 Endgame endurance
In the first round, Leon faced GM Gergely Aczel. In the seemingly equal Queen and minor piece endgame, Leon's opponent made an inaccuracy.
Leon - Aczel, Round 1
Find out why 37...f3+ is a mistake and what black could have played instead. Leon comfortably converted his advantage into a full point in the next 13 moves.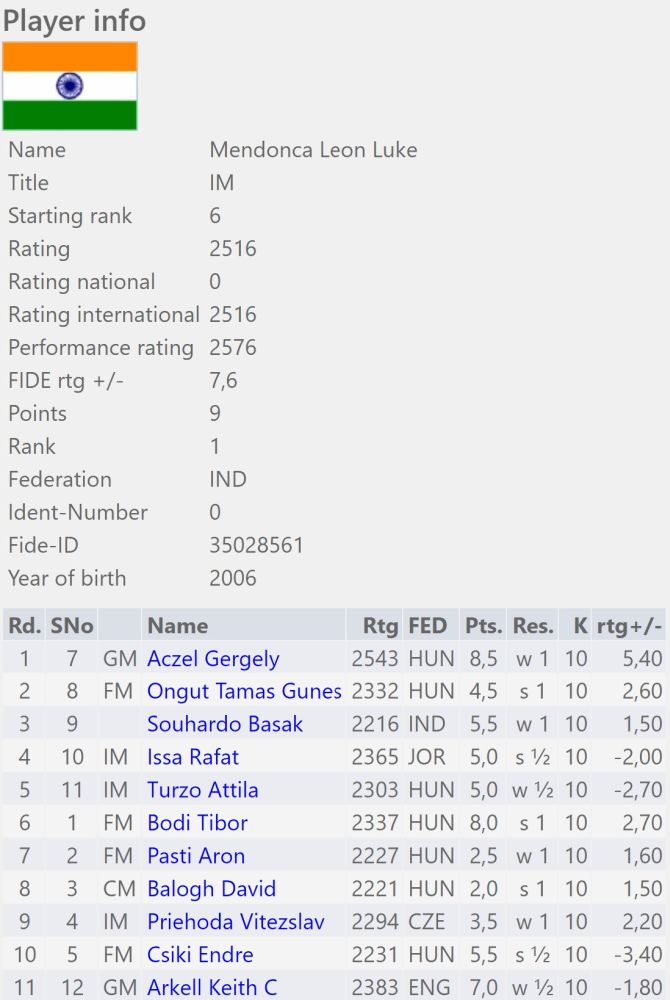 Replay Leon's games
Souhardo Basak was the only other Indian playing in this tournament. He scored 5.5/11 and missed his final IM-norm. His best win was against IM Vietzslav Priehoda in the first round.
Priehoda - Souhardo, Round 1
Find out why 20.h3 is a blunder.
The tournament was held in Kisújszállás, Hungary from 21st to 29th November 2020, organized by Kisújszállási Sportegyesület.
Final Standings
| | | | | | | | | | | | | |
| --- | --- | --- | --- | --- | --- | --- | --- | --- | --- | --- | --- | --- |
| Rk. | SNo | | | Name | FED | Rtg | Pts. | TB1 | TB2 | TB3 | K | rtg+/- |
| 1 | 6 | | IM | Mendonca Leon Luke | IND | 2516 | 9,0 | 45,75 | 7 | 0,0 | 10 | 7,6 |
| 2 | 7 | | GM | Aczel Gergely | HUN | 2543 | 8,5 | 40,00 | 8 | 0,0 | 10 | -0,9 |
| 3 | 1 | | FM | Bodi Tibor | HUN | 2337 | 8,0 | 36,50 | 7 | 0,0 | 20 | 47,2 |
| 4 | 12 | | GM | Arkell Keith C | ENG | 2383 | 7,0 | 31,50 | 5 | 0,0 | 10 | 6,6 |
| 5 | 9 | | | Souhardo Basak | IND | 2216 | 5,5 | 27,50 | 4 | 0,0 | 20 | 34,8 |
| 6 | 5 | | FM | Csiki Endre | HUN | 2231 | 5,5 | 26,50 | 3 | 0,0 | 20 | 30,2 |
| 7 | 11 | | IM | Turzo Attila | HUN | 2303 | 5,0 | 25,50 | 3 | 0,0 | 10 | -0,8 |
| 8 | 10 | | IM | Issa Rafat | JOR | 2365 | 5,0 | 21,00 | 4 | 0,0 | 10 | -10,8 |
| 9 | 8 | | FM | Ongut Tamas Gunes | HUN | 2332 | 4,5 | 17,75 | 4 | 0,0 | 20 | -20,8 |
| 10 | 4 | | IM | Priehoda Vitezslav | CZE | 2294 | 3,5 | 13,25 | 2 | 0,0 | 10 | -14,6 |
| 11 | 2 | | FM | Pasti Aron | HUN | 2227 | 2,5 | 11,50 | 2 | 0,0 | 20 | -28,6 |
| 12 | 3 | | CM | Balogh David | HUN | 2221 | 2,0 | 9,75 | 0 | 0,0 | 20 | -37,0 |
Links
---