27th Hit Open 2023 R1-7: Leon Luke Mendonca is in perfect harmony 7/7
GM Leon Luke Mendonca made a stellar start at 27th Hit Open 2023. He has won seven games in a row and his current performance is 3202. He is already gaining 21.1 Elo rating points so far and it seems like he wants to storm into 2600. The recently turned 17-year-old has defeated GM Marko Tratar (SLO), GM Ognjen Cvitan (CRO), GM Aleksa Strikovic (SRB), IM Matthew J Wadsworth (ENG) and GM Sabino Brunello (ITA) among the seven victories. He is now a staggering two points ahead of the field which means he needs a minimum two draws in the last two rounds to win the tournament. We wouldn't be surprised if Leon wants to go for a rare feat of 9/9 to finish first. The ninth round will be GM Nigel Davies (ENG). Round 8 starts today at 5 p.m. local time, 9:30 p.m. IST. Photo: Chess Club Nova Gorica
Leon is poised to create another record
Two days before his 17th birthday, the brand ambassador of Geno and Microsense, GM Leon Luke Mendonca created history along with GM Visakh N R and the reigning Commonwealth 2022 champion, IM P Shyam Nikhil. In the previous 26 editions of Hit Open, no Indian players have ever made a podium finish, let alone win the tournament. Leon is certainly well placed to become the champion. The question is what will be the final score, he will aim for.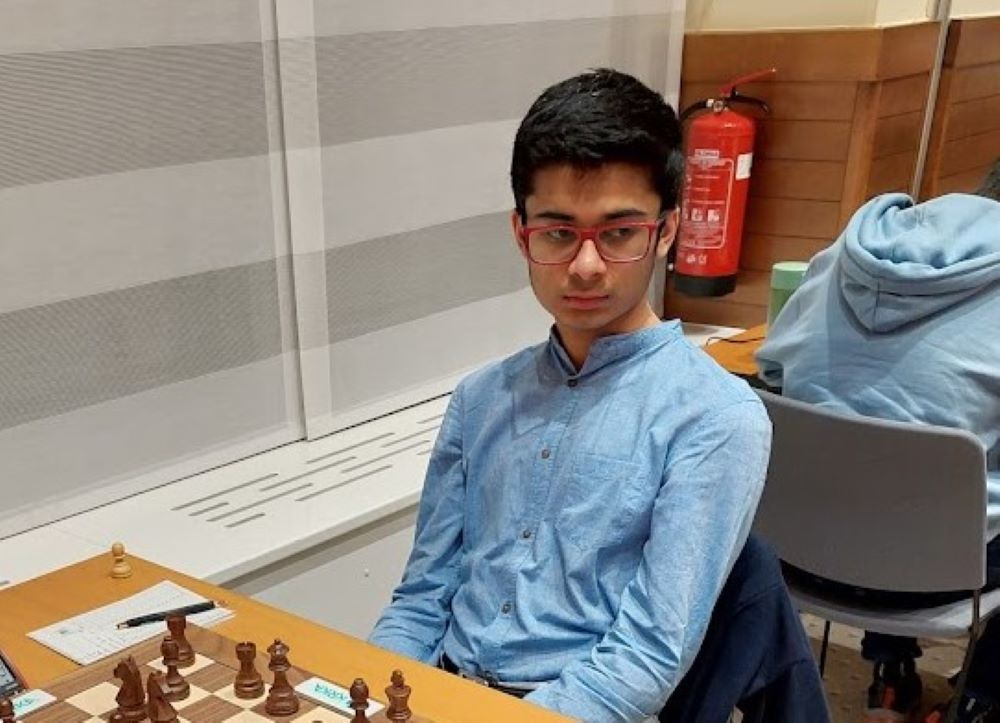 Wadsworth - Leon, Round 6
GM Leon Luke Mendonca (2558) made a very nice finish against the defending champion, IM Matthew J Wadsworth (ENG, 2439). 51...Rf4+ forced White to resign as 51.g4/gxf4 runs into Bf2# and 52.Bg4 is lost anyway after Rxg4+
Leon - Sabino, Round 7
Leon's well-coordinated pieces and a space advantage made it difficult to find something good to play for the Italy no.7 GM Sabino Brunello (2512). He made a tactical error 22...Be6 as it dropped the a5-pawn 23.Nxa5. He gave up another pawn 23...Bf7 24.Nxb7 Bf6 25.a5 and White's protected passed pawn on a5-file eventually helped him to win the game.
A total of 84 players including 10 GMs and an IM are taking part in the A group (>1500) from 13 countries across the world. The eight-day nine-round Swiss league Rating tournament is organized by Chess Club Nova Gorica in Nova Gorica, Slovenia from 16th to 23rd March 2023. The time control of the tournament is 90 minutes + 30 seconds increment from move no.1.
Replay Round 1-7 games
Round 7 results
| | | | | | | | | | | | | | | |
| --- | --- | --- | --- | --- | --- | --- | --- | --- | --- | --- | --- | --- | --- | --- |
| Bo. | No. | | | Name | Rtg | Pts. | Result | Pts. | | Name | Rtg | | No. | PGN |
| 1 | 1 | | GM | Mendonca, Leon Luke | 2558 | 6 | 1 - 0 | 4½ | GM | Brunello, Sabino | 2512 | | 2 | PGN |
| 2 | 11 | | GM | Davies, Nigel R | 2380 | 4½ | ½ - ½ | 4 | GM | Cvitan, Ognjen | 2446 | | 4 | PGN |
| 3 | 18 | | FM | Goroshkov, Maksym | 2265 | 4 | ½ - ½ | 4 | GM | Strikovic, Aleksa | 2446 | | 5 | PGN |
| 4 | 17 | | FM | Beletic, Daniel | 2269 | 4 | 0 - 1 | 4 | IM | Wadsworth, Matthew J | 2439 | | 6 | PGN |
| 5 | 30 | | | Perossa, Nicolas | 2141 | 4 | ½ - ½ | 4 | FM | Favaloro, Andrea | 2407 | | 8 | PGN |
| 6 | 9 | | GM | Tratar, Marko | 2397 | 4 | 1 - 0 | 4 | | Zamar Kodelja, Jurij | 2254 | | 20 | PGN |
| 7 | 24 | | | Gregoric, Andraz | 2206 | 4 | 0 - 1 | 4 | FM | Tisaj, Domen | 2372 | | 12 | PGN |
| 8 | 13 | | GM | Drazic, Sinisa | 2368 | 4 | 1 - 0 | 4 | CM | Garsky, Vladyslav | 2253 | | 21 | PGN |
| 9 | 54 | | | Kozlovic, Jernej | 1878 | 4 | 1 - 0 | 4 | FM | Van Dael, Siem | 2312 | | 16 | PGN |
| 10 | 3 | | GM | Beliavsky, Alexander G | 2499 | 3½ | 1 - 0 | 4 | FM | Belli, Giorgio | 2192 | | 25 | PGN |
Round 8 pairings
| | | | | | | | | | | | | | |
| --- | --- | --- | --- | --- | --- | --- | --- | --- | --- | --- | --- | --- | --- |
| Bo. | No. | | | Name | Rtg | Pts. | Result | Pts. | | Name | Rtg | | No. |
| 1 | 1 | | GM | Mendonca, Leon Luke | 2558 | 7 | | 5 | GM | Davies, Nigel R | 2380 | | 11 |
| 2 | 6 | | IM | Wadsworth, Matthew J | 2439 | 5 | | 5 | GM | Tratar, Marko | 2397 | | 9 |
| 3 | 12 | | FM | Tisaj, Domen | 2372 | 5 | | 5 | | Kozlovic, Jernej | 1878 | | 54 |
| 4 | 5 | | GM | Strikovic, Aleksa | 2446 | 4½ | | 5 | GM | Drazic, Sinisa | 2368 | | 13 |
| 5 | 2 | | GM | Brunello, Sabino | 2512 | 4½ | | 4½ | FM | Goroshkov, Maksym | 2265 | | 18 |
| 6 | 14 | | FM | Lavrencic, Matic | 2319 | 4½ | | 4½ | GM | Beliavsky, Alexander G | 2499 | | 3 |
| 7 | 4 | | GM | Cvitan, Ognjen | 2446 | 4½ | | 4½ | | Perossa, Nicolas | 2141 | | 30 |
| 8 | 8 | | FM | Favaloro, Andrea | 2407 | 4½ | | 4½ | | Pennica, Andrea | 2094 | | 34 |
| 9 | 42 | | CM | Chinguun, Bayaraa | 2013 | 4½ | | 4½ | FM | Bifulco, Michel | 2312 | | 15 |
| 10 | 10 | | FM | Dobrovoljc, Vid | 2384 | 4 | | 4 | | Chubakov, Sultan | 2190 | | 27 |
Links
---