Leon Luke Mendonca triumphs at 38th ChessOrg Festival Bad Woerishofen 2023, Visakh second and Shyam third
GM Leon Luke Mendonca and GM Visakh N R scored an unbeaten 7.5/9 each. Leon won 38th ChessOrg Festival Bad Woerishofen 2023 due to better tie-breaks, Visakh had to settle for the second place. They both finished a full point ahead of the field. Eight players scored 6.5/9 each. Four among them are Indians. The reigning Commonwealth 2022 Open Gold medalist, IM P Shyam Nikhil third, GM Iniyan P fourth, IM Nitin S seventh and GM Vignesh N R secured ninth place according to tie-breaks. The top three prizes in Group A (>1850) were €2000, 1400 and 900 along with a trophy each respectively. Leon, Visakh and Shyam create a new record by becoming the first Indians to make a podium finish at this event in its 37+ years of rich history.
Indians create history, claim top four and six out of top ten
In all previous 37 editions, no Indians ever made a podium finish, let alone win the tournament. Brand ambassador of Geno and Microsense, GM Leon Luke Mendonca created history by becoming the first Indian to win the tournament. In fact, GM Visakh N R and IM P Shyam Nikhil also etched their names in the record books by securing second and third place respectively. The previous best by an Indian was a fourth place finish in 2006 by GM Parimarjan Negi. This is Leon's second consecutive podium finish of the year, after he secured a third place finish last month at 6th Kragero Resort Chess 2023. His next event is 27th Hit Open 2023 in Nova Gorica, Slovenia which starts from 16th March. Leon is slated to be the top seed of the A group.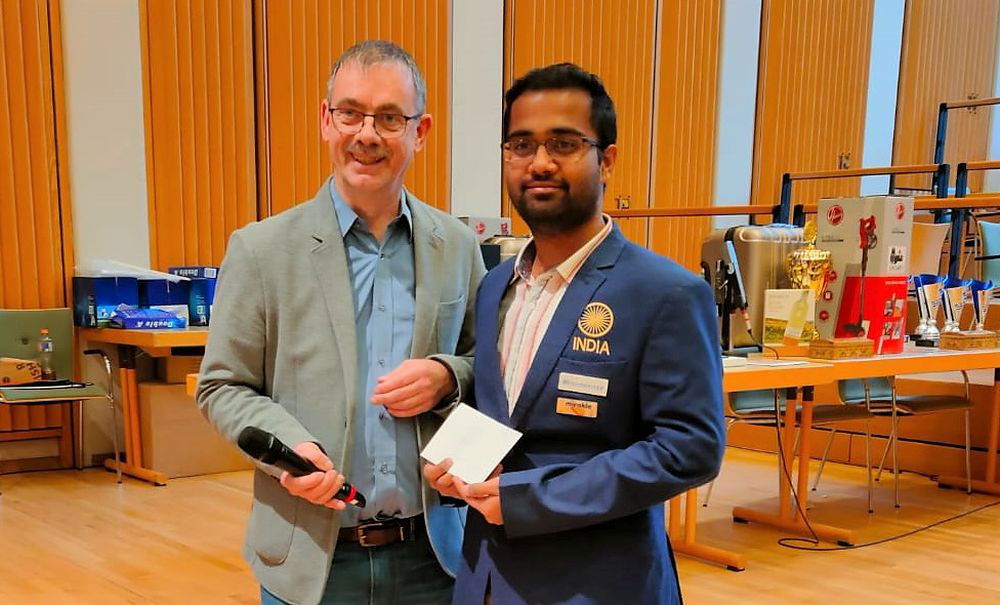 Leon - Levin, Round 8
GM Leon Luke Mendonca (2558) is so technically sound that his opponent GM Felix Levin's (GER, 2456) small inaccuracy, cost him the game. 37...Rec6 removes the support of the e4-pawn. After 38.Re5 Rc2 39.Rd6+ Kg7 40.a4 R2c3 41.Rb6 there is no way for Black to defend the e4-pawn. White went on to win the game comfortably. What Black could have done was, keep his rook at e6 to defend the e4-pawn and okay 37...Kg7 or Rce7 to keep the game going. This win put Leon in the sole lead 7/8 and he moved a half point ahead of GM Visakh N R 6.5/8, heading into the final round.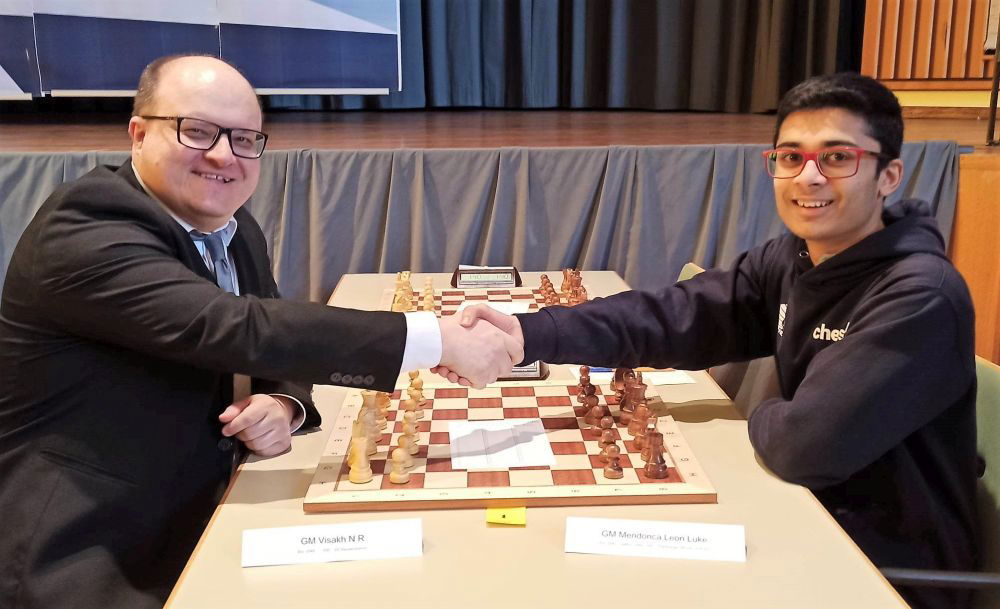 A special thanks to IO IA Gerhard Bertagnolli for sharing the games and photos.
A total of 130 players including 7 GMs, 10 IMs and 2 WIMs took part in the Open (>1850) category from various countries across the world. The nine-day nine-round Swiss league Rating tournament was organized by ChessOrg at Bad Woerishofen in Germany from 3rd to 11th March 2023. The time control of the tournament was 40 moves in 100 minutes + 30 minutes for the rest, 30 seconds increment from move no.1.
Replay Round 1-9 games
Final standings
| No | startNb | title | name | elo | club | pts | buchh. | BuSu |
| --- | --- | --- | --- | --- | --- | --- | --- | --- |
| 1 | 1 | GM | Mendonca,Leon Luke | 2558 | Hamburger SK von 1830 eV | 7,5 | 56 | 448,5 |
| 2 | 2 | GM | Visakh N R | 2538 | SC Heusenstamm | 7,5 | 55,5 | 457 |
| 3 | 5 | IM | Shyaamnikhil P | 2477 | | 6,5 | 55 | 432 |
| 4 | 3 | GM | Iniyan,P | 2515 | | 6,5 | 53,5 | 432 |
| 5 | 7 | GM | Kovchan,Alexander | 2447 | | 6,5 | 52,5 | 441,5 |
| 6 | 9 | IM | Pfreundt,Jakob | 2407 | HSK Lister Turm | 6,5 | 50,5 | 435 |
| 7 | 11 | IM | Nitin,S. | 2381 | | 6,5 | 49 | 418,5 |
| 8 | 8 | GM | Levin,Felix | 2456 | Duesseldorfer SK 14/25 e. V. | 6,5 | 49 | 416,5 |
| 9 | 4 | IM | Vignesh N R | 2513 | | 6,5 | 49 | 408 |
| 10 | 13 | FM | Meissner,Felix | 2359 | Hamburger SK | 6,5 | 44,5 | 411 |
| 11 | 6 | GM | Korneev,Oleg | 2476 | | 6 | 50 | 402,5 |
| 12 | 14 | FM | Panesar Vedant | 2348 | | 6 | 49,5 | 424,5 |
| 13 | 68 | | Beisteiner,Joachim | 2055 | Tschaturanga | 6 | 49,5 | 403,5 |
| 14 | 26 | WIM | Sahithi Varshini M | 2262 | | 6 | 47 | 409,5 |
| 15 | 89 | WCM | Ismayil,Malak | 2011 | | 6 | 46,5 | 392,5 |
Links
---