Sayantan Das wins Chessemy Open 2023
GM Sayantan Das and IM Nikolas Lubbe scored 7/9 each and remained undefeated. However, India's latest GM Sayantan Das won Chessemy Open 2023 A due to better tie-break score. The fourth round encounter between them ended in a well contested draw. Nikolas scored his final GM-norm at this event to become Germany's latest Grandmaster. Four players - GM Vladimir Baklan, GM Diptayan Ghosh, FM Jasper Holtel and GM Ilja Zaragatski scored 6.5/9 each. They were placed third to sixth according to tie-breaks. IM Arghyadip Das and WGM Priyanka Nutakki scored 6/9 each. They secured eighth and ninth places. Priyanka was the top female performer and only woman to finish in top 30. The total prize fund was €6650. Top three prizes were €1200, €800 and €600 each respectively. Photo: IM FI Jonathan Carlstedt/Chessemy
Sayantan keeps winning, Nikolas Lubbe becomes Germany's latest Grandmaster
This was the second consecutive Classical tournament India's 81st and latest GM Sayantan Das. His previous triumph was at 6th Cannes Chess Open A in February last week.
IM Nikolas Lubbe had two GM-norms and crossed 2500 in September 2015 FIDE Rating list. However, he needed one final GM-norm to become Germany's latest Grandmaster. He earned his final GM-norm here at Chessemy Open 2023 A and became a GM after a nearly eight-year-long wait.
Sayantan - Holtel, Round 6
29.Nxc3 bxc4 30.Bxg7 cxb3 31.axb3 Nxa5 32.Rh1 is winning for White according to the computer but we do not have to agree with it. However, the beauty of chess lies in the fact that a human can think something extravagant 29.Nd5+! exd5 30.Bxg7 f6 31.exd5 N6e5 32.Rde1 Kf7 33.Bxh6 Kg6 34.f4 Nxg4 35.fxg5 Nce5 36.Nd4 fxg5 37.Bxg5 Kxg5 38.Ne6+ Kg6 39.Nxd8 Rxd8 40.Rf4 Ra8 41.b4 seems more winning for White than what computer suggests. The three extra pawns played a major role in shifting the balance towards White's favor.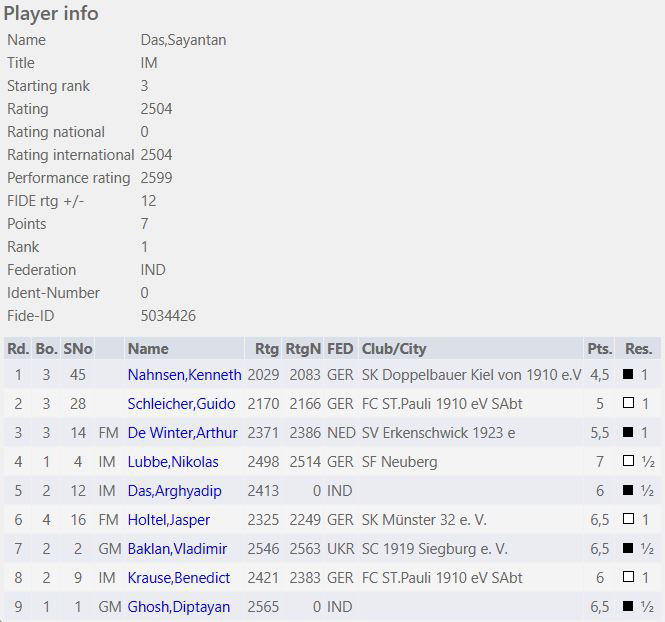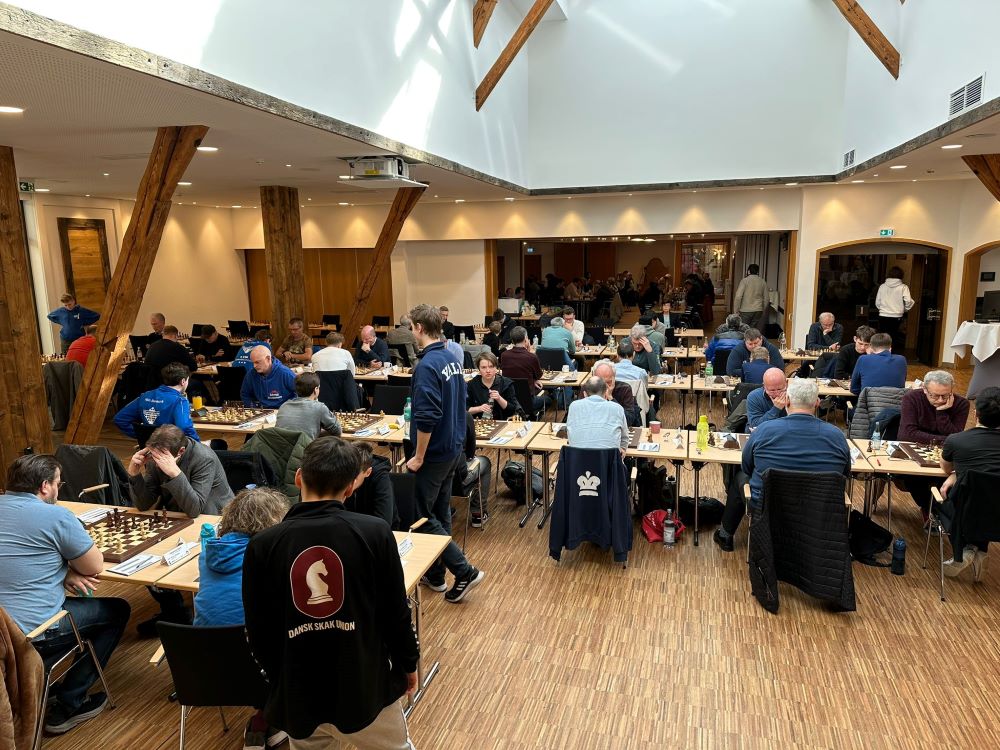 A special thanks to IM FI Jonathan Carlstedt of Chessemy for sharing the photos and info about the tournament.
A total of 86 players including 4 GMs, 8 IMs, a WGM and a WIM took part in Open A from seven countries all over the world. The nine-day nine-round Swiss league Rating tournament was organized by IM FI Jonathan Carlstedt at Hotel Forellenhof in Walsrode, Germany from 4th to 12th March 2023. The time control of the tournament was 40 moves in 90 minutes + 30 minutes with 30 seconds increment from move no.1.
Replay Round 1-9 Open A games
Final standings
| | | | | | | | | | | | | |
| --- | --- | --- | --- | --- | --- | --- | --- | --- | --- | --- | --- | --- |
| Rk. | SNo | | Name | sex | FED | Rtg | RtgN | Club/City | Pts. | TB1 | TB2 | TB3 |
| 1 | 3 | IM | Das,Sayantan | M | IND | 2504 | 0 | | 7 | 53,5 | 40,50 | 5 |
| 2 | 4 | IM | Lubbe,Nikolas | M | GER | 2498 | 2514 | SF Neuberg | 7 | 51 | 38,25 | 5 |
| 3 | 2 | GM | Baklan,Vladimir | M | UKR | 2546 | 2563 | SC 1919 Siegburg e. V. | 6,5 | 54 | 38,00 | 4 |
| 4 | 1 | GM | Ghosh,Diptayan | M | IND | 2565 | 0 | | 6,5 | 53,5 | 37,00 | 5 |
| 5 | 16 | FM | Holtel,Jasper | M | GER | 2325 | 2249 | SK Münster 32 e. V. | 6,5 | 49 | 33,50 | 5 |
| 6 | 6 | GM | Zaragatski,Ilja | M | GER | 2493 | 2477 | SC Viernheim 1934 e.V. | 6,5 | 47,5 | 33,00 | 5 |
| 7 | 5 | GM | Poetsch,Hagen | M | GER | 2496 | 2505 | SC Heusenstamm | 6 | 49 | 31,00 | 3 |
| 8 | 12 | IM | Das,Arghyadip | M | IND | 2413 | 0 | | 6 | 48,5 | 31,00 | 4 |
| 9 | 18 | WGM | Priyanka Nutakki | W | IND | 2318 | 0 | | 6 | 48 | 29,50 | 5 |
| 10 | 19 | FM | Kuegel,Tobias | | GER | 2314 | 2272 | SK Kirchweyhe 1947 | 6 | 48 | 29,25 | 4 |
Links
---