Sayantan Das convincingly clinches 6th Cannes Chess Open 2023, becomes India's 81st Grandmaster
IM Sayantan Das won 6th Cannes Chess Open A part of 36th International Games Festival. He defeated the top seed of the tournament, GM Alexander Motylev in the final round to become a clear champion 7.5/9. This win also helped him to cross 2500 in the live ratings and become India's 81st and Kolkata, West Bengal's 11th Grandmaster. The total prize fund of the tournament was €8000. The top three prizes were €1800, €1200 and €700 along with a trophy each. Sayantan had fulfilled all the norm requirements in January 2017. However, he finally completed the rating requirements on Sunday 26th February 2023. GM Diptayan Ghosh is the only other Indian to make a top ten finish, scoring 7/9 and was placed fourth. Photo: Susan Polgar
Six year long wait is finally over for Sayantan
The 2008 World U-12 Gold medalist has had a GM strength for over six years. However, the 2500 rating kept alluring him despite getting close to it several times. The final obstacle was overcome in a fantastic manner as he won the 6th Cannes Chess Open and took his live rating to 2504. We will have a detailed interview of Sayantan to know his journey, once he is back home..
Fun fact: All three GMs India got this year have won their tournaments when they became a GM by crossing 2500 in the live ratings. 79th - Pranesh won Rilton Cup 2022-23, 80th - Vignesh N R clinched 24th NordWest Cup 2023 and now 81st - Sayantan Das became champion at 6th Cannes Open 2023.
IM Sayantan Das (2468) gained sole lead 6.5/8 heading into the final round. He was paired against the European 2014 champion and the coach of former world championship challenger, Sergey Karjakin.
Motylev - Sayantan, Round 9
Sayantan defended for the better part of the game against Motylev. He kept fighting and eventually his opponent made an incorrect break in the major piece endgame. 35.c4 dxc4 36.Rb4 Qd5 37.Qe7+ Kb8 38.Qe5+ Qxe5 39.dxe5 e3 40.e6 e2 41.Rb1 fxe6 and White resigned. This win made him a clear champion and helped him cross 2500 in the live ratings to become India's latest Grandmaster. He also scored a fifth GM-norm with his performance, not that he needed it.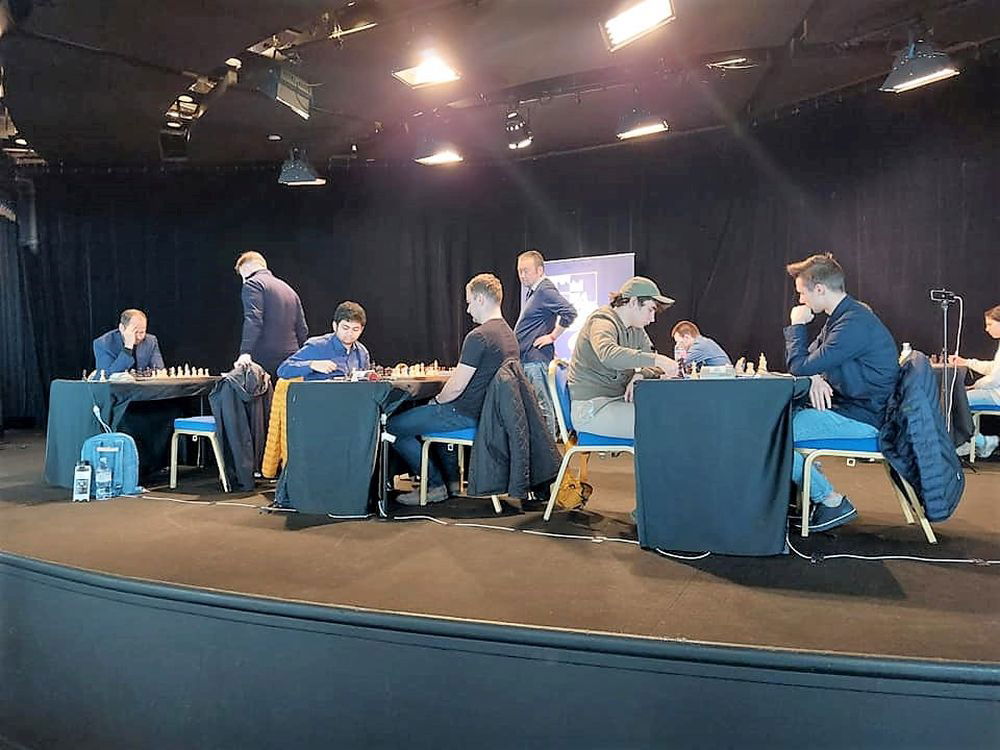 The 37th edition is announced to take place from 19th to 25th February 2024.
A total of 124 players including 12 GMs, 27 IMs and 6 WIMs took part from 22 countries all over the world in the Open A (>2100) section. The seven-day nine-round Swiss league Rating tournament was organized by Romuald De Labaca at Palais des Festivals de Cannes in Cannes, France from 20th to 26th February 2023. The time control of the tournament was 40 moves in 90 minutes followed by 30 minutes with 30 seconds increment from move no.1.
Replay Round 1-9 games
Final standings
pl
Name
Rating
Cat.
fede
League
Club
Points
Perf
Tr.
1
m
DAS Sayantan
2468F
Sen M
7½
2723
43½
2
g
DARDHA Daniel
2612F
CadM
HDF
The Cappellois Exchequer
7
2657
42½
3
g
MAURIZZI Marc Andria
2523F
MinM
CVL
C'Chartres Chess
7
2632
41½
4
g
GHOSH Diptayan
2553F
Sen M
7
2621
40½
5
f
KLIMKOWSKI Jan
2461F
MinM
7
2617
39½
6
m
MATERIA Marco
2410F
Ben M
EAST
Bischwiller
6½
2555
43
7
f
DEFROMONT Benjamin
2343F
JunM
CAP
Chess Rods
6½
2404
37½
8
g
MOTYLEV Alexander
2624F
Sen M
IDF
Clichy-Chess-92
6
2562
43
9
m
LAMARD Guillaume
2526 F
Sen M
CAP
Chess Rods
6
2553
39
10
g
SAMBUEV Bator
2407F
Sen M
6
2543
44
11
g
NIKOLOV Momchil
2480F
Sen M
HDF
The Cappellois Exchequer
6
2533
40
12
m
CLARKE Brandon GI
2473 F
Sen M
6
2508
40
13
g
DEMUTH Adrien
2473 F
Sen M
CAP
Grasse Chess
6
2508
38
14
m
SOUSA Andre Ventura
2466F
Sen M
6
2488
41
15
g
VENKATESH Mr.
2452F
Sen M
6
2475
40½
Links
---