P Shyam Nikhil clinches 7th Noisiel Open, Vignesh second and Karthik third
IM P Shyam Nikhil scored an unbeaten 7.5/9 to win 7th Noisiel International Open. He finished a half point ahead of the competition. IM Vignesh N R and GM Karthik Venkataraman scored 7/9 each. They were placed second and third according to tie-breaks. Total prize fund of the tournament was €44000. Top three prizes were €1200 and trophy, €800 and €600 each. 11-year-old Aditya Kunal Patil won the Open C (Below 1600) category, scoring 7/9. He remained undefeated and finished a half point ahead of the field. The kid received €250 as his first prize. The eighth edition of the tournament will take place in February 2023, dates will be announced in September this year. Photo: IO FI Narayanin Oupindrin
Indians dominate at Noisiel, France
GM-elect IM P Shyam Nikhil scored his fourth tournament triumph of the year. He started the year by winning the All India Railway Team Championship for Integral Coach Factory. Next he won Pandit Shiv Kumar Khamparia Memorial Blitz Rating Open in the same month, January. Then he won 2nd VS Chess Academy Rapid Rating Open in April. Thus, he won four tournaments this year, in all three formats of the sport. The runner-up of this tournament, IM Vignesh N R was Shyam's teammate in the All India Railway Team Championship.
Arbiters Jocelyn Azzegag and Khaled Bennadou accompanied by the tournament organizer IO FI Narayanin Oupindrin along with the top three finishers of 7th Noisiel International Open 2022.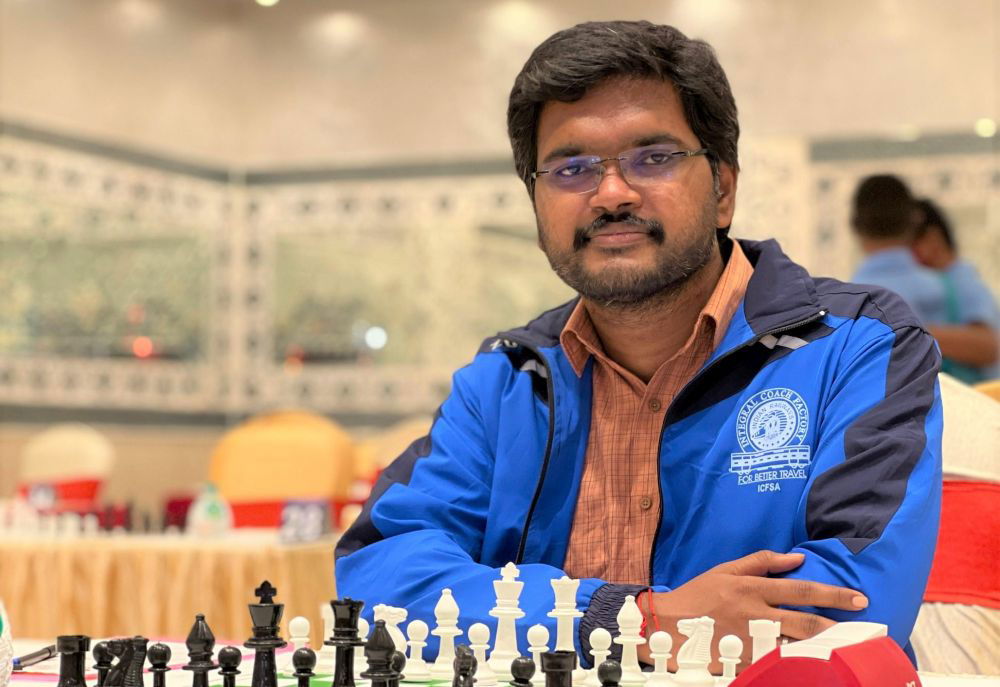 The 8th Noisiel International Open will be held in mid-February 2023, the dates will be confirmed in September 2022.
A total of 118 players took part combining three categories. The Open A section had 20 players including 4 GMs and 2 IMs from four countries across the world. The Open B and C categories had 49 players each from five countries across the world. The event was organized by IO FI Narayanin Oupindrin from 9th to 13th July 2022 in Noisiel, France. The time control was 90 minutes + 30 seconds increment from move no.1.
Final standings in Open A
| | | | | | | | | | | | |
| --- | --- | --- | --- | --- | --- | --- | --- | --- | --- | --- | --- |
| pl | | Last name | Rating | Cat. | fede | League | Club | Points | Tr. | Cu. | Perf |
| 1 | m | SHYAAMNIKHIL P | 2443F | Sen M | | | | 7½ | 38½ | 39½ | 2560 |
| 2 | m | VIGNESH NR | 2427F | Sen M | | | | 7 | 39 | 38 | 2515 |
| 3 | g | KARTHIK VENKATARAMAN | 2483F | Sen M | | | | 7 | 38 | 31 | 2524 |
| 4 | f | Julien | 2298F | Sen M | | IDF | Lutece Chess | 5½ | 39 | 29½ | 2333 |
| 5 | g | DOURERASOU Jonathan | 2441F | Sen M | | IDF | USVillejuif Chess | 5½ | 39 | 27 | 2326 |
| 6 | | JOLLY Julien | 2252F | JunM | | macaw | Oyonnax-Dortan Chess Club | 4½ | 39½ | 25 | 2285 |
| 7 | | BARBARAS Matthew | 2187F | Sen M | | IS | Bischwiller | 4½ | 38½ | 23½ | 2241 |
| 8 | g | BELKHODJA Slim | 2322F | SepM | | IDF | JEAN | 4½ | 38½ | 22½ | 2200 |
| 9 | | ROUAST Joseph | 2065F | CadM | | IDF | Le Vesinet Chess Club | 4½ | 38 | 24 | 2260 |
| 10 | | Nicolas HEINRICH | 2144F | Sen M | | IS | Bischwiller | 4½ | 34 | 22½ | 2201 |
Final standings in Open C (<1600)
| | | | | | | | | | | | |
| --- | --- | --- | --- | --- | --- | --- | --- | --- | --- | --- | --- |
| pl | | Last name | Rating | Cat. | fede | League | Club | Points | Tr. | Cu. | Perf |
| 1 | | ADITYA KUNAL PATIL | 1224F | PupM | | | | 7 | 43½ | 38½ | 1564 |
| 2 | | EBOUE Yuri | 1375F | MinM | | REU | The Kings of the East | 6½ | 43½ | 36½ | 1479 |
| 3 | | EL KAROUI Noah | 1325F | PouM | | IDF | Saint-Maur Chess Club | 6½ | 40 | 31 | 1477 |
| 4 | | EL KAROUI Adam | 1303F | PupM | | IDF | Saint-Maur Chess Club | 6½ | 38½ | 32 | 1443 |
| 5 | | ALI ABSIEH Zakaria | 1199E | Sen M | | | | 6 | 43 | 36 | 1477 |
| 6 | | WALSH Theo | 1199E | JunM | | IDF | Evry Grand Roque | 6 | 43 | 32½ | 1442 |
| 7 | | CHHAUV Victor | 1456F | Sen M | | IDF | Maubuee-Gondoire Chess | 6 | 41½ | 34 | 1396 |
| 8 | | DEBARD Hugo | 1363F | MinM | | IDF | R2C2 Paris 14 | 6 | 40 | 30½ | 1412 |
| 9 | | LAMORELLE Alexey | 1279F | PpoM | | IDF | Lutece Chess | 6 | 38½ | 30 | 1453 |
| 10 | | Dufraisse Matteo | 1380F | JunM | | IDF | The Red Rider | 6 | 37½ | 30 | 1458 |
---