Harikrishna wins French Top 16 for Asnières le Grand Échiquier
by Shahid Ahmed - 13/06/2023
India no.4 and World no.32 Pentala Harikrishna won French Top 16 Club Championship for Asnières le Grand Échiquier. This was the first time in history the team became champion at this event. His teammates were - World Blitz 2021 champion, Maxime Vachier-Lagrave, Andrey Esipenko, Grigoriy Oparin, Jules Moussard, Yannick Pelletier, Matthieu Cornette, Pauline Guichard, Kirill Alekseenko, Jean-Marc Degraeve, Sergei Movsesian and Yosha Iglesias. Bischwiller also scored the same 29 points, however, Asnières le Grand Échiquier won the tournament due to better tie-breaks. They remained undefeated at this event and currently unbeaten for 62nd matches. C'Chartres secured their first-ever podium finish. All photos in this article are by Fédération Française des Echecs unless mentioned otherwise. Photo: Harikrishna's twitter
A unique format
The team championship was played with a team consisting of eight players each with one female player being mandatory to play in each round. The 'Top 16' in the tournament name gives away the fact that 16 best teams of France took part in this event. These teams are divided into two groups. In each group, they compete against each other in seven rounds. At the end of this phase, the first four of each group advance to the high pool, the remaining four teams are gathered in the lower pool. The eight teams of the high pool remain in the Top 16 and compete in four rounds for the title of champion of France Clubs. The eight teams of the lower pool also compete in four rounds with their survival in the Top 16 at stake, the first four will be maintained, the other four teams will be relegated to the lower division.
The presence of top players like Maxime Vachier-Lagrave (FRA), Vasyl Ivanchuk (UKR), Veselin Topalov (BUL), Gata Kamsky (USA) certainly makes the field quite strong. Indian players who took part in this event are - Vidit Gujrathi, Pentala Harikrishna, Nihal Sarin, S L Narayanan, Leon Luke Mendonca, Surya Sekhar Ganguly and Visakh N R.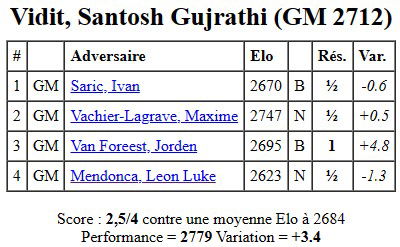 Leon scored 5/8, gained 4.3 Elo rating points, Nihal made an unbeaten 6/9, increased 6.8 rating points and S L Narayanan also remained undefeated scoring 6/8 and gained 7.9 Elo rating points.
Photo Gallery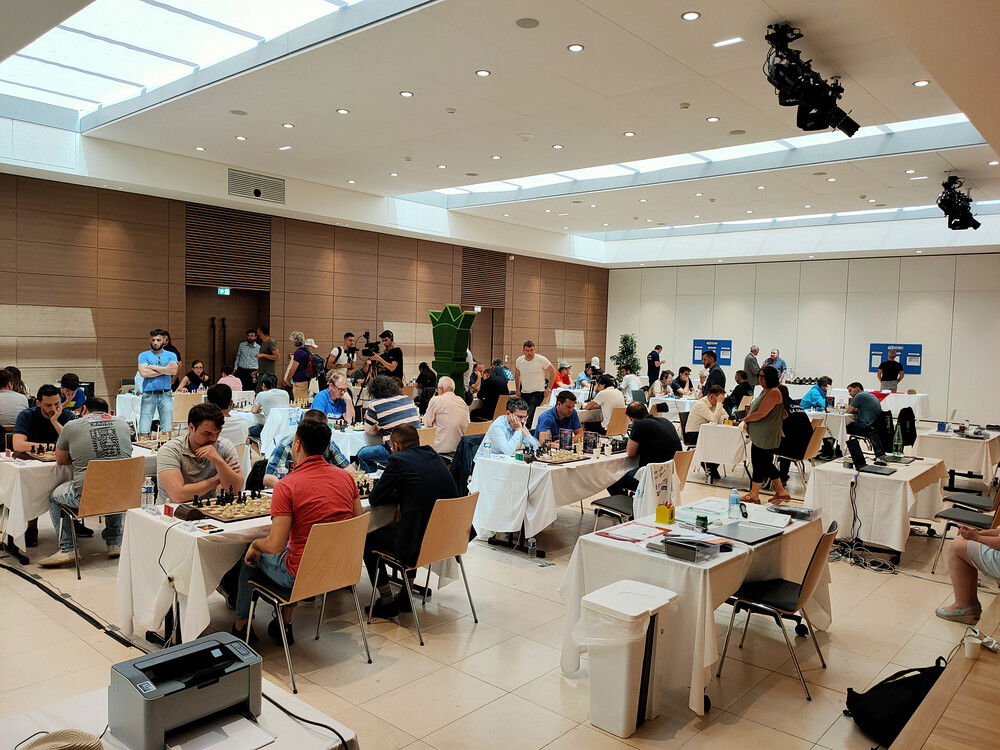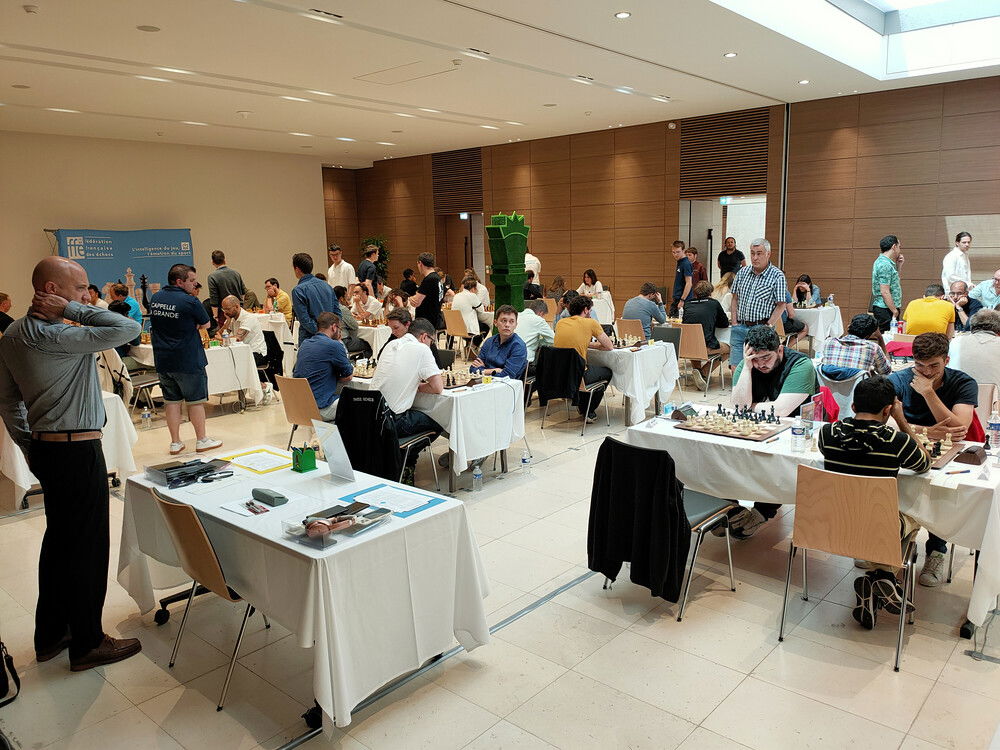 This is Harikrishna's first team triumph of 2023. It has been well established that Harikrishna is a strong team player as he has won team events in various countries all over the world.
Replay Poule Haute (Pool High) games
Replay Poule Basse (Pool Low) games
Final standings
Links
---
Related news
:
Pranesh M wins 32nd Caen Open 2023, Nubairshah third

@ 14/11/2023 by Shahid Ahmed (en)
Deep Sengupta clinches 21st Capechecs Open 2023, Sayantan Das second

@ 12/11/2023 by Shahid Ahmed (en)
Nikita Petrov wins 1st Annemasse International Festival 2023, Sayantan second and Sahaj third

@ 06/11/2023 by Shahid Ahmed (en)
Himal Gusain dominates 1st Saint-Macaire Autumn Open 2023

@ 04/11/2023 by Shahid Ahmed (en)
Karthikeyan Murali clinches 1st Imaweb Trophy GM Tournament 2023

@ 03/09/2023 by Shahid Ahmed (en)
Iniyan wins 27th Creon Open 2023, Bharath Subramaniyam second

@ 30/08/2023 by Shahid Ahmed (en)
Himal Gusain wins 14th Vaujany Open 2023

@ 31/07/2023 by Shahid Ahmed (en)
Sebastian Bogner clinches 96th Paris IdF Masters 2023, Harshavardhan second and Karthik Venkataraman third

@ 26/07/2023 by Shahid Ahmed (en)
S Rohith Krishna clinches 19th Malakoff Open 2023

@ 15/05/2023 by Shahid Ahmed (en)
Christian Bauer wins 10th Martinique Open - Joel Gratien Memorial, Priyanka second and Karthik third

@ 11/04/2023 by Shahid Ahmed (en)
Harshavardhan wins Manoir hotel Touquet golf resort Open 2023, Iniyan second and Nitin third

@ 13/03/2023 by Shahid Ahmed (en)
Harikrishnan clinches 34th KCF Rapid Rating Open 2023

@ 11/03/2023 by Shahid Ahmed (en)
Sayantan Das convincingly clinches 6th Cannes Chess Open 2023, becomes India's 81st Grandmaster

@ 02/03/2023 by Shahid Ahmed (en)
Sethuraman wins 39th Cappelle la Grande Open 2023 on his 30th birthday, Harsha Bharathakoti second

@ 25/02/2023 by Shahid Ahmed (en)
Diptayan Ghosh wins 21st Rochefort Chess Festival Masters 2023, Harsha Bharathakoti third

@ 20/02/2023 by Shahid Ahmed (en)
Harikrishnan dominates Velammal Republic Day Celebration Rapid Rating Open 2023

@ 06/02/2023 by Shahid Ahmed (en)
Vitaly Sivuk wins 7th Johor Open 2022, Harikrishnan third

@ 12/01/2023 by Shahid Ahmed (en)
Pranesh conquers 33rd City of Cannes Summer Open 2022

@ 24/08/2022 by Shahid Ahmed (en)
Marc' Andria Maurizzi clinches 2nd Bastia Open 2022, M R Venkatesh second

@ 12/08/2022 by Shahid Ahmed (en)
P Shyam Nikhil clinches 7th Noisiel Open, Vignesh second and Karthik third

@ 20/07/2022 by Shahid Ahmed (en)
Andrei Shchekachev triumphs at Paris IdF Masters 2022, Harsha Bharathakoti second

@ 18/07/2022 by Shahid Ahmed (en)
Maxime Lagarde triumphs at 20th Sautron Open 2022, Sidhant second and Bala Chandra third

@ 13/07/2022 by Shahid Ahmed (en)
Vitaly Sivuk wins 2nd La Plagne Chess Festival 2022 Masters, Iniyan second and Sayantan third

@ 10/07/2022 by Shahid Ahmed (en)
GM Harikrishna's Q&A with ChessBase India viewers

@ 21/06/2022 by Himank Ghosh (en)
Harikrishnan wins 9 Sportz All India Rapid Rating Chess Tournament 2022

@ 13/06/2022 by Shahid Ahmed (en)
Harikrishnan A Ra and Muthaiah Al win National Club Chess Championships 2021 in Maldives

@ 26/01/2022 by Shahid Ahmed (en)
Deep Sengupta triumphs 18th Vandoeuvre Open 2021

@ 25/12/2021 by Shahid Ahmed (en)
IM Harikrishnan A Ra wins Sivakasi Chess Club Rapid Rating Open

@ 14/12/2021 by R Anantharam (en)
Harikrishna will debut at Saint Louis Rapid and Blitz Online today

@ 15/09/2020 by Shahid Ahmed (en)
Mamedyarov wins World Stars Sharjah Online, Harikrishna finishes second

@ 14/06/2020 by Shahid Ahmed (en)
Harikrishna makes a strong start at World Stars Sharjah Online International

@ 13/06/2020 by Shahid Ahmed (en)
Harikrishna features in World Stars Sharjah Online International Championship 2020

@ 06/06/2020 by Shahid Ahmed (en)
India has a new no.2 - Vidit Gujrathi

@ 02/02/2020 by Sagar Shah (en)
IM Harikrishnan wins Ramco 2nd FIDE Rated Open 2019

@ 16/12/2019 by R Anantharam (en)
Stranded in the Italian

@ 08/11/2019 by Sagar Shah (en)
Antonio Viani wins double in France

@ 30/10/2019 by Shahid Ahmed (en)
हरिकृष्णा टॉप 10 की ओर ! 2757.5 पहुंची लाइव रेटिंग !!

@ 04/09/2019 by Niklesh Jain (hi)
Harikrishna's brilliant play at Polish Extra League takes him to Elo 2754 and world no.16

@ 03/09/2019 by Sagar Shah (en)
Harikrishna enters top 20 in world rankings with a win over Wei Yi

@ 20/08/2019 by Sagar Shah (en)
Harikrishnan and Anuj finish in top 10 at Sitges Open 2019

@ 09/08/2019 by Niklesh Jain (en)
Yu Yangyi vs Harikrishna teaches you secrets of queen vs pawn endgame

@ 22/05/2019 by Sagar Shah (en)
Harikrishna's endgame sorcery explained

@ 07/05/2019 by Sagar Shah (en)
Nihal Sarin crosses 2600 on the live rating list at Tepe Sigeman & Co.

@ 05/05/2019 by Sagar Shah (en)
Shenzhen 2019 Round 5: Harikrishna's hattrick - Rapport, Ding Liren and now Yu Yangyi!

@ 22/04/2019 by Sagar Shah (en)
Prague 2019 R01-03: Vidit beats Gelfand, Hari's beauty against Duda

@ 09/03/2019 by Sagar Shah (en)
Harikrishna is the only Indian in the FIDE Grand Prix series 2019

@ 21/02/2019 by Sagar Shah (en)
World Rapid Championship: Anand closes in on the tournament leaders going into the final day

@ 28/12/2018 by Aditya Pai (en)
World Rapid Championship: Tough day for Carlsen

@ 27/12/2018 by Aditya Pai (en)
Batumi Chess Olympiad: India's chances of a podium finish diminish after a catastrophic ninth round

@ 04/10/2018 by Aditya Pai (en)
Batumi Chess Olympiad: Sasikiran helps India edge out Czech Republic, women suffer their first loss

@ 03/10/2018 by Aditya Pai (en)
Live Games and Updates of Team india from Batumi Olympiad 2018

@ 24/09/2018 by ChessBase India (en)
From Pratipadu to Belgrade: The journey of Harikrishna Pentala

@ 30/10/2017 by Sagar Shah (en)