Vitaly Sivuk wins 2nd La Plagne Chess Festival 2022 Masters, Iniyan second and Sayantan third
by Shahid Ahmed - 10/07/2022
GM Vitaly Sivuk (UKR) and GM Iniyan P scored unbeaten 7/9 each at 2nd La Plagne International Open 2022 Masters. They were placed first and second according to tie-breaks. Four players scored 6.5/9 each. IM Sayantan Das and IM Nubairshah Shaikh were placed second and third according to tie-breaks. After tying for second place in two consecutive events - 4th Prague Chess Festival and 15th Teplice Open 2022, tie-breaks finally went to Iniyan's favor as he secured the second place. Had Nubair won his final round game against Sivuk, the top three places would have been dominated by India. Nevertheless, second to fourth is good too. Moreover, Nubair had already won the Blitz event.
Nubairshah wins the 2nd La Plagne Blitz Open
IM Nubairshah Shaikh scored an unbeaten 6.5/7 and finished a half point ahead of the field to win the Blitz Open tournament. This is Nubair's third triumph in 45 days. First he won 5th LBHM All India Open in May, then he won Silver Lake Open last month and now this Blitz Open. The total prize fund in the Classical event was €6600. Top three prizes were €2000, €1200 and €800 each respectively.
A total of 72 players including 2 GMs and 3 IMs took part from six countries across the world in the Blitz Open. The seven-round Swiss league tournament had a time control of 5 mins + 2 seconds each. The total prize fund in the Blitz event was €1000. Top three prizes were €250, €200 and €150 each respectively.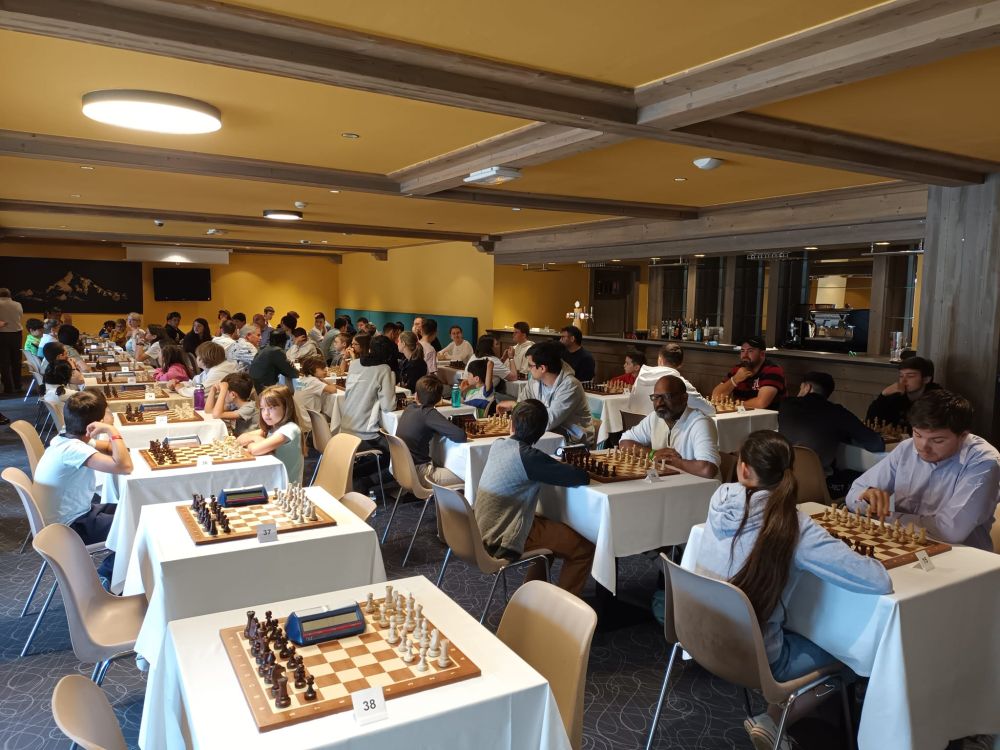 A total of 95 players including 9 GMs, 18 IMs, 1 WGM and 2 WGMs took part in the Masters (>1900) tournament from 19 countries across the world. The event was organized by Cercle d'Échecs du Bassin Annemassien from 2nd to 9th July 2022. The time control was 90 minutes/40 moves + 30 minutes + 30 seconds increment from move no.1.
Final standings in Classical
| | | | | | | | | | | | | | | | | | | | |
| --- | --- | --- | --- | --- | --- | --- | --- | --- | --- | --- | --- | --- | --- | --- | --- | --- | --- | --- | --- |
| Pl | | Nom | Elo | Cat. | Fede | Ligue | R 1 | R 2 | R 3 | R 4 | R 5 | R 6 | R 7 | R 8 | R 9 | Pts | Tr. | Perf | Bu. |
| 1 | g | SIVUK Vitaly | 2565 F | SenM | | | + 51B | + 21N | + 31B | = 8N | + 7B | = 2N | + 12B | = 3N | = 4B | 7 | 43½ | 2640 | 53 |
| 2 | g | INIYAN P | 2533 F | JunM | | | + 57B | = 30N | + 37B | + 29N | + 8B | = 1B | = 3N | = 7N | + 12B | 7 | 41½ | 2622 | 50½ |
| 3 | m | DAS Sayantan | 2449 F | SenM | | | + 71B | + 55N | = 29B | + 16N | + 18B | = 7N | = 2B | = 1B | = 10N | 6½ | 42½ | 2559 | 50½ |
| 4 | m | MOHAMMAD NUBAIRSHAH | 2445 F | SenM | | | + 91N | + 28B | = 26N | = 20B | - 11N | + 43B | + 9N | + 13B | = 1N | 6½ | 41½ | 2526 | 48 |
| 5 | m | SZPAR Milosz | 2431 F | JunM | | | + 58N | + 38B | = 10N | = 9B | = 22N | = 19B | = 30N | + 32B | + 7B | 6½ | 39 | 2485 | 48 |
| 6 | f | RAZAFINDRATSIMA Timothe | 2416 F | MinM | | PAC | = | - 32N | + 78B | + 71N | + 44B | - 9B | + 47N | + 30B | + 21N | 6½ | 35 | 2430 | 41½ |
| 7 | g | SOLODOVNICHENKO Yuri | 2497 F | SenM | | EST | + 50N | + 22B | + 15N | + 11B | - 1N | = 3B | + 10N | = 2B | - 5N | 6 | 45 | 2545 | 55 |
| 8 | m | OSMAK Yuliia | 2420 F | SenF | | CVL | + 80B | + 33N | + 25N | = 1B | - 2N | = 22B | + 20N | = 10B | = 9N | 6 | 42½ | 2486 | 50½ |
| 9 | m | PETRE Nad-Titus | 2286 F | SenM | | BRE | + 87B | = 34N | + 23B | = 5N | = 14B | + 6N | - 4B | + 29N | = 8B | 6 | 42 | 2509 | 50 |
| 10 | m | ZWIRS Nico | 2485 F | SenM | | | + 81B | + 43N | = 5B | = 19N | + 21B | + 11N | - 7B | = 8N | = 3B | 6 | 42 | 2502 | 49½ |
Final standings in Blitz
| | | | | | | | | | | | | | | | | |
| --- | --- | --- | --- | --- | --- | --- | --- | --- | --- | --- | --- | --- | --- | --- | --- | --- |
| Pl | | Nom | Blitz | Cat. | Fede | Ligue | R 1 | R 2 | R 3 | R 4 | R 5 | R 6 | R 7 | Pts | Tr. | Perf |
| 1 | m | MOHAMMAD NUBAIRSHAH | 2338 F | SenM | | | + 69N | + 23B | + 15N | + 9B | + 2N | = 3B | + 6N | 6½ | 30½ | 2454 |
| 2 | m | PHILIPPE Guillaume | 2379 F | SenM | | PAC | + 26B | + 12N | + 10B | + 5N | - 1B | + 8N | + 14B | 6 | 31½ | 2409 |
| 3 | f | LAMAZE Simon | 2090 F | MinM | | PAC | + 47N | + 50B | + 22N | = 14N | + 7B | = 1N | + 10B | 6 | 28 | 2338 |
| 4 | g | DIERMAIR Andreas | 2322 F | SenM | | HDF | + 64B | + 28N | - 9B | + 12N | + 14B | = 5N | + 16B | 5½ | 28½ | 2252 |
| 5 | | BREGNAC Tristan | 2012 F | JunM | | ARA | + 48N | + 43B | + 21N | - 2B | + 22N | = 4B | + 17N | 5½ | 27½ | 2239 |
| 6 | | ZIENKIEWICZ Jan | 2025 F | BenM | | PAC | + 52B | + 36N | - 14B | + 19N | + 13B | + 7N | - 1B | 5 | 29 | 2090 |
| 7 | f | SAYA Ethan | 2236 F | JunM | | IDF | + 41N | + 44B | + 11N | + 24B | - 3N | - 6B | + 22N | 5 | 27 | 2080 |
| 8 | | TOMASI Elise | 1901 F | CadF | | CVL | + 20N | + 59B | + 25N | - 21B | + 35N | - 2B | + 26B | 5 | 26½ | 2109 |
| 9 | | AVANESYAN Davit | 1902 F | CadM | | PAC | + 62N | + 68B | + 4N | - 1N | - 16B | + 29B | + 28N | 5 | 26½ | 2005 |
| 10 | | KANOV Nikola | 1915 F | MinM | | | + 42N | + 55B | - 2N | + 43B | + 24N | + 21B | - 3N | 5 | 26½ | 1990 |
Links
Cercle Échecs Bassin Annemassien fb
---
Related news
:
Pranesh M wins 32nd Caen Open 2023, Nubairshah third

@ 14/11/2023 by Shahid Ahmed (en)
Deep Sengupta clinches 21st Capechecs Open 2023, Sayantan Das second

@ 12/11/2023 by Shahid Ahmed (en)
Nikita Petrov wins 1st Annemasse International Festival 2023, Sayantan second and Sahaj third

@ 06/11/2023 by Shahid Ahmed (en)
Himal Gusain dominates 1st Saint-Macaire Autumn Open 2023

@ 04/11/2023 by Shahid Ahmed (en)
Karthikeyan Murali clinches 1st Imaweb Trophy GM Tournament 2023

@ 03/09/2023 by Shahid Ahmed (en)
Iniyan wins 27th Creon Open 2023, Bharath Subramaniyam second

@ 30/08/2023 by Shahid Ahmed (en)
Himal Gusain wins 14th Vaujany Open 2023

@ 31/07/2023 by Shahid Ahmed (en)
Sebastian Bogner clinches 96th Paris IdF Masters 2023, Harshavardhan second and Karthik Venkataraman third

@ 26/07/2023 by Shahid Ahmed (en)
Harikrishna wins French Top 16 for Asnières le Grand Échiquier

@ 13/06/2023 by Shahid Ahmed (en)
S Rohith Krishna clinches 19th Malakoff Open 2023

@ 15/05/2023 by Shahid Ahmed (en)
Christian Bauer wins 10th Martinique Open - Joel Gratien Memorial, Priyanka second and Karthik third

@ 11/04/2023 by Shahid Ahmed (en)
Iniyan's Endgame Challenge

@ 26/03/2023 by Shahid Ahmed (en)
Harshavardhan wins Manoir hotel Touquet golf resort Open 2023, Iniyan second and Nitin third

@ 13/03/2023 by Shahid Ahmed (en)
Sayantan Das convincingly clinches 6th Cannes Chess Open 2023, becomes India's 81st Grandmaster

@ 02/03/2023 by Shahid Ahmed (en)
Invincible Iniyan clinches 8th Noisiel Open 2023, Vignesh N R second

@ 26/02/2023 by Shahid Ahmed (en)
Sethuraman wins 39th Cappelle la Grande Open 2023 on his 30th birthday, Harsha Bharathakoti second

@ 25/02/2023 by Shahid Ahmed (en)
Diptayan Ghosh wins 21st Rochefort Chess Festival Masters 2023, Harsha Bharathakoti third

@ 20/02/2023 by Shahid Ahmed (en)
India finishes third at 4th SCO Online Team Tournament 2022

@ 08/12/2022 by Shahid Ahmed (en)
Pranesh conquers 33rd City of Cannes Summer Open 2022

@ 24/08/2022 by Shahid Ahmed (en)
Marc' Andria Maurizzi clinches 2nd Bastia Open 2022, M R Venkatesh second

@ 12/08/2022 by Shahid Ahmed (en)
Iniyan wins a double at 38th Andorra Open 2022, Rathanvel third

@ 01/08/2022 by Shahid Ahmed (en)
P Shyam Nikhil clinches 7th Noisiel Open, Vignesh second and Karthik third

@ 20/07/2022 by Shahid Ahmed (en)
Andrei Shchekachev triumphs at Paris IdF Masters 2022, Harsha Bharathakoti second

@ 18/07/2022 by Shahid Ahmed (en)
Maxime Lagarde triumphs at 20th Sautron Open 2022, Sidhant second and Bala Chandra third

@ 13/07/2022 by Shahid Ahmed (en)
Iniyan travels 14000 km in four days to attend Chess Olympiad Torch Relay

@ 07/07/2022 by Shahid Ahmed (en)
Fier conquers 10th Lorca City Open, Iniyan third

@ 02/01/2022 by Shahid Ahmed (en)
Deep Sengupta triumphs 18th Vandoeuvre Open 2021

@ 25/12/2021 by Shahid Ahmed (en)
Iniyan wins two consecutive Round Robins in Serbia

@ 03/11/2021 by Shahid Ahmed (en)
Iniyan clinches La Nucia Open

@ 14/10/2021 by Shahid Ahmed (en)
Gukesh clinches Norway Open 2021 Masters, Iniyan finishes second

@ 18/09/2021 by Shahid Ahmed (en)
Iniyan clinches double at 6th Noisiel International Open

@ 30/08/2021 by Shahid Ahmed (en)
कैसे दिग्गजों को पीछे छोड़ इनियन पहुंचे विश्व कप ?

@ 04/06/2021 by Niklesh Jain (hi)
P. Iniyan's road from Erode to Sochi

@ 01/06/2021 by Saishyam Srikanth (en)
Iniyan wins AICF World Cup Qualifier and qualifies to the FIDE World Cup 2021

@ 30/05/2021 by Shahid Ahmed (en)
Iniyan wins Silver at the 1st FIDE World University Online Individual Blitz Championship

@ 23/03/2021 by Shahid Ahmed (en)
Blitz Challenge with Iniyan

@ 06/11/2020 by Frederic Friedel (en)
Iniyan 'Invincible' at 48th World Open

@ 07/09/2020 by Shahid Ahmed (en)
72-hour Chess Marathon COVID-19 Fund Raiser event by GM P Iniyan raises Rs.121,199

@ 17/06/2020 by RR Vasudevan (en)
Play against GM P. Iniyan, Play for the Nation!

@ 13/05/2020 by Avathanshu Bhat (en)
Antonio Viani wins double in France

@ 30/10/2019 by Shahid Ahmed (en)
A tournament in France organized by an Indian!

@ 06/05/2019 by Nongsha Angom (en)
Can you win the Dubai Open 2019 like P. Iniyan?

@ 16/04/2019 by Sagar Shah (en)
Breaking news! India gets its 61st GM - P. Iniyan

@ 07/03/2019 by Sagar Shah (en)
Shyam Sundar wins XXV Montcada Open, Iniyan scores a GM norm!

@ 08/07/2017 by Niklesh Jain (en)
Meet Erode's 1st IM: 14-year-old P. Iniyan

@ 05/05/2017 by Sagar Shah (en)