Iniyan clinches La Nucia Open
GM P Iniyan scored an unbeaten 7.0/8 to win La Nucia International Open 2021. He had to miss the eighth round game due to his commitments towards CoinDCX Chess Super League, still he managed to win the tournament in just eight games. He won a trophy and €2500 (approx.₹218,400) as a prize. GMs Rodrigo Vasquez Schroeder (CHI) and Andrey Sumets (UKR) also finished with the same score 7.0/9, however they were placed second and third according to the tie-breaks. This is Iniyan's third over-the-board triumph of the year since he won a double at Noisiel Open, fourth overall including online events. Check out Iniyan's favorite game from the tournament with his annotations.
Only eight games needed
Iniyan managed to win La Nucia Open, despite missing the crucial penultimate round of the event due to his prior commitments. The tournament witnessed the participation of 87 players including 10 GMs, 9 IMs from 14 countries across the world. The total prize fund of the tournament was €9000.
Iniyan annotated his favorite game from the tournament, the win against GM Evgeny Postny (ISR) in the fifth round.
Round 6: Sumets - Iniyan: 0.5-0.5
GM Iniyan had an interesting draw with the eventual second runner-up, GM Andrey Sumets (UKR).
14...d3 is interesting pawn sacrifice 15.Qxd3 Bf5 16.Qd5 Bxe4 17.Qxf7+ Kh8 18.Bxe4 Rf8 19.Bxf8 Rxf8 and Black is safe, although initially it may have seemed to cause trouble for Black. Iniyan obviously saw all these before playing 14...d3. The game eventually ended in a draw.
Round 7: Iniyan - Rodrigo: 1-0
Iniyan defeated the eventual runner-up of the event, GM Rodrigo Vasquez Schroeder (CHI) in the seventh round.
Black cornered and limited the mobility of his own queen with 13...e5 14.Bh2 Bd7 15.Be2 and we got the above position. To avoid the queen from getting trapped, Black had to give up a piece 15...Qf5 16.g4 Nxg4 17.hxg4 Qxg4+ 18.Bg3. Even though Black got a couple of pawns for the knight, it was not enough compensation. Iniyan converted his advantage into a win without any difficulty.
Round 9: Iniyan - Jony Wilson: 1-0
Iniyan defeated IM Jony Wilson Leon Valdes (CUB) in the final round.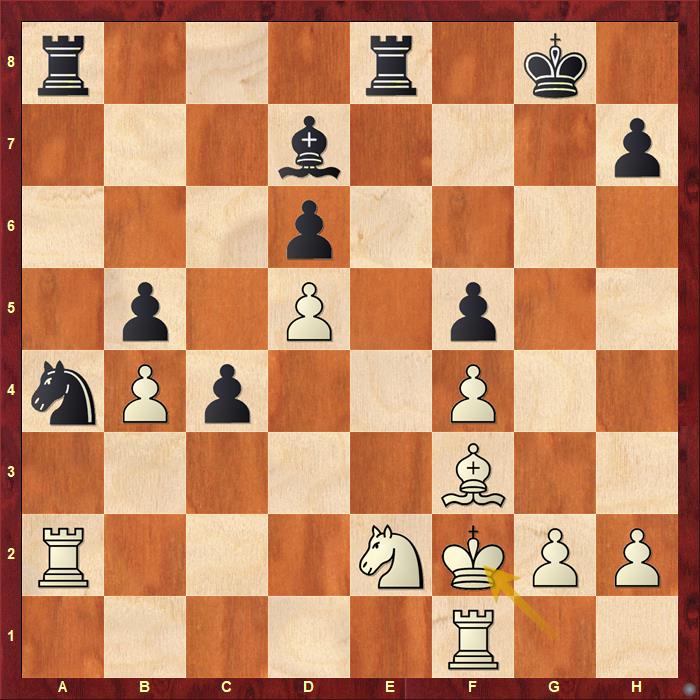 27.Kf2 is a big mistake as White lost the loose pawns and Black gained decisive advantage. Find out how.
Highlights
Here are few interesting finishes of Round 6-9.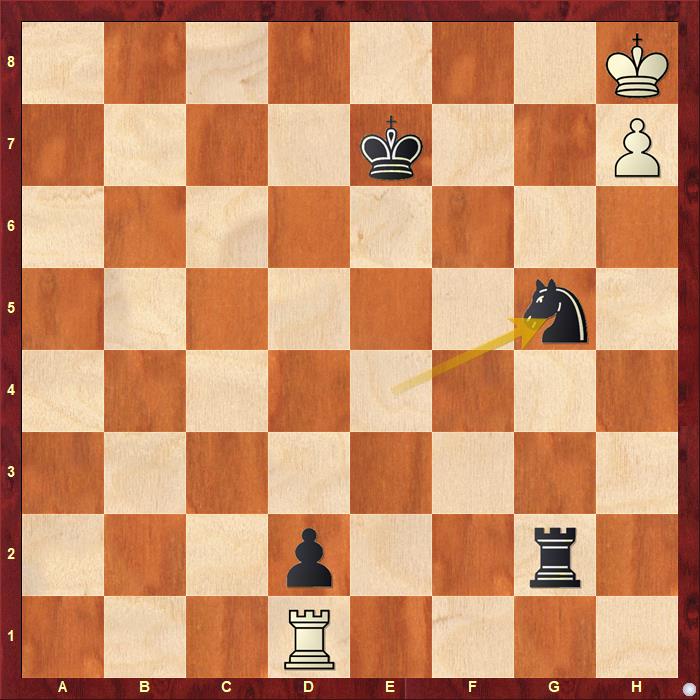 Replay Round 6-9 games
The tournament is taking place at Pabellón Polideportivo Municipal Muixara, La Nucia, Alicante in Spain from 6th to 12th October 2021. Time control is 90 mins + 30 seconds each from move no.1.
Round 9 results
Final standings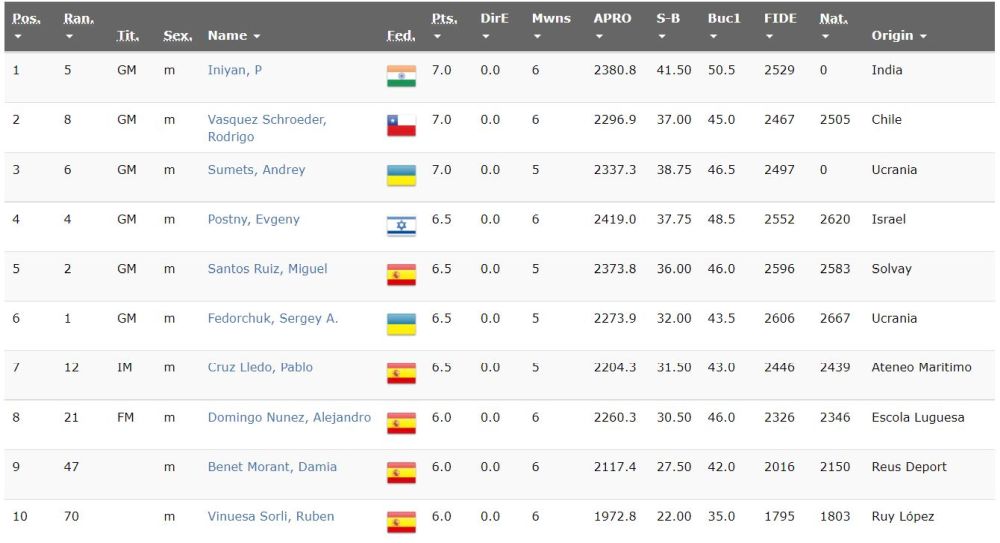 Links
---