Iniyan wins 27th Creon Open 2023, Bharath Subramaniyam second
by Shahid Ahmed - 30/08/2023
GM Iniyan P and GM Bharath Subramaniyam H scored an unbeaten 7.5/9 each at 27th Creon Open Main (>1600) 2023. Iniyan won the tournament due to better tie-breaks, Bharath was placed second. The sixth round battle between them ended in a draw. French IMs Joseph Girel and Floryan Eugene scored 7/9 each. They were adjudged third and fourth. GM Sayantan Das is the only other Indian to make a top ten finish. He scored 6.5/9 to secure fifth place. The top three prizes were €2000 + trophy, €1100 and €750 each respectively. This is Iniyan's second triumph in France this year after he won the 8th Noisiel Open in February this year. Photos: Official site
Iniyan's second triumph in France this year
GM Bharath Subramaniyam H was the sole leader heading into the final round 7/8. GM Iniyan P was the only player trailing him by a half point at 6.5/8. Bharath drew against IM Loic Travadon (FRA) and Iniyan defeated IM Alfonso Jerez Perez (ESP) to become the champion.
Iniyan - Arthur, Round 2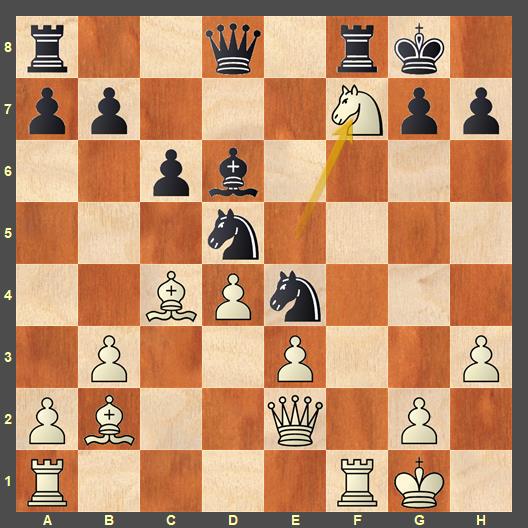 GM Iniyan P (2525) made an interesting knight sacrifice 16.Nxf7! It does not give White an immediate advantage. What it does is, White gets a long-term initiative. The positional advantage eventually translated into a decisive one. 16...Rxf7 17.Rxf7 Kxf7 18.Qh5+ Kf8 19.Ref1+ Nef6 20.Qxh7 b5 21.Bd3 Nxe3 only helped White 22.Rf3 Ned5 23.Bg6 Nf4? 24.Qh8+ Ng8 25.d5 and things completely shifted into White's favor.
A total of 113 players including 5 GMs, 6 IMs and a WIM took part from eight countries across the world in the Open A (>1600) category. The tournament was organized by Lauron Wesley from 31st July to 6th August 2023 at Salle Omnisports Ulli Senger in Creon, France. The nine-round Swiss league tournament had a time control of 90 min. for 40 moves then 30 min. QPF with 30 sec. by move from the first move.
Replay all available games
Final standings
| | | | | | | | | | | | | | | | | | | | |
| --- | --- | --- | --- | --- | --- | --- | --- | --- | --- | --- | --- | --- | --- | --- | --- | --- | --- | --- | --- |
| Pl | | Nom | Elo | Cat. | Fede | Ligue | R 1 | R 2 | R 3 | R 4 | R 5 | R 6 | R 7 | R 8 | R 9 | Pts | Tr. | Perf | Bu. |
| 1 | g | INIYAN P | 2525 F | SenM | | IDF | + 50N | + 10B | + 39N | + 4B | + 6N | = 2B | = 5N | = 3B | + 9N | 7½ | 46½ | 2636 | 56 |
| 2 | g | BHARATH SUBRAMANIYAM | 2488 F | MinM | | PAC | + 69B | = 9N | + 52B | + 19N | + 18B | = 1N | + 7B | + 5B | = 8N | 7½ | 44 | 2614 | 52½ |
| 3 | m | GIREL Joseph | 2439 F | JunM | | PAC | + 44B | = 18N | + 21B | + 79N | - 5B | + 53N | + 11B | = 1N | + 10B | 7 | 42 | 2475 | 50 |
| 4 | m | EUGENE Floryan | 2384 F | SenM | | PDL | + 37B | + 26N | + 34B | - 1N | + 36B | = 9N | + 18B | = 10N | + 11B | 7 | 41½ | 2474 | 51½ |
| 5 | g | DAS Sayantan | 2484 F | SenM | | | + 22N | + 12B | + 70N | = 7B | + 3N | = 6B | = 1B | - 2N | + 19B | 6½ | 46½ | 2510 | 56 |
| 6 | g | OMELJA Artem | 2457 F | SenM | | | + 15N | + 13B | + 56N | + 11B | - 1B | = 5N | - 10N | + 35B | + 25N | 6½ | 43½ | 2449 | 53 |
| 7 | g | GOLUBKA Petro | 2383 F | SenM | | | + 20N | + 25B | + 84N | = 5N | = 9B | + 12B | - 2N | = 13B | + 22N | 6½ | 43 | 2424 | 52 |
| 8 | m | TRAVADON Loic | 2463 F | SenM | | IDF | - 35B | + 23N | + 68B | = 49N | = 34B | + 24N | + 37B | + 12N | = 2B | 6½ | 39½ | 2319 | 48 |
| 9 | m | JEREZ PEREZ Alfonso | 2343 F | SepM | | | + 28N | = 2B | + 61N | + 54B | = 7N | = 4B | = 13N | + 29B | - 1B | 6 | 45½ | 2356 | 55 |
| 10 | m | LUCAS Arthur | 2326 F | SenM | | NAQ | + 36B | - 1N | + 60B | = 34N | + 23B | + 62N | + 6B | = 4B | - 3N | 6 | 43½ | 2333 | 52½ |
Links
---
Related news
:
Pranesh M wins 32nd Caen Open 2023, Nubairshah third

@ 14/11/2023 by Shahid Ahmed (en)
Deep Sengupta clinches 21st Capechecs Open 2023, Sayantan Das second

@ 12/11/2023 by Shahid Ahmed (en)
Nikita Petrov wins 1st Annemasse International Festival 2023, Sayantan second and Sahaj third

@ 06/11/2023 by Shahid Ahmed (en)
Himal Gusain dominates 1st Saint-Macaire Autumn Open 2023

@ 04/11/2023 by Shahid Ahmed (en)
Karthikeyan Murali clinches 1st Imaweb Trophy GM Tournament 2023

@ 03/09/2023 by Shahid Ahmed (en)
Himal Gusain wins 14th Vaujany Open 2023

@ 31/07/2023 by Shahid Ahmed (en)
Sebastian Bogner clinches 96th Paris IdF Masters 2023, Harshavardhan second and Karthik Venkataraman third

@ 26/07/2023 by Shahid Ahmed (en)
Harikrishna wins French Top 16 for Asnières le Grand Échiquier

@ 13/06/2023 by Shahid Ahmed (en)
S Rohith Krishna clinches 19th Malakoff Open 2023

@ 15/05/2023 by Shahid Ahmed (en)
Christian Bauer wins 10th Martinique Open - Joel Gratien Memorial, Priyanka second and Karthik third

@ 11/04/2023 by Shahid Ahmed (en)
Iniyan's Endgame Challenge

@ 26/03/2023 by Shahid Ahmed (en)
Harshavardhan wins Manoir hotel Touquet golf resort Open 2023, Iniyan second and Nitin third

@ 13/03/2023 by Shahid Ahmed (en)
Sayantan Das convincingly clinches 6th Cannes Chess Open 2023, becomes India's 81st Grandmaster

@ 02/03/2023 by Shahid Ahmed (en)
Invincible Iniyan clinches 8th Noisiel Open 2023, Vignesh N R second

@ 26/02/2023 by Shahid Ahmed (en)
Sethuraman wins 39th Cappelle la Grande Open 2023 on his 30th birthday, Harsha Bharathakoti second

@ 25/02/2023 by Shahid Ahmed (en)
Diptayan Ghosh wins 21st Rochefort Chess Festival Masters 2023, Harsha Bharathakoti third

@ 20/02/2023 by Shahid Ahmed (en)
India finishes third at 4th SCO Online Team Tournament 2022

@ 08/12/2022 by Shahid Ahmed (en)
Pranesh conquers 33rd City of Cannes Summer Open 2022

@ 24/08/2022 by Shahid Ahmed (en)
Marc' Andria Maurizzi clinches 2nd Bastia Open 2022, M R Venkatesh second

@ 12/08/2022 by Shahid Ahmed (en)
Iniyan wins a double at 38th Andorra Open 2022, Rathanvel third

@ 01/08/2022 by Shahid Ahmed (en)
P Shyam Nikhil clinches 7th Noisiel Open, Vignesh second and Karthik third

@ 20/07/2022 by Shahid Ahmed (en)
Andrei Shchekachev triumphs at Paris IdF Masters 2022, Harsha Bharathakoti second

@ 18/07/2022 by Shahid Ahmed (en)
Maxime Lagarde triumphs at 20th Sautron Open 2022, Sidhant second and Bala Chandra third

@ 13/07/2022 by Shahid Ahmed (en)
Vitaly Sivuk wins 2nd La Plagne Chess Festival 2022 Masters, Iniyan second and Sayantan third

@ 10/07/2022 by Shahid Ahmed (en)
Iniyan travels 14000 km in four days to attend Chess Olympiad Torch Relay

@ 07/07/2022 by Shahid Ahmed (en)
Fier conquers 10th Lorca City Open, Iniyan third

@ 02/01/2022 by Shahid Ahmed (en)
Deep Sengupta triumphs 18th Vandoeuvre Open 2021

@ 25/12/2021 by Shahid Ahmed (en)
Iniyan wins two consecutive Round Robins in Serbia

@ 03/11/2021 by Shahid Ahmed (en)
Iniyan clinches La Nucia Open

@ 14/10/2021 by Shahid Ahmed (en)
Gukesh clinches Norway Open 2021 Masters, Iniyan finishes second

@ 18/09/2021 by Shahid Ahmed (en)
Iniyan clinches double at 6th Noisiel International Open

@ 30/08/2021 by Shahid Ahmed (en)
कैसे दिग्गजों को पीछे छोड़ इनियन पहुंचे विश्व कप ?

@ 04/06/2021 by Niklesh Jain (hi)
P. Iniyan's road from Erode to Sochi

@ 01/06/2021 by Saishyam Srikanth (en)
Iniyan wins AICF World Cup Qualifier and qualifies to the FIDE World Cup 2021

@ 30/05/2021 by Shahid Ahmed (en)
Iniyan wins Silver at the 1st FIDE World University Online Individual Blitz Championship

@ 23/03/2021 by Shahid Ahmed (en)
Blitz Challenge with Iniyan

@ 06/11/2020 by Frederic Friedel (en)
Iniyan 'Invincible' at 48th World Open

@ 07/09/2020 by Shahid Ahmed (en)
72-hour Chess Marathon COVID-19 Fund Raiser event by GM P Iniyan raises Rs.121,199

@ 17/06/2020 by RR Vasudevan (en)
Play against GM P. Iniyan, Play for the Nation!

@ 13/05/2020 by Avathanshu Bhat (en)
Antonio Viani wins double in France

@ 30/10/2019 by Shahid Ahmed (en)
A tournament in France organized by an Indian!

@ 06/05/2019 by Nongsha Angom (en)
Can you win the Dubai Open 2019 like P. Iniyan?

@ 16/04/2019 by Sagar Shah (en)
Breaking news! India gets its 61st GM - P. Iniyan

@ 07/03/2019 by Sagar Shah (en)
Shyam Sundar wins XXV Montcada Open, Iniyan scores a GM norm!

@ 08/07/2017 by Niklesh Jain (en)
Meet Erode's 1st IM: 14-year-old P. Iniyan

@ 05/05/2017 by Sagar Shah (en)