Deep Sengupta triumphs 18th Vandoeuvre Open 2021
India's 22nd GM Deep Sengupta scored an unbeaten 7.0/9 to win 18th Vandoeuvre Open 2021. Four players - GM Deep Sengupta, GM Sergey Fedorchuk (UKR), IM Pierre Laurent-Paoli (FRA) and GM MarcAndria Maurizzi (ITA) finished with the same score. They were placed first to fourth according to tie-breaks. Deep drew against all of them. He won a beautiful trophy and €1500 (approx. ₹1.28 lacs) as his first prize. IM Arghyadip Das and IM Sayantan Das were the only two other Indians to finish in top 10. They scored 6.5/9, secured eighth and ninth place respectively. WIM Isha Sharma, the sole Indian woman taking part in this event, won the Best Woman prize. Photo: Official site
Record-breaking 334 players take part
The 18th edition witnessed a record-breaking 334 players combining all four categories, taking part from various countries all across the globe.
Deep on winning the tournament, "Very happy. After such a long break this definitely feels extra special." His favorite game of the event is against France no.4 GM Chris Bauer in the seventh round.
Deep - Bauer, Round 7
Black decided to give up the exchange 16...Nde5. However, there was not enough compensation for it. 17.Nxe5 Nxe5 18.Nxa8 Bd7 19.Bd4 Rxa8 and White eventually went on to win the game.
Photo Gallery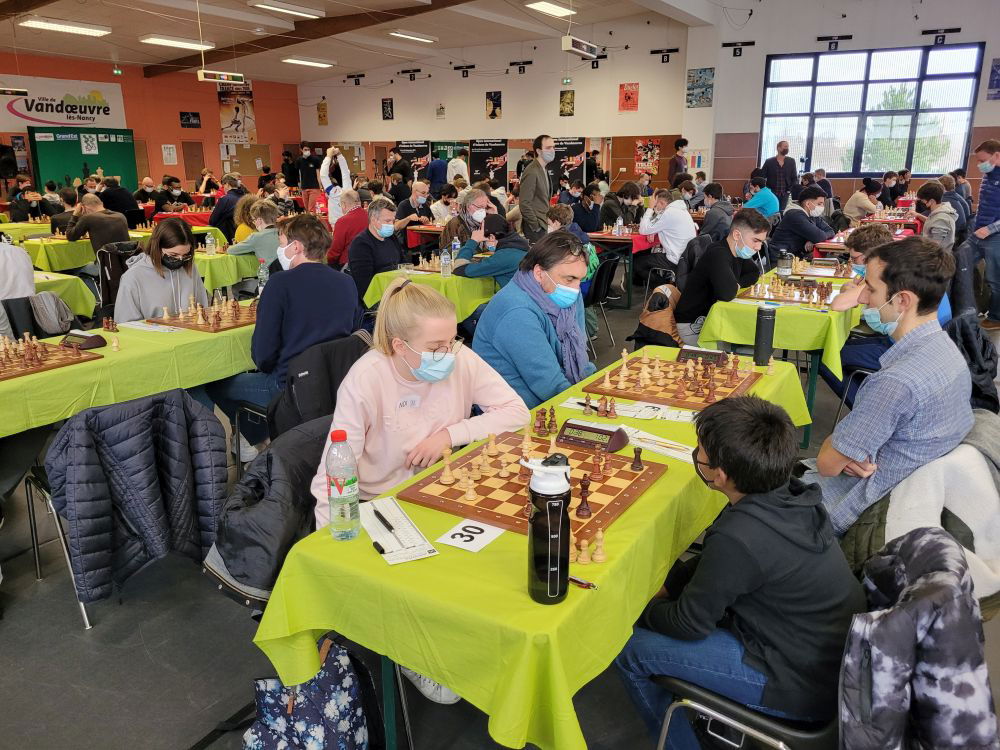 The tournament was organized by Vandoeuvre-Echecs at Sports Park Vandoeuvre, Vandœuvre-lès-Nancy in France from 19th to 23rd December. Total prize fund of the tournament was €8000 combining four categories. Time controlf for Category A (Above 1900) was 90 minutes + 30 seconds increment. There were double rounds on first four days, the last day Thursday 23rd December, had only one round. The D (Discovery) category had a free entry where players (beginners, unrated, kids and adult) can walk in to the venue before a stipulated time to register and play the tournament.
Replay Deep's games
Final standings in Group A
Links
Tournament Regulations (French)
---