All round performance
A total of 174 players from nine countries across the world participated in three Open tournaments from 23rd to 28th August at Noisiel, about 23 km to the east of Paris. Iniyan scored an unbeaten 8.0/9, performed at 2664, gained 13 Elo rating points, finished a half point ahead of the competition. He won a trophy and €1200 as his prize for winning the Classical tournament. The 18-year-old also won the Blitz event, scoring 7.5/9. Two more players - GM Yuri Solodovnichenko (UKR) and GM Namig Guliyev (AZE) finished with the same score, however Iniyan had better tie-breaks, thus he clinched the championship. He received a trophy and €250 for his efforts.
Round 2: Joachin - Iniyan: 0-1
In the second round, Iniyan defeated FM Joachin Mouhamad (FRA) using bishop pair wisely.
The game continued 20.Ng3 Bd8 21.Rab1. According to Iniyan 21.Nh5 was a better continuation for White.
Round 4: Kambrath - Iniyan: 0-1
Iniyan won a very nice endgame against IM Yannick Kambrath (FRA). He showcased beautiful technique in a knight and two pawns vs. rook and a pawn complex endgame.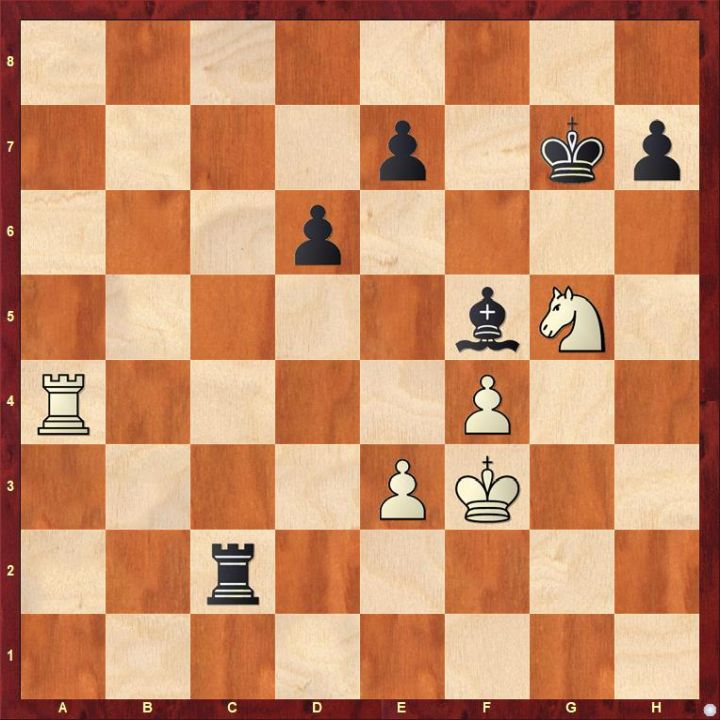 66.Ra7 h6 67.Rxe7+ Kf6 68.Rf7+ Kg6 69.Rxf5 Kxf5 70.Nf7 and the game reaches to a very interesting stage of the endgame. It should end in a draw with precise play by White but Iniyan made a lot of progress and forced his opponent to make a mistake eventually.
White can still save the game but after a grueling 103 moves and very less time on the clock, it is not easy to find the precise play. 104.e6 was played and it was all over White. Try to find out why. Check out Iniyan's analysis of the entire endgame.
Round 6: Iniyan - Macon: 1-0
Iniyan proved that his opponent FM Arthur Macon's (FRA) king was much weaker, stranded at the center of the board, compared to his in the sixth round.
23...Kd8 24.Qxe6 and now Black blundered 24...dxc3. Find out the winning continuation for White, which Iniyan found in the game.
The organizer of 6th Noisiel Open, Mr. Narayanin Oupindrin informed us - The Noisiel Open which was usually organised in Feb/March was exceptionally organised in August this year. Having Seine et Marne Department and FIDE as the sponsors was a great relief for the organiser who is also one of the sponsors. He believes the seventh edition will take place in 2022 and the dates will be known by the end of next month.
Final standings in Classsical
| | | | | | | | | | | | |
| --- | --- | --- | --- | --- | --- | --- | --- | --- | --- | --- | --- |
| Pl | | name | Elo | Cat. | Fede | League | Club | Pts | Tr. | Cu. | Perf |
| 1 | g | INIYAN P | 2506 F | JunM | | | | 8 | 42 | 41½ | 2664 |
| 2 | g | SOLODOVNICHENKO Yuri | 2561 F | SenM | | IS | Vandoeuvre-Chess | 7½ | 42½ | 36½ | 2618 |
| 3 | m | KAMBRATH Yannick | 2375 F | SenM | | IDF | the Tour des Clayes | 6½ | 42½ | 35 | 2476 |
| 4 | f | GIREL Joseph | 2380 F | CadM | | PAC | Marseille-Chess | 6½ | 39½ | 32 | 2368 |
| 5 | | DEGARDIN Sylvain | 2234 F | SenM | | IDF | Saint-Maur Chess Club | 6 | 39½ | 32 | 2356 |
| 6 | | ALBARIC Etienne | 2237 F | SenM | | IDF | Nomad 'Chess | 6 | 39½ | 31½ | 2323 |
| 7 | | MULLER Anthony | 2269 F | SenM | | ARA | Genas Chess | 6 | 38 | 30½ | 2250 |
| 8 | f | DEFROMONT Benjamin | 2190 F | CadM | | PAC | Chess Rods | 6 | 30 | 21½ | 2207 |
| 9 | m | BUJISHO Benjamin | 2296 F | SenM | | PDL | Nantes Chess Circle | 5½ | 43 | 32 | 2332 |
| 10 | f | PUCHER Sebastien | 2266 F | SenM | | IS | Metz Fischer Chess Club | 5½ | 40 | 31½ | 2287 |
Final standings in Blitz
| | | | | | | | | | | | |
| --- | --- | --- | --- | --- | --- | --- | --- | --- | --- | --- | --- |
| Pl | | name | Blitz | Cat. | Fede | League | Club | Pts | Cu. | Tr. | Perf |
| 1 | g | INIYAN P | 2400 F | JunM | | | | 7½ | 41½ | 46½ | 2558 |
| 2 | g | SOLODOVNICHENKO Yuri | 2422 F | SenM | | IS | Vandoeuvre-Chess | 7½ | 40 | 47 | 2537 |
| 3 | g | GULIYEV Namig | 2483 F | SenM | | CVL | C'Chartres Chess | 7½ | 37½ | 44½ | 2535 |
| 4 | g | DOURERASSOU Jonathan | 2523 F | SenM | | IDF | USVillejuif Chess | 7 | 35 | 45 | 2465 |
| 5 | m | BUJISHO Benjamin | 2389 F | SenM | | PDL | Nantes Chess Circle | 6½ | 35 | 43½ | 2288 |
| 6 | | LARDON Quentin | 1597 F | CadM | | IDF | Nomad 'Chess | 6½ | 31 | 41½ | 2016 |
| 7 | g | FLOM Gabriel | 2456 F | SenM | | IDF | Tremblay in France | 6 | 35 | 44½ | 2382 |
| 8 | | EVENO Nathan | 1918 F | MinM | | CVL | Chessboard of Gâtinais | 6 | 33 | 44½ | 2079 |
| 9 | | LABRAND Theodore | 1968 F | MinM | | IDF | Nomad 'Chess | 6 | 32 | 37½ | 2128 |
| 10 | g | BELKHODJA Slim | 2404 F | SepM | | IDF | JEEN | 6 | 31½ | 42 | 2237C |
Links
---