FIDE World Cup 2021 R1.2: Gukesh to play tie-breaks
Eight out of nine Indian players have advanced to the second round of FIDE World Cup and Women's World Cup 2021. Gukesh drew his second consecutive game against Teclaf. He will have to play tie-breaks today, thus no rest day for him. Meanwhile, Adhiban, Aravindh, Nihal, Praggnanandhaa, Vaishali and Padmini have won their respective first round matches to advance to the next round. Only Vidit and Adhiban's opponents are still not yet confirmed, as they will have to play their respective tie-breaks. Round 1 tie-breaks will start today at 5:30 p.m. IST. Photo: Eric Rosen/FIDE
Adhiban, Aravindh, Nihal, Pragg, Iniyan, Vaishali and Padmini are through to Round 2
Adhiban, Aravindh, Vaishali and Padmini won their second consecutive game in round 1.2 each respectively. Nihal, Praggnanandhaa and Iniyan drew their games to advance to Round 2. Gukesh drew his second game too which means he will have to play tie-breaks against Teclaf today. The tie-breaks start with two rapid games of 25+10 each and if the need arises then more games will be played in reduced time controls until a player scores more in their two-game mini match.
Adhiban - Chipanga: 1-0
Chipanga went wrong early in the middlegame which cost him a pawn.
13...Be6 would have been better to keep d5 defended. Find out why 13...Bg6 is a mistake.
Concio - Aravindh: 0-1
Aravindh scored a convincing victory over Concio.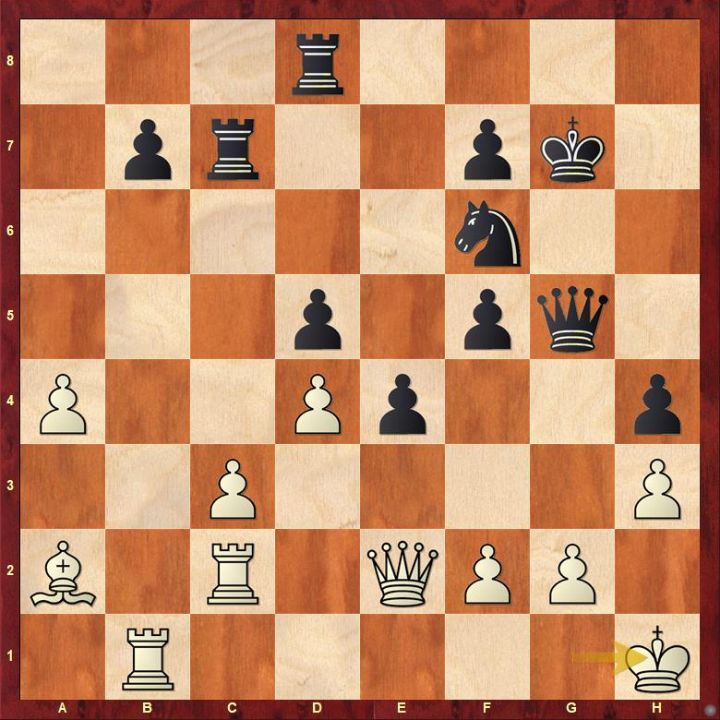 Black has a clear advantage in the above position. Find out how to convert it into a win. Aravindh's technique was academic.
Nihal - Ssegwanyi: 0.5-0.5
Nihal decided to conserve his energy for later rounds and made a quick draw, because World Cup is an endurance event, so no point in overexerting in the very first round. A smart, practical decision.
Praggnanandhaa - Bersamina: 0.5-0.5
Praggnanandhaa was winning for the better part of the game against Bersamina.
White could have continued 31.Rf2 and went on to win the game but Pragg decided to take the knight at d7 and allow the perpetual check which is again a good decision as he just needed a draw to advance to the next round.
Gukesh - Teclaf: 0.5-0.5
Gukesh made a comfortable draw with Teclaf which means he will have to play tie-breaks today.
Bogner - Iniyan: 0.5-0.5
Bogner is a daredevil player. In a must-win game, he started with a bang. Sacrificed his queen for two minor pieces.
Bogner announced early in the game that he means business. 11.Nxe5 is a clear indication of that.
White eventually got an opportunity, but he did not continue the momentum which he gained. 21.Re1 allowed Black to regroup his pieces 21...Ne7 and now Black is doing fine. Eventually Iniyan allowed a perpetual check, instead of pushing forward unnecesarily, because we all know World Cup is a long tournament. You don't need to win every game to advance to the next stage, sometime a practical approach for a draw is a better choice. What should have White played in the above position to keep his chances for a comeback?
Zhou - Vaishali: 0-1
Vaishali launched a crushing attack against which her opponent Zhou, did not have any good defense.
White lost several tempi which resulted in the above position.
Fataliyeva - Padmini: 0-1
Padmini won with ease against Fataliyeva after she blundered a pawn and then decided to give up an exchange, which made things worse.
Open results:
CM Chiletso Chapanga (MAW) - GM B Adhiban: 0-2
GM Aravindh Chithambaram - IM Michael Concio Jr. (PHI): 2-0
IM Arthur Ssegwanyi (UGA) - GM Nihal Sarin: 0.5-1.5
IM Paulo Bersamina (PHI) - GM Praggnanandhaa : 0.5-1.5
IM Pawel Teclaf (POL) - GM D Gukesh: 1-1
GM Iniyan P - GM Sebastian Bogner (SUI): 1.5-0.5
Women results:
WGM Vaishali R - WGM Qiyu Zhou (CAN): 2-0
IM Padmini Rout - WGM Ulviyya Fataliyeva: 2-0
Round 2 pairings:
Open
Adhiban's opponent will be decided today in the tie-breaks as Bangladesh's first GM in history, Niaz Murshed beat his opponent Paraguay no.1 GM Neuris Delgado Ramirez to keep his chances to advance to the next round. Vidit's opponent will also be decided in the tie-break between GM Jergus Pechac (SVK) and GM Alexandr Fier (BRA). Gukesh will need to win the tie-breaks to face former World Rapid champion Daniil Dubov in Round 2.
Pentala Harikrishna vs. GM Yasser Quesada Perez (CUB)
Aravindh Chithambaram vs. GM Nodirbek Abdusattorov (UZB)
GM Sanan Sjugirov (RUS) vs. Nihal Sarin
GM Gabriel Sargissian (ARM) vs. R Praggnanandhaa
GM Evgeny Tomashevsky (RUS) vs. Iniyan P
Women
IM Medina Warda Aulia (INA) vs. Harika Dronavalli
GM Bela Khotenashvili (GEO) vs. WGM Vaishali R
WGM Natalija Pogonina (RUS) vs. IM Bhakti Kulkarni
IM Padmini Rout vs. IM Sara Khadem (IRI)
Highlights
GM Alexander Onischuk (USA) scored a nice miniature against FM Akar Ali Salih Salih (EGY).
Find out the winning continuation for white in the above position. Onischuk won the game and the match 0-2 to advance to the next round.
Photo Gallery
Replay Round 1.2 Open games
Replay Round 1.2 Women games
Links:
---