FIDE World Cup 2021 R3 TB: Vidit wins a thriller against Adhiban
The highly anticipated match between the two top Indian players at the biggest stage - FIDE World Cup, exceeded all expectations. Fans of the sport, the entire chess universe was extremely excited about this slobber-knocker match. The tie-break started with two draws, then both players traded wins, including a flag fall for Vidit. They made a bare king draw before Vidit beating Adhiban one final time to advance to Round 4 and avoid Armageddon. Both players truly gave their all on the board and left a piece of themselves there. Vidit will face Jeffery Xiong in Round 4. Today is a rest day. Round 4 starts tomorrow at 5:30 p.m. IST. Photo: Eric Rosen/FIDE
Praggnanandhaa roars into Round 4
If you thought you have seen the fierce Praggnanandhaa in Round 3.2, wait till you see the tie-break games. He won both rapid tie-breaks with a complete domination in the first game and made a good recovery in the second one after gettting into a slight trouble in the endgame. He will face Maxime Vachier-Lagrave in the next round, which starts tomorrow. Perhaps chess is the only sport where you can see a 15-year-old have a fantastic match against a 57-year-old in a World Cup knockout elimination tournament.
Vidit - Adhiban: 4.5-3.5
The first two 25 mins + 10 seconds rapid games had no decisive results. However, Vidit could have struck first in the second rapid game.
Vidit - Adhiban, Game 4
White could have launched an attack 15.f5. The game continued 15.Ra3 Rb8 16.a5 and it eventually ended in a draw.
Vidit won the first 10 mins + 10 seconds blitz game.
Adhiban - Vidit, Game 5
White could have stayed in the game a bit longer if 28.Qxe2 was played instead of trading the queens 28.Qxc3 which ended the game immediately for White as 28...dxc3 29.Bxa8 c2 30.Rc1 Rxa8 is just over for White. Vidit gained a 3-2 lead.
Adhiban was once again put in a must-win situation. A back and forth game both sides had plenty of chances and misses was eventually won by 'The Beast' who levelled the score 3-3.
Vidit - Adhiban, Game 6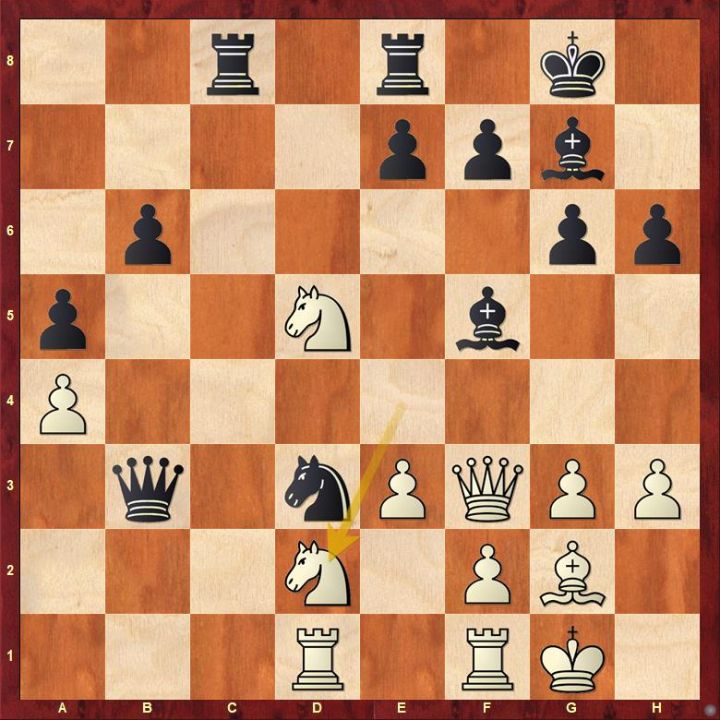 The above position is the critical moment of the game where the evaluation changed a lot. 26...Qc2 keeps things in control for Black. However, Black blundered 26...Qa3 which drops a piece after 27.e4 Be6 28.Nb1 Qxa4 and now 29.Qxd3 gets White back in the game but 29.Nxb6 was played and once again Black got the upper hand. Eventually Vidit ran out of time in a bishop vs. rook endgame where the final position was winning for Adhiban.
Vidit was completely winning in the first 5+3 blitz game but the pressure got to him and he lost all his advantage.
Vidit - Adhiban, Game 7
25.g4 Nf4 26.g5 and the knight is gone. 26...Nxh3+ 27.Kg2 and now Black cannot save the knight. This was a blitz and a high tension situation, so it is not easy to spot these. The game eventually liquidated into a king and pawn endgame where both players had only lone king left at the end of the game. Score is still level 3.5-3.5
Adhiban seemed to have had advantage in the endgame against Vidit in their second 5+3 game.
Adhiban - Vidit, Game 8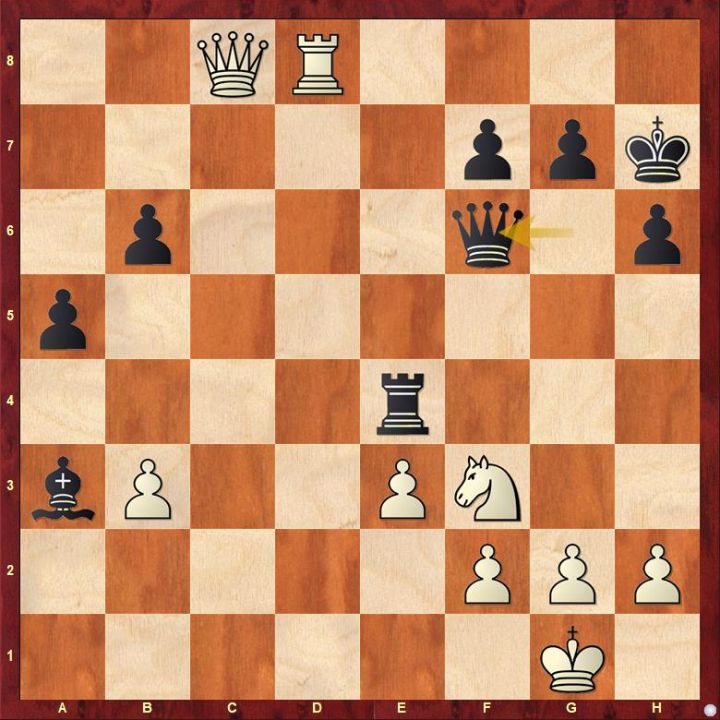 29.Rh8+ Kg6 30.h3 followed by Qc2 seemed like a plausible idea but White went 29.Qc2 directly. A few mistakes later, White arrived at a lost queen endgame and eventually ran out of time. Vidit won the game, match 4.5-3.5 and advanced to the fourth round where he will face USA no.6 and World no.33 GM Jeffery Xiong.
Praggnanandhaa - Krasenkow: 3-1
Praggnanandhaa opted for 1.b3 in the first rapid game and he played like a fire-breathing dragon on the board.
Praggnanandhaa - Krasenkow, Game 3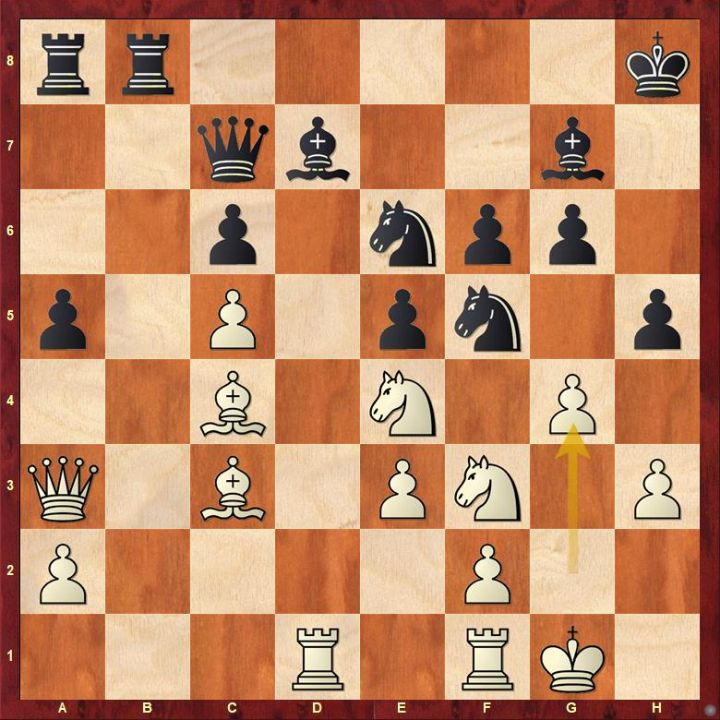 25.g4 is absolutely necessary because Black's pieces are cramped and the king at h8 is more vulnerable than white's. 25...hxg4 26.hxg4 Nh6 27.Rd6 Nxg4 28.Rh1+ Nh7 and we get the following position.
White's position is good that there are multiple ways for White to score a win here. White's attack is overwhelming in all the ways. Find out a winning continuation for White. Praggnanandhaa gained a 2-1 lead.
Praggnanandhaa did not play the most accurate way in the second rapid game, but he managed to win the game and the match 3-1 to advance to the next round where he will face the France no.2 and World no.16 Maxime Vachier-Lagrave.
Results:
Open
GM Vidit Gujrathi - GM B Adhiban: 4.5-3.5
GM Praggnanandhaa R - GM Michal Krasenkow (POL) - : 3-1
Abdusattorov - Giri: 3-1
One of the biggest upset of Round 3 is 16-year-old Uzbekistan no.2 and World no.127 Nodirbek Abdusattorov eliminating the fan favorite World no.8 Anish Giri. After both classical games ending in draws, Abdusattorov beat Giri in two consecutive rapid games to advance to the next round.
Martirosyan - Mamedyarov: 2.5-1.5
The other big upset of the day was Armenia no.7 and World #129 GM Haik Martirosyan eliminated World no.6 Shakhriyar Mamedyarov (AZE).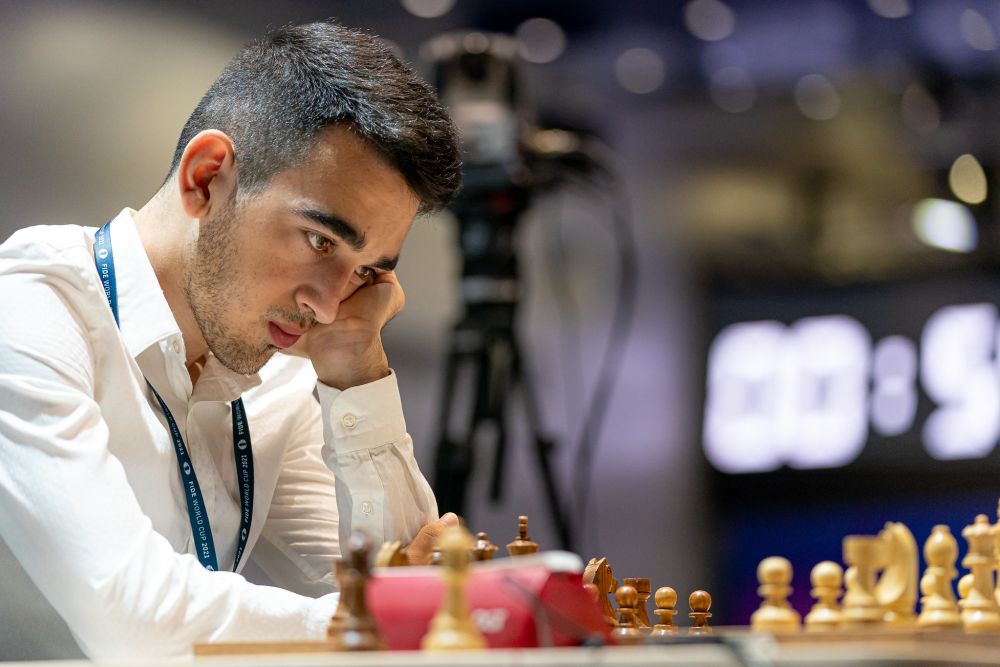 Assaubayeva - Khotenashvili: 4-2
16-year-old IM Bibisara Assaubayeva (KAZ) continues her good form and this time she eliminated GM Bela Khotenashvili (GEO). In the previous round, the young Kazakh girl eliminated her compatriot and Kazakhstan's latest GM Zhansaya Abdumalik. Assaubayeva did not lose a single game in the third round.
Highlights
Here are a few interesting finishes from Round 3 Tie-breaks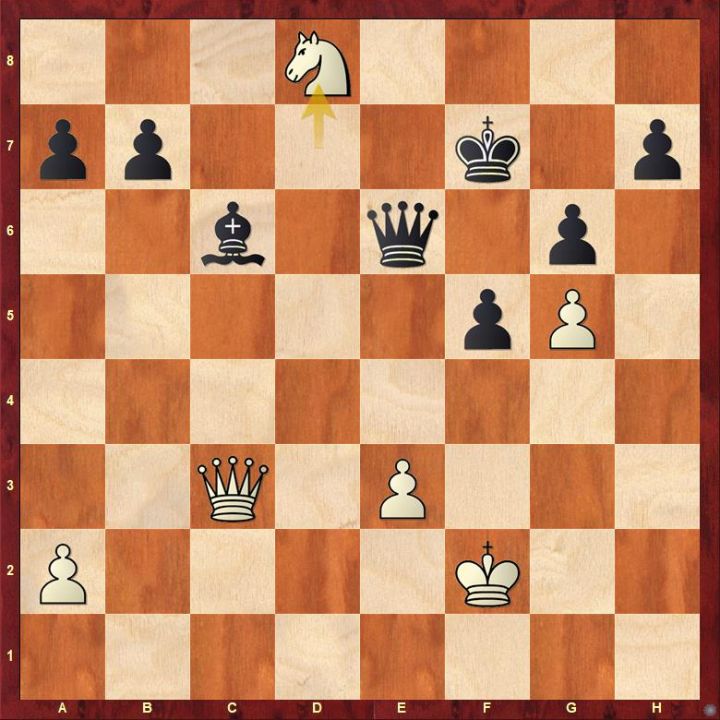 Photo Gallery
Replay Round 3 Tie-break Open games
Replay Round 3 Tie-Break Women games
Links:
---