FIDE World Cup 2021 R2.2: Harikrishna, Adhiban, Pragg, Nihal and Harika advance to Round 3
Five Indians - Harikrishna, Adhiban, Praggnanandhaa, Nihal and Harika have secured their place in Round 3 of FIDE World Cup and FIDE Women's World Cup respectively. Only Praggnanandhaa won both of his second round games to advance to the next round. Gukesh, Vidit and Padmini drew their respective games. They will have to play tie-breaks today. Aravindh, Iniyan, Bhakti and Vaishali have lost their respective games, thus their journey at the World Cup 2021 comes to an end. Round 2 tie-break games start today at 5:30 p.m. IST. Watch the Live commentary and analysis on ChessBase India youtube channel with IM Sagar Shah and Amruta Mokal. Photo: Anastasiia Korolkova/FIDE
Aravindh, Iniyan, Bhakti and Vaishali get eliminated
Harikrishna, Adhiban, Praggnanandhaa and Nihal won their respective games. Harika advanced to the next round as her opponent Aulia withdrew from the tournament due to the safety concern of all participants.
Harikrishna - Quesada Perez: 1-0
It is no secret that Harikrishna has an impeccable knowledge of the endgame. GM Yasser Quesada Perez (CUB) got a taste of it.
Harikrishna was better for the majority of the endgame. 41...Kd4 only made things difficult for Black. The game continued 42.Rb6 Rc7 43.Be2 Rc8 44.e6 Kc5
White has more than one way to win, find out the best one.
Vidit-Fier: 0.5-0.5
Vidit drew with GM Alexandr Fier (BRA). They will play tie-breaks today.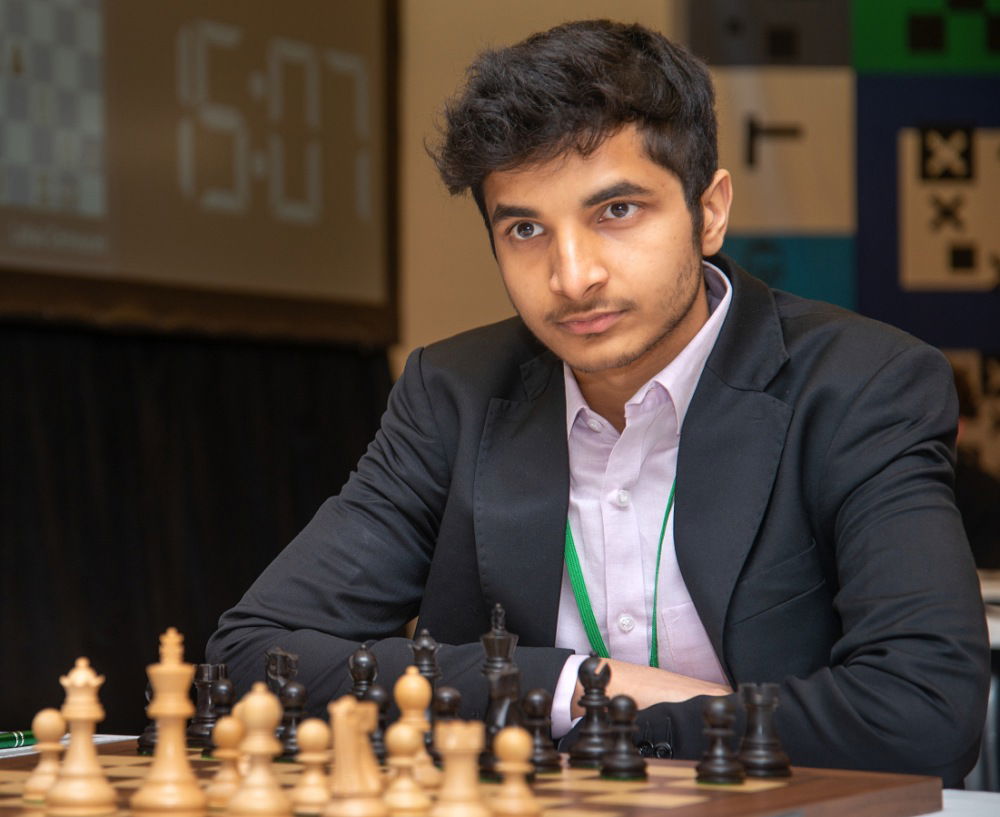 Dubov - Gukesh: 0.5-0.5
Gukesh once again held his own against 136 points rated higher opponent, Daniil Dubov. He had a difficult position against the former World Rapid champion.
White could have made things a bit more difficult for Black, starting with 44.Rc5 Bb8 45.hxg5 hxg5 46.Rb5 Bh2 47.Kg2 Bf4 48.Kf1 etc. The text 44.Rd7 allowed Gukesh to put his bishop in a safer diagonal 44...Ba5 45.Rd6+ Kh5 46.Ra6 Bc3 47.Nf5 gxh4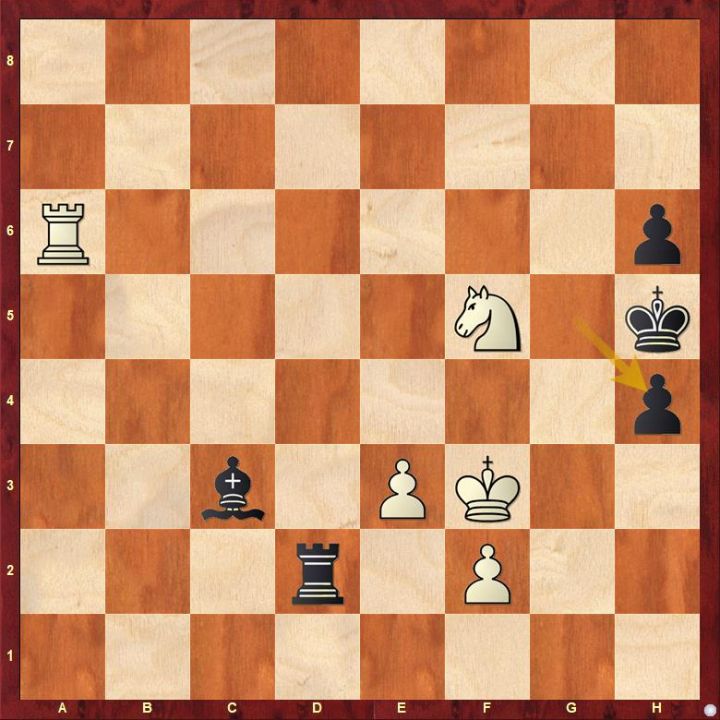 47.Rc6 probably was a better continuation for White, keeps his chances than to take on h6 directly, let alone with a knight. Gukesh exchanged the rooks at the first opportunity he got and managed to salvage a draw, forcing tie-breaks.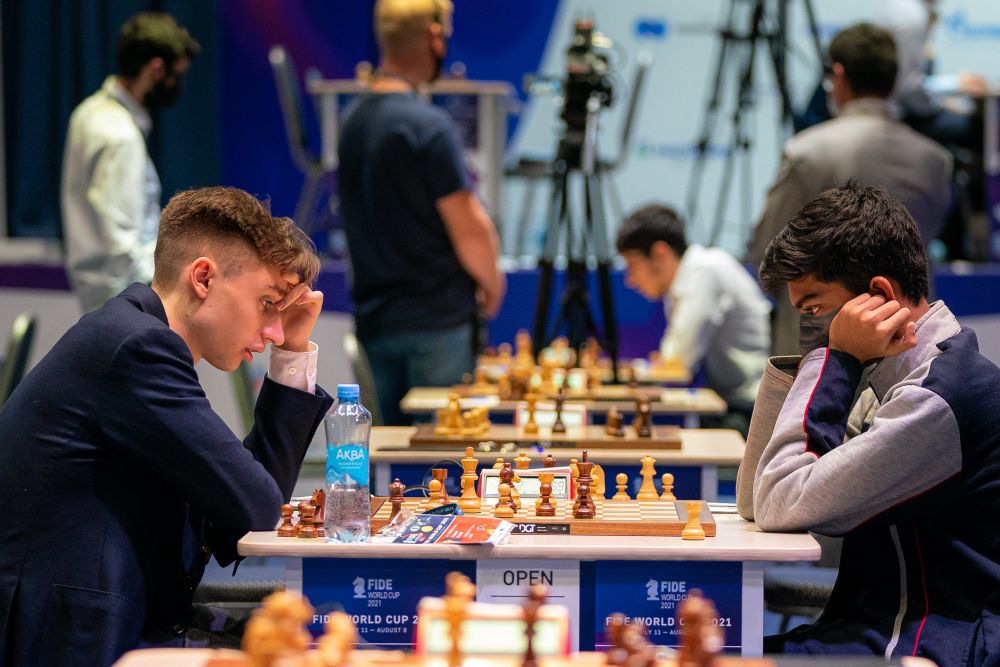 Tomashevsky - Iniyan: 1-0
Iniyan moved his queen strangely which cost him a lot of valuable tempi against GM Evgeny Tomashevsky (RUS).
17...Qb2 does not add much. Black is already lacking in development. 17...h5 or Ra8, a5 is what the computer suggests. After 18.Rc2 Qa3 19.Qe3 Qa5 20.c5 the black queen got shut. White won the game in another six moves.
Sargissian - Praggnanandhaa: 0-1
Being in a must-win situation, GM Gabriel Sargissian made a desperate sacrifice with the hope of getting something.
23.Nh6+ is nothing but a scare tactic. Pragg is not the one who gets rattled easily. 23.Ne3 is what White needed to play. Black called White's bluff and took the knight as it was forced because declining the sacrifice would only make things worse for Black.
Pragg kept things simple and went for liquidation because the resultant rook ending is completely winning for him.
Sjugirov - Nihal: 0-1
Nihal got himself a fantastic position against Sjugirov in the middlegame.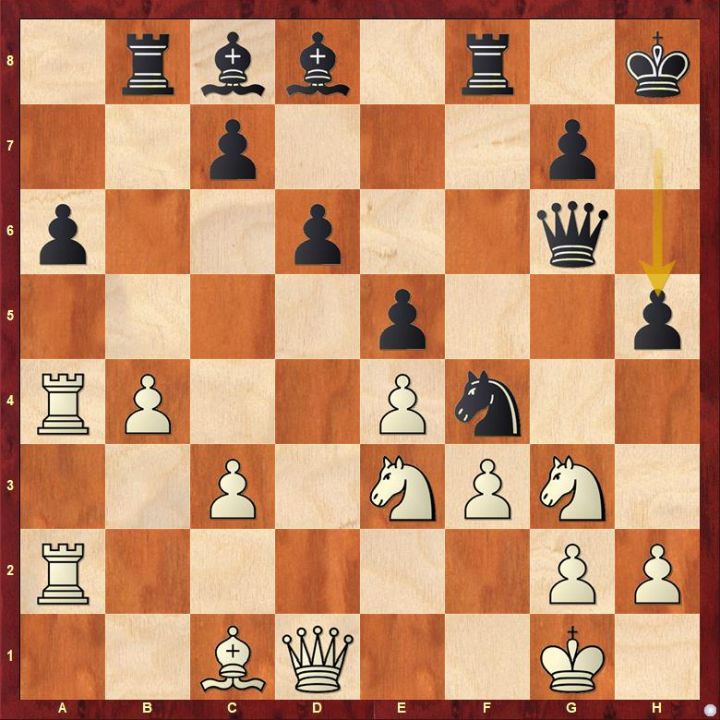 A lot of things have gone wrong for White and almost everything seems to have gone right for Black.
Position after 32...d5
Things started falling apart for White after the 32...d5 break. 33.Nxe5 dxe4 34.fxe4 Bxe4 was fine, but 35.Nd7 gave the opening Black was looking for. 35...Rxf5 36.Nxb8 and White lacks enough resistance as the b8-knight is far away from the action.
Neuris - Adhiban: 0-1
GM Neuris Delgado Ramirez (PAR) was unable to maintain the tension in the endgame as he decided to take a pawn and damage his own pawn structure.
33.cxb5 does not immediately finish the game for White but you get an inkling things will fall apart for White sooner than later, which is exactly what happened.
Aravindh - Abdusattorov: 0-1
Aravindh's first loss against GM Nodirbek Abdusattorov (UZB) in over a year cost him dearly.
Perhaps 21.Rxd5 was an incorrect practical decision because playing with a queen against two rooks without much to go on, is definitely going to be quite a daunting task.
Padmini - Khadem: 0.5-0.5
Padmini had a well-contested draw with Iran no.1 woman IM Sara Khadem.
Pogonina-Bhakti: 1-0
Bhakti once again got eliminated by WGM Natalija Pogonina (RUS), just like the previous knockout Women's World Championship in 2018.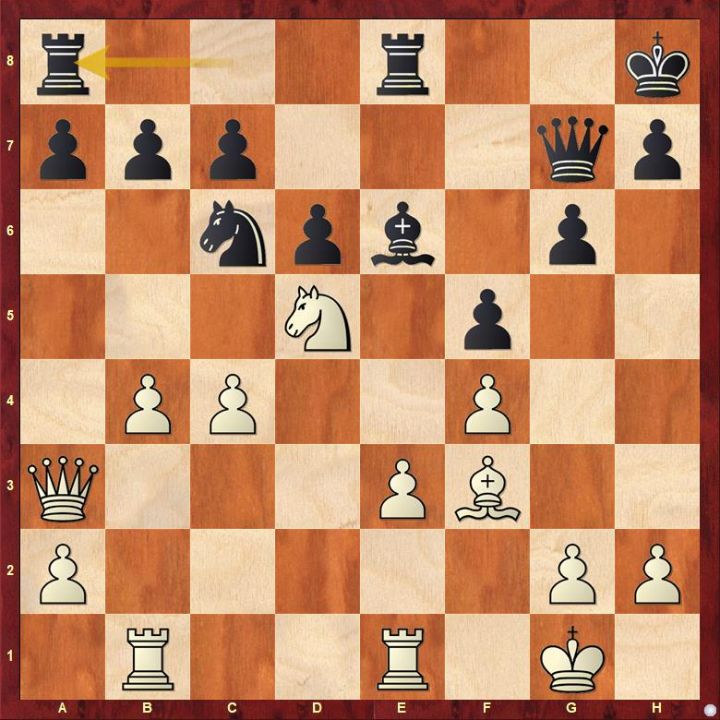 Black was already having a difficulty position. 21...Ra8 invited more trouble 22.b5 Nd8 23.b6. Black managed to get out of trouble, but the eventual rook ending was completely winning for White.
Vaishali - Khotenashvili: 0-1
Vaishali started aggressively, but then she suddenly took her foot off the accelerator.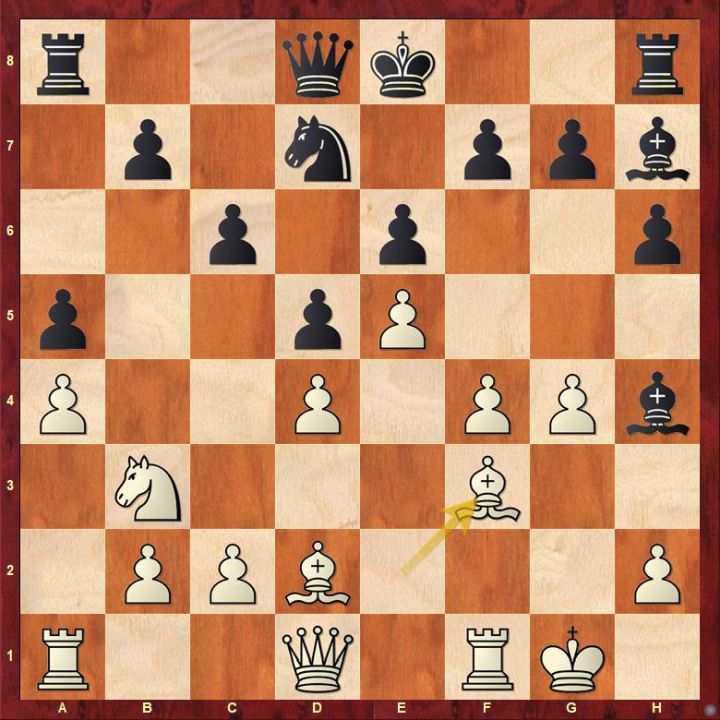 In a must-win situation, White needed to continue what she started. 14.f5 seemed more logical than 14.Bf3 which allowed Black enough time to regroup.
Results:
Open
GM Daniil Dubov (RUS) - D Gukesh: 1-1
GM Evgeny Tomashevsky (RUS) - Iniyan P: 2-0
Vidit Gujrathi - GM Alexandr Fier (BRA): 1-1
GM Neuris Delgado Ramirez (PAR) - B Adhiban: 0-2
Pentala Harikrishna - GM Yasser Quesada Perez (CUB): 1.5-0.5
Aravindh Chithambaram - GM Nodirbek Abdusattorov (UZB): 0.5-1.5
GM Sanan Sjugirov (RUS) - Nihal Sarin: 0.5-1.5
GM Gabriel Sargissian (ARM) - R Praggnanandhaa: 0-2
Women
IM Medina Warda Aulia (INA) - GM Dronavalli Harika: 0-2
IM Padmini Rout IM - Sara Khadem (IRI): 1-1
WGM Natalija Pogonina (RUS) - IM Bhakti Kulkarni: 1.5-0.5
WGM Vaishali R - GM Bela Khotenashvili (GEO): 0-2
Round 3 pairings
Open
Adhiban's opponent will be decided today between Vidit or Alexandr Fier.
Harikrishna vs. GM Constantin Lupulescu (ROU)
Praggnanandhaa vs. GM Michal Krasenkow (POL)
Nihal vs. GM Dmitry Andreikin (RUS)
Women
GM Valentina Gunina (RUS) vs. Harika
Krasenkow - Alekseenko: 1-0
Arguably the best game of the day was played between GM Michal Krasenkow (POL) who eliminated GM Kirill Alekseenko (RUS).
A beautiful move like 29.Rxh6 can only be spotted and played by humans. The rest of the game is just a pure bliss for White and a nightmare for Black.
Highlights
Here are a few interesting finishes from Round 2.2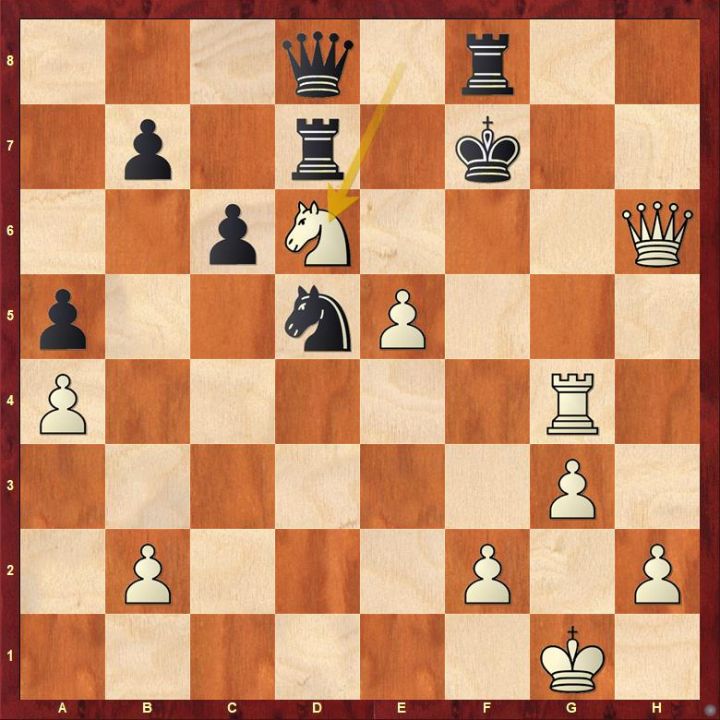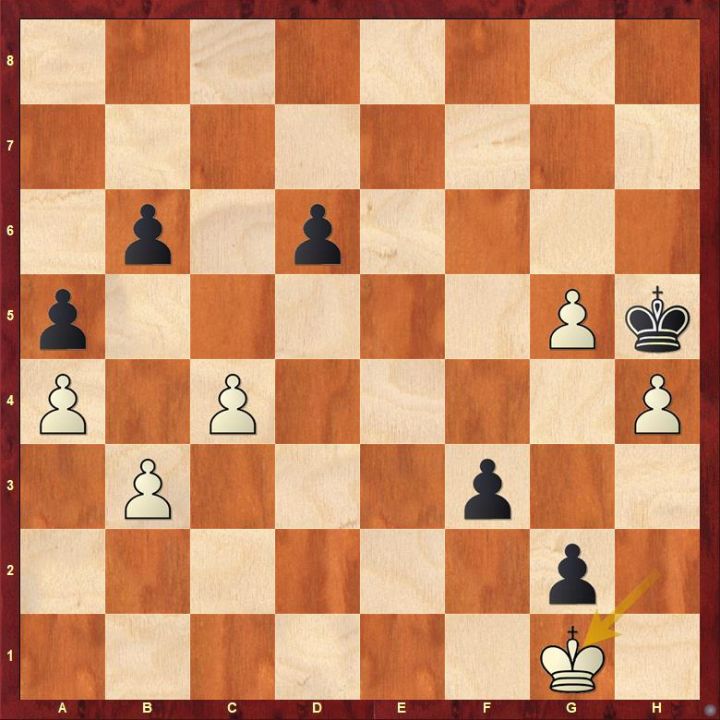 Photo Gallery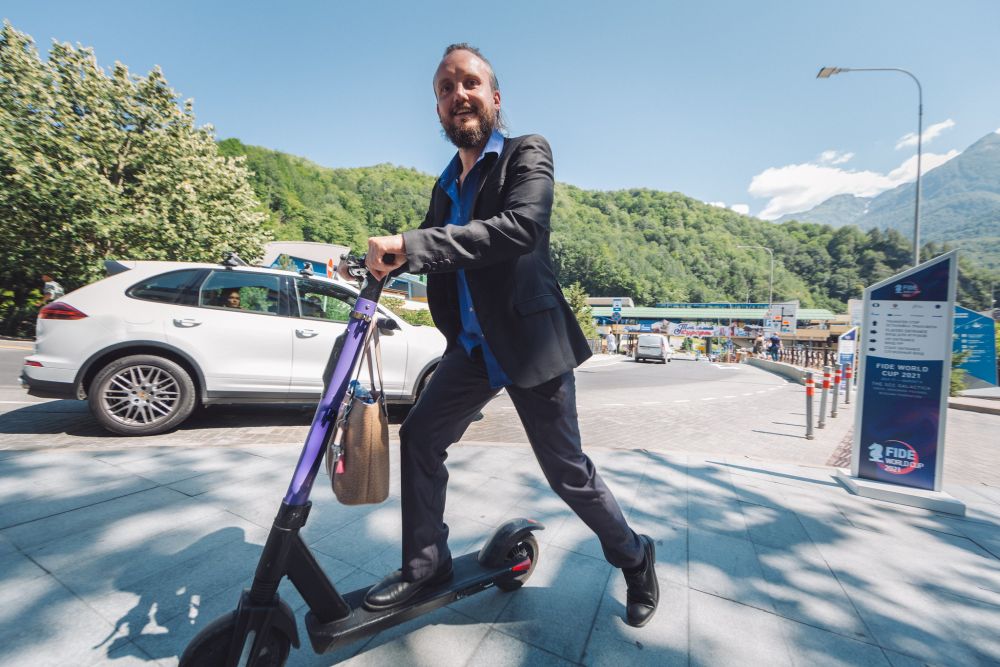 Forfeits
Levon Aronian pulled out of the FIDE World Cup 2021 citing health concerns. He announced it on his facebook much before Round 2.2
IM Irine Kharisma Sukandar (INA) tweeted about her and her compatriot IM Medina Warda Aulia's withdrawal from the event, resulting in Gunina and Harika advancing to Round 3.
Replay Round 2.2 Open games
Replay Round 2.2 Women games
Links:
---