Carlsen composes a symphony of positional sacrifice
by Shahid Ahmed - 05/08/2021
The first game of the FIDE World Cup 2021 Final between Karjakin and Duda was a damp squib - as perfectly described by the British legend Nigel Short during the live commentary. Karjakin's good preparation did not work out as his novelty was surprised by Duda's response and thus a draw was made by repetition. The only other game of the day between Fedoseev and Carlsen will be one for the ages because of Carlsen's brilliant positional sacrifice. Generally the world champion unleashes his 'Hulk mode' after suffering a loss, however this time, 'The Mozart of Chess' composed a beautiful symphony whose melody reverberated throughout the chess universe, and perhaps it will continue to be for eons. Photo: David Llada/FIDE
Karjakin - Duda will fight another day
Karjakin did not want to complicate things and made a quick draw in 17-moves by repetition. He was well-prepared in the opening as mentioned by him in the post-match interview, and it was also evident by his novelty.
Karjakin - Duda: 0.5-0.5
The first game of the Finals was a surprisingly quick 17-move draw. It is quite understandable for Duda because he played for three consecutive days against Carlsen, so he would definitely like to rejuvenate before battling for the World Cup against Karjakin.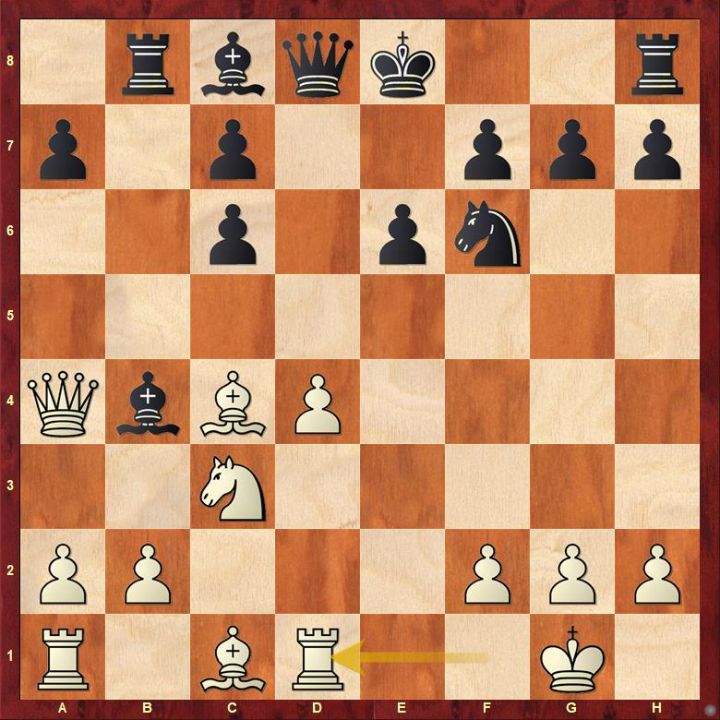 FIDE World Cup 2015 winner - Karjakin played a novelty 11.Rd1 against which Duda replied 11...Bd7. After 12.Bg5 Be7, White opted for 13.Qxa7 which leads to a forced draw 13...Ra8 14.Qb7 Rb8 as the queen gets attacked repeatedly like a pinball, and it cannot get back to a safe square.
Fedoseev - Carlsen: 0-1
Carlsen made a brilliant positional sacrifice which would definitely make it into several books in the near future.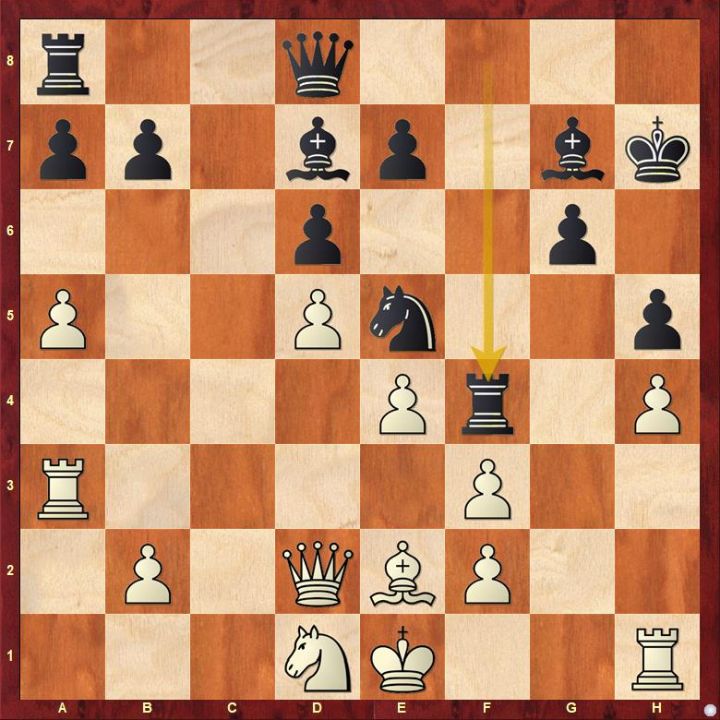 18...Rxf4! forces the white queen to stay on the kingside after 19.Qxf4 Bh6 20.Qg3 Qf8 21.Ne3 Bf4. The queen's mobility gets drastically reduced due to space constraints. Black almost gets a free roam on the queenside.
There is nothing White can do here except be a spectator. 27.Qg1 was an attempt to free the position with Ng2, f4 but the world champion is ready with his own plans 28...Qa8 making deadly threats at White's back rank which made the e3-knight virtually pinned. White's pieces got completely tied up, started running out of moves to make and eventually lost the game.
Photo Gallery
Links:
---
Related news
:
Jan-Krzysztof Duda clinches FIDE World Cup 2021

@ 06/08/2021 by Shahid Ahmed (en)
पोलैंड के यान डूड़ा बने फीडे विश्व कप 2021 के विजेता

@ 05/08/2021 by Niklesh Jain (hi)
Jan-Krzysztof Duda shatters Carlsen's World Cup dreams

@ 04/08/2021 by Shahid Ahmed (en)
विश्व कप फिर बना कार्लसन का ख्वाब ,डूड़ा ने दी मात

@ 03/08/2021 by Niklesh Jain (hi)
Alexandra Kosteniuk wins the FIDE Women's World Cup 2021

@ 03/08/2021 by Shahid Ahmed (en)
FIDE Women's World Cup 2021 Final 1: Kosteniuk swindles Goryachkina

@ 02/08/2021 by Shahid Ahmed (en)
FIDE World Cup 2021 QF TB: Resilient Karjakin knocks out Shankland

@ 31/07/2021 by Shahid Ahmed (en)
विदित हुए विश्व कप से बाहर ,सपना टूटा हौसला नहीं

@ 30/07/2021 by Niklesh Jain (hi)
FIDE World Cup 2021 QF2: Duda eliminates Vidit

@ 30/07/2021 by Shahid Ahmed (en)
FIDE World Cup 2021 QF1: Carlsen and Shankland score convincing wins

@ 29/07/2021 by Shahid Ahmed (en)
विश्व कप QF - विदित और डूड़ा की पहली बाजी अनिर्णीत

@ 29/07/2021 by Niklesh Jain (hi)
FIDE World Cup 2021 R5 TB: Carlsen wins an epic match against Esipenko

@ 28/07/2021 by Shahid Ahmed (en)
फीडे विश्व कप - QF - विदित से होगा डूड़ा का मुक़ाबला

@ 28/07/2021 by Niklesh Jain (hi)
FIDE World Cup 2021 R5.2: Vidit and Shankland through to the Quarterfinals

@ 27/07/2021 by Shahid Ahmed (en)
विदित नें रचा इतिहास : विश्व कप के अंतिम 8 में पहुंचे

@ 26/07/2021 by Niklesh Jain (hi)
FIDE World Cup 2021 R5.1: Vidit makes a great escape

@ 26/07/2021 by Shahid Ahmed (en)
फीडे विश्व कप R 5.1 : विदित नें बचाई मुश्किल बाजी

@ 25/07/2021 by Niklesh Jain (hi)
FIDE World Cup 2021 R4 TB: Carlsen makes his way to the Round of 16

@ 25/07/2021 by Shahid Ahmed (en)
FIDE World Cup 2021 R4.2: Vidit storms into Round of 16

@ 24/07/2021 by Shahid Ahmed (en)
बुलंद इरादो के साथ विदित विश्व कप के अंतिम 16 में

@ 24/07/2021 by Niklesh Jain (hi)
FIDE World Cup 2021 R4.1: Vidit beats Xiong, Pragg holds MVL to a draw

@ 23/07/2021 by Shahid Ahmed (en)
विश्व कप R4.1 : विदित नें भुनाया मौका ,जेफ्री को हराया

@ 22/07/2021 by Niklesh Jain (hi)
फीडे विश्व कप : विदित - अधिबन मुक़ाबले नें रोकी साँसे

@ 21/07/2021 by Niklesh Jain (hi)
FIDE World Cup 2021 R3 TB: Vidit wins a thriller against Adhiban

@ 21/07/2021 by Shahid Ahmed (en)
FIDE World Cup 2021 R3.2: Harikrishna through to Round 4, Adhiban makes a comeback

@ 20/07/2021 by Shahid Ahmed (en)
FIDE World Cup 2021 R3.1: Harikrishna, Vidit and Pragg score

@ 19/07/2021 by Shahid Ahmed (en)
फीडे विश्व कप R3.1:अधिबन से जीते विदित : हरिकृष्णा , प्रग्गानंधा को जीत तो निहाल ,हरिका को मिली हार

@ 18/07/2021 by Niklesh Jain (hi)
FIDE World Cup 2021 R2 TB: Vidit conquers Fier

@ 18/07/2021 by Shahid Ahmed (en)
फीडे विश्व कप - टाईब्रेक जीत विदित तीसरे दौर में

@ 18/07/2021 by Niklesh Jain (hi)
फीडे विश्व कप R 2.2- निहाल -प्रग्गानंधा फिर चमके

@ 17/07/2021 by Niklesh Jain (hi)
FIDE World Cup 2021 R2.2: Harikrishna, Adhiban, Pragg, Nihal and Harika advance to Round 3

@ 17/07/2021 by Shahid Ahmed (en)
FIDE World Cup 2021 R2.1: Gukesh holds Dubov to a draw

@ 16/07/2021 by Shahid Ahmed (en)
फीडे विश्व कप R2 : हरिका ,अधिबन ,प्रग्गानंधा जीते

@ 16/07/2021 by Niklesh Jain (hi)
FIDE World Cup 2021 R1 TB: Gukesh advances to Round 2

@ 15/07/2021 by Shahid Ahmed (en)
FIDE World Cup 2021 R1.2: Gukesh to play tie-breaks

@ 14/07/2021 by Shahid Ahmed (en)
फीडे विश्व कप R:1.2 - गुकेश करेंगे टाईब्रेक का सामना

@ 14/07/2021 by Niklesh Jain (hi)
FIDE World Cup 2021 R1.1: Indian Men and Women off to a fantastic start

@ 13/07/2021 by Shahid Ahmed (en)
फीडे विश्व कप का आरंभ - भारत की अच्छी शुरुआत

@ 13/07/2021 by Niklesh Jain (hi)
फीडे नें जारी की विश्व कप शतरंज 2021 की अंतिम सूची

@ 22/06/2021 by Niklesh Jain (hi)