FIDE World Cup 2021 R2.1: Gukesh holds Dubov to a draw
Three out of twelve Indian players won their respective games in Round 2.1. Adhiban scored a fantastic win with a beautiful finish, Praggnanandhaa played the endgame correctly and Harika outplayed her opponent positionally. Both Iniyan and Vaishali who were facing stronger Tomashevsky and Khotenashvili respectively, lost their games, and now they are in a must-win situation. Gukesh who is facing the much stronger Dubov, held his own and managed to make a draw with a very impressive play against the former World Rapid champion. Harikrishna, Vidit, Nihal, Aravindh, Padmini and Bhakti drew their respective games. Round 2.2 starts today at 5:30 p.m. IST. Watch the Live commentary and analysis on ChessBase India youtube channel with IM Sagar Shah and Amruta Mokal. Photo: Anastasiia Korolkova/FIDE
Adhiban, Harika and Pragg win
Adhiban, Harika and Praggnanandhaa won their respective games which means they just need a draw in today's Round 2.2 game to advance to Round 3. Iniyan and Vaishali suffered a loss each. They are in a must-win situation to force tie-breaks and keep their chances in the tournament.
Quesada Perez - Harikrishna: 0.5-0.5
Harikrishna drew his first game against GM Yasser Quesada Perez (CUB).
27.Rxd4 Rxd4 and then 28.Qf3 with the idea of pushing the passed h-pawn could have probably made things slightly unpleasant for Black. The computer says White would have had a +3 decisive advantage. The game continued 27.Qf3 Rd5 28.c4 Rxd3 29.Rxd3 Rxd3 30.Qxd3 Qf2+ and Black decided to go for a perpetual check. Being an endgame expert, Harikrishna obviously realized what could have gone wrong, thus he decided a draw is a good result in this position.
Fier-Vidit: 0.5-0.5
GM Alexandr Fier (BRA) got an exchange but Vidit was never in any danger as he had enough compensation for it.
White gains an exchange after 18...Rxd6 19.exd6 Bxd7 20.Rxb7 Be6 21.d7 Bg5 22.Rb8+ Kg7 23.d8=Q Bxd8 24.Rxd8. However, Black was no way in any kind of trouble. A draw was made after a few moves.
Gukesh - Dubov: 0.5-0.5
Gukesh has the toughest opponent of the round among all Indians. Former World Rapid champion Daniil Dubov is a very sharp and strong player.
White confidently played 23.Bb4 and decided to give up a bishop pair for a rook and pawn which can be quite challenging since the position is open and Black has a double bishop.
43.e6 shows that Gukesh is here to put up a very good fight against one of the seconds of the world champion. Dubov tested Gukesh a bit more by sacrificing an exchange.
Position after 48.Rc1
What a finish by Gukesh, 48.Rc1 just kamikaze's the rook. White will keep moving the rook on c-file to attack the queen and try to force an exchange as the resultant queen ending will be a draw. 48...Qa7 is not a good idea because 49.Rb1 followed by Rb7 will be deadly. A draw was agreed in the above position as Black cannot make progress.
Iniyan - Tomashevsky: 0-1
Iniyan was a bit surprised by GM Evgeny Tomashevsky's (RUS) choice of line in the Berlin.
White was already behind in development. 20.d5 did not help with that, in fact it only made the pawn and the position weaker for White. 20.Rxf5 was a viable option. Tomashevsky exploited all weaknesses and eventually won the game.
Praggnanandhaa - Sargissian: 1-0
Praggnanandhaa got himself in the driver's seat out of the Scotch Opening. Armenia no.2 GM Gabriel Sargissian wanted to get rid of White's well-placed knight at c6.
29...Bxc6 is not a good idea as it gives White a pawn wedge which eventually turned out to be the deciding factor of the game.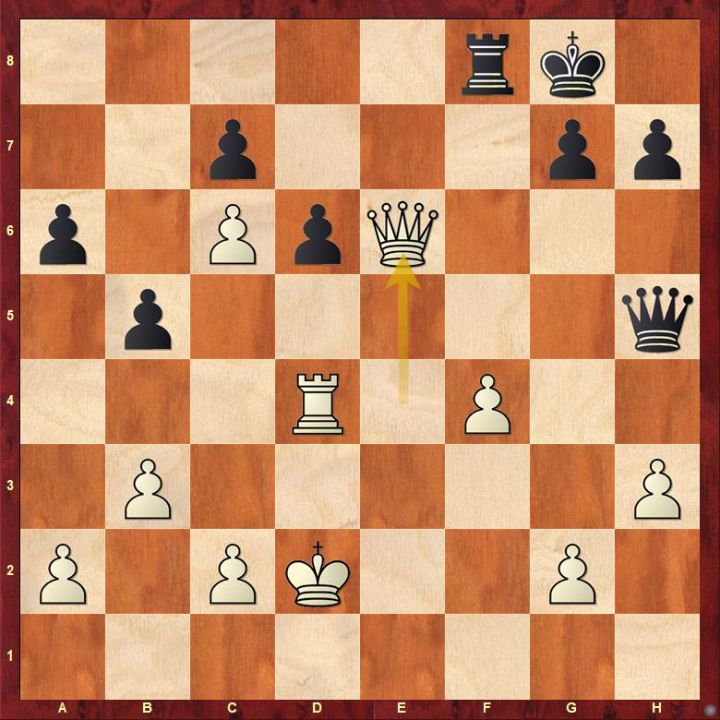 Black only wanting to move the queen and not activating the rook cost him dearly. White used his queen to gain the c7-pawn and then tuck his king at b2 for safety which forced a resignation by his opponent.
Nihal - Sjugirov: 0.5-0.5
Nihal drew with GM Sanan Sjugirov (RUS). Previously they faced twice in an over-the-board at Aeroflot Open. Both times the result was a draw.
Adhiban - Neuris: 1-0
If you were looking for fireworks, look no further. Adhiban unleashed his 'beast mode' on Paraguay no.1 GM Neuris Delgado Ramirez.
White is completely winning here. Find out the winning combination.
Abdusattorov - Aravindh: 0.5-0.5
Over the past year, Aravindh has played against GM Nodirbek Abdusattorov (UZB) plenty of times in online. Aravindh has a plus score against the young Uzbekistan no.2. They had a well-contested draw.
Harika - Aulia: 1-0
Harika got herself a very good position early in the middlegame against IM Medina Warda Aulia (INA).
21.Nb8 may not add a lot to the position for White, but it is definitely aesthetically satisfying if you do it on the board at a tournament. Harika outplayed her opponent positionally and converted her advantage into a win comfortably.
Bhakti - Pogonina: 0.5-0.5
Bhakti was eliminated by WGM Natalija Pogonina (RUS) almost three years ago in the first round of Women's World championship. However this time things are different, Bhakti is much stronger now, and she started with a solid draw.
Khotenashvili - Vaishali: 1-0
Vaishali went wrong in an extremely complex queen and minor piece ending against GM Bela Khotenashvili (GEO).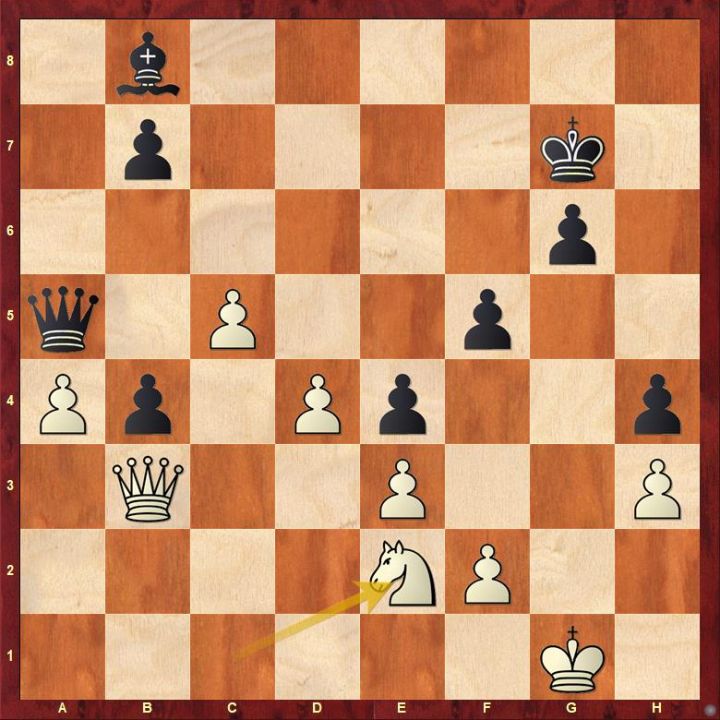 Queen endings are always very complex. White having a queen-knight against queen-bishop only put Vaishali more at a disadvantage.
Black's only attempt to save this game would be to get a perpetual check. To do that, 41...Bc7 42.Qxb7 Kh6 43.Qxc7 Qb1+ 44.Kd2 Qd3+ 45.Kc1 Qc4+ is one of the way but certainly not the forced one. It is difficult for a human to figure that out but the idea should be tuck the black king at h6 and try to give up the bishop in order to get a perpetual check which is much easier said than done. Khotenashvili is a very strong player and she managed to eventually win the game.
Results:
Open
Gukesh D - GM Daniil Dubov (RUS): 0.5-0.5
Iniyan P - GM Evgeny Tomashevsky (RUS): 0-1
GM Alexandr Fier (BRA) - Vidit Gujrathi: 0.5-0.5
B Adhiban - GM Neuris Delgado Ramirez (PAR): 1-0
GM Yasser Quesada Perez (CUB) - Pentala Harikrishna : 0.5-0.5
GM Nodirbek Abdusattorov (UZB) - Aravindh Chithambaram: 0.5-0.5
Nihal Sarin - GM Sanan Sjugirov (RUS): 0.5-0.5
Praggnanandhaa R - GM Gabriel Sargissian (ARM): 1-0
Women
Dronavalli Harika - IM Medina Warda Aulia (INA): 1-0
IM Sara Khadem (IRI) - IM Padmini Rout: 0.5-0.5
IM Bhakti Kulkarni - WGM Natalija Pogonina (RUS): 0.5-0.5
GM Bela Khotenashvili (GEO) vs WGM Vaishali R: 1-0
Highlights
Here are a few interesting finishes from Round 2.1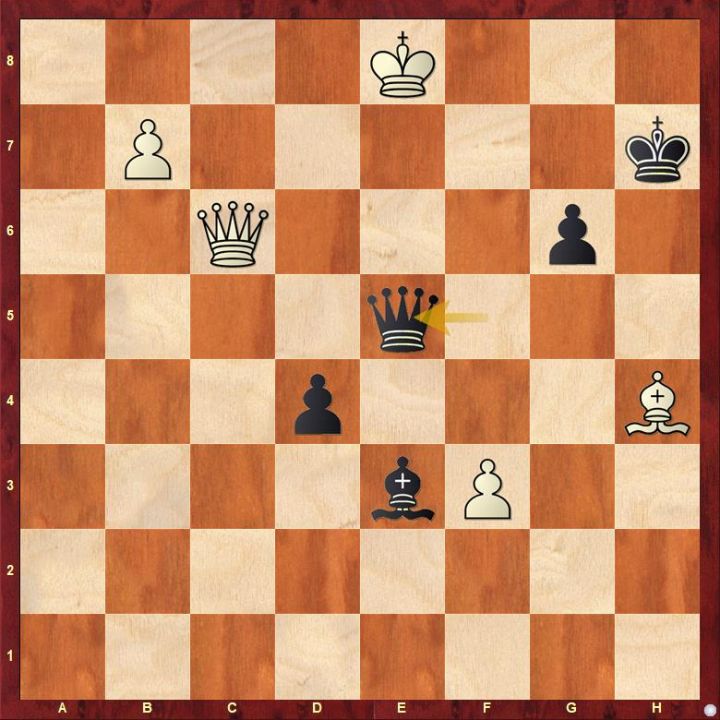 Photo Gallery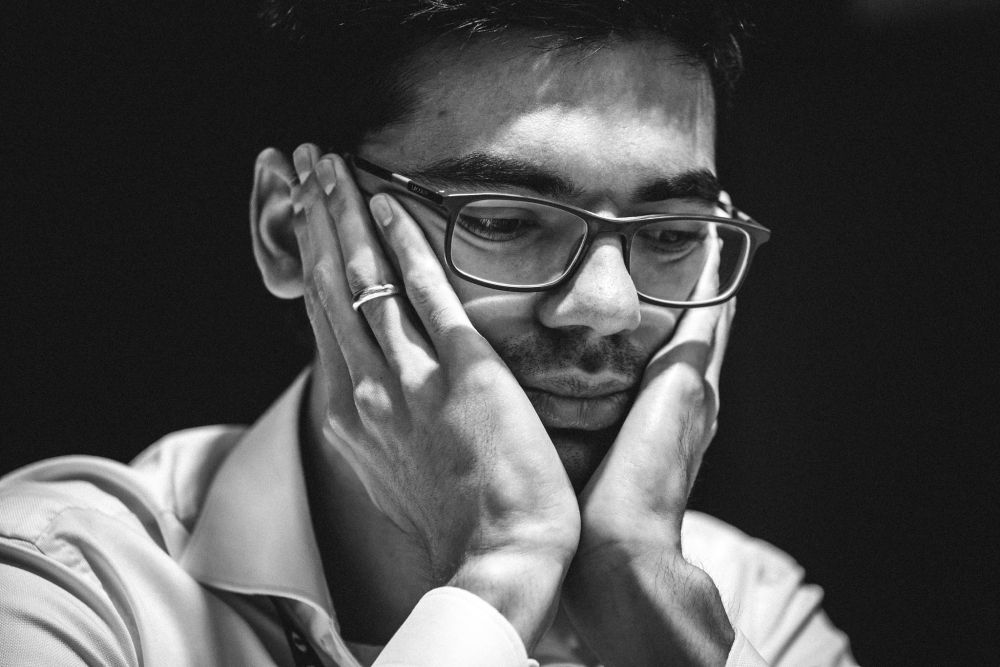 One of the funniest accidental handshake happened before the game between GM Alireza Firouzja (FRA) and GM Javokhir Sindarov (UZB).
Forfeits
FIDE announced via twitter that Armenia no.1 Levon Aronian will forfeit his first game against Australia no.2 GM Bobby Cheng, due to some health concerns.
A few hours after the start of Round 2.1, FIDE tweeted that one of the player was tested positive. The result was known during the game, thus he was declared lost and immediately asked to leave the premises.
As per privacy regulations, FIDE did not reveal the name of the player.
However, those who were following the games live, could easily guess who the player was. The former World Championship challenger and current World no.2 expressed his concern for his opponent and he was quite shocked with the way his game ended abruptly.
Netherlands no.1 and World no.8 Anish Giri tweeted a question which many had in their mind
FIDE responded the reason behind the delay in getting the results before the start of the round
Replay Round 2.1 Open games
Replay Round 2.1 Women games
Links:
---