FIDE World Cup 2021 R1.1: Indian Men and Women off to a fantastic start
Indian Men and Women made a fantastic start to their FIDE World Cup 2021 campaign. Only Gukesh was held to a draw by IM Pawel Teclaf (POL). Gukesh needs to win his next game to advance to Round 2, a draw means he will have to play tie-breaks tomorrow. Adhiban, Aravindh, Nihal, Praggnanandhaa, Iniyan, Vaishali and Padmini scored a victory each. Iniyan is the only Indian who defeated a higher rated opponent, Sebastian Bogner (SUI). Harikrishna, Vidit and Harika got a Bye in Round 1. They will directly play Round 2 on 15th July. Bhakti advanced to Round 2 where she will face Natalija Pogonina (RUS). Round 1.2 starts today at 5:30 p.m. IST. Photo: Eric Rosen/FIDE
Teclaf holds Gukesh to a draw
Adhiban, Aravindh, Nihal, Praggnanandhaa, Iniyan, Vaishali and Padmini made a winning start to their World Cup campaign. Only Gukesh was held to a draw by Polish IM Pawel Teclaf. IM Bhakti Kulkarni advanced to Round 2 as her opponent had to withdraw from the event due to medical reasons. So far Bhakti's Round 2 opponent is confirmed - WGM Natalija Pogonina (RUS).
Chipanga - Adhiban: 0-1
CM Chiletso Chapanga (MAW) went for an all-out attack against Adhiban which backfired for him.
It's all over for White as c4, d4 is coming and there is no good defence against it.
Aravindh - Concio: 1-0
Aravindh Chithambaram scored a comfortable win over IM Michael Concio Jr. (PHI).
White is already in a firm control. Find out what should White do here to captitalize the advantage.
Ssegwanyi - Nihal: 0-1
IM Arthur Ssegwanyi (UGA) made a good start against Nihal. The Ugandan got a good position.
It is clear that White has a good position but getting just a good position is not enough against Nihal. He waited, maneuvered his pieces and just when the opportunity he struck and claimed the full point.
White moved both of his major pieces to the queenside, far away from the action point. Find out the winning continuation for Black in the above position.
Bersamina - Praggnanandhaa: 0-1
IM Paulo Bersamina (PHI) started well against Praggnanandhaa until he could not maintain the tension at the center and decided to exchange pieces and go into a lost endgame.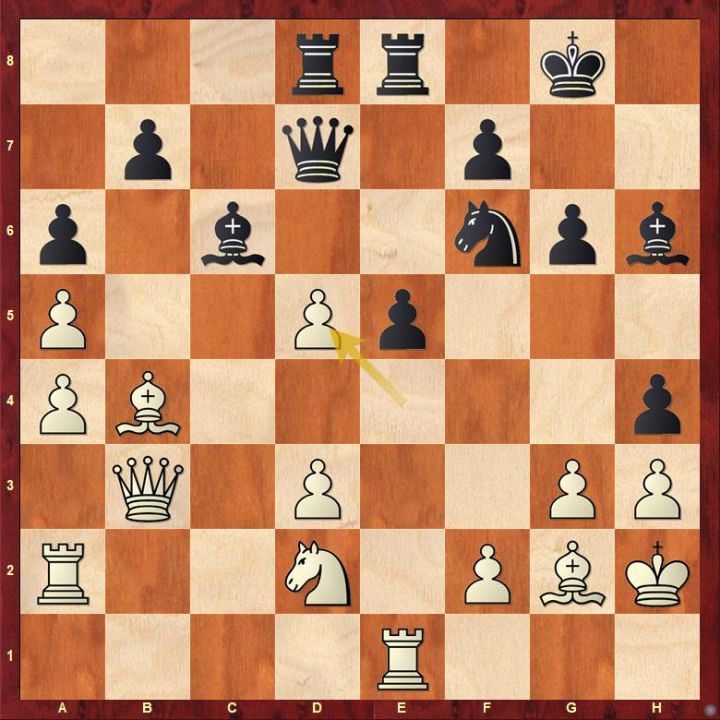 27.exd5 is not a good idea as Black will eventually get the backward d3-pawn and that will be deciding factor which is what happened in the game.
Teclaf - Gukesh: 0.5-0.5
IM Pawel Teclaf (POL) made a solid draw with Gukesh. However, there was a moment in the endgame where Gukesh could have pushed for a win.
Find out the correct continuation for Black in the above position.
Iniyan - Bogner: 1-0
Iniyan faced the toughest opponent on paper among all Indians in the first round as he was up against Switzerland no.2 GM Sebastian Bogner (2581).
It is not necessary to play the best move or execute the best idea in every position. Sometimes you just have to play something that can rattle your opponent. 17.Ng6 does not do a lot for White, however a move like that shows the confidence White has. White gains a rook and pawn for two minor pieces which is generally not a good idea, After 17...fxg6 18.Bxe6+ Rf7 19.d5 Bd7 20.Bxf7+ Kxf7 21.d6, the position definitely looks much more pleasant for White even though the computer may not agree with it.
Find out the winning continuation for White after 36...Rc3.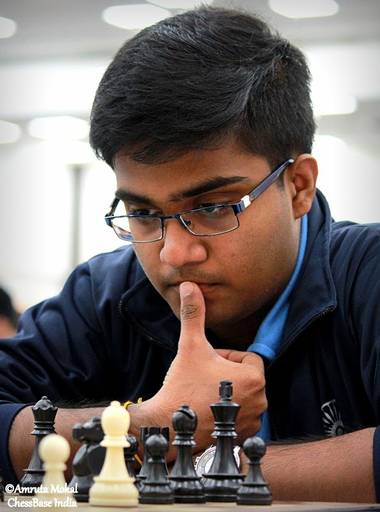 Vaishali - Zhou: 1-0
WGM Vaishali R scored a fine victory over WGM Qiyu Zhou (CAN).
White is already winning but 32.Bb5 accelerates things.
37.a7 is winning for White, however white will not get a queen because Black can sacrifice both knights via c7 and capture the promoted piece at a8. What is the better continuation for White here?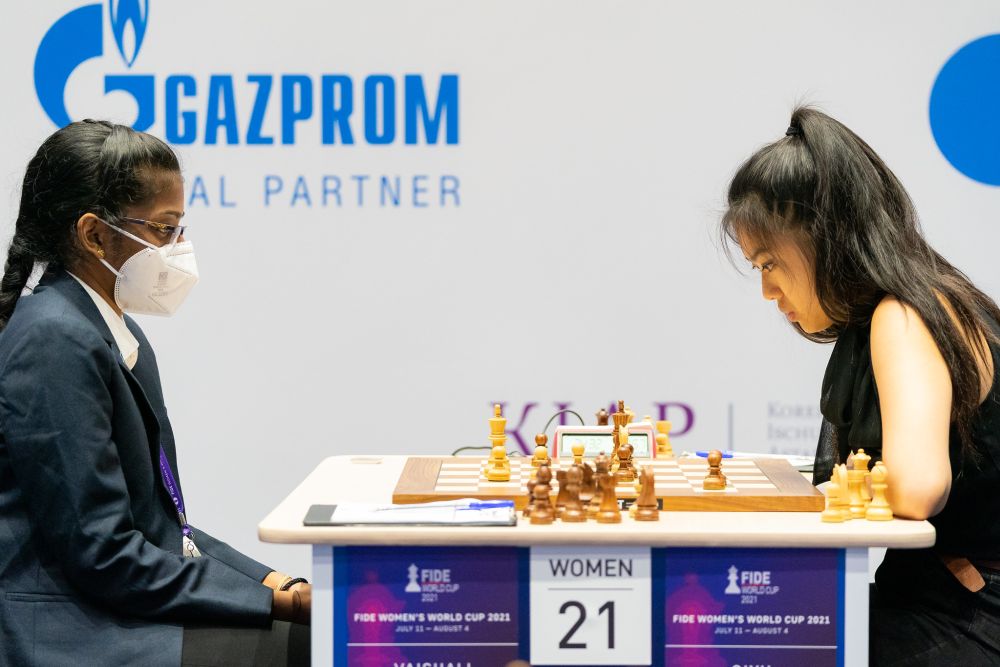 Padmini - Fataliyeva: 1-0
IM Padmini Rout scored an emphatic victory against WGM Ulviyya Fataliyeva (AZE).
White is not bothered about 28...gxh5+ because the plan is to bring the knight to g5 and queen to h4 anyway.
Open results:
CM Chiletso Chapanga (MAW) - GM B Adhiban: 0-1
GM Aravindh Chithambaram - IM Michael Concio Jr. (PHI): 1-0
IM Arthur Ssegwanyi (UGA) - GM Nihal Sarin: 0-1
IM Paulo Bersamina (PHI) - GM Praggnanandhaa : 0-1
IM Pawel Teclaf (POL) - GM D Gukesh: 0.5-0.5
GM Iniyan P - GM Sebastian Bogner (SUI): 1-0
Women results:
WGM Vaishali R - WGM Qiyu Zhou (CAN): 1-0
IM Bhakti Kulkarni - WGM Anastasya Paramzina: 2-0
IM Padmini Rout - WGM Ulviyya Fataliyeva: 1-0
Highlights
Arguably the most exciting win of the round 1.1 was scored by Chile no.2 GM Pablo Salinas Herrera (2514) against Denmark no.2 GM Mads Andersen (2579)
Would you believe it, if I tell you White's best continuation was 19.Qxe4 dxe4 20.Rxd7 Qf6 21.Rxb7 Bxc3 22.Nxc3 Qxc3 24.Rd1. If you can figure out Black's best continuation in the above position then you will realize why 19.a3 is a mistake and 19.Qxe4 was the way to go.
The queen is attacked twice but neither of them can capture it as there is a checkmate threat at h2. 25.Rd1 was played but that does not stop Black's idea. Find the beautiful finish. This is definitely an early contender for game of the tournament.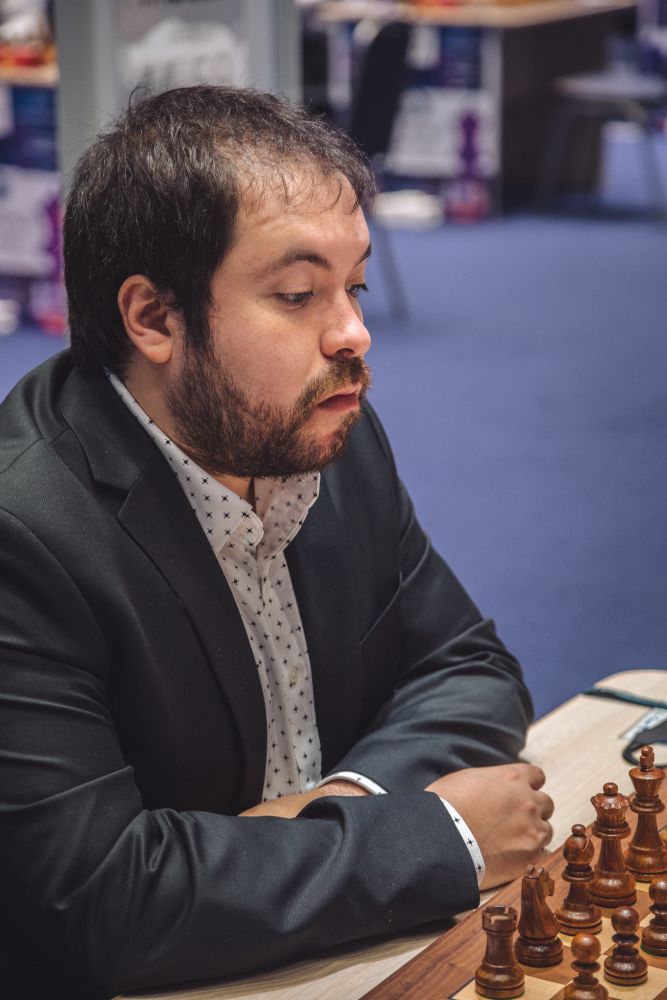 Fun fact: Two Uzbekistan players - GM Shamsiddin Vokhidov (2530) and GM Jakhongir Vakhidov (2534) defeated two Georgians of the exact same rating 2564 - GM Luka Paichadza and GM Levan Pantsulaia.
WIM Ayaah Moaataz (2015) of Egypt stunned former women's world champion GM Anna Ushenina (2429) of Ukraine.
White is an exchange down and the position does not look promising either, still she can take a chance here. What would that be?
Black had several chances of playing Rxe3 to save the game and win immediately too, but a passive play did not help her. 38...Rbd7 certainly sealed Black's fate. Find out how. Ushenina must win her round 1.2 game to keep her chances for Round 2.
Photo Gallery
Replay Round 1.1 Open games
Replay Round 1.1 Women games
Links:
---